Ride the Breeze at The Villages Balloon Festival 2023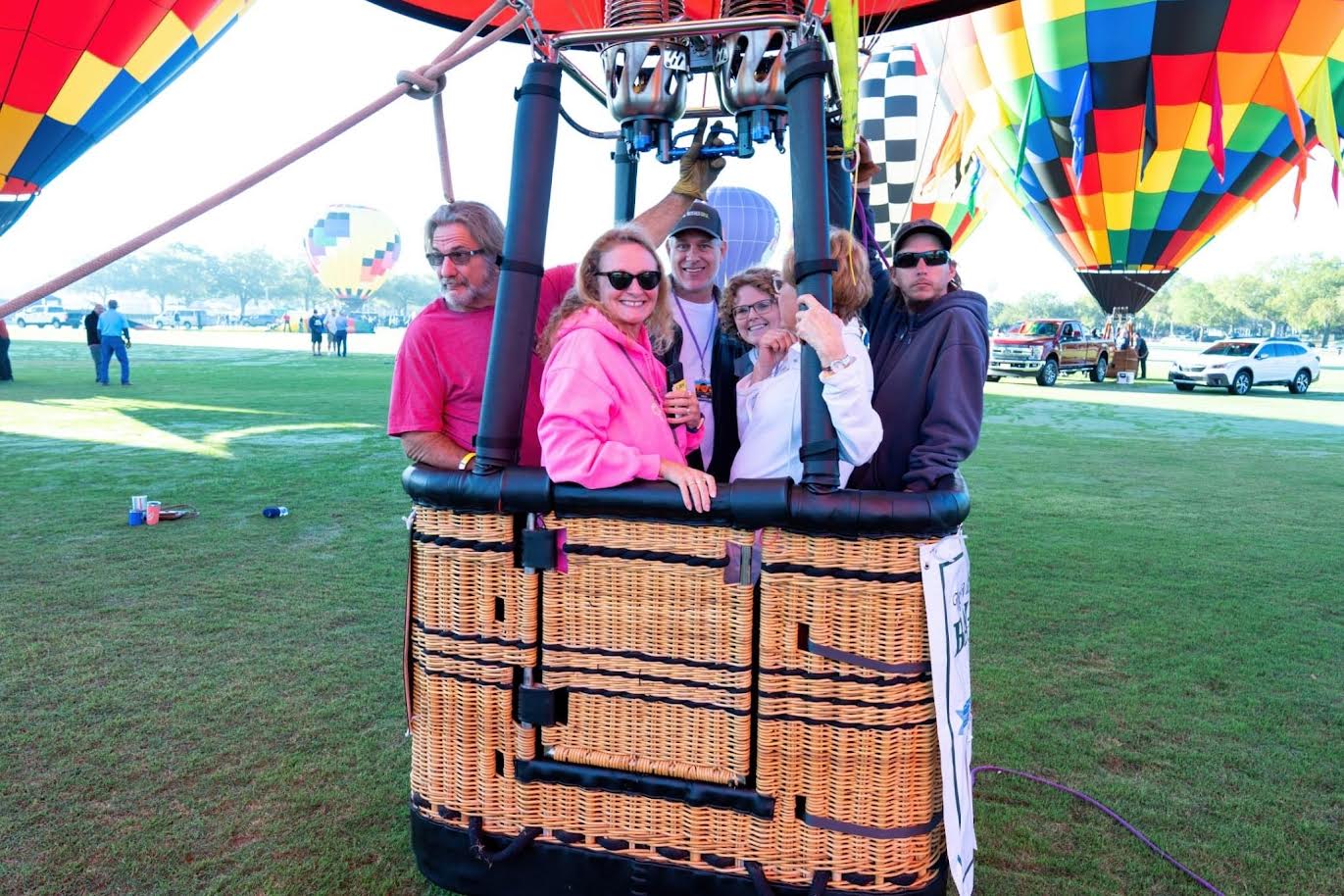 Balloons, Live Entertainment, Food Vendors and More!
Each year it seems The Villages Balloon Festival gets bigger and bigger! This year the event is going to be spectacular! If you have never been to the annual villages community balloon festival you are in for a treat. Below you will find the schedule explaining a little bit about this fun family event, happening Friday and Saturday, February 3rd and 4th, at The Villages Polo Grounds!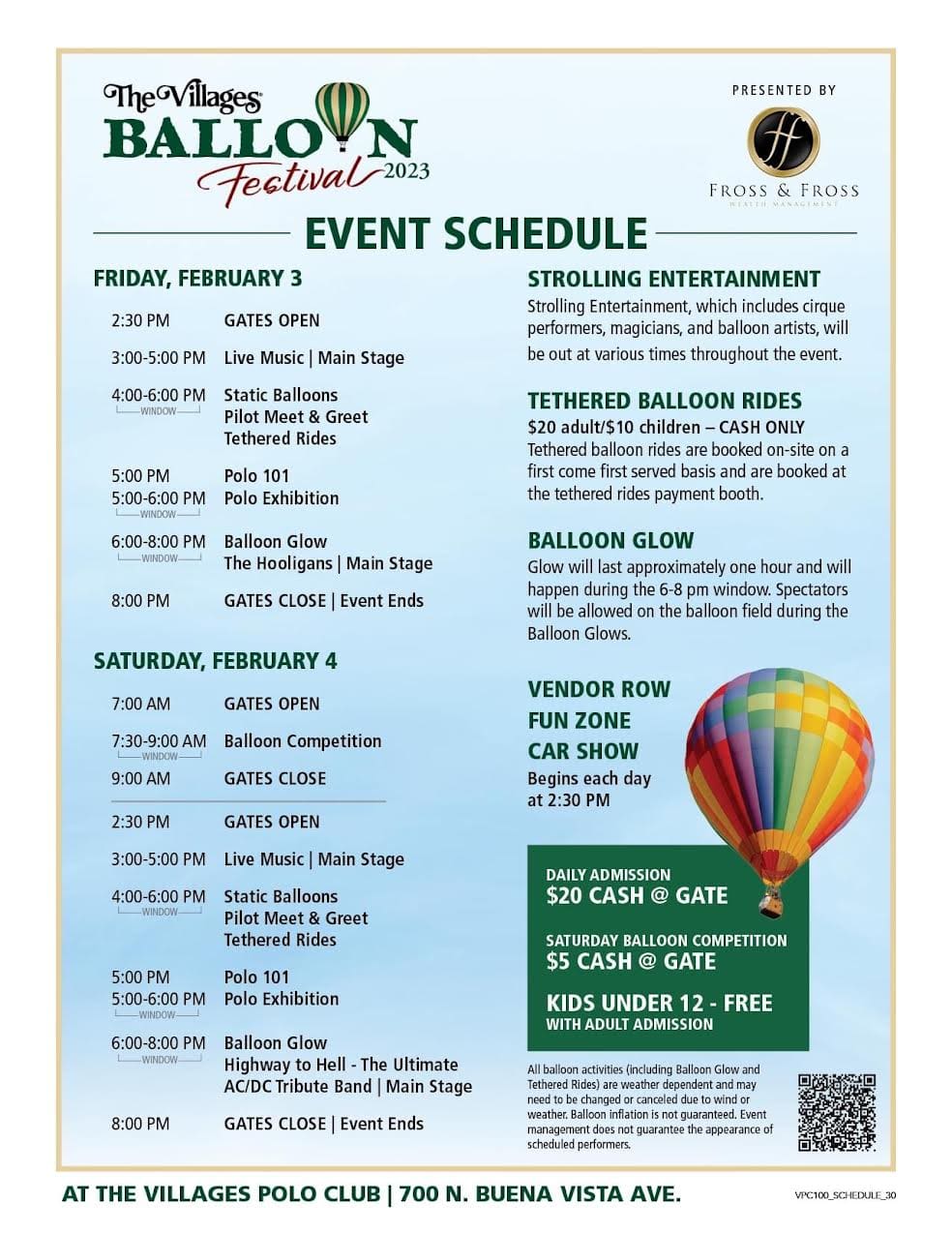 The Action Gets Started Friday!
You will want to show up as early as you can on Friday especially if you want a seat for the evening entertainment that includes The Hooligans. Gates open at 2:30pm. Live music begins from 3-5pm while Static Balloons, Pilot Meet and Greet and Tethered rides will be ongoing from 4-6pm. There is a live vendor and car show that begins each day at 2:30pm.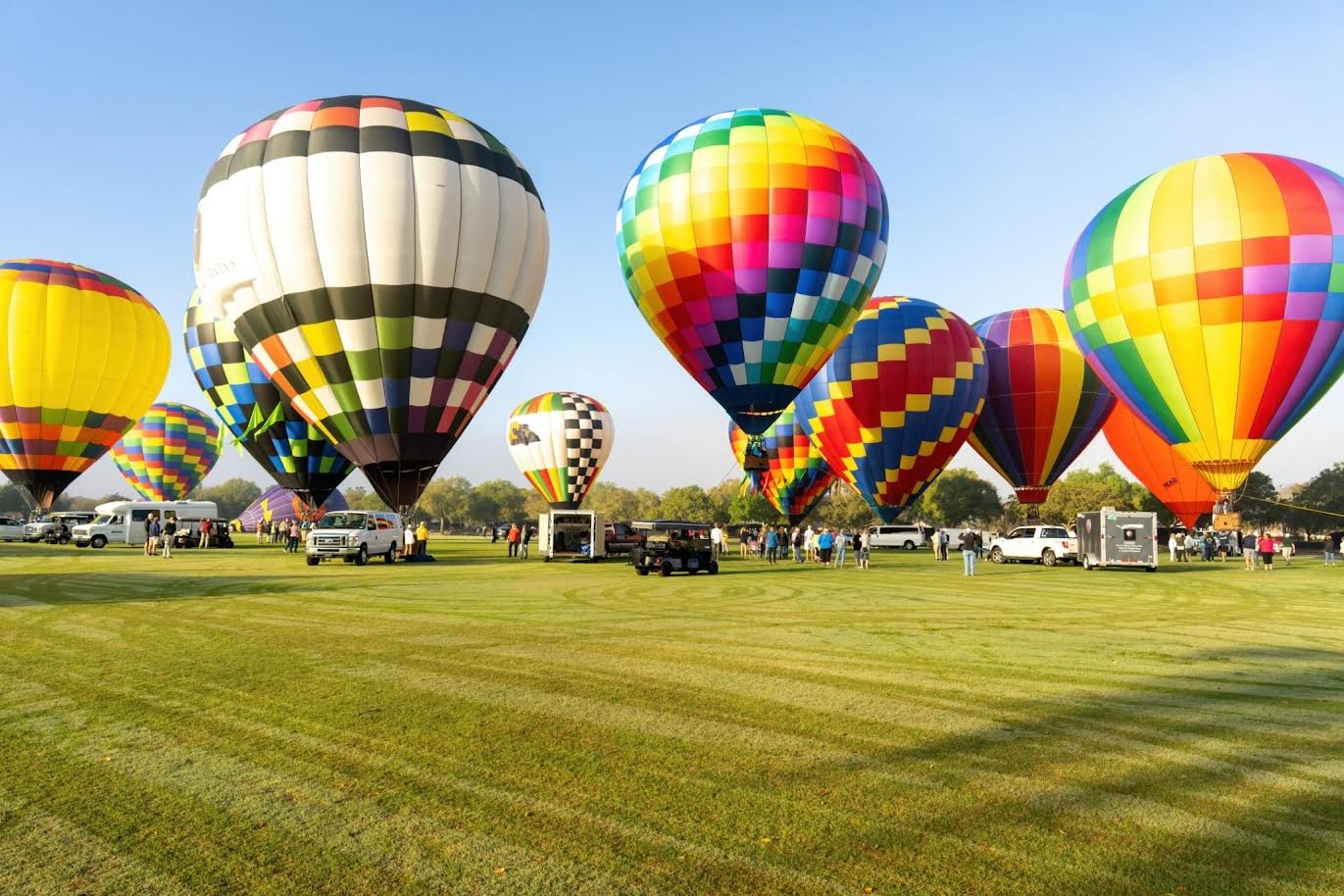 The car show is always fun and you should absolutely check out what kind of cool hot rods and vintage cars show up. There is always something to see and do. Make sure to ask plenty of questions because everyone is always willing to explain what does what. The best part is learning about how these aircraft work. The pilots are highly knowledgable and will teach you how the balloons inflate as well as how they are controlled.
What is a Tethered Balloon Ride?
A Tethered Flight means you won't be going side to side but mostly up. The Balloon is tethered to the ground to prevent the balloon and yourselves from flying too far from the ground. The flight takes you up so you can see around the grounds and it also provides excellent photo opportunities. You get to feel what a takeoff and landing feels like in these majestic balloons. The tethered balloon rides are available on a first come first serve basis which is why we recommend getting there as early as you can to book a ride.
Polo Exhibition!
If you have never had the opportunity to see a real polo match your missing out! Polo happens from 5-6pm on Friday and Saturday! The sheer power of the horses running and the sound they make is unlike anything you have ever experienced. It's such a beautiful sport played by some of the best in the world and you have the opportunity to take in an exhibition as the light begins to dim and the real party starts!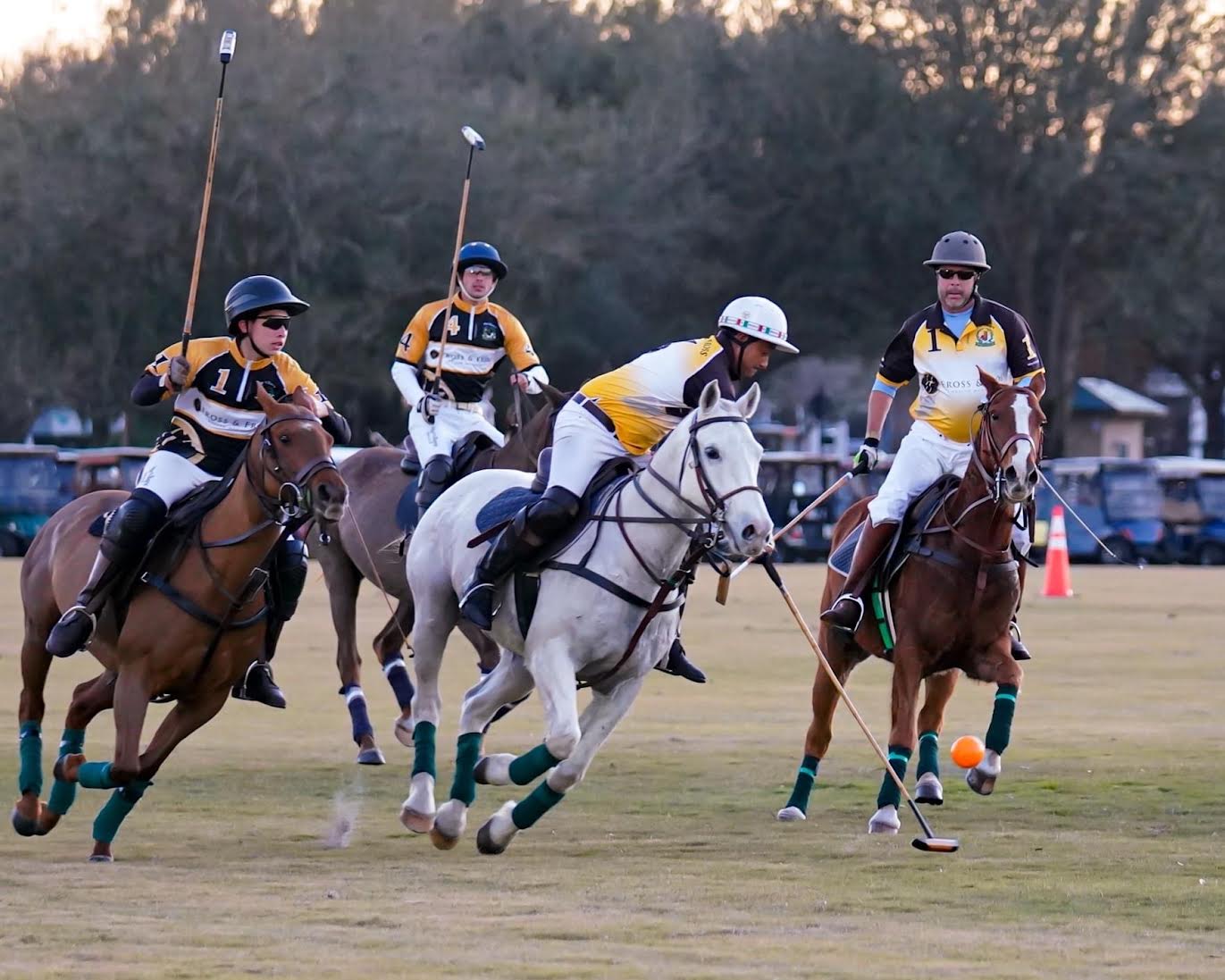 The Hooligans Playing from 6-8pm Friday Night!
This is a band that you won't want to miss! The Hooligans bring some of the best British rock invasion hits back to life. They play in Disney World and occasionally have shows in The Villages and the surrounding communities. Let me tell you this is one of the best local bands you will see. They are energetic and sound incredible. We highly suggest you check them out if you can.
Saturday At The Balloon Festival
Saturday is an even bigger day! There is a balloon competition from 7:30am – 9:00am. As the sun comes up it's one of the best moments you will witness as these beautiful balloons take flight. Once again Live Entertainment will be on stage from 3-5pm. The Static Balloons and Pilot Meet and Greet along with Tethered Rides will be ongoing from 4-6pm. There is another Polo Exhibition from 5-6pm and the evening wraps up with something you won't want to miss.
Friday & Saturday Night 6-8pm The Balloon Glow Event!
The main event happens Friday & Saturday night as the balloons light up the night sky! You will get to see the pilots hit the throttle and power the balloons up as massive fireballs fill the night sky. The Glow will last approximately one hour and will be happening in the 6-8pm window.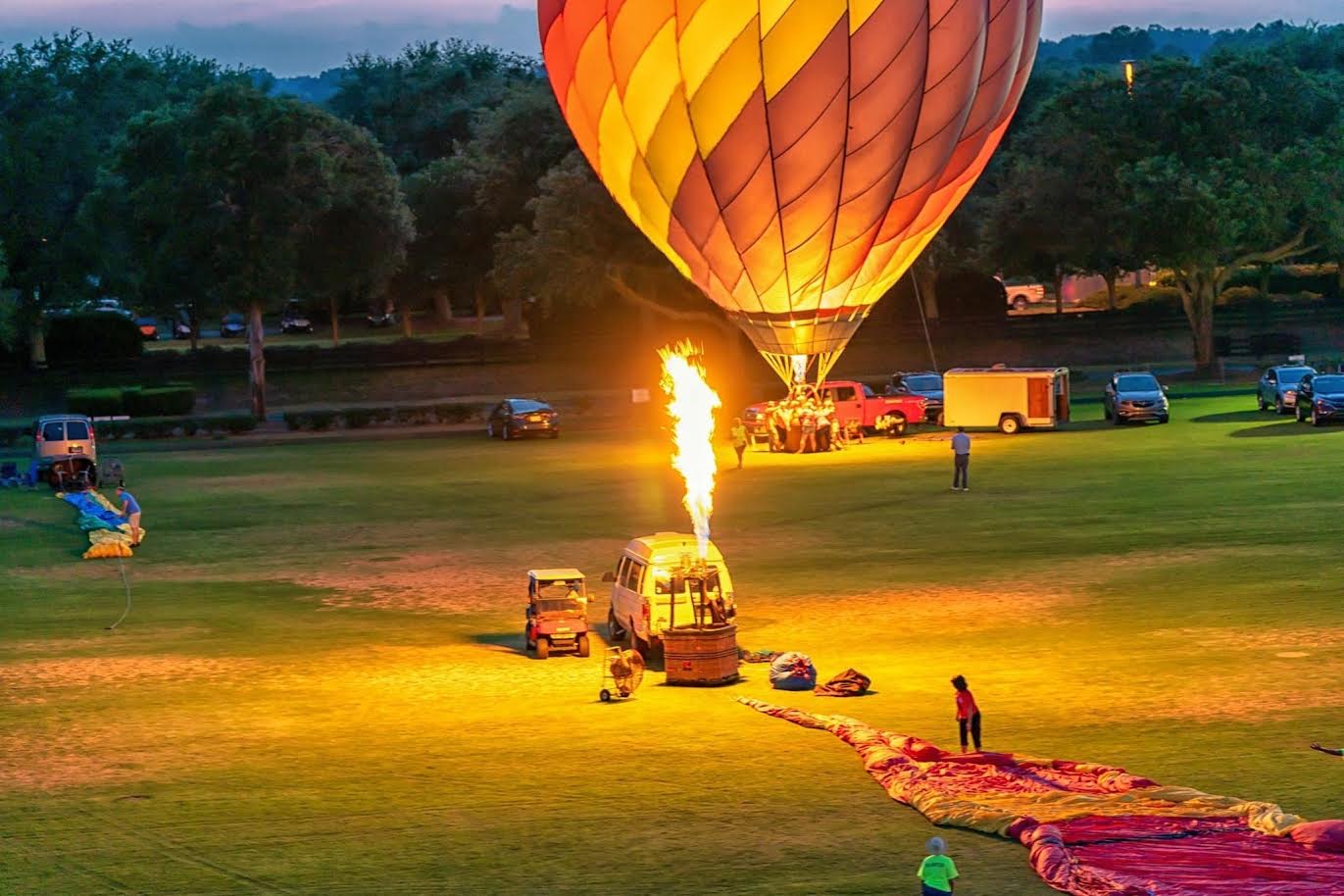 Saturday Night Entertainment – Highway To Hell – The Ultimate AC/DC Tribute Band
Highway To Hell – The Ultimate AC/DC Tribute Band will close out the evening as they play some of the greatest 80's rock hits by one of the best rock bands ever to grace the stage. This band brings the crowd to life and if you close your eyes you will feel like your at an AC/DC concert! They are fantastic and you will not want to miss it!
How To Successfully Do The Balloon Festival
Alright you want to know all the secrets and ins and outs of doing the Balloon Festival successfully? Lets take a look at how you can enjoy yourself to the fullest! Down below take a look at our mock schedule for enjoying the best of what The Balloon Festival has to offer!
1. Arrive Early – You will want to arrive early in the day around 2:30pm when the gates open or 2:45pm is a good time. When you get in the gate immediately head to the balloon tethered ride sign up booth. It is easy to get distracted by everything going on but I suggest knocking this out of the way if you want the ultimate experience.

2. Enjoy The Car Show – I would suggest after booking your tethered ride ticket to go enjoy the car show and check out the vendors. You will find some amazing looking cars at this event. The Vendors likewise have lots of fun and interesting things. You should also get bite to eat and something to drink around this time when it should be close to 3:30 to 3:45pm.

3. Get In Line Early – We suggest getting in the tethered balloon line early if you want to take in the polo match from 5:00-6:00pm. The Balloon ride is perfect for photo opportunities and the earlier you get to the balloons the better. However if you want to watch the polo exhibition that is perfectly fine. Just make sure you get to the balloons by about 5:30pm at the latest if you want to ride.

4. Polo Is Fun! – We really suggest taking in a polo match exhibition. There is no bad place to watch a polo match as they always take up the entire field. The thundering group of horses and riders is a thrill to watch. If you did not book a ticket for a tethered ride this should be one of the more interesting things you get to do.

5. Get your seat early for The Hooligans on Friday and The ACDC tribute band on Saturday! These two bands are going to bring the house down and if your a fan of music you will be thoroughly entertained the entire night! We do suggest after your tethered ride or the polo exhibition to head over immediately to the stage in order to get a decent seat close to the stage.

6. There Is No Bad Seat For The Balloon Glow – Don't worry about not being able to see the balloon glow between the 6:00-7:00pm hours the event happens for about an hour once it starts. You can see these majestic balloons up close or further away and the photo opportunities are endless. To avoid the swarm of crowds feel free to wait about 15 to 20 minutes and then head over. The event usually lasts 60 minutes so there should be ample time for you to see that event.

7. Have Fun! – Our seventh and final tip is to have fun. These are tips on how to enjoy the festival to the fullest but it's up to you on how to have fun. There is much to see and do around the festival so even if you do not book a tethered ride you can enjoy the many sights, sounds, food and entertainment offered.
Overall, enjoy this event because it's unique to the area. We enjoy it every year and we hope that you are able to get out and experience it for yourself!
Kyle Coppola was born in Newton, Massachusetts and received his Bachelor of Fine Arts in Communications from Curry College in 2016. After traveling to Florida on a family vacation, he decided he could not get enough of the warm weather and made the move from snowy Massachusetts to central Florida 8 years ago.
For the last decade Kyle has gained valuable experience in social media content creation, marketing and sales, writing, video production, sports announcing and even broadcasting for local radio stations, such as FM 102.9 in The Villages and FM 91.5 in Massachusetts. Every year he volunteers at The Villages Charter High School as a play-by-play sports announcer for the football games as well as a public address announcer for the basketball games, including the annual Battle at The Villages Tournament.
Outside the office Kyle is a husband and father to two beautiful girls along with their cat. In his spare time he likes to spend time with his family, travel, play golf and swim. He is also a huge sports junkie and even bigger motorsports fan and loves to attend racing events when he can.
Share This Story!