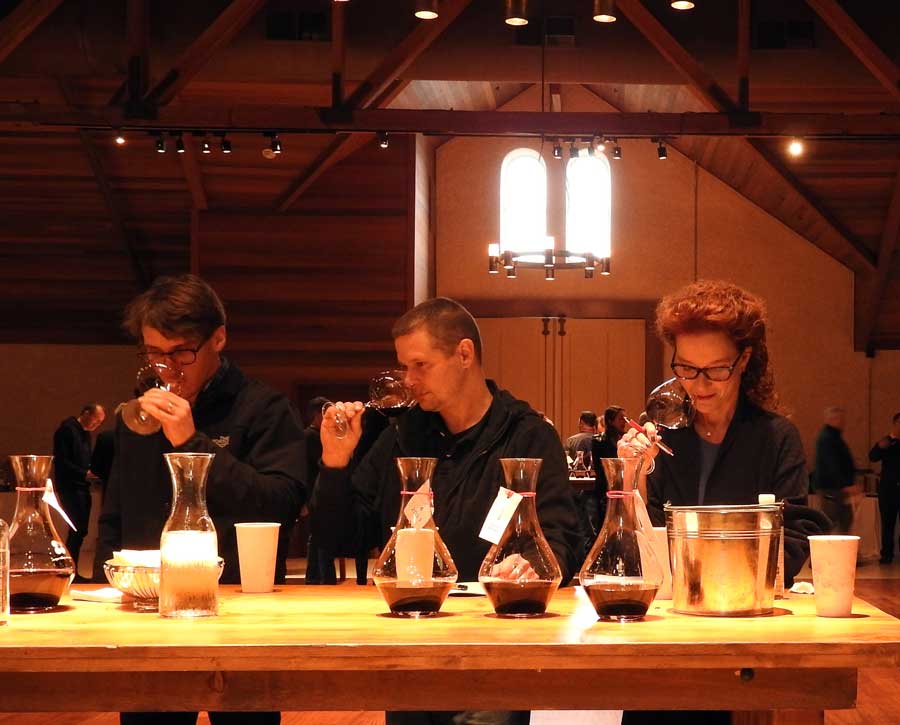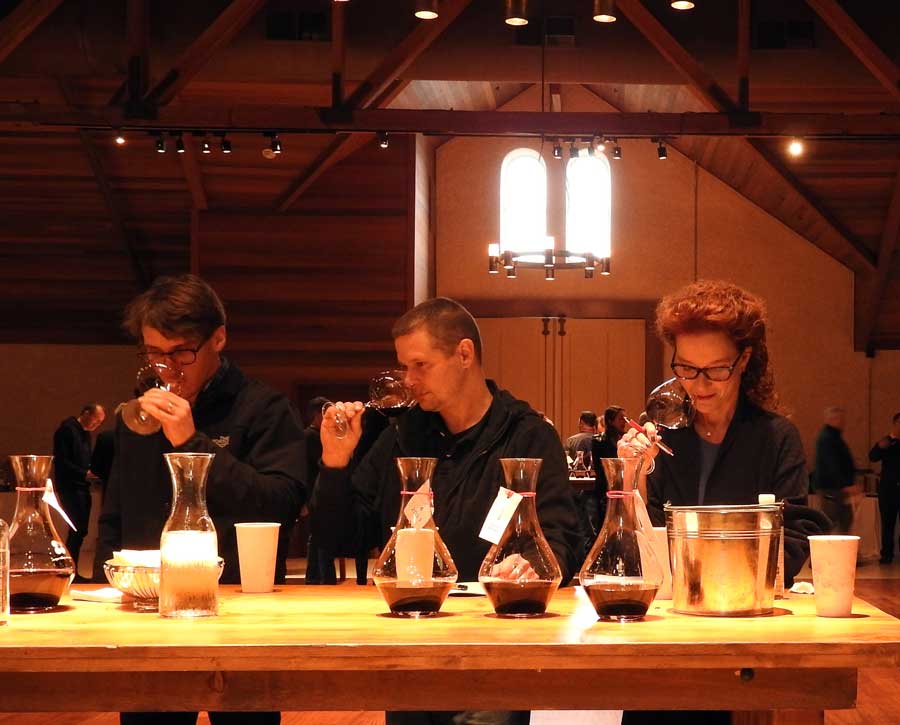 A vintage perspective tasting during Premiere Napa Valley shows what a difference 10 years can make in the wine world.
---
PHOTO: Mary Ann DeSantis
---
Wine is often a celebratory drink, and it's not unusual for people—even casual wine drinkers—to buy a vintage from a significant year in their lives and hold it for a special occasion. I have a friend who bought several cases of an expensive wine made the same year his son was born. He cellared those wines until his son married—a good 30 years later.
After my husband and I married, we discovered California wines made in 1996—the year we married— were particularly good despite a challenging growing year. We tried to collect affordable 1996 vintages and have one on our anniversary each year. About 10 years ago, though, we opened the last of our collection. I've often wondered how the 1996 wines, particularly Cabernet Sauvignons, had aged. Were they still elegant or would they be past their prime?
During the annual Premiere Napa Valley barrel tasting and auction in February, I had an opportunity to attend a vintage perspective tasting where I sampled several 1996 and 2006 wines. Other vintages were being showcased, but I chose to focus on those two vintages to see how 10 years' difference affected the taste.
The walk-around, blind tasting gave me a chance to form my own opinions on library vintages of Napa Valley wines. Library wines are those that have been cellared or are part of a collection. Occasionally, wineries sell their library collections of older vintages in auctions.
Wine writers were allowed to tag along with licensed buyers during the Premiere Napa Valley event, which showcased long-established brands as well as newcomers to the winemaking scene. Only after we tasted the five or six wines in each vintage and compiled our notes could we learn the wines' names.
I was anxious to see how the 1996 vintage faired over time because it was a challenging year for wine growers. An unseasonably warm winter and substantial rainfall caused the overall harvest to be reduced by 20 to 30 percent; however, the light crop and smaller grape clusters resulted in richly flavored grapes, evident in both a Broman Cellars Cabernet Sauvignon and a Truchard Vineyards Syrah. I was surprised that the 20-year-old Syrah could hold its own against Cabernets, especially with its deep, rich cherry flavors and smooth tannins.
While I hold a special affinity for 1996, I had to admit the 2006 vintages won the blind tasting hands down. Fellow writers kept saying, "spend time at the 2006 table," and I rushed to get through the six wines. Not only was it the best table, but it also showcased my favorite wine of the tasting: ERBA Cabernet Sauvignon, an elegant wine with a beautiful aroma. A relative newcomer in Napa Valley, ERBA produced its first vintage in 2003 from vines planted in 1998.
Overall, the 2006 wines were excellent in spite of a growing year also fraught with challenges, including a New Year's flood, continual wet weather, and a record-breaking summer heat wave. It has been called a "grower's year" as Napa Valley vintners had to work around those challenges to produce excellent wines.
Hopefully, as a consumer, your significant or memorable year produced a good vintage of wine. Read vintage charts from not only California, but also other wine-growing regions. You may find a mediocre vintage in one region was excellent in another. And if you plan to hold your wines for a while, be sure to reread about wine-aging secrets in January's "Saluté" at www.lakeandsumterstyle.com/salute-new-year-old-wine.
---
Saluté creator receives fellowship to study at Professional Wine Writers Symposium

Mary Ann DeSantis, who has written "Salute" for Lake & Sumter Style since 2010, recently returned from the prestigious Symposium for Professional Wine Writers in Napa Valley, California. DeSantis was one of 30 writers worldwide to receive a full fellowship, based on her work, to attend the 12th annual symposium.

The symposium draws top wine book authors, magazine editors and writers, critics, and wine content creators to speak, listen, debate, and explore themes prevalent in contemporary wine writing. This year's speakers included the legendary Hugh Johnson, author of The World Atlas of Wine; Eric Asimov, New York Times wine critic; Ray Isle, wine editor, Food & Wine magazine; Jay McInerney, best-selling novelist and wine columnist for Town & Country.

In addition to attending sessions at Meadowood Resort Napa Valley and the famed Culinary Institute of America/Greystone, DeSantis also spent an afternoon working in the vineyard of Honig Winery, a leading Napa Valley vintner.
---