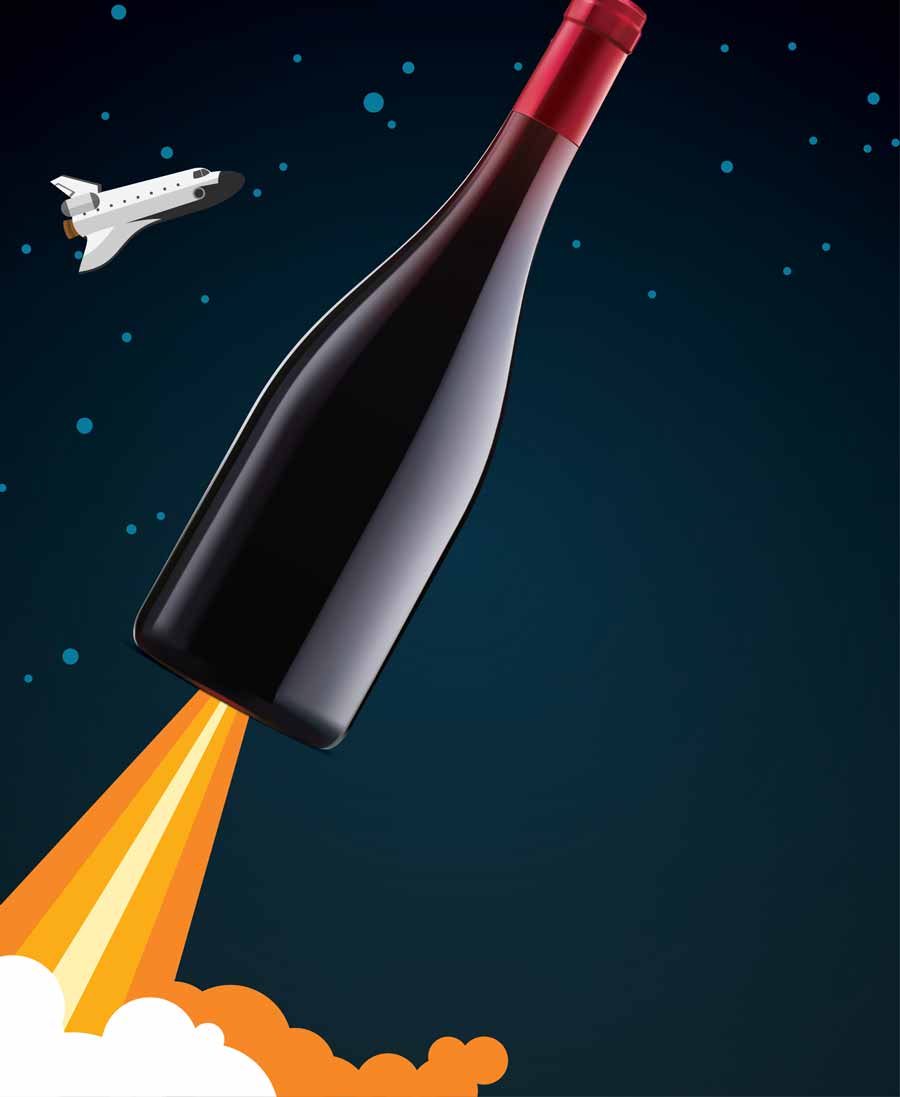 Some wines are out-of-this-world good…like a 1975 Chateau Lynch-Bages Bordeaux that was the first wine consumed in outer space.
---
In 1985, French astronaut Patrick Baudry wanted to take French wine on his shuttle mission aboard the Discovery to demonstrate his attachment to France and to the country's way of life. And not just any old bottle would do. After all, the wine needed to be legendary for this monumental honor. Baudry selected a 10-year-old Bordeaux from Chateau Lynch-Bages, considered to be one of the best quality wines in the world.
Chateau Lynch-Bages, located in the Pauillac appellation of France on the Bages plateau, was among the 1855 Official Classification of Medoc and Graves—an esteemed and much-coveted classification of "Great Growths" of Bordeaux wines established by Emperor Napoleon III.
Founded in 1749, the chateau was owned by the Lynch family who had roots in Galway, Ireland. In 1938, winemaker Jean-Charles Cazes purchased the estate, and it has been in his family ever since. Great-grandson Jean Charles renovated the property in 2012 with state-of-the-art equipment to ensure precision winemaking would continue for generations to come. And while the 1975 vintage is legendary because of its trip into space, other more recent vintages are ranked quite high, including 2010 and 2012. Those sell for $205 and $128 a bottle, respectively.
Another legendary chateau, and certainly one of the most famous, is Château Margaux, located on the left bank of the Garonne estuary in France's Médoc region. According to Forbes.com, a bottle of Château Margaux 1787, insured for $225,000, holds the record as the most expensive bottle of wine ever broken. Currently, a 2009 Château Margaux Bordeaux is reportedly on the market for $1,000 a bottle.
While many Bordeaux wines are the drink of legends, especially those from centuries-old estates, the U.S. is not without some highly esteemed winemakers, as well. Beaulieu Vineyard's Georges de Latour Private Reserve in Napa Valley has been a leader among Cabernet Sauvignons since 1936. Not every vintage is memorable, but the 2007 received high praise from wine critics, including Robert Parker who said it was the best since 1970. Only about 9,000 cases of the Georges de Latour are produced annually, and it sells for about $125 a bottle.
California's rise to the top of the winemaking world began with the momentous—and many say legendary—Paris Wine Tasting of 1976 or the Judgment of Paris, a wine competition between California and French wines. At a time when wines from France were considered the world's best, two California wines were rated at the top in blind tastings. Judges from both countries rated the 1973 Stag's Leap Wine Cellars Cabernet Sauvignon as the best red wine, while a 1973 Chateau Montelena Chardonnay outranked French Burgundies.
Reviewers on CellarTracker.com report that the 1973 Stag's Leap is "still going strong after all these years," and is "like drinking history in a glass." Indeed, a bottle has even garnered a place in the Smithsonian National Museum of American History collection to reflect the impact that the 1976 achievement had on the U.S. wine industry.
Chardonnays normally do not have the longevity that Cabernet Sauvignons do, but that doesn't stop collectors from buying the legendary ones. According to Decanter Magazine, one of the few remaining bottles of 1973 Chateau Montelena Chardonnay was sold for $11,325 in 2010.
So what makes these wines "legendary?" Of course, the reputation of the winemaker and a great vintage seem to be the first criteria along with exceptional terroir. The wines also have the ability to age and evolve—as many Bordeaux and Cabernets do. And in the future, they may even hold up during space travel.
---