Sam Walters Reaches 1,000 Career Points!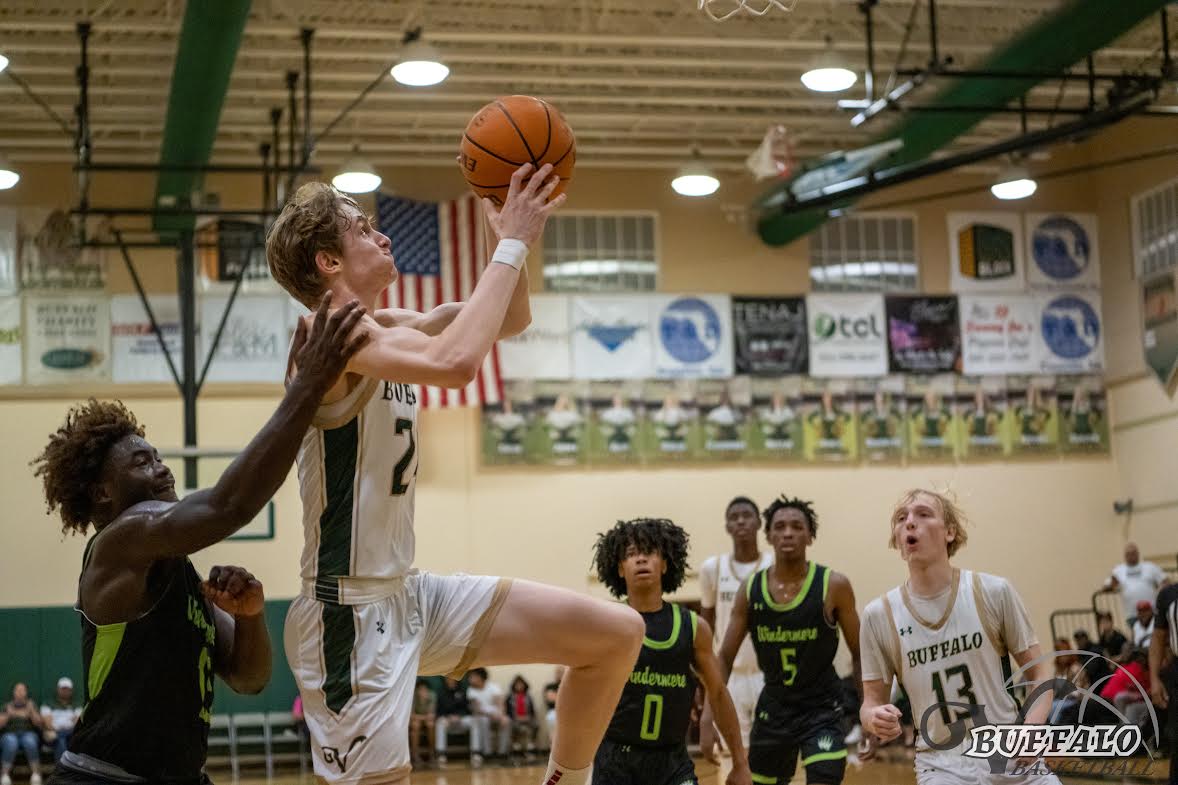 Sometimes records come when you least expect them!
It was all business as usual for Sam Walters as he scored his 1,000th point this week! Sam Walters plays for The Villages High School and will be playing college basketball for The University of Alabama next year. Just 1 week after we ran a story on another athlete who accomplished this same feat, Zoe Tennell who plays for the Lady Buffalo basketball team, Sam Walters accomplished it while out of state!
The Villages was in the midst of a Tournament called Battle at The Peach which takes place in Georgia. The Buffalo were playing Mceachern and all was going well in the early part of the game. The audience who were in attendance may not have been aware but a very significant milestone would happen. Sam Walters drove to the lane for a lay up and it was immediately back to defense for The Buffalo. Did you miss it? Many people did because Sam Walters broke the 1,000 point mark for The Villages!
Anytime you can score 1,000 points for a high school team it is a massive accomplishment. To have two players accomplish this in back to back weeks is a truly remarkable moment for the program. We ran a story last week commending Zoe Tennell on becoming the first girls Villages player ever to reach 1,000 career points and here was Sam Walters who did it for the boys!
Although The Villages would go on to lose the game that didn't matter in the eyes of many who took to social media to congratulate Walters on the accomplishment. It's also worth noting that The Buffalo have scheduled their toughest schedule in school history. They started the season in preseason against Montverde the number 1 team in the nation, then playing a top 100 school Windermere, another tough matchup against Belleview a week ago and traveling to Georgia to play against a team like Mceachern a well known athletics program in the states.
The start of the season has been a difficult one to say the least for The Buffalo but they have been up to the challenge as has Sam Walters who continues to lead the team in rebounds and points. The fact that the moment came and went so quickly is a testament to the type of team coach Colt McDowell oversees. He expects the team to be disciplined but high energy. Those two things have produced some great teams in the past including a final four appearance recently with Tre Mann at the helm.
Now The Villages hosts Forest this evening a team that has had its share of struggles to begin the season but they should be a very good matchup for The Buffalo as they look to get back to their winning ways. There will be a moment this evening where there will be a moment to honor Sam Walters accomplishments. If you would like to come out to the game it's at 7:30pm at The Villages Charter School Gymnasium.
Pictures Provided By –
The Villages High School
Kyle Coppola was born in Newton, Massachusetts and received his Bachelor of Fine Arts in Communications from Curry College in 2016. After traveling to Florida on a family vacation, he decided he could not get enough of the warm weather and made the move from snowy Massachusetts to central Florida 8 years ago.
For the last decade Kyle has gained valuable experience in social media content creation, marketing and sales, writing, video production, sports announcing and even broadcasting for local radio stations, such as FM 102.9 in The Villages and FM 91.5 in Massachusetts. Every year he volunteers at The Villages Charter High School as a play-by-play sports announcer for the football games as well as a public address announcer for the basketball games, including the annual Battle at The Villages Tournament.
Outside the office Kyle is a husband and father to two beautiful girls along with their cat. In his spare time he likes to spend time with his family, travel, play golf and swim. He is also a huge sports junkie and even bigger motorsports fan and loves to attend racing events when he can.
Share This Story!