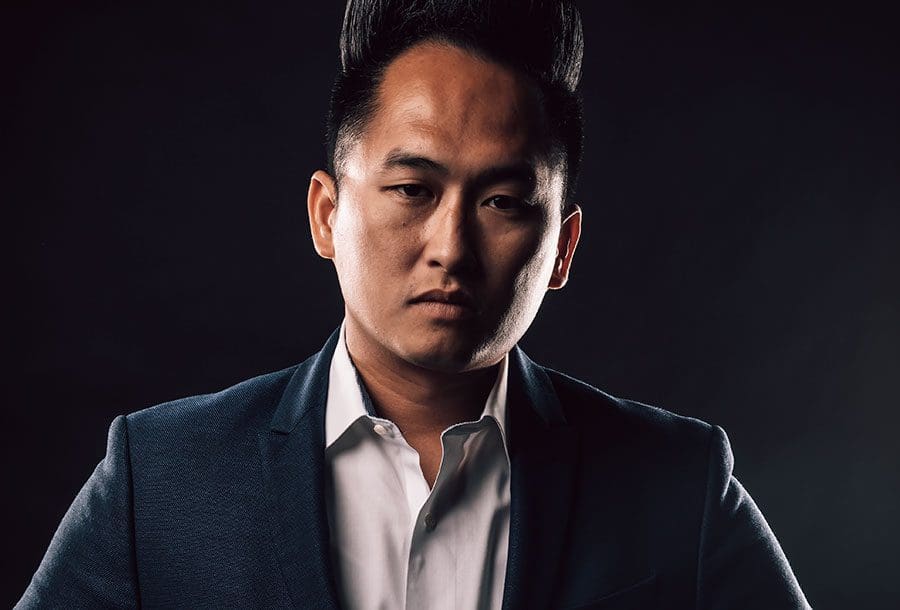 The Duct-Man, a successful local entrepreneur, and Lake and Sumter Style's 2021 Business Man of the Year, looks to give back.
Photos: Douglas Tyler
Someone once commented on curve balls thrown our way just when we think we've got things figured out, saying, "The universe is funny that way, sometimes it just has a way of making sure we wind up exactly where we belong."
Those words spoken in a fictional television medical drama sure seem to hold true in real life too.
Just ask Quan Nguyen, founder and sole owner of Duct-Man Mechanical, a multimillion-dollar heating, ventilation and air conditioning company headquartered in Lake County.
Quan considers the success his company has brought him, wife Tiffany and their three children Ty-Bryant, 14, Alexis, 9, and Ronin, 6, the ultimate dream come true, but at one time, his sights were set in a different direction; that is, until the universe – disguised as a rough childhood, medical conditions, a trusted mentor, perseverance, hardships and unexpected opportunities redirected Quan's path.
"It's all about adaptability and trusting in the decisions you make in choosing your right path," Quan says. "You don't really need an education to be successful, but you do have to have a good work ethic and you have to make yourself available to people at all times."
Quan says his mom and dad left Vietnam on a boat for the United States, explaining that during that time, they were called the "boat people." He says his parents followed their friends to New York, where they opened a restaurant and started a family, which is Quan and his brother Minh.
The family later moved to Florida. In Eustis, they opened the Chinese-American Restaurant, located in the building where Tractor Supply Company is housed today.
After 10 years together, Quan's mom found herself single, with two growing boys to look after, and barely enough money to care for or feed them or herself. Quan says she even attempted to sell Quan and Minh for $40,000 but when the buyer countered with $5,000 less, the deal fell through and she decided to try something else.
"It's all about adaptability and trusting in the decisions you make in choosing your right path." 

—Quan Nguyen
"My mom said, 'Hey, your dad left with a younger woman but I'm still in my prime. You two need to take care of each other and stay out of trouble, and I'm going to try my best to go to school, get a job, and at the end of each night, I'll have you some fast food,'" Quan says. It was then that he and his brother realized that their childhood days – even though they were only 8 and 9 years old – were over. Looking back, Quan says he believes that if it wasn't for the buyer's lack of funds, he wouldn't have the life he has today.
"During that time, we really grew up a little bit. I was able to pick up odds and ends jobs mowing grass, picking up weeds, fixing cars, just anything that could keep me busy and bring in a little money," Quan says, explaining that it's how he ended up working in the air conditioning field.
"When I was 15, I was trying to spend the night at my friend's house and my friend's dad, who owned an A/C business said, 'If you want to spend the night, you're gonna have to go to work with us in the morning.'"
Quan says he agreed and sure enough, the next morning, they were off to a job site near Rock Springs in Apopka – the start of what would become a regular gig for him.
Meanwhile, Quan attended Eustis High School, and despite being bullied and made fun of for being Asian on occasion, he made friends, excelled in leadership roles and was voted student council president, an accomplishment that earned him full-ride scholarships to Lake Sumter Community College (now Lake Sumter State College) and later, the University of Central Florida.
Meanwhile, Quan continued working for the A/C company, and although it took him five years to earn a two-year degree, Quan graduated with an AA in business marketing and finance.
Quan says that's when fate stepped in again. It was 2005, and he was getting ready to start at UCF, but his boss, in desperate need of Quan's help due to the demand The Villages was bringing the business, offered him a $40k annual salary to quit college and work for him full-time.
Quan says he declined and was fired.
"He (boss) said, 'If you're not helping me, you're hurting me.' And I stated, 'Are you serious?'" Quan says. "You want me to give up my dream and scholarship to work full time for you and be a low life construction worker? Because that's what I used to call it."
In time, Quan took his boss' offer, and as the years went by, his "Duct-Man," persona was born. With that, money began rolling in with every A/C job they finished.
Quan says by 2007, he was earning $50K, in 2008, he was making $60k and his boss had become his mentor and friend.
But in 2009, everything came to a screeching halt. Quan says his boss was in over his head with debt, and could no longer afford to keep Quan on the payroll so he offered to pay him by the job.
"I was like, I can't believe I don't have any more work. I can't believe that (my boss) who told me to drop out of school said, "I can't use you anymore because I can't afford it," Quan recalls thinking.
Still, Quan, the understudy, pushed forward, and eventually reversed roles with his mentor. When his company went bankrupt, Quan took $4,000 he'd saved, partnered with him and started his own company. By 2010, his friend and former boss was working for him. One day, Quan says that friend apologized for asking him to drop out of college, thanked him for sticking by him through thick and thin, and for helping him when he was at his lowest.
"I told him it was the best thing that could've happened to me," Quan says of his former boss' original request. "The reason I care for this guy is because he made me make some life decisions I really didn't want to make. But I wouldn't be in this field if it wasn't for him firing me for going to school and for giving me the opportunities he did after getting my AA."
Quan says at the end of 2010, his friend died suddenly; leaving him grateful for what he'd learned from him, and for what he now sees as a twist of fate that landed him in the A/C business in the first place.
Today, Duct-Man Mechanical, state certified and considered a Trane Comfort Specialist, has grown into a multimillion-dollar grossing company that in 2020 was recognized as the fastest and largest Trane dealer in Lake County. In fact, the company received the "Rising Star" award for gross orders by a dealer covering Central Florida to the panhandle.
Quan has since leveraged several other business opportunities, including opening Lake County Limos, and getting into property management and business financing. He also does community service and philanthropic work, dabbles in modeling, acting and emceeing, and speaks to students at local schools, motivating and encouraging them to persevere in life despite their immediate circumstances.
Most of all, Quan, diagnosed with depression, anxiety and ADHD, wants people to know that no matter what, they can be successful if only they get up each day and make it their goal to slay the day.
"A lot of people, they get depressed, and shrivel up to the fetal position, they stay home, they don't comb their hair, but with me, I think, 'If I don't get up out of this funk and kill this day, like kick this day's butt, I will never get out of where I'm at, and that's the biggest thing," Quan says.
Quan says he's always seen the people in his life get by with giving "just enough," and what it's taught him is to keep looking forward and aiming for a higher level, which is the topic of a book he is currently writing and hopes to publish.
The book will be titled "Just Enough," and in it, Quan plans to share not only his own story, but the stories of people who have impacted and contributed to his life and successes. His hope is that his story inspires people to give their all. 
Originally from Nogales, Arizona, Roxanne worked in the customer service industry while writing independently for years. After moving to Florida in 1999, Roxanne eventually switched her career path to focus more on writing and went on to become an award-winning reporter for The Daily Commercial/South Lake Press newspapers for 16 years prior to coming on board with Akers Media as a staff writer in July 2020 – her dream job come true.
Share This Story!