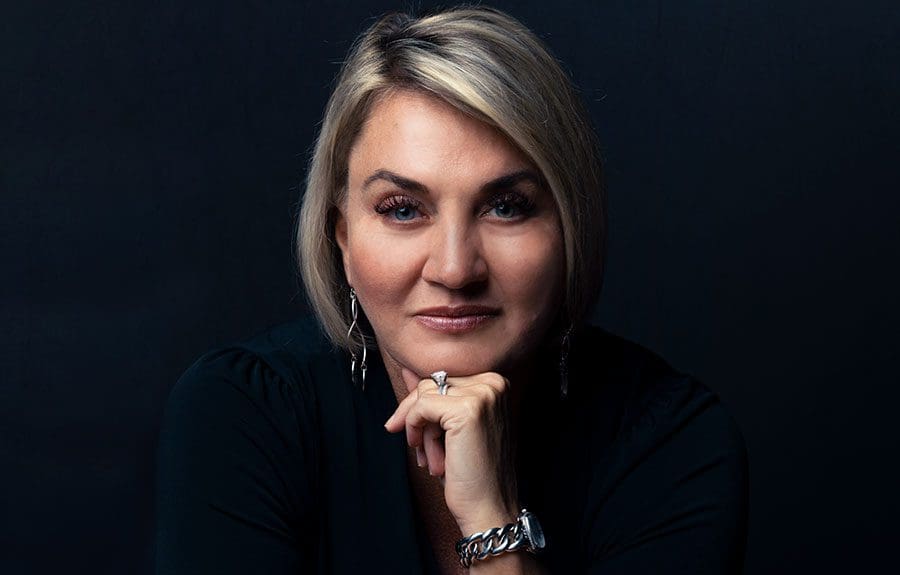 Sabrina Ciceri has no problem getting down to business.
Photos: Douglas Tyler
Sabrina Ciceri has a high tolerance for risk and seldom worries about rejection. She's full of determination, maintains a high level of confidence, and relishes every opportunity to learn. And she pursues the thrill and challenge of launching one enterprise after the next. 
Sabrina, who is Style's 2021 Businesswoman of the Year, is owner or part-owner of three companies: Electrical Works, Black Ops K9, and Immunity Health Spa. She can power a home, provide someone with a furry friend and protector, and pump a client full of vitamins. 
Her day typically begins at 4:15 a.m. and concludes at 9 p.m. In-between those hours, Sabrina focuses on running her businesses, which satisfies her ever-dreaming heart and idea-generating mind. She also has the added responsibilities of being an adoptive mother to five children, a biological mother to two children, a grandmother to two grandbabies, and a wife.  
Through it all, she never loses that big smile and quirky sense of humor. 
"I perform off of lists of things to get done for the next day. I always add on more than I can handle. It motivates me to stay focused, and if I don't get everything done, I just move it to the next day." she says. 
Sabrina doesn't think of herself as a superhero, but she does possess extraordinary stamina, speed, and strength. Her greatest quality is her strength of character. She's authentic. She knows who she is and what she stands for. She has integrity and strives to do the right thing even when nobody is looking. She faces challenges head on and never stops until she accomplishes her mission. 
Longtime friend Dana Bujak Ostrom sums Sabrina up perfectly.
"Sabrina and I have been best friends for more than 30 years, and I consider her family. We have shared life's up and downs together and can't imagine doing life without her. I admire her passion to help and see people thrive and her tenacity to do a job the right way. She's funny, faithful, smart, loving, pushy, and controlling and I wouldn't want her to change a thing. To say that I am proud of her and how she has grown and what she has accomplished is an understatement. Sabrina is truly one-of-a-kind, and I thank God she's my person." 
Sabrina the businesswoman
Sabrina is a Lake County resident and 1989 graduate of Eustis High School. Early in her life, she discovered the benefits of living a healthy lifestyle. She felt happier, more loving, more grateful, and more spiritually connected. Launching a career in the health field was a no-brainer. 
Sabrina spent 25 years as a nurse. She also became a certified fitness instructor who opened the area's first training studio in 2003. 
However, after working alongside medical experts at Hippocrates Health Institute, a world-renowned, holistic health center in West Palm Beach, she became fascinated by a new movement in medicine. Unlike traditional medicine, where doctors prescribe medication to treat symptoms, functional medicine is a proactive approach that examines a patient's lifestyle habits and reduces the likelihood of illnesses occurring. 
"What I learned at Hippocrates was fascinating," she says. "I knew that someday I wanted to have a company that could educate and empower people to take accountability for their own health." 
That dream came true in 2020 when Sabrina opened Immunity Health Spa in Lady Lake. A sense of serenity and wellbeing envelops clients the moment they enter the spa. The meticulous attention to detail, the personalized service, the wonderful amenities, and stunning décor leaves clients feeling relaxed, rejuvenated and refreshed. The company offers services one would expect to find at any spa—body treatments, facials, massages, and waxing. 
However, Immunity Health Spa sets itself apart with the breadth, depth, and scope of services. As the company's name implies, the goal is to strengthen clients' immune systems, thus helping them fight off disease. This is accomplished through treatments such as intravenous vitamin therapy and salt therapy. 
"We're all about educating and empowering so they can take the necessary steps to heal their body. We are wonderfully made and our body needs vital nutrients to repair itself and keep the immune system strong to aid in the prevention of illness and premature aging," Sabrina says. 
Her spa has caught the attention of people in the health industry. Sabrina has been approached about the possibility of opening spas in Fort Myers, Boulder, Louisville, and Las Vegas. Those who work with Sabrina are hardly surprised by her success. She's every bit a compassionate boss as she is a successful entrepreneur. 
"I have had the pleasure of knowing Sabrina for six years," says Deb Matlock, spa manager. "Sabrina pushes me to be the best I can be, not just in business but in every aspect of my life. She keeps me striving for perfection and to never settle for mediocrity. Sabrina is so much more than just a boss—she is a leader, encourager, teacher, and friend."
Of course, Sabrina is not the type to settle down after launching a company. In 2021, she became part-owner of Lake City-based Black Ops K9. The company breeds and trains elite personal protection dogs for civilians, as well as K9 dogs that law enforcement officers use for police work. 
Sabrina will soon be the proud owner of one of those protection dogs, a black German shepherd named Covid. 
"I've always wanted a protection dog because I love the level of obedience I see in these very well-trained animals. Their intelligence is heightened, and they listen and observe their surroundings constantly," she says. 
The courage to open Immunity Health Spa and Black Ops K9 in back-to-back years has a lot to do with success of the first company she helped start. In 2007, she and Joe, her husband of 26 years, officially opened Electrical Works, which today is based in Leesburg. 
The thriving business boasts more than 47 employees and provides commercial electric services throughout Florida. The company handles all aspects of electrical installations, including large site development projects, all commercial projects, and whole house generators. 
"No matter what the business is, my focus has always been to build relationships with people in the community and be there to support great organizations," she says. "That's truly satisfying." 
While juggling three companies may seem tedious, Sabrina gives most credit to the staff assembled at each business. 
"We have a great team of people at all our businesses," she says. "They are truly like family. Although things get hectic for me, my teams maintain our culture and standard of excellence in everything we do. These businesses do challenge me at times, but I'm comfortable learning and growing and figuring out ways to do things better."
Sabrina the Mom
Sabrina has always loved children, and even with two biological kids of her own, she knew she had room in her heart for more. 
In the mid-2000s, the Ciceris adopted Mia, a 10-month-old sweetheart from China who is now a student at First Academy-Leesburg. Sabrina thought her family was complete until she slowed down and listened to God. 
"Around age 40, God put a desire in my heart that I didn't see coming.  While away on a vacation, I felt like I wanted more children. My youngest was 7 at the time and I thought she was the last. Boy was I wrong!"
In 2013, she and Joe attended orientation and training classes at Kids Central. Since then, they fostered six children and adopted three, including two newborns at one time. Her family grew in both size and love. More importantly, she saved the lives of children who might not otherwise have a chance to learn and grow in a loving environment. Currently, four children are living at the Ciceri home: Mia, 16, Jackson, 9, Anthony, 7, and Nissi, 7.
"My adopted children may not be born of my flesh, but they are born from my heart," she says. "And I can't imagine life without them. They truly are a gift from God."
That love extends to her biological children, as well. 
"Through all the teenage years and the ups and downs that I put her through, she never stopped being there," says her oldest daughter, Sierra Joy Clemmons, 28. "She works hard, and she moms hard. She never stops giving, she never stops loving, and she never stops being the on-fire mom. She always has and always does give 100 percent of herself to her children."
Sabrina's 24-year-old son, Tristan, echoed those sentiments. 
"She has a great sense of humor," Tristan says. "She keeps things fun and light while maintaining a can-do attitude. And she is so giving by going above and beyond to help everyone else." 
For many, balancing the demanding roles of entrepreneur and parent seems downright impossible. 
Not so for Sabrina. 
She's one mother who means business. 
Akers Media Group's James Combs has been a staff writer for several local publications since August 2000. He has had the privilege of interviewing some of Lake County's many fascinating residents—from innovative business owners to heroic war veterans—and bringing their stories to life. A resident of Lake County since 1986, James recently embarked on a journey to lead a healthier lifestyle. He has lost 60 pounds and walks nearly five miles a day. In his spare time, he enjoys target shooting, skeet shooting and watching his beloved Kentucky Wildcats!
Share This Story!