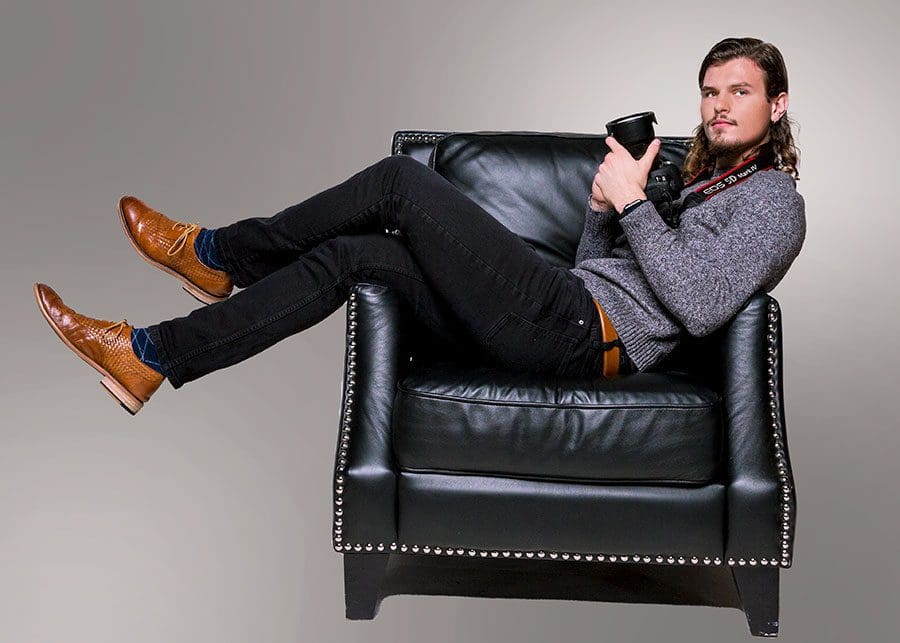 A young Mount Dora man is well on his way to making a name for himself in the game of real estate, filmmaking, and life, all while staying true to himself.
Photos: Nicole Hamel
With a high school diploma, college degree, steady job, and several short films he's written, produced, and acted in, under his belt, one can say with certainty that Kyle Tetzlaff has accomplished quite a bit in his lifetime.
At the same time, however, he says he is just getting started. 
Not bad for a 23-year-old.
"I think for the most part, the way my life is going is pretty surreal. Sometimes, I have to take a step back and consider what I'm doing," says Kyle. "I don't make it a habit to compare my life with anyone else's, but when I get positive comments from my friends praising my accomplishments and what I've done so far, I feel proud about paving my own path, making my own way."
Born and raised in Naples, Kyle spent a lot of time at the local zoo, which his family owned. 
He and his brothers would help with various tasks, hanging out there and at home, then in their spare time, would find themselves making spoof commercials and acting out other scenarios to pass the time.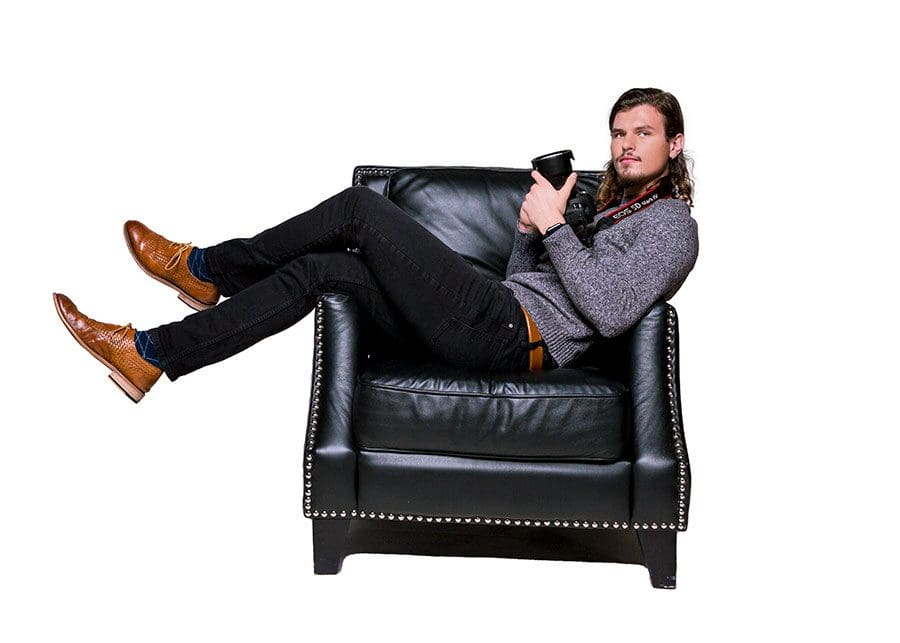 Kyle was also in awe of the writing talent that runs in his family. Both his grandmother Nancy "Safari Jane" Tetzlaff, and father David Tetzlaff are accomplished writers. Because of this, he would oftentimes pen stories himself growing up. Writing was also a way of coping with a condition he was diagnosed with and a season of bullying he endured in school because of it.
"Growing up with OCD was a challenge. The doctors thought I had asthma, but really it was a tick cough; just something I would do continually, and it was super embarrassing," Kyle says. "It also made me an easy target for bullying."
Kyle says even so, he got by with great family support, writing and what he calls, his comfort movies.
"Writing has always been a passion of mine. I've been doing it since I was a kid and that was partially because of my grandmother, who was an author. She wrote a book called 'Jaguar in the Kitchen: My life with Jungle Larry,' Kyle says, explaining that her stories center around their family's life, the animals, and the Naples Zoo, which they owned. "Also, film has always been an escape for me. It probably sounds really, really corny but movies have always been there for me. It's like no matter what, or if I'm having a bad day, I can put on one of my comfort movies and know that I'll be fine by the time the credits roll."
Fast forward to 2022, and movies are now a huge part of Kyle's life, but in a slightly different way, and it all started in 2016, his freshman year at Stetson University, where he began dabbling in filmmaking with some of his newfound friends.
Kyle says he and another student, one of his best friends, Ivan Kaiser – whom he would later find out owned "Alabaster Effect," an independent film group founded in 2011 – were in a film writing class together. With no pre-warning, it's how what is now one of Kyle's greatest passions was born.
"Ivan was already film making before I met him, but in that class, we did an extra credit project called '12 OZ. Under,' and that was the first time I ever acted or was a part of filmmaking," he says, adding that the project can still be viewed on the Alabaster Effect's YouTube channel by clicking the 'Films' and 'Stetson University Film Class' tabs. 
After that, Kyle was hooked.
"I enjoy every part of filmmaking, because like all versions of art, it's a way to express yourself, to be creative and just be who you are," says Kyle. "I was very drawn to it partially because even if you have a zero-dollar budget, you can still film any story you want as long as you're passionate about it."
Since then, Kyle has become even more involved in the Alabaster Effect, and aside from writing and acting, has tried his hand at producing and directing. 
In fact, one of the short films Kyle wrote and directed – 'Avocado Desperado,' a story about smuggling drugs using avocados – in 2020, was selected in four film festivals: the American Golden Picture International Film Festival out of Jacksonville, the Tampa Bay underground Film Festival (TBUFF), FLICKFAIR, an On-Demand Film Festival out of Los Angeles, California, and the Jelly Film Festival, where Kyle's film was deemed a semi-finalist.
During the lockdowns, Kyle was also inspired to write a short film called "Quarantine," a story about five friends and five very different "trips" they experience.
Currently, he is working on two other film projects: "Avocado Desperado: The Road to El Dorado," a sequel to Avocado Desperado, and a full-length feature film he has yet to release details about. 
He and his friends have also finished filming "King Dumb," a comedy sequel to "Quarantine," they wrote, rehearsed, and filmed in one day, and recently posted to their channel, and more. 
Kyle says his dream is to write scripts he could then sell to major movie studios and one day, possibly see on the big screen.
"I would like nothing more than that. It would be the biggest of honors," Kyle says.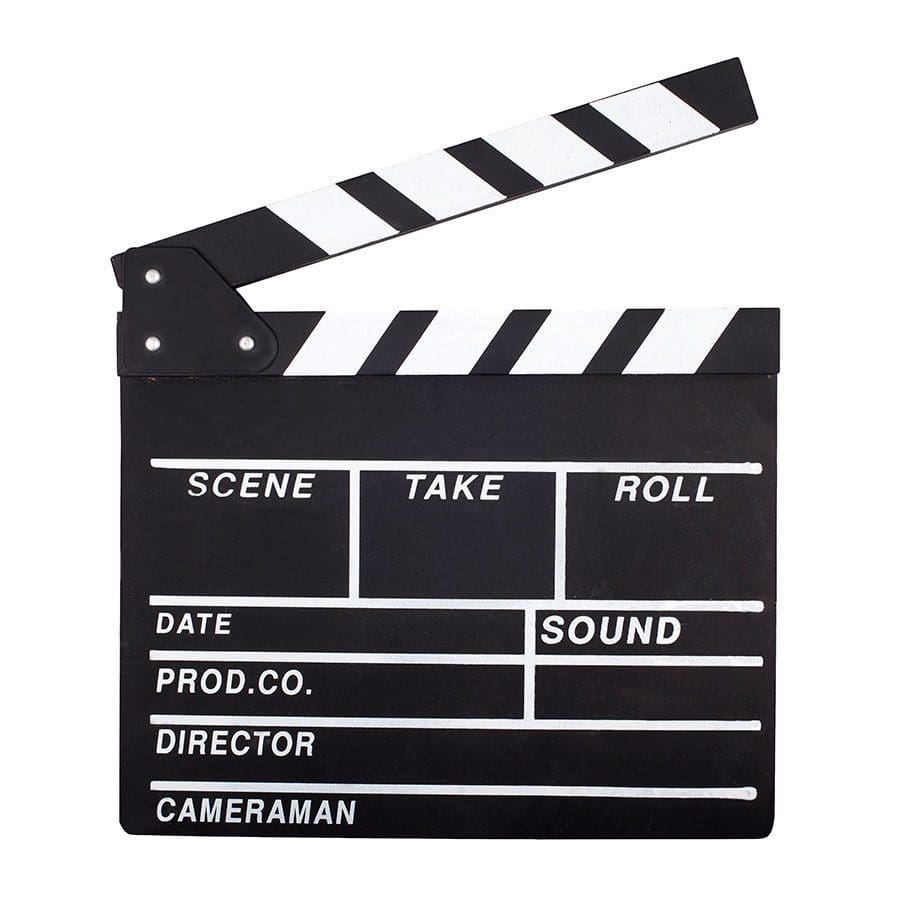 But while he is having the time of his life making movies, the movies continue helping Kyle get through the understandably overwhelming obstacles of life, since somewhere between high school and starting college, he was also diagnosed with anxiety.
Kyle says staying involved in writing and filmmaking has been a life saver.
"I've always been one to plan everything out and that's the worst thing with anxiety. You can have something planned out perfectly, then if one little thing goes wrong, it just throws you off completely. I've had to find ways to cope, and the writing and filmmaking is one of them," Kyle says. "It's also been a way to resolve childhood traumas, because it allows for a lot of self-reflection."
In fact, Kyle says some of the scripts he's written, and that he hopes to one day do something with, are about his childhood.
"I've written tons of scripts about events in my life or things that happened at school, good and bad," Kyle says adding that to him, writing is like his own therapy. "While doing that, I figured out that for the story to be meaningful, it doesn't have to be an exact duplication of something you went through specifically, but about the feelings associated with it, and that's my thing."
"I want to make a movie that makes me feel the same way I did at certain points, either to capture that time or to give myself resolution about a situation," Kyle says. "The story can be different, but if you can re-capture something that you felt as a child, I think that's really important; very special.
Aside from filmmaking, Kyle, in 2021, graduated from Stetson University with a bachelor of science degree and was promoted from receptionist to government affairs director, to director of operations and government affairs for the REALTORS® Association of Lake and Sumter Counties.
He also enjoys working with his younger brother Zane, who has taken up acting in Kyle's films, something he says has brought them even closer together.
Additionally, Kyle says he is a big advocate for mental health awareness and film equality, things he'd like to enlighten people about through his works. 
"So many people are forced to deal with struggles related to mental health every day, and I try to change the narrative of those who have anxiety, depression, or any of the mental health issues that millions face," Kyle says.
He also says people need to have more conversations about what the film industry focuses on, because it seems that women and people of color are still getting snubbed, even in this day and age. 
"When it comes to equality in film, what I want to say to anybody out there who's filmmaking is that even if you don't get recognition, keep doing it, keep making stories that are special to you," Kyle says. "It's hard sometimes, but people shouldn't get discouraged. Critics don't know everything, they don't know why you made the story that you did, so it's really important to stay true to yourself, to be yourself no matter what."
Kyle says to him, filmmaking is all about making a difference. 
"At the end of the day, when you make a movie, you're going to make someone feel something and that's what it's all about. The best part of filmmaking is when someone says it touches them," he adds. 
His advice: "Be who you are, be honest, because if a story is important to you, there's a chance that it's important to someone else. If something resonates with you, it's going to resonate with somebody else because you're not the only one going through what you're going through or fighting the battle you're fighting."
With all that, Kyle says he is not sure what the future holds for him, but he is excited to see where he ends up.
He says he is proud of his accomplishments and credits his upbringing and family for where he is today. 
"I'm going in a direction that I'm pretty happy about with my job, with my schooling, and filmmaking, but I couldn't have pursued what I am doing if it weren't for my family helping me and making it possible," Kyle says. "My parents Kelly and David are always there for me, always ready to promote anything I do, and even when I am being hyper-critical of myself, they are there to lift me up." 
Originally from Nogales, Arizona, Roxanne worked in the customer service industry while writing independently for years. After moving to Florida in 1999, Roxanne eventually switched her career path to focus more on writing and went on to become an award-winning reporter for The Daily Commercial/South Lake Press newspapers for 16 years prior to coming on board with Akers Media as a staff writer in July 2020 – her dream job come true.
Share This Story!