South Sumter High School Installs New Artificial Turf Field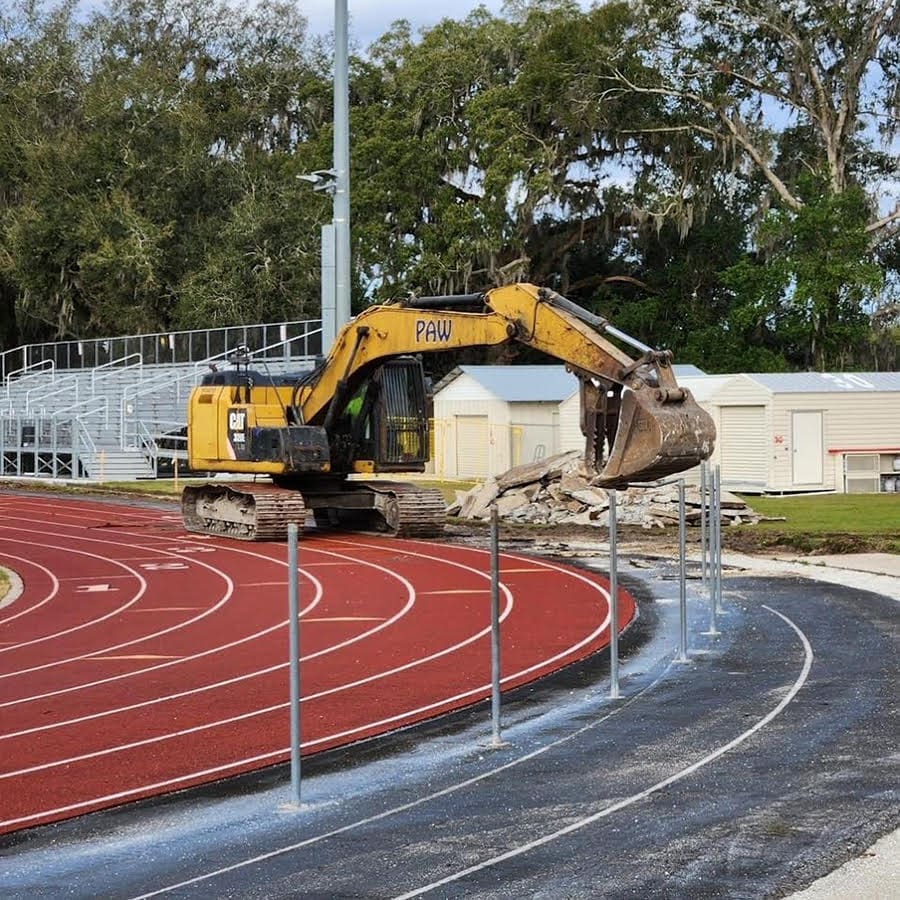 Goodby Grass Hello Artificial Turf
South Sumter is coming off one of its best seasons ever. It was a season that saw the Raiders go 12-0 in the regular season and they hosted three home playoff games. The Raiders nearly made it to the Sate Semifinals but ultimately lost in the Regional Finals 35-7 against Cocoa. Many didn't know at the time but the game against Cocoa would be the Raiders final game on Grass.
A New Era For The Raiders!
Just like that another grass football field will meet its end. Field Turf companies are looking for new avenues to install the artificial surfaces due to lower demand up north now that most schools have turf installed. Central Florida has become one of the regions that are now thinking about turf instead of grass. However a rash of player injuries on turf as well as concussions caused many schools to fear installing the surfaces due to player safety issues. Even NFL players have been lobbying for all natural grass surfaces as of late. But that has not deterred local high schools from installing the surfaces which have certainly proven to play almost twice as fast as grass surfaces.
The Grass at South Sumter was one of the most beautiful in Lake & Sumter County. It was green and lush which also provided plenty of cushion when players tackled one another. The new Turf that will be installed will hopefully provide enough cushion to avoid Concussions and Lower Extremity injuries that have unfortunately been in the news lately. We have no doubt that South Sumter has player safety in mind and we hope these young players will be protected at all costs.
Many Programs Sticking With Grass
South Sumter is one of two schools installing Turf. They join The Villages who have played exclusively on grass since their inception and are also installing a synthetic turf field at The New Villages High School. Mount Dora Christian Academy was one of the only Lake & Sumter County Programs to have a turf field for years. Now the amount of schools in our counties will be up to three who utilize artificial surfaces. There are many schools who have been against Turf instillation such as Leesburg who have noted they intend to stay grass for player safety. Other Programs staying with natural grass include Mount Dora, Umatilla, Tavares, Wildwood, Lake Minneola, Eustis, and South Lake who intend to continue playing on grass.
Turf Allows For More Events
Field Turf in general allows more programs to play on the surface. Grass can get beat up but field turf allows football, soccer, intramural, and other younger athletes the chance to play on the surface without worrying about the field getting beat up. Field Turf has been known to leave carpet and rug burns so the players will need to adjust accordingly playing on the surface next season. Elbows, forearms and knees will be the most critical to prevent nasty burns. Many platers wear a combination of tape and long shirts to prevent burns.
Turf also heats up to well over 140 to 160 degrees in the summertime. This is part of the reason why many schools have been against the switch to Turf in Florida. All three NFL teams play on grass and so does The MLS Orlando City. Most Division 1 College teams play on grass as well. Grass is much cooler and doesn't cause as much heat exhaustion to players. Teams begin practicing in Late July and August mostly. Those hot summer afternoons and evenings will take some getting used to for the South Sumter and The Villages players.
Turf Expensive Upfront But Easier To Maintain
It's a debate that's raged on for years. Turf is very expensive upfront but can be maintained easier than grass. On the other hand the field turf uses no water and should reduce the amount of irrigation and fertilizers used to keep the field looking good. The field should certainly look good as turf field designs are always intriguing as you can do more with the designs than grass allows.
We are a bit saddened to see the grass field go but hopefully the decision pays off for The Raiders. Field Turf plays faster than grass, it provides electrifying plays so we will see what that looks like next year. Artificial Turf is laid out over a sand and stone base. The plastic fibers are sewn into the under rubber layer which is comprised of a rubber roll of fake grass. This is then laid down and the rubber infill is then poured on top to create a surface that mimics grass.
The Turf has a life expectancy of around 10 years. Many teams have been electing to go back to natural grass at the conclusion of its life span. Once teams install the artificial surface it is usually a 10 year commitment before they can elect to purchase another surface or go back to natural grass.
South Sumter Also Installing Much Needed New Running Track
Meanwhile South Sumter is also installing a new track around the field. The track was aging and needed to be replaced. The new track should provide some of the fastest times in the state. The grip will be better and the overall track will look refreshed which was much needed.
Construction should last a few months on the football field but it should be ready for the 2023 season. We wish the construction crews and the Raiders the best of luck as the new field is brought to life!
Photos From –
South Sumter Raiders Facebook Page
Steed Multimedia
Kyle Coppola
Mount Dora Christian Academy
Kyle Coppola was born in Newton, Massachusetts and received his Bachelor of Fine Arts in Communications from Curry College in 2016. After traveling to Florida on a family vacation, he decided he could not get enough of the warm weather and made the move from snowy Massachusetts to central Florida 8 years ago.
For the last decade Kyle has gained valuable experience in social media content creation, marketing and sales, writing, video production, sports announcing and even broadcasting for local radio stations, such as FM 102.9 in The Villages and FM 91.5 in Massachusetts. Every year he volunteers at The Villages Charter High School as a play-by-play sports announcer for the football games as well as a public address announcer for the basketball games, including the annual Battle at The Villages Tournament.
Outside the office Kyle is a husband and father to two beautiful girls along with their cat. In his spare time he likes to spend time with his family, travel, play golf and swim. He is also a huge sports junkie and even bigger motorsports fan and loves to attend racing events when he can.
Share This Story!