Sowing kindness, reaping happiness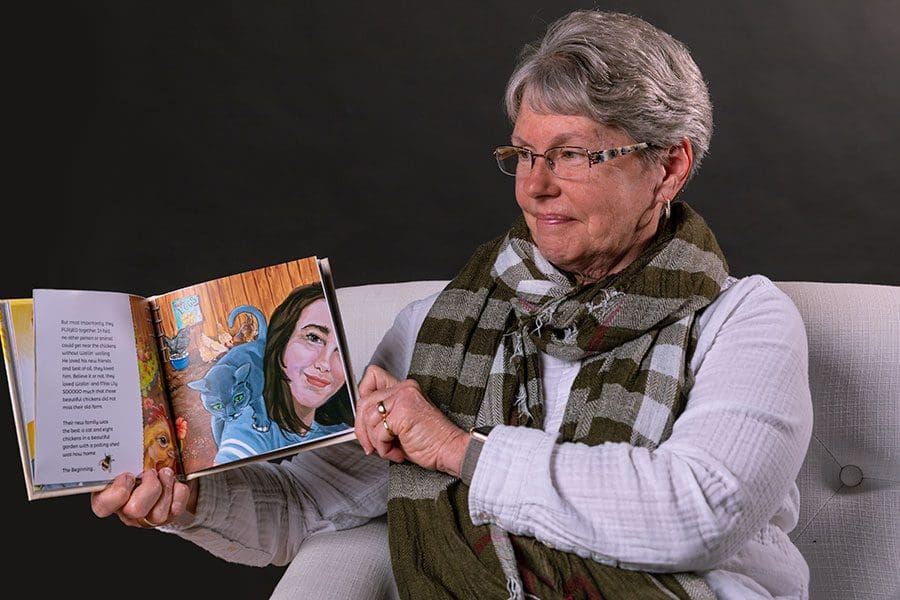 Melanie Wagner's retirement garden grows ideas for children's books.
Photos: Nicole Hamel
After years of shaping young minds, Melanie Wagner continues to share her vast knowledge with "students" of all kinds. 
Through a greenhouse she established, Melanie teaches about pesticide-free growing, benefits of edible flowers, and how to grow certain veggies year-round in Florida. 
She also hopes to spread love and acceptance to children all over with a story close to her heart she co-wrote with a friend.
Born and raised in Leesburg, Melanie still proudly calls the small town home where she married, raised two children, and had a lifetime of fulfilling careers and endeavors. 
After teaching 7th grade language arts at Carver Middle School, Melanie moved on to a full-time position at Lake Sumter State College, where she taught from 1990-2014. 
As retirement approached, she decided to pursue her interest in gardening and built a greenhouse with considerable help from her contractor husband. She planned for a small greenhouse, but it ended up being 2,000 square feet after her teacher friends and others expressed interest. 
Melanie's plan was to grow vegetables and greens for community-share baskets and sell them to friends to cover the cost of seeds, fertilizer, etc. 
Melanie grew cucumbers and tomatoes, greens and herbs, and even edible flowers while learning quite a bit about gardening and unique plants. 
"I would be up before the sun. I would wear one of those headlamps to plant, and it takes a lot to run a greenhouse, but it was a good opportunity for me to share with people about growing without pesticides," Melanie says. She learned a lot about an alternative pest control – releasing different types of wasps and ladybugs to eat the "bad bugs." 
She had a lot of fun running her greenhouse, and often had groups visit for tours. Melanie would tell the touring groups all about her alternative pest control, joking that she would have to ask them to "please not kill [her] pest control" when they would swat at wasps. She also enjoyed educating visitors about hydroponically growing greens, and about greens and plants they may not have seen before. 


The greenhouse also introduced Melanie to Jessica and Gareth Gentry of Bountiful Farms in Okahumpka. "Jessica and I got to know each other when I had so much lettuce growing, because I can grow lettuce in the greenhouse in the summer when you can't grow it in the field. When Jessica wasn't able to grow romaine and shard and things, I was able to keep her supplied," Melanie says. 
She offered the greenhouse to Jessica and Gareth when Melanie's parents became ill. The couple found helpers to disassemble the structure and reassemble it at Bountiful Farms, where it remains with newly added growing tables. 
Gardening also brought Melanie together with Nicki Forde, a local artist who was profiled in Style's Local Talent feature in April 2021. Both ladies have always been animal lovers, and when Melanie gave up the greenhouse, she also had to disperse 54 chickens, most of which went to Bountiful Farms. The special-needs and geriatric chickens went to Nicki, who has a soft-spot for those kinds of animals. 
When the chickens moved in, Nicki watched her diabetic cat Wailin' and the chickens become quick friends, which led to Melanie and Nicki collaborating on a book. 
"We started talking about that and I said, 'Who would've thought that having the chickens move in with him would give him purpose or something to do, however you want to put it,' and they just became best friends," Melanie says. "That's one thing I think is interesting about our book, in that even though it's children's, it's nonfiction. It actually happened and it's a little bit unique." 
Nicki and Melanie have been working on the book for several years. It's finally with a publisher, and they should have a first-cut copy soon. It will be available as an e-book or hard copy. 
"If you look for it, you can find happiness, love, and acceptance in some really unusual places," Melanie says regarding Wailin's friendship with the chickens. She adds: "We thought if there is a child in elementary school who is diabetic or has some other ability or disability, this might speak to that individual child and let them know that you don't have to be like everybody else, your friends can be different you can be different and have a good time." 
The two women have plans for future books, which they hope to make into a children's series. 
"We have several ideas that are either based on the animals, or since we both enjoy gardening, we can't decide whether we're going to do another one about the animals first," Melanie says. "The other one we're thinking about that is called 'Tales From the Garden,' with a play on the word 'Tales' crossed out and spelled 'Tails' on the cover," explaining that it will intertwine their love for animals and Florida plant life, as well as educate about plants many people consider weeds that have their own beauty. 
With Nicki's artistic eye and Melanie's background in technical and professional writing and critical research, the two make a great pair for creative yet educational and non-fictional children's books. 
"It was a dream for us to put this together just because of our love for the animals and we wanted to share that, and if it's well received by the kids then we'll pursue another book and keep going with it," Melanie says. 
Originally from Buffalo, NY, Victoria graduated from Canisius College in 2018 with a bachelor's degree in English and Writing. In August of 2019, she relocated to Eustis, Florida, and soon began at Akers Media Group assisting with social media projects. Later that year, she was promoted to a full-time writing position at the company and has since found her niche telling the stories of so many of Lake and Sumter County's awesome people.
Share This Story!