Spirits: Bubble up to mimosas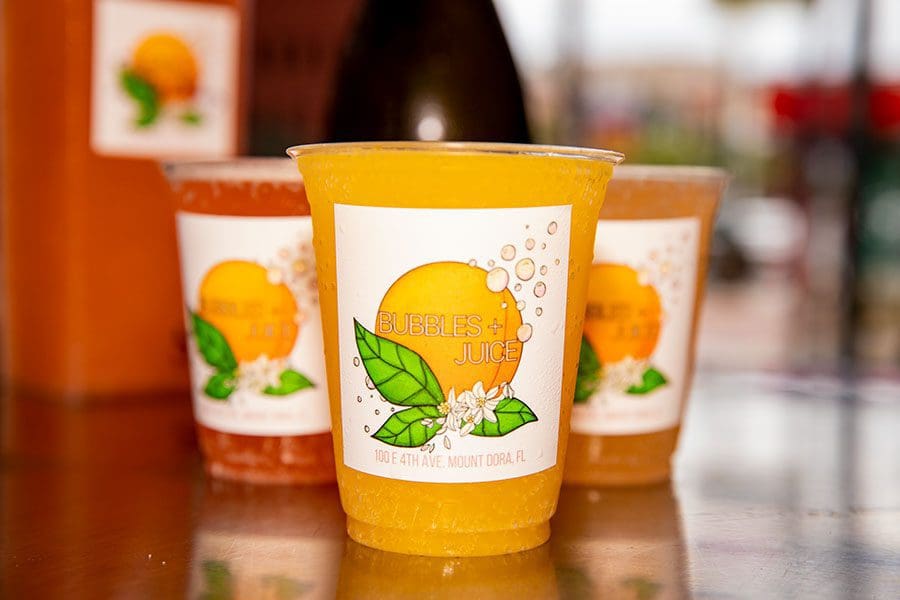 Creativity is everything for the owners of Bubbles + Juice in Mount Dora.
Photos: Anthony Rao
Ben and Jenny Falcone are palate pleasers. 
Their first business venture took them to farmer's markets throughout Central Florida, where they sold homemade pies with that delicious light and fluffy filling. 
Next, they opened Winter Garden-based Sir Benji's Donuts, known for its sweet, plump, and hot mini donuts covered in sprinkles and many other toppings. 
Then, they decided if they could craft tasty pastries, they could also craft a successful cocktail.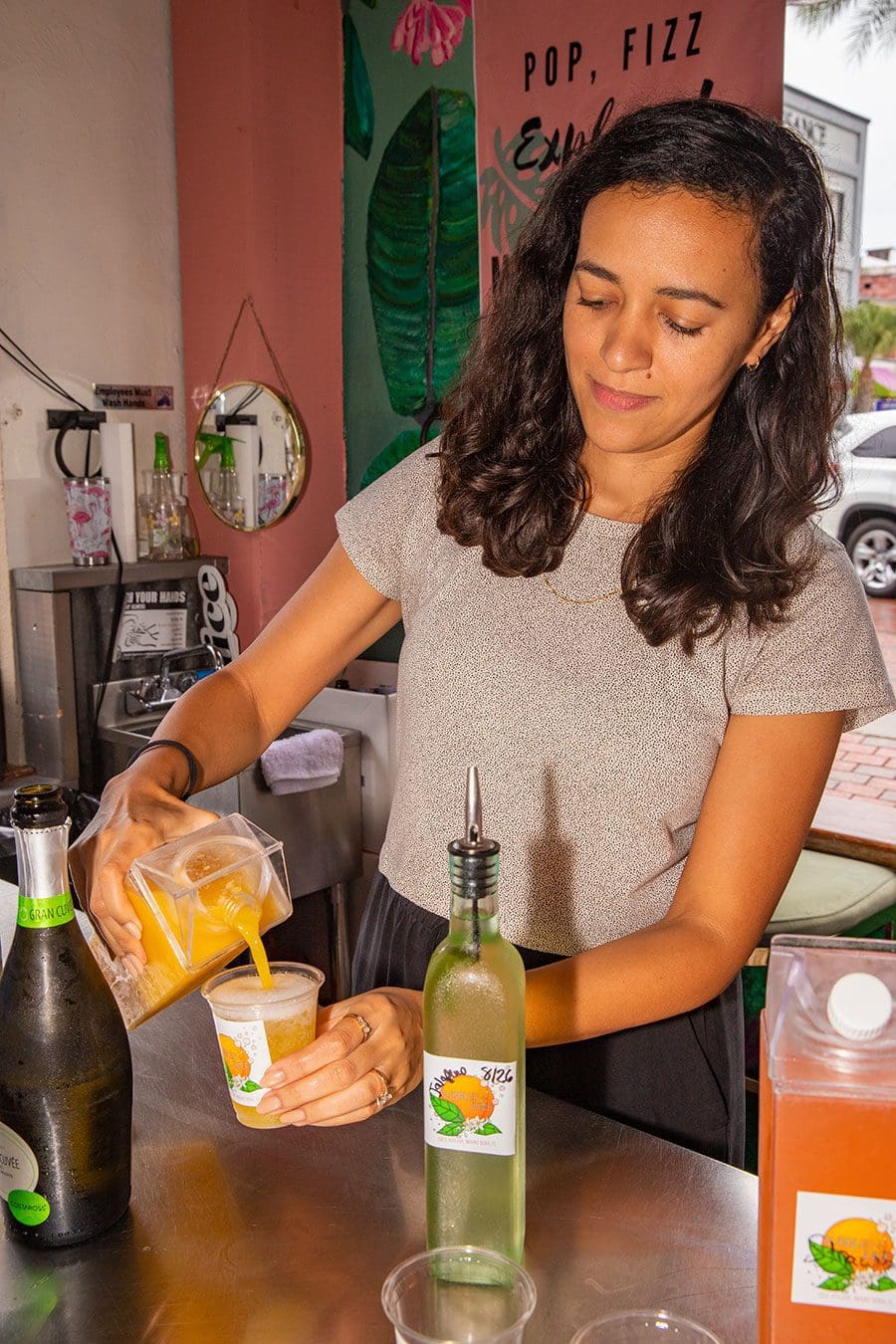 In October 2019 they opened Bubbles + Juice in downtown Mount Dora and began serving mimosas, a cocktail made of equal parts champagne and chilled orange juice. 
Transitioning from pastries to mimosas might seem like a big leap to some, but for the Falcones, the change made perfect sense. 
"With our piemaking business, we used seasonal flavors and good ingredients," Ben says. "We wondered how we could incorporate those ingredients into our drinks. Crafting both a successful dessert and a successful cocktail requires a mastery of techniques. Plus, mimosas are becoming increasingly popular. Beer can be a little heavy, and mixed drinks can become overpowering. Mimosas are a sweet spot in the middle to get a refreshing and relaxing taste." 
There is no bar seating at Bubbles + Juice, located at 100 E. 4th Ave. Customers simply walk up to an open window and make their selection from a menu that includes "Fresh Orange," "Grapefruit," "Strawberry Jalapeno," and "Orange Lavender." The open-window concept is part of the appeal. Visitors can stroll through the downtown area while browsing at interesting shops hidden along narrow alleyways and old buildings with rich histories. Then they stop at Bubbles + Juice for a soothing mimosa.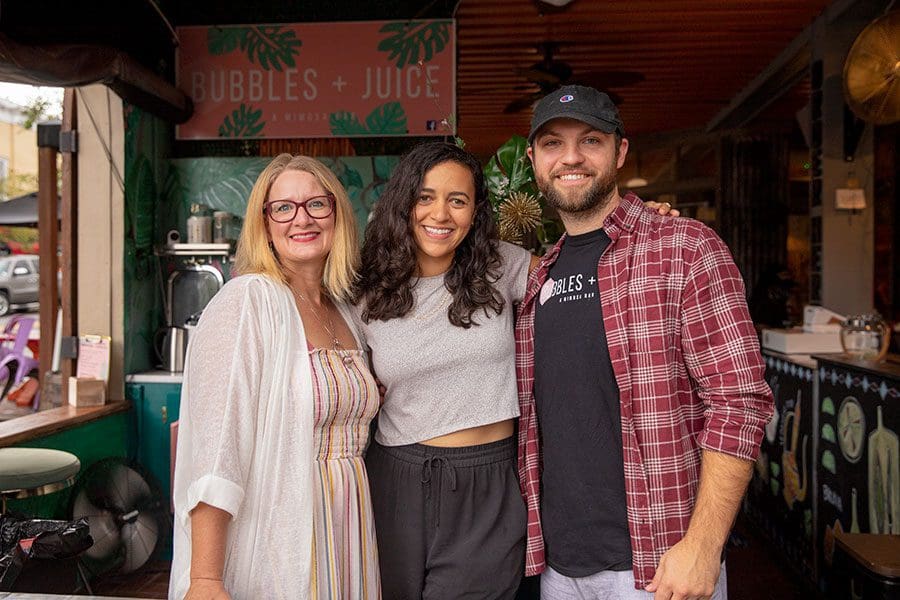 "A lot of people come down here on Saturday or Sunday and stroll around," Jenny says. "It's hot outside, so they're longing for a cool, refreshing drink. They come here and get their mimosa and then they can legally walk around with it in this city. The drink gives them a little buzz, which allows them to enjoy the city that much more. We do everything with quality and purchase our own rosemary, lavender, and mints. It adds that extra layer of craftsmanship to a drink." 
The Falcones refer to their concoctions as "craft mimosas" because they do not always use the standard orange juice and champagne. For instance, the strawberry jalapeno mimosa is slightly spicy and sweet and has become one of the most popular flavors on their menu. Sipping their watermelon-flavored mimosa might transport some back to their childhood because, according to Ben, "It tastes like a Jolly Rancher that gets you tipsy."
They also tap into their creativity to create seasonal mimosas, such as a hot cider flavor in the winter and the "Vampire Blood" mimosa for Halloween featuring blackberries, champagne, and sparkles. 
"We take inspiration from our culinary past," Ben says. "We always tried to do a traditional pie with one thing unexpected. We implement that same concept with our mimosas. We refer to it as simple, high-quality with a little twist."
In addition to tasty drinks, customers love interacting with personable manager Cheri Lang, whom Ben affectionately refers to as "the bubbles to our juice." 
"I like working here because we don't cut corners when it comes to quality," Cheri says. "We use all natural 100 percent juice and our champagne, Spumante, comes from Italy. We also make sure the ratio of champagne and juice is balanced. This town is already a wonderful place to visit, and I feel like Bubbles + Juice enhances the Mount Dora experience." 
There's one other reason she loves her job. 
"During downtown events, we have the best view of anybody," Cheri says. 
---
Bubbles + Juice
100 E. 4th Ave. Mount Dora
Hours (subject to change):
10 a.m. – 7 p.m. Wednesday and Thursday,
10 a.m. – 8 p.m. Friday-Sunday,
Closed Monday and Tuesday.
Akers Media Group's James Combs has been a staff writer for several local publications since August 2000. He has had the privilege of interviewing some of Lake County's many fascinating residents—from innovative business owners to heroic war veterans—and bringing their stories to life. A resident of Lake County since 1986, James recently embarked on a journey to lead a healthier lifestyle. He has lost 60 pounds and walks nearly five miles a day. In his spare time, he enjoys target shooting, skeet shooting and watching his beloved Kentucky Wildcats!
Share This Story!