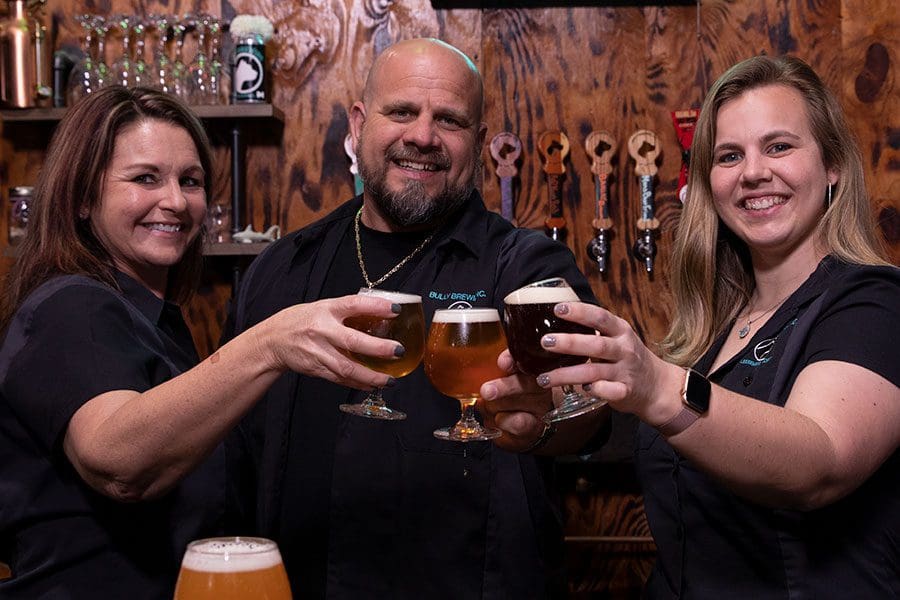 Bully Brewing offers dog treats made from Leesburg brewery's grains for your pooch and tasty craft beers for their humans.
Beer and dog lovers, Bully Brewing is for you. 
Leesburg's newest family owned and operated microbrewery is a fun, dog-friendly place where humans savor core beers and rotating seasonal favorites, and dogs enjoy a special treat made from the brewery's leftover grains. 
Bully Brewing is located at 2204 Griffin Road, behind Lakeside Electrical Contractors, nestled in a former warehouse converted into a brewery with a cozy, industrial-vibe decor and dog bone-shaped tables. The second-floor mezzanine houses all of the equipment for the onsite brewing process.
"If people are interested, they can come in for a tour and see where the magic happens," says Brewmaster Falisha Gonzalez, 26, of Leesburg, who recently completed schooling at Daytona State College for her hospitality beverage science certificate.  
The brewery owned by Falisha's father, Ryan Gonzalez, opened Feb. 29, 2020. He did home brewing for several years as a hobby before the family decided to make it a business operation.  
"My dad home brewed and when I was around, I would help him out with that, and what really got me into it more was the schooling," says Falisha. 
"I do like brewing beer, but honestly the best part is when our tap room is open and we're serving and getting the feedback of people coming in and enjoying it," she adds. "Seeing the same people come back, and all the new people, to me that's awesome. We get snowbirds that come from all over, and that's definitely good."
Bully Brewing offers craft beers to please all realms of beer drinkers, from newbies to the more experienced. 
"We have six core beers that we have all the time, and then we have three that we rotate out," says Falisha. "The most popular is a toss-up between our Weezy's Cream Ale and our Red Nose Red, both of those go the quickest. If you like light beers, the Weezy is the way to go, and the Red Nose Red is the middle of the road." 
She encourages those who want to try drinking craft beers to start with the brewery's lighter offerings. 
"I always advise people to start light because that's the more normal, familiar beer. We know more people drink Bud Lite, so we have some lighter beers; the Weezy's Cream Ale is closest thing to Bud Lite here, so it's a way to break people in and as you become experienced, then sample something outside of your realm. Expand your horizons, so to speak," she says.
The brewery once produced a jalapeno beer that generated more raves than Falisha or her father expected. 
"The jalapeno beer was a big hit; we blew that keg. It was a really good beer," says Ryan. "When we first made it, I tasted the warmth to it and thought to myself, Nobody is going to drink this. It's too hot. Nobody wants to drink a jalapeno. But after the yeast did its thing, it settled down, and chilled out just perfectly with a little bit of spice in the back of your throat."
He says Bully Brewing will make it again. 
Style reporter James Combs is eager to try to jalapeno beer. He gave Bully Brewing two thumbs up during a recent visit. 
"It's apparent to me that Bully Brewing puts much thought and love into the brewing process to achieve the aroma, body, flavor, and finish customers desire in a beer," says James. "That's a good thing, because craft beer lovers demand complexity and unique combinations of flavors and aromas. Bully definitely delivers, whether you order a light beer like Weezy's Cream Ale, a tasty, darker beer like the Red Nose Red, or anything in-between. I was very impressed by the freshness of the craft beer." 
The crisp freshness was apparent to me, too. Weezy's Cream Ale won me over. It was nice to enjoy a refreshing lighter beer that didn't taste watered down. 
The freshness can be attributed to the brewery's dedication to sanitation in the brewing process. "If the equipment is not clean, you will not have good beer; you will get all of these off flavors," says Falisha. 
The brewery also brews IPA (India Pale Ale) beer, which grew in popularity in the 18th century. 
"Right now, IPAs are pretty hot," says Ryan. "It comes from when they shipped pale ales from England to India. In order to preserve the beer, they had to hop it, because hops have a natural preservative in it so that the beer wouldn't go bad."
"I'm not an IPA guy," adds Ryan. "I don't really like the IPAs, but even the ones we make are OK. In the lighter beers, the hops aren't in it to bitter it out, and that is where the IPA guys are at, the more bitter, the better." 
The brewery now has its food license and can serve simple bar fare, such as hot dogs, boiled peanuts, granola bars, chips, and more. They also plan to have food trucks stationed there on weekends. 
Shannon Kent, Falisha's stepmom, also helps bartend and does more of the administrative side of the business. Instead of throwing out some of the grains used to make beer, Bully Brewing gives them to Dirty Dog Organics Farm in Leesburg to feed their pigs and chickens.
Falisha's mother-in-law, Pam Ogilvie, also makes dog biscuits out of some of the grains. 
"We love dogs and dogs are welcome here," says Ryan. "We give the dog biscuits to the dogs when they come in and give them to customers as a treat to take home to their dogs."
The brewery has hosted pet adoptions at its site. "We adopted out eight of 10 dogs the last time we had one," he adds. 
As for the brewery's Bully name, Ryan's dog, Dixie, an American pit bull terrier, is the original inspiration behind it. 
"She is the mascot and is here almost all the time," says Ryan, while Falisha's dog, Hops, visits the brewery on Tuesdays.   
As owner of Lakeside Electrical Contractors, Ryan says when he made beer, wine, and jams at home, he would give the items as "thank you" Christmas gifts to some of his business clients, and each had a Bully label with a photo of Dixie. 
"Dixie has been with me since she was a puppy. To be cute, we took pictures of her and put them on the bottles of Bully wine, Bully beer. Bully is what we called our stuff anyway. I love bullies (pit bull terriers), I love dogs and it fits me, it's who I am. It just works," says Ryan.
Ryan smilingly notes Dixie is also a fan of Bully Brewing. "She likes to drink a little beer when it spills on the floor." 
---
Bully Brewing
 2204 Griffin Road, Leesburg, Florida 34748
Hours: Tue. to Thu. 3 p.m. to 9:30 p.m.  
Fri. 3 p.m. to 11 p.m.
Sat. 11 a.m. to 11 p.m. 
For more information call 352.638.9207
---
Do you know a place where we can drink? → Comment on this article or send story ideas to theresa@akersmediagroup.com.
Originally from Anderson, Ind., Theresa worked for The Herald-Bulletin for many years. After experiencing a winter with 53 inches of snow, her late husband asked her to get a job in Florida, and they headed south. Well known in the area, Theresa worked with The Daily Sun and The Daily Commercial prior to joining Akers.
Share This Story!