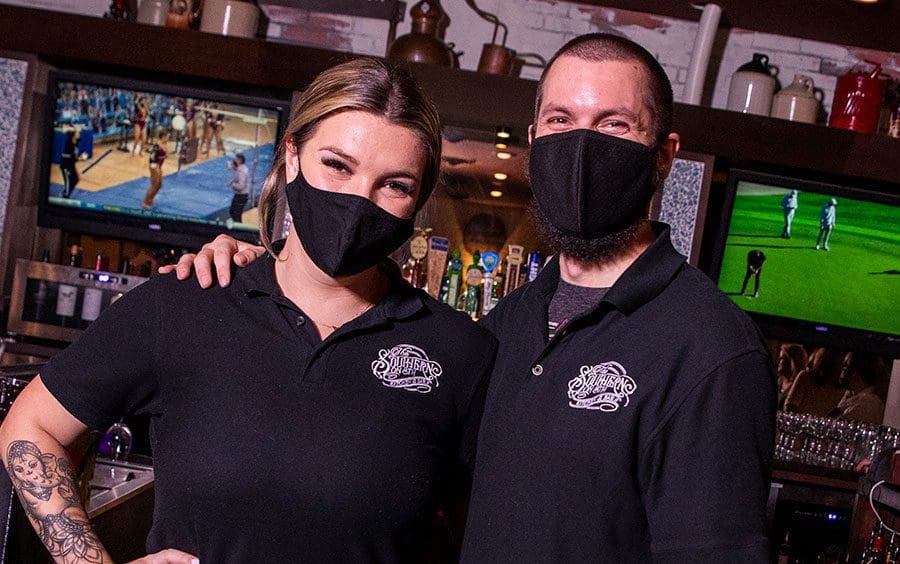 Friends bring new life to familiar corner hot spot in downtown Clermont.
Photos: Nicole Hamel
The Southern on 8th Kitchen & Bar created quite a buzz with its 'Eat, Drink and Be Southern' motto within a month of opening in downtown Clermont on Dec. 12.
"I love it here," says Groveland's Sherry Pilon, sitting at the bar enjoying an afternoon with one of her girlfriends and an order of house pork rinds on the Happy Hour bites menu.
Sherry, explaining that she's also visited with her husband, adds: "We love the menu, we love the ambiance, and we love the bartenders, especially since I like skinny mojitos, but nobody around here seems to be able to make them quite right. Here, like everything we've had, they are spot on."
That's just what the owners – no strangers to the community – love to hear.
Darren and Karen Johnson, owners of the popular Clermont Brewing Company, partnered with Richard and Michelle Formato, owners of Apple Tree, Inc. – both within walking distance – to revamp the 4,000-square-foot space that once housed 801 City Grille. There, they introduced The Southern on 8th, which includes four dining rooms, including the bar and an outside porch with seating for open-air dining.
The longtime friends all have deep ties to Clermont and the restaurant/bar industry, and in Richard and Michelle's case, to the building. Richard's brother previously operated L.J. Grunts there.
"We want people to have a great experience whether they are here to eat or have drinks at the bar," says Michelle.
My colleagues and I focused on the bar and spirits menu when we visited The Southern on the 8th,  where we found a diverse mix of people of all ages chilling in an environment that exudes relaxation, friendliness and cool, upscale, yet casual vibes.
Bartender Justin Domenech says some customers are new to town and exploring, some remember visiting downtown as children with their parents, and some have frequented the location for years as it's changed hands.
"We get to hear so many stories of what this place once was or about what Clermont was like," Justin says. 
He and fellow bartender Kaitlyn McCroy say they like seeing people getting out to simply enjoy themselves.
"We're starting to develop some good regulars and it's nice getting to know them," says Kaitlyn.
In all, we liked that all the craft cocktails on the menu were blended with house-made syrups and how unique spins on popular favorites made them seem more special, starting with the venue's take on a pina colada they call "That Ship Has Sailed."
The drink is made with Malibu, Glenlivet Caribbean Reserve Scotch, pineapple juice, real coconut, agave, and lemon, but what really stood out was the freshly grated cinnamon (from cinnamon sticks) sprinkled on top and pineapple leaves.
My pina colada was smooth, tasty, and not overpowering. And I loved how the cinnamon just added a little something special to it. I have had plenty of pina coladas in my day, but this one, by far, is my favorite, and one I will definitely come back for.
We also ordered a Mama's Cosmo, which had a spicy, sweet and sour kick to it. And we couldn't get enough of an Orange Blossom Cooler made with Italian white wine.
Akers writer Victoria ordered the Granny's Mule, the cutest drink of all, which was served in a small, rounded copper mug. Michelle says she's heard people say it is one of the best mules around. After just a couple of sips, Victoria agreed. 
"A classic Moscow mule is often what I gravitate towards on most cocktail menus, and The Southern on 8th had a mule that did not disappoint. The Southern's "Granny's Mule" had an untraditional twist–apple," Victoria says. "Your average mule has lime, ginger beer, and of course, vodka, but I loved the interesting flavor twist brought in by the sweetness of the Absolut Juice Apple. This Granny's Mule is definitely one to remember."
"We want people to have a great experience whether they are here to eat or have drinks at the bar." 

—Pam Gordon
Many other unique cocktail combinations were also featured on the drink menu, including a variety of freshly mixed wine coolers, craft beers from hoppy to refreshing, and a large variety of red, white, dry and sweet wines, including a Williamette Valley Pinot Gris that Michelle says is superb and a Squealing Pig Sauvignon Blanc from New Zealand she says is a popular selection. 
If that's not enough, people have the opportunity to sample smaller portions of some favorites off the "Signature Happy Hour Bites" menu from 4 – 6 p.m. every day (except Mondays when they're closed). The happy hour menu includes pork rinds, southern deviled eggs, a tenderloin tips crostini, Alabama southern wings, and corn and chorizo fritters, along with half-priced draft beer, well drinks and house wine. 
---
The Southern on 8th
801 W. Montrose St., Clermont, FL
Hours: Tues.-Thurs. 4-9 p.m., Fri.-Sat 4–10 p.m. 
Sun. 2-9 p.m., Closed Monday
Call 352.394.7777 or visit thesouthernon8th.com
---
Do you know a place where we can drink? → Comment on this article or send story ideas to roxanne@akersmediagroup.com.
Originally from Nogales, Arizona, Roxanne worked in the customer service industry while writing independently for years. After moving to Florida in 1999, Roxanne eventually switched her career path to focus more on writing and went on to become an award-winning reporter for The Daily Commercial/South Lake Press newspapers for 16 years prior to coming on board with Akers Media as a staff writer in July 2020 – her dream job come true.
Share This Story!