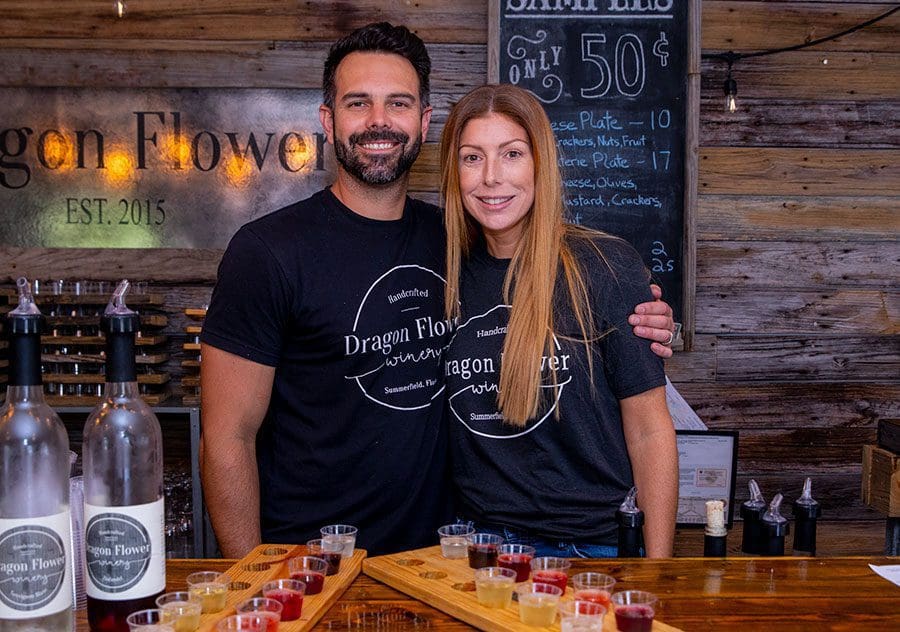 Dragon Flower Winery uses only the freshest local fruits to make tasty wine.
 Photos: Nicole Hamel
Opening their own winery was a long-time dream of Maggie Peacock and Dean Gunter that finally materialized April 28, 2018. 
Dean familiarized himself with different wines while working as a server at high-end steakhouses. "It sparked a passion in him and then he did really want to learn how to make it," Maggie says. 
Dean's uncle, who owned a winery in Ohio, offered Dean a job managing the winery while learning from his winemaker, so the two packed their bags and moved to Ohio for three years while Dean learned the trade.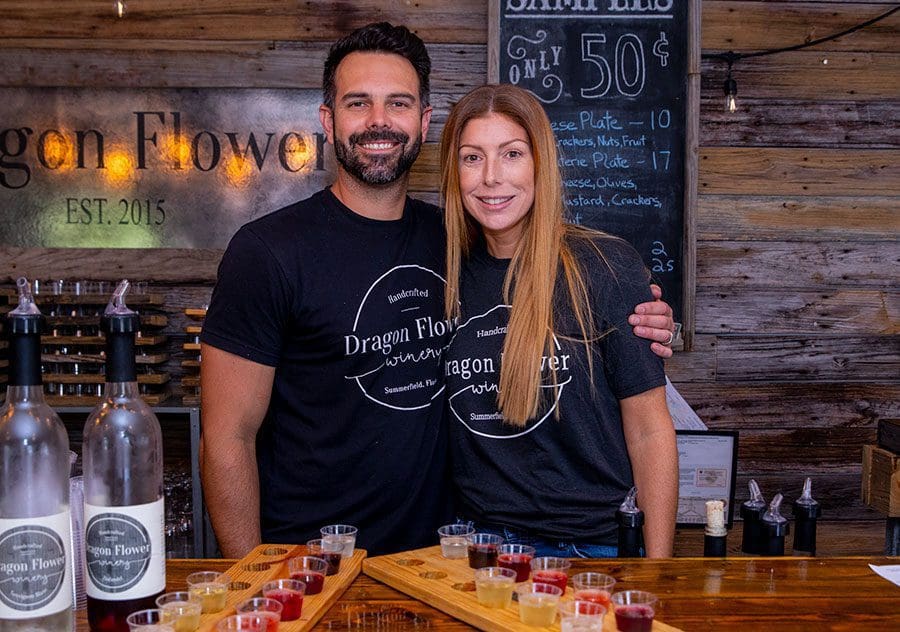 Having grown up in the Fort Myers area and graduated from an Orlando college, they both knew they wanted to return to Florida. It didn't matter where exactly, because they like most areas in the state. Maggie, who says she's "arguably ninth generation Floridian," remembers her interest being sparked by radio commercials for The Villages. 
They visited the area, looked at about 30 properties, and got lucky with a short sale on property in Summerfield where they now live and work.
It took the couple about five years from the time they purchased the property until the winery was fully functional in 2018. Maggie and Dean actually constructed much of the bar and furniture with donated wood and materials left on the property prior to them buying the land.
"We fought tooth-and-nail, put blood, sweat, and tears, and everything you could imagine to get this place open," Maggie says. "It was incredible because our neighbors here were so friendly and really embraced what we were doing when it could've been the opposite. Everyone came together that we met here to not let this dream die for us. It's been, in our eyes, what we call an extreme success, we're so happy and we just keep making it as best as we can." 
Today, Dragon Flower typically has seven to 12 wines on rotation, depending on what fruits are in season and what's available at the time. Maggie and Dean are trying to grow their own muscadine grapes, but the vines are new and it usually takes about five years for vines to fully produce. 
The couple's goal is to source as many products locally as they can, including orange blossom honey, Carlos muscadine grapes, muscat grapes, strawberries, and more. 
When Style photographer Nicole and I visited Dragon Flower for a tasting, we saw Maggie and Dean's parents and friends on the back patio cutting thousands of strawberries that made the bar smell like a fresh field, in preparation for the strawberry wine that will be ready in late spring/early summer. 
Maggie says that Dean is the mastermind behind the different wine blends and flavors. "He's pretty in tune with what's popular at the time or what people are favoring, and he will also find what's the freshest too," she says. She was skeptical when he suggested a wine made solely from hibiscus flowers but was pleased to find it quickly became their most popular wine. "My husband is like a mad scientist when it comes to wine making. He gets really nerdy about it and just likes to experiment, and he has a true skill of just bringing out the right flavors from the fruit or honey or whatever he's making his wine from," she adds. 
Nicole and I tasted every wine available at the time, which was a flight of nine. Maggie set it up for us to taste from driest to sweetest, starting with the Zinfandel and finishing with Mead (honey wine). My favorites were definitely the Hibiscus and Dry Hibiscus, the latter reminding me of chilled hibiscus tea. I imagined that the sweeter of the two would be perfect to sip by the pool or on the beach in the summer. Ditto for the Raspberry, which I also enjoyed. While I am a fan of drier wines, Nicole was the perfect tasting partner as she prefers sweeter. She enjoyed the Petit Sirah, Raspberry, and the two Hibiscus wines. 
While Dean handles all the winemaking, Maggie's specialty is party planning. "Dean really has passion for making wine, I really enjoy setting something up and then watching people have a good time. So, it's been so great," Maggie says. The winery has hosted everything from birthday parties to weddings, and baby showers to bridal showers. They've even had a couple of engagements on site. 
There are two outdoor areas, and Maggie and Dean are working on adding a more private area for small parties. They plan to have music in one area and keep another quieter for gatherings. Another thing visitors enjoy is petting and watching the horses on the winery's neighboring horse rescue farm. 
There's no need to call ahead for a tasting unless you have a large group. Wine tastings are build-your-own, so you can stick to what you like whether that's on the sweeter or drier side, or you can try them all! Wine samples are 50 cents, so you can try everything for under $5. Dragon Flower also carries beer from Florida breweries.  
---
Dragon Flower Winery
11025 SE Hwy. 42, Summerfield
Hours: Mon.-Thu. Closed,
Fri. and Sat. 2-9 p.m.,
Sunday 12-6 p.m.
Call 352.446.5204 or visit dragonflowerwinery.com
Originally from Buffalo, NY, Victoria graduated from Canisius College in 2018 with a bachelor's degree in English and Writing. In August of 2019, she relocated to Eustis, Florida, and soon began at Akers Media Group assisting with social media projects. Later that year, she was promoted to a full-time writing position at the company and has since found her niche telling the stories of so many of Lake and Sumter County's awesome people.
Share This Story!