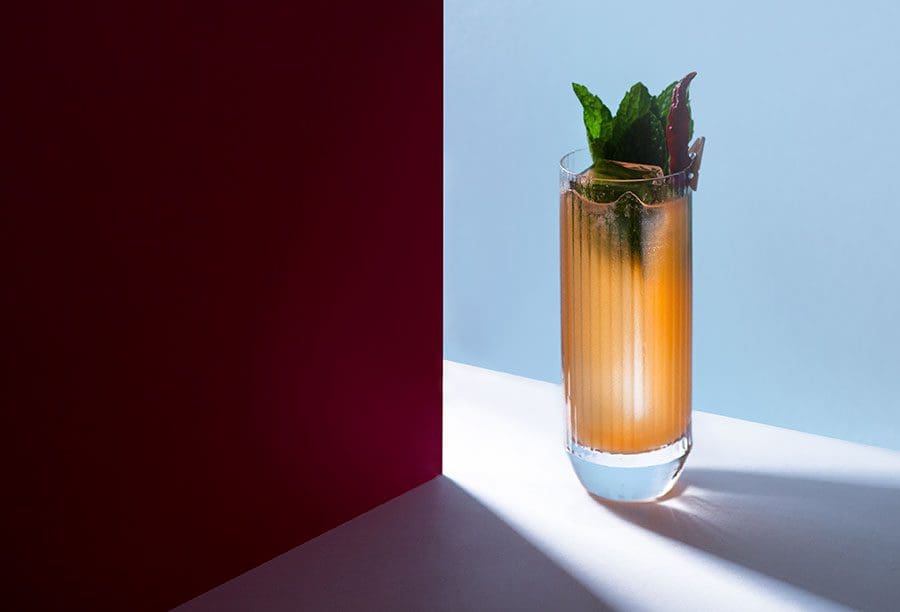 Handlebar Lounge is bringing a new type of atmosphere to Mount Dora.
Photos provided by Anna-Marie Williams.
Walking up the dark stairwell into Handlebar Lounge, located above the Mount Dora Marketplace, the entrance opens up to a cozy bar with leather couches, high-top tables, and bright natural light filling the room through windows on the L-shaped exterior. Sitting down, you can scan the QR code for the drink menu, where my companions and I first ordered a Paper Plane, Pornstar Martini, and Saturn. 
"The whole design concept was just to make it as inviting as possible, kind of break down that idea of what people think a cocktail bar is," says owner Dakota Parsons-Bryant. "We keep our stairwell dark on purpose, so people think they're walking into a darker, moodier speakeasy, but when you come into the room it's really open and bright." 
Dakota also loves that his bar is located on the busiest corner in downtown, overlooking Donnelly and 4th streets, which gives the bar a "big city" feel. "We call it more of a 'speak-teasy' because it's very casual, and for that reason, we wanted not be run-of-the-mill, but at the same time, we all very much respect the craft of bartending."
Waiting for our hand-mixed drinks, we noticed the eccentric wallpaper adorned with pink bras and charming monkeys hanging off branches with cigars in their mouths or vodka bottles in their hands. The TV on the back wall was playing 1975's "Jaws," and there was music playing as well. We were then brought our drinks: my Paper Plane, a blood-orange colored cocktail adorned with a small paper plane, my sister Katie Schlabig's Saturn, with mint leaves and an umbrella, and friend Julia Miller's Pornstar Martini, with a brandy-soaked cherry at the bottom of the glass. 
With the first sip of the Paper Plane, made with bourbon, aperol, lemon, and amaro, I was skeptical, but it grew on me and ended up being my favorite of the six drinks we shared. It started out citrusy with the aperol at the forefront, but it got sweeter as I drank. I also enjoyed the mai tai, which was different from your typical, achingly-sweet mai tai, and was more of an "elevated" version of the popular cocktail, garnished with a dried orange slice.
As for the Saturn, Katie says, "It was a very light and refreshing drink that was perfectly balanced. The brandy-soaked cherry was the perfect addition to top it off." And Julia Miller says, "Out of the two I tried, the Pornstar was definitely my favorite. It gave off a nice, sweet taste without being overpowering and the cherry at the bottom was a nice surprise." The Naked & Famous gave off more of a smoky taste compared to the other drinks we tried, which Dakota informed us was due to the use of mezcal, tequila's smokier cousin. The bartenders were friendly and helpful with our drink choices, and Dakota says, "We want people to come in here and become regulars and get to know us." 
While many cities have their own "Handlebar" watering hole, the Mount Dora Handlebar Lounge's owner Dakota wanted to use his own twist by elevating the name with nicer cocktails and an atmosphere unique to Lake County, rather than your typical "Handlebar," often a hole-in-the-wall where beer and two-ingredient drinks are served in plastic cups. The name is also a tribute to Dakota's handlebar mustache. 
"I started growing this stupid mustache like four years ago and it's just been on my face ever since," Dakota says. "For the name of the bar we were trying to find something with a lot of commonality for bars, and there's a Handlebar everywhere. They're usually biker bars and 'rough around the edges' bars, but we wanted to be a more refined bar," he adds. 
Owning a bar had always been a dream for Dakota, who has worked in hospitality since he was about 17. He and his business partner decided to sign a lease for the building in June and began renovating the space after Dakota and his current employees all got laid off back in March of 2020. "The bar used to be a really old, smoky dive bar since '95 so everything we did ourselves with help from plumbers and electricians. Everything else was done by us," Dakota says. 
As for the drink menu, in the beginning the bar only served classic and contemporary cocktails, "whether they be pre-prohibition, all the way to modern classics from the early 2000s and the 'Cocktail Renaissance' in the 2000s," Dakota says. His team focused first on perfecting those classic cocktails before releasing their own cocktail menu in late April. Dakota also wants to emphasize their "no smoke and mirrors, you see what you get" business style, as they have no kitchen, and everything is done in front of customers, or on Mondays when they are closed. All of the juices and syrups are made in-house twice a week to ensure the freshest, most authentic ingredients in your cocktails.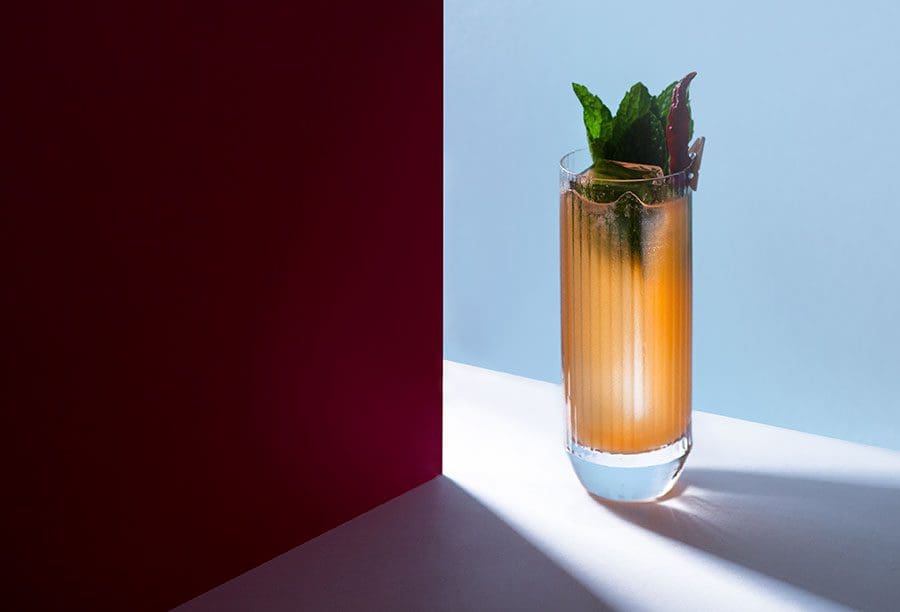 During Christmas and St. Patrick's Day, Handlebar had drink specials and holiday-inspired cocktails; The QR code menu will show you any seasonal drinks that are available, along with the year round menu. With its bar license, Handlebar is also able to sell liquor bottles to customers, as well as handles of pre-mixed cocktails that you pick up after calling or messaging ahead of time.   
---
Handlebar Lounge
100 E. 4th Ave., Mount Dora
Hours:  Closed Monday; Tuesday-Thursday 4 p.m.- 12 a.m.; Friday 2 p.m.- 2 a.m.; Saturday 12 p.m. – 2 a.m.; Sunday 12 p.m.- 8 p.m.
352.434.9089
handlebarmtdora.com 
Instagram @handlebar_lounge
facebook.com/handlebarmtdora
Originally from Buffalo, NY, Victoria graduated from Canisius College in 2018 with a bachelor's degree in English and Writing. In August of 2019, she relocated to Eustis, Florida, and soon began at Akers Media Group assisting with social media projects. Later that year, she was promoted to a full-time writing position at the company and has since found her niche telling the stories of so many of Lake and Sumter County's awesome people.
Share This Story!