A unique storefront on Magnolia Avenue in downtown Eustis is known for its magical transformation from flowers by day, to wine (and beer) at night.
Photos: Nicole Hamel
A florist and owner of Terri's Eustis Flower Shop since 1979, Terri Moja never realized what she was missing, that is, until the coronavirus pandemic inspired her into exploring new offerings for customers ordering flower arrangements for delivery from her shop.
"During COVID, we had our storefront closed, so we decided we needed to bring beer and wine to people at their front door," says Terri, explaining she got a beer and wine license so she could pair champagne and wine with flower orders.
The new addition quickly became a hit. So, when things began opening back up, Terri, with help from General Manager Kayse Willhelm, decided to take it one step further.
"We said, 'Let's build a bar,' says Terri, recalling what resulted wasn't just any old bar, but what she calls "a conversation bar," and the heart of what is now Terri's Magnolia Eustis Flower Shop and Wine Garden.
"People can sit facing each other and actually have conversations with each other, socialize amongst themselves," adds Terri, revealing the bar top and other pieces like the countertop near the wine taps and huge chandelier that hangs behind it, came from her mom, an antique dealer, who purchased them in Las Vegas years ago. 
With that, Bar Manager Jamie Tyus, an experienced wine consultant, expressed her passion for introducing interesting flavor profiles to customers, and for wine in general.
"You give wine grapes the worst conditions; I'm talking rock and slate, and you're going to get beautiful, beautiful wines," Jamie says. "I also love when people come in and say, 'I don't really know what I like,' because when I suggest something, and they end up enjoying it, it's really satisfying."
During the hours of 8:30 a.m. to
4 p.m., Monday-Friday and until 3 p.m. Saturdays, customers can call or stop in at the Magnolia Flower Shop and Wine Garden, located at 114 E. Magnolia Ave., to order flowers. 
Then, at 4 p.m. the magic happens. 
Monday-Wednesday evenings are reserved for people who've pre-registered for 'wine and design' workshops, private classes/parties, and wine tastings.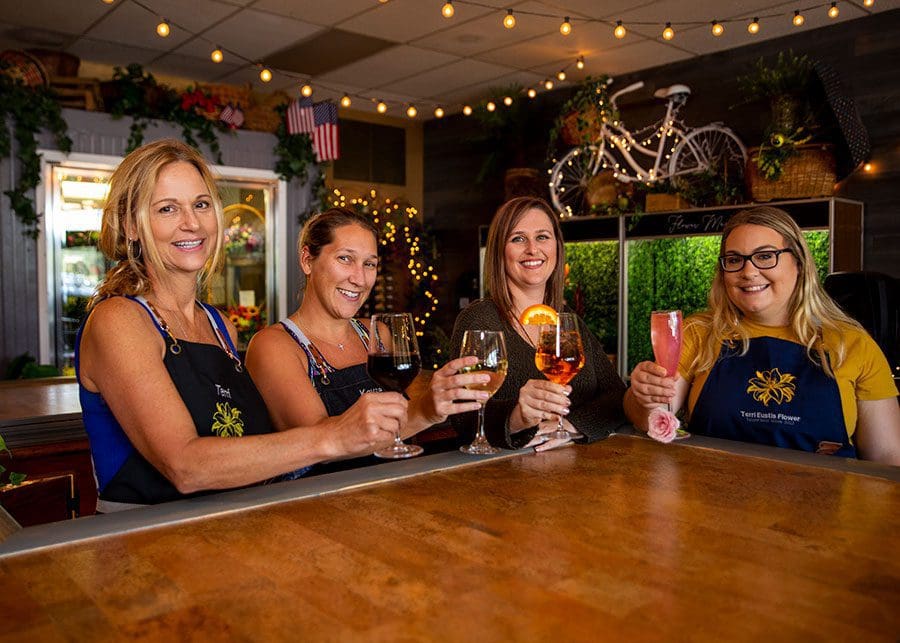 On Thursday, Friday and Saturday afternoons, from 4 p.m. to 9 p.m.(ish), people can come in, sit at the bar and enjoy a variety of beers and wines, along with live music, comedy nights, and more.
And if that's not enough, the venue can be reserved and rented for celebrations including baby showers, bridal showers, and birthday/anniversary parties.
People can also join the Magnolia Wine Club, an exclusive annual membership with perks like discounts, quarterly wine tastings, and a wine glass, engraved with a nickname and personalized pictorial representation, to use during each visit.  
"It's a wonderful getaway. The ladies love it, but so do the men," Terri says. "It's a fun way to keep Eustis on the map, keep it moving, keep people talking, and we're always adding new things."
Recently, Style Photographer Nicole Neola and I visited the Magnolia Wine Garden and upon walking through the door, we were taken by the smell of fresh flowers and unique vibe.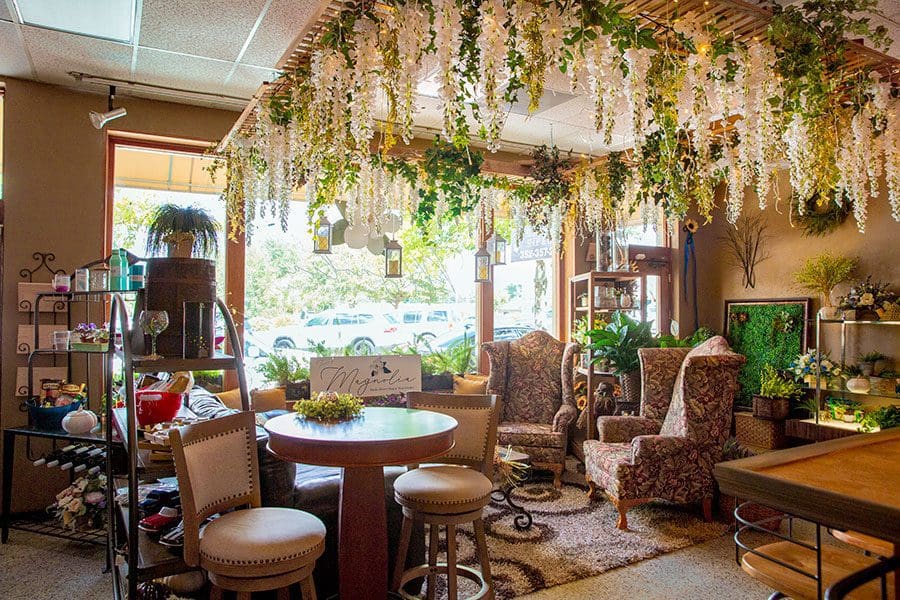 We couldn't stop admiring the hanging lights and flowers everywhere, wine corks in glass enclosures that line the bar, and rustic furniture, including the comfiest of couches, accented with "home-like" throw pillows.
Terri says: "The ambiance is very welcoming, very warm. People describe it as sitting in their living room and that's what we like to hear."  
Still, Nicole and I had a hard time choosing between the unique wines and IPAs on the menu, so Jamie helped by choosing for us, and that was a good thing!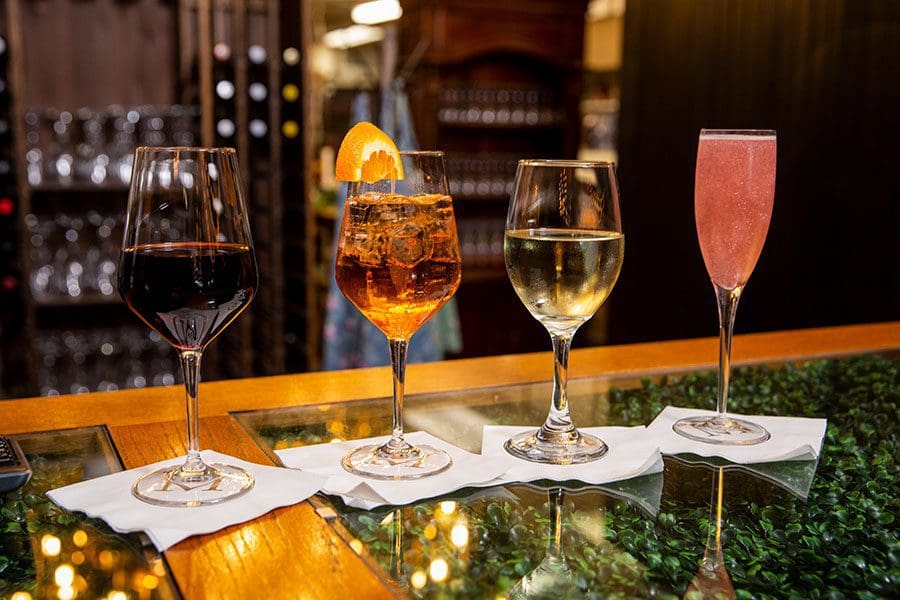 We tried the Nero D'Avola, a dry red Italian wine, and though not normally big red wine fans, both deemed it our favorite sip of the evening.  
We also tried the Torontes, a refreshing white wine from Argentina, the fun and bubbly Magnolia Spritz, made using cappelletti and aperal, and the Pink Mink, their tropical tasting, blingy signature drink, made with prosecco and pink edible glitter.
We loved that when poured, the combination created continuous swirls and sparkles inside the fluted glass it was served in, resembling a real-life 'pink mink' flower. 
"We pride ourselves on having a beer and wine menu that is unique, so you're not coming in here and just getting your run of the mill chardonnay, cabernet, pinot noir or house wines," Jamie says. "We're all about looking to serve things that people are going to like, but that you can't find at too many other places."
Going forward, the trio has plans for exciting future offerings, but meanwhile, they want people to visit, relax and enjoy sipping on some tasty wine among friends.
If hungry, people can bring food in from neighboring restaurants or purchase pre-packaged charcuterie boxes sourced from local vendors.
"What we've built makes people want to hang around for hours and that's what we love to see," says Kayse. "We have the flower shop during the day, which is our bread and butter, but the wine bar is our fun, and we want to excel that fun." 
Originally from Nogales, Arizona, Roxanne worked in the customer service industry while writing independently for years. After moving to Florida in 1999, Roxanne eventually switched her career path to focus more on writing and went on to become an award-winning reporter for The Daily Commercial/South Lake Press newspapers for 16 years prior to coming on board with Akers Media as a staff writer in July 2020 – her dream job come true.
Share This Story!