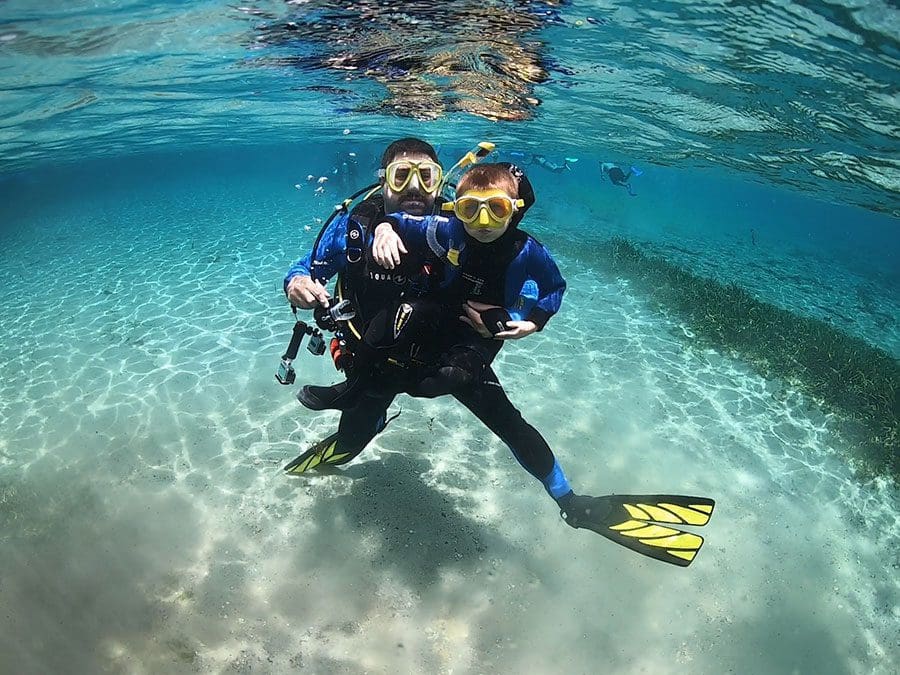 Alexander Springs is dive worth the drive where wildlife thrive.
Photos: Nicole Hamel
Lake County is well known among residents and visitors for fishing, boating, kayaking, skiing, tubing, paddle boarding, canoeing, jet skiing, wakeboarding, and other aquatic activities, but the county named for more than 1,000 lakes is also popular with those who prefer to be under the water rather than on it.
With crystalline waters perfect for diving, kayaking, or just floating, Alexander Springs Recreation Area, located at the entrance of Ocala National Forest in Astor, is popular with adventurers and those wishing to relax.
Most visitors come for the 72-degree Fahrenheit water (year-round) at one of Florida's 27 first-magnitude (at least 64.6 million gallons discharged per day) springs, but Alexander Springs is also an ideal spot for those who enjoy hiking trails and observing wildlife.
Because there are no complicated cave systems to navigate and the maximum depth of the spring is 30 feet, Alexander Springs is popular among diving instructors with first-time students.
Part of the appeal is that Alexander Springs has both a large shallow area and a smaller deeper area for divers who aren't comfortable exploring deep and dark waters.
Tony Rock of A Rock Diving in Eustis often brings students to Alexander Springs, as it is a perfect depth and visibility for new divers. "The water at Alexander Springs is very clear water. Even if it does get silted up, the water flow from the spring usually clears it out in about 15 minutes. Diving there gives you the ability to relax, see your surroundings and wildlife, and enjoy the location," says Tony, who became a master training specialist while in the Navy. Later, with Orange County Fire Rescue, he worked as a paramedic preceptor, taught special operations classes, and became one of the lead dive instructors for the dive team.
Most of the comments Tony has heard from first-time students who have gone to Alexander Springs are along the lines of "'This was an awesome dive,' and 'Wow, this is really beautiful,'" he says. Tony has had over 300 students and has never heard a negative comment from one about the location.
When Tony asked his teenage kids if they would like to start diving, too, they jumped at the chance. The family trained with Chad Patterson of CFL Scuba Divers & Repair (previously C&N Divers), and Tony and one of his sons went on to become Rescue Diver and Divemaster certified. After working for C&N, Tony opened A Rock Diving in 2013. In 2018, he became a Master Scuba Diver Trainer. 
Tony's oldest grandchild recently completed her first PADI Bubblemaker Certification (a program for children 8 and up) at Alexander Springs and "absolutely loved it," Tony says. "She was a little apprehensive, but once she got underwater, she loved seeing the fish, turtles, and just looking at the various small shells on the bottom. She can't wait until the next time she gets to go diving." 
You only have to be 10 years old to be fully certified in scuba diving. Young and old alike must meet certain physical health requirements to get certified.
Chad, who has taught people ages 10 to 70-something, recalls taking many students to Alexander Springs to complete their first dives. His oldest student, a retired Air Force colonel in his seventies, did a dive with his grandkids and did great, Chad says.
Chad is proud he's been able to teach three generations of some families. "I taught parents, I've taught their kids, and now their grandkids, so that's something really unique," he says. "I have worked full-time teaching since the late 90s. My dad was an instructor so I kind of followed in his footsteps and it's what I know now so I guess I'm stuck, but I have no desire to do anything else." He believes he has done over 10,000 dives in the 40 years since his first scuba dive in lakes around his childhood home in upstate New York at age 8.
Chad was about 12 the first time he dove in Alexander Springs, and he has been coming back ever since. He and his family moved to Eustis in 1990 when he was in high school and opened a dive shop in Mount Dora (C&N Divers) which was around for about 20 years. They had to shut it down briefly due to the economy but are now back as CFL Scuba Divers & Repair.
Chad says that Alexander Springs is a great site. "It's cool in the summer, warm in the winter, and it's just a nice walking easy-entry, and the water is clear to see fish and turtles," he adds.
"I call it my happy place," says Bryan Hylton, of Eustis, who has participated in the hobby for over 24 years. "When I'm under the water it seems like all my stress just melts away and all I hear is the bubbles, and it's just like a serene feeling to me, so it's just a big stress relief." He also does underwater spearing (catching fish with a speargun) and underwater photography and videography.
Bryan was a 14-year-old Fire Explorer in Mount Dora when he decided to enroll in a diving certification course the department was hosting. He's been diving ever since. 
Bryan likes Alexander Springs because it's not too deep, which makes it great for beginners. 
Visibility is another perk, because even if sand gets kicked up and muddies the water it clears quickly, making it easy to see the instructor and follow directions. This also allows for better visibility of fish, wildlife, rock formations, plants, and fossils.
Alexander Springs is definitely a perfect location for seeing wildlife in its natural habitat. Chad has seen gar, tilapia, bass, and shellcrackers (redear sunfish) and other fish. He has even seen otters on occasion, but it is "hit or miss because they come out when they want to." He says it's "neat" to watch anhingas–also known as snakebirds–dive under the water, and has noticed a phenomenon while diving that took him a few years to figure out: "Sometimes when we touch down on the sand, it looks like the sand is boiling, like you're making cream of wheat, and the fish will gather there. What it is, is worms making those bubbles, and the fish are waiting there for the worms to churn up. That took me probably five years of watching the fish and taking my time to figure it out," Chad says. 
Tony agrees there is an abundance of wildlife above and below the water. "Since this is a national forest, location-divers get the opportunity to see a lot of land and aquatic species native to Florida. Multiple fish and turtles swim freely throughout; Various birds can be seen sunning along the water's edge," he says. He also lists bald eagles, herons, kingfishers, swallow tail kites, limpkins, owls, woodpeckers, anhingas, bass, bluegills, turtles, catfish, sunfish, mullet, racoons, otters, deer, tortoise, and snakes, as animals seen within Alexander Springs Recreation Area. 
Both Tony and Chad have observed alligators on occasion. They are somewhat of a rare find, and are nothing to be afraid of. "They stay in the weeds and you don't go in the weeds. If you're lucky you get to see one, but they're not out to get you. I remember I had students once that said, 'Chad there's an alligator over there what do we do?' I said, 'Put your mask on, we gotta get closer.' We were still about 20 feet away, but the water is so clear that if you can see an alligator swim and how graceful they are, it's not how you think that they're out to get you," Chad says. 
Bryan recalls seeing "just about everything you can imagine" at Alexander, even catfish and an occasional manatee. Most parks protect manatees by prohibiting diving when the sea cows come out. "So many springs get closed off to diving but it's important to help keep them open and let the public access them but also protect them at the same time," Chad says. 
If you're considering taking up diving as a hobby, there are a few things you should know. First, getting certified is no easy feat. Beginners' courses consist of take-home DVDs and bookwork, followed by a review class with your instructor and a written test. Next, you have to complete a series of pool sessions before making your way to real bodies of water for "open water dives," which will likely take place in Alexander Springs if you are training with Chad or Tony.
Additionally, scuba diving can be an expensive. Gear, training, and boat charters can all be pricey, so you should really be dedicated to taking up scuba diving before jumping in. 
Bryan's advice to kids is to start early. "I see a lot of kids now getting certified because you only have to be 10 now, and it's one thing I wish I could've done is get certified earlier," he adds. 
When you're not diving, or if diving isn't for you, Alexander Springs Recreation Area still has lots to do for the whole family. Visitors can hike the 0.9-mile Timucuan Trail circling through the park, which features two observation decks where you can view the springs, as well as look for the aforementioned wildlife. The 68-site campground, large picnic area, and sandy shoreline make for a lovely weekend away from home to relax, spend time outdoors, and work on your tan. 
Originally from Buffalo, NY, Victoria graduated from Canisius College in 2018 with a bachelor's degree in English and Writing. In August of 2019, she relocated to Eustis, Florida, and soon began at Akers Media Group assisting with social media projects. Later that year, she was promoted to a full-time writing position at the company and has since found her niche telling the stories of so many of Lake and Sumter County's awesome people.
Share This Story!