Sprouts Farmers Market Now Officially Opened In The Villages!
Sprouts Open To Much Fanfare
It was a cool morning in The Villages but that did not deter the hundreds and possibly thousands of people standing outside Sprouts waiting for the grand opening this morning. There were so many people eager to work their way inside the location to see what kind of options existed. And boy when they got into the store, they were not disappointed!
Standing in line at the front of the line were a group of Villagers including Cheryl Evinger, Darlene Johnston, Mark Evinger, Sherri Davidson, Ed Davidson who would go on to be the first ever customers of Sprouts Farmers Market all of whom were residents of The Villages. I asked them what they wanted out of this location that was opening and Cheryl said "She was looking forward to their competitive pricing, and bulk items that they sell" Darlene said that she was most looking forward to the friendly service the staff provides at Sprouts locations.
Arleene Lehew was a former Earth Fare customer and she said she "Was looking for this location to keep its mission statement unlike Earth Fare did. I am also thankful that the location was in a much easier to navigate area than Earth Fare was." Sherri Evinger said that she was looking forward to the fact that the location is golf cart accessible. Unlike Earth Fare which was only accessible by car, Sprout is accessible by both car and golf cart. This should encourage Village residents to be able to access this location a lot easier than Earth Fare which was located on 441 in a heavy construction zone which contributed to its demise.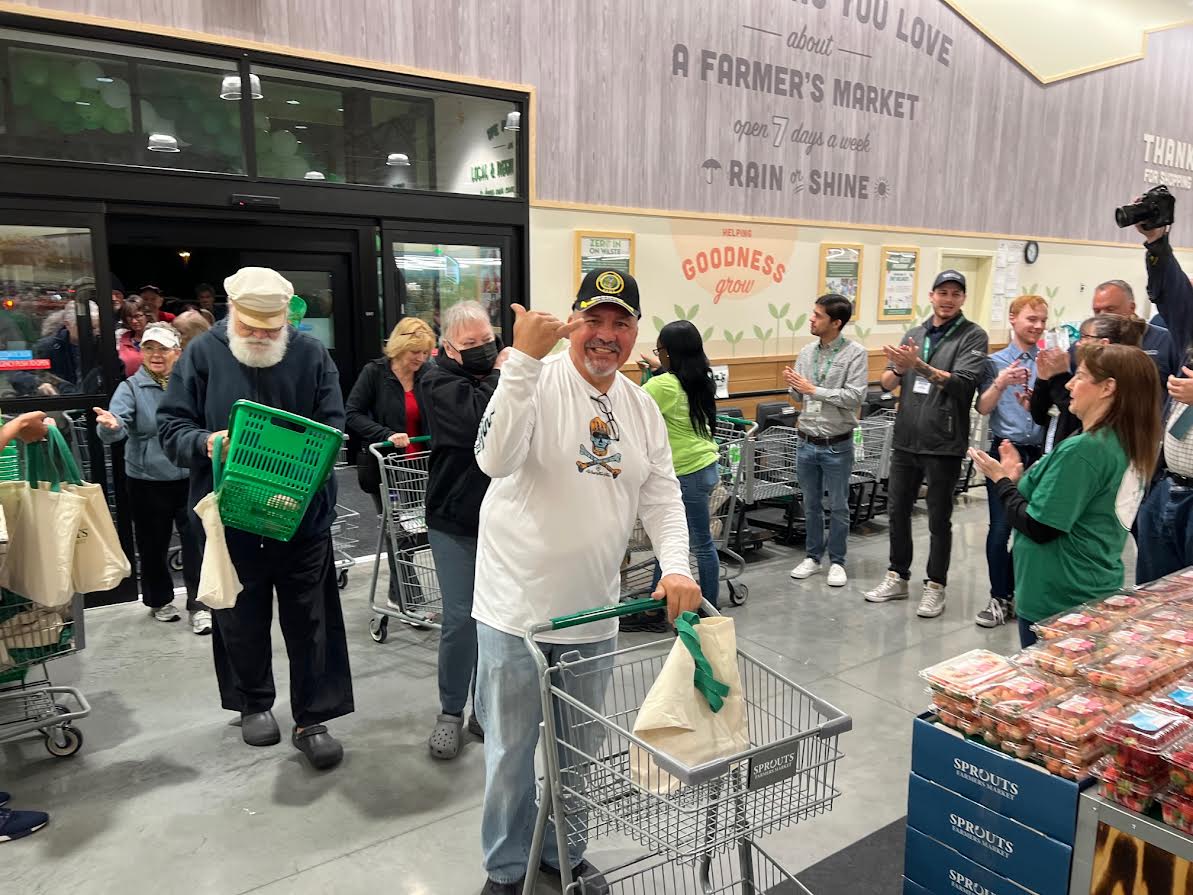 The ribbon cutting ceremony took place at 6:45am in front of a massive crowd of customers who would be in the store within minutes. There were two ribbon cutting ceremonies which of course is tradition in The Villages. CPM which is commercial property management and controls the buildings in The Villages cut the first ribbon. The second one was the official ribbon cutting. The team of folks at Sprouts has worked incredibly hard to bring this organic food store dream into a reality.
Immediately upon entering the customers were greeted to a round of applause from the workers and management. Once inside you found a spotless store. The floors looked so clean you could eat off of them, the store was fully stocked with more produce than one could have ever imagined and it was all organic! Unlike Earth Fare, this produce truly looked astonishing. The word organic carries a big meaning. Sprouts has delivered on that promise. From produce to meat, supplements, vegan options and more this location is incredible.
27% Of Sprouts Locations is brought in locally
I talked to one of the Sprouts Managers who requested not to be named but she said to me that "27% of all items including produce are brought into Sprouts locally. Years ago we had to ship our produce to a plant up in Georgia only for it to be shipped back to Florida locations. Now they have a distribution center in Orlando and all the fresh produce from all over Florida including right here in Lake & Sumter counties is harvested and brought to these Sprouts locations.
This is great news for local businesses that are in our immediate area. There were many produce items from farms in Eustis, Umatilla, a few from Oxford and Clermont that we noticed. Overall it is very nice that a company is choosing local farmers instead of importing everything. Now a fair amount of the store has items imported but that is to be expected. Mostly though 27% of a store this big is a massive accomplishment. We are grateful for Sprouts and their support to our local farmers.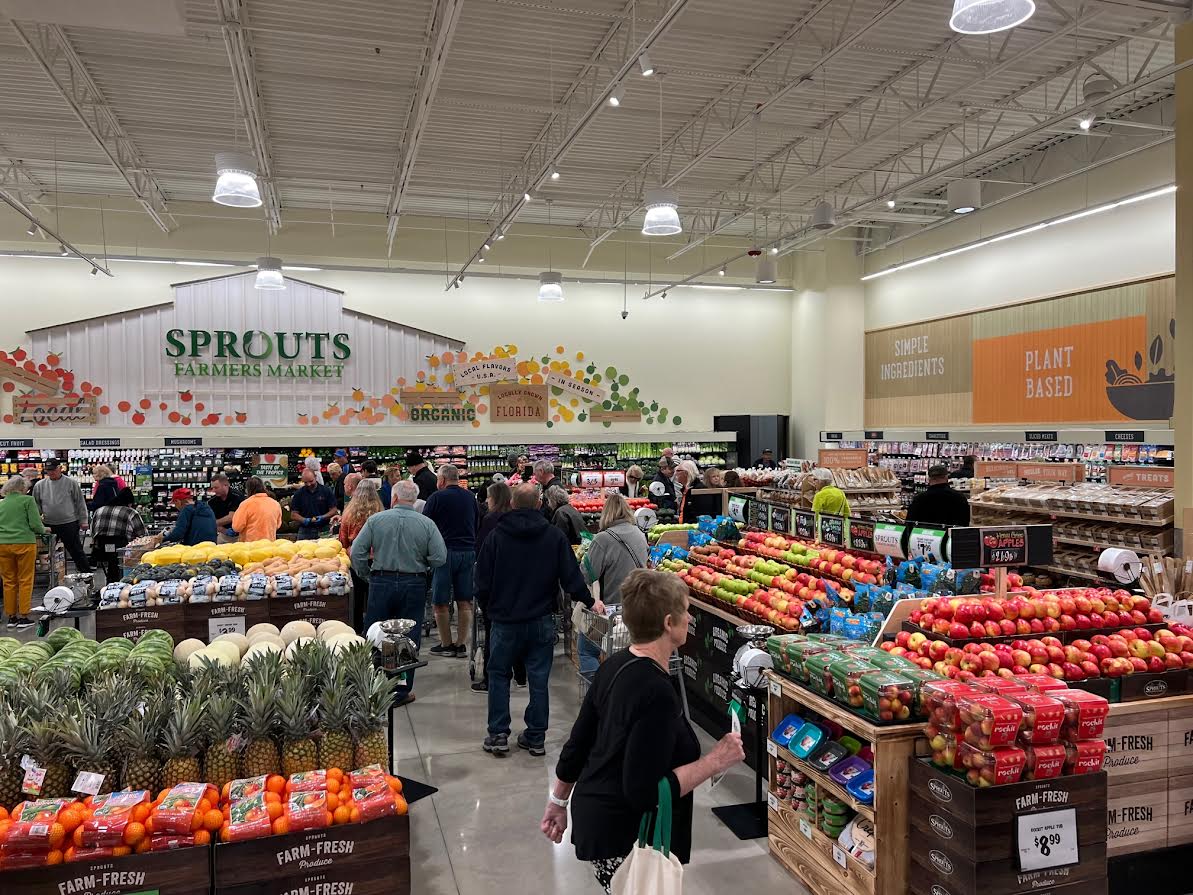 Self Checkout Lanes and Traditional Lanes
There were 4 self checkout stations located inside Sprouts. This should certainly give customers nice options. Traditional lanes still exist but only about 3 or 4 of them. The mixture between the two lanes was well received. We saw many folks using the self checkout but many still using the traditional checkout lanes. It was all hands on deck for Sprouts Farmers Market and it appears it was well received by the general public.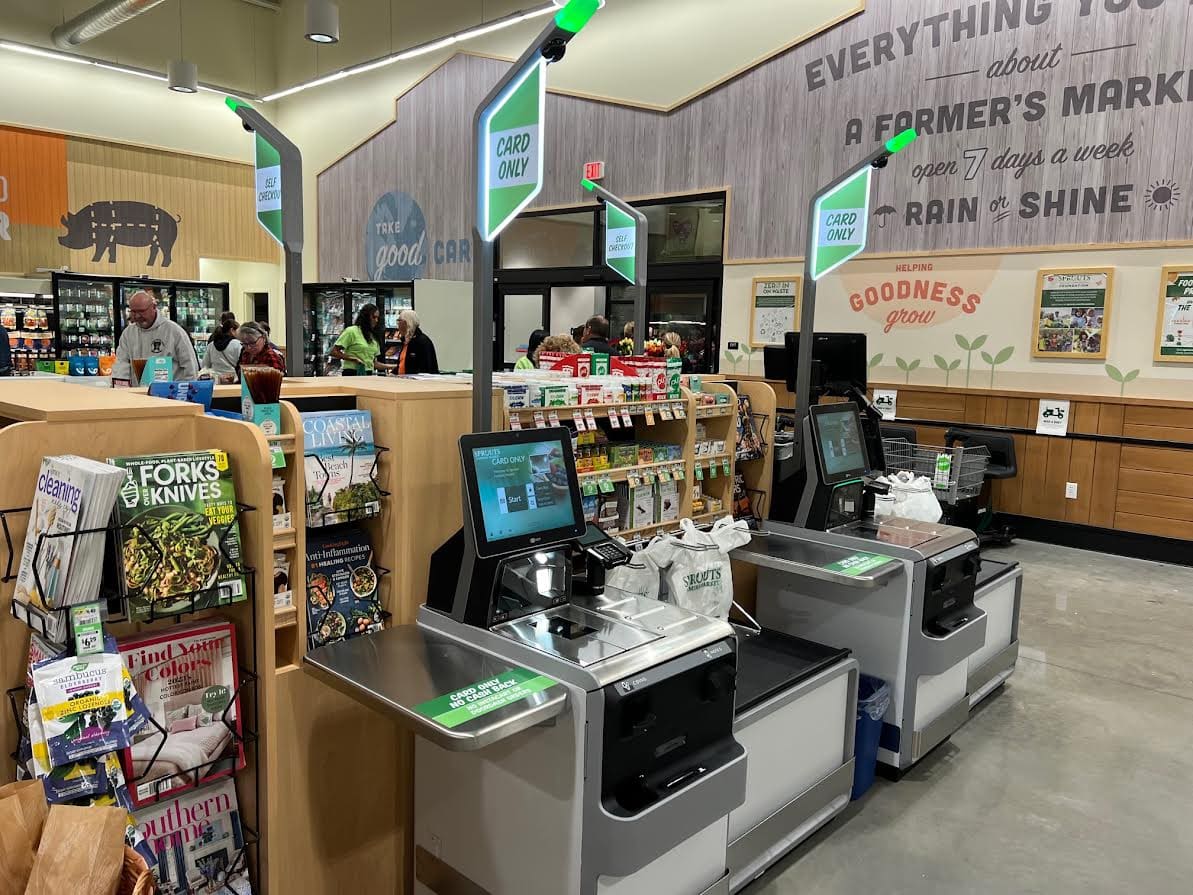 Only time will tell if this location will be a success. The overall feel I got was that it will be. The massive crowds were thrilled at how the produce looked, the store looks like an organic food store should. The biggest thing that should make this store a success is the accessibility by golf cart. The Earth Fare location was not accessible to golf carts which hurt it significantly. This location is going to be able to key in on a massive amount of people Earth Fare was unable to do. Which is why I do believe that the location will be its ultimate selling point. Prices looked decent and from what I could tell everyone was very happy.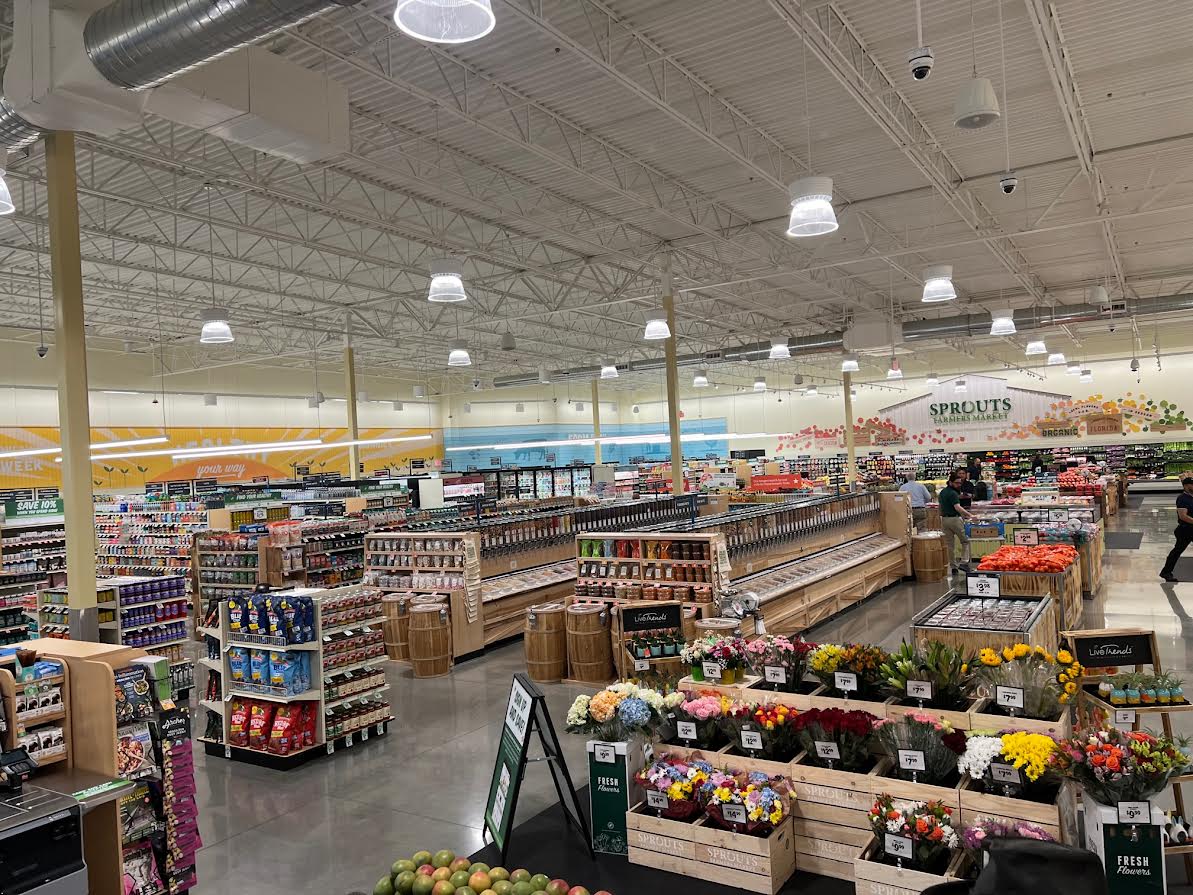 Parking was an issue but that is to be expected at a grand opening. Parking was so difficult in the morning many were parking anywhere they could. Some people even walked across the street from the nearby Laurel Manor Library. This should not be an issue in the coming days or weeks as the crowds thin out a bit.
Overall we give this facility a big thumbs up and we wish Sprouts Farmers Market a resounding success!
Kyle Coppola was born in Newton, Massachusetts and received his Bachelor of Fine Arts in Communications from Curry College in 2016. After traveling to Florida on a family vacation, he decided he could not get enough of the warm weather and made the move from snowy Massachusetts to central Florida 8 years ago.
For the last decade Kyle has gained valuable experience in social media content creation, marketing and sales, writing, video production, sports announcing and even broadcasting for local radio stations, such as FM 102.9 in The Villages and FM 91.5 in Massachusetts. Every year he volunteers at The Villages Charter High School as a play-by-play sports announcer for the football games as well as a public address announcer for the basketball games, including the annual Battle at The Villages Tournament.
Outside the office Kyle is a husband and father to two beautiful girls along with their cat. In his spare time he likes to spend time with his family, travel, play golf and swim. He is also a huge sports junkie and even bigger motorsports fan and loves to attend racing events when he can.
Share This Story!