Stitched Together with Love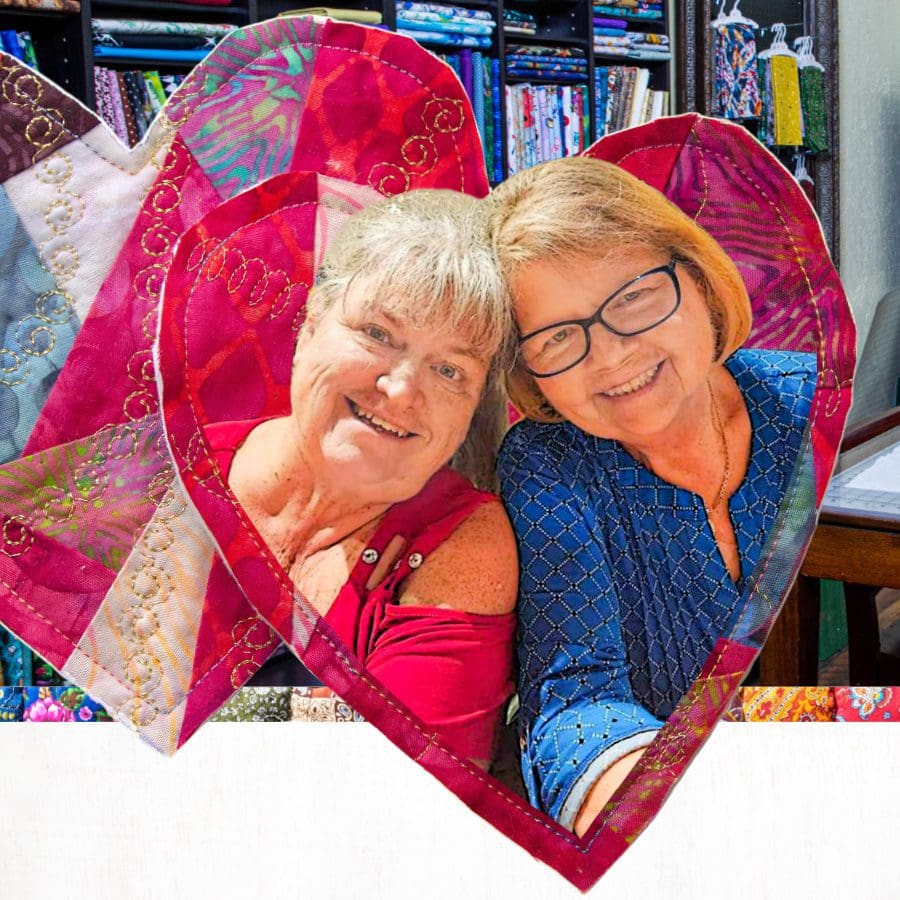 Long-time Friends Created a Shop Where Happiness Thrives.
Some things are simply meant to be. 
For Susan Thames and Judy Cudworth, first and foremost, it is their friendship. Last, but not least, it is their partnership in Miss Bessie's Quilt Shop.
That these two women ever crossed paths was nothing less than divine intervention. Judy is originally from
Jackson, Michigan, while Susan hails from New Vineyard, Maine. Not exactly next door.
In 1982, the two women met after enrolling their children in a gymnastics program in Aiken, South Carolina, where their families had moved for work. Both were high school teachers. Judy taught deaf students, Susan taught drama and theater.
To say the two "clicked" is an understatement. The women became fast friends, and sewing together became one of their favorite activities. What began with sewing costumes for Susan's theater classes evolved into quilting—something Judy had done for years.
Their everyday lives were closely intertwined until 1998 when Susan's husband, James, took a job in the Alaskan bush, and Judy returned to Michigan following separation from her husband.
Being thousands of miles apart didn't end their friendship; it continued to grow.
"We spent a lot of time on the phone and visited each other in the summers," recalls Susan.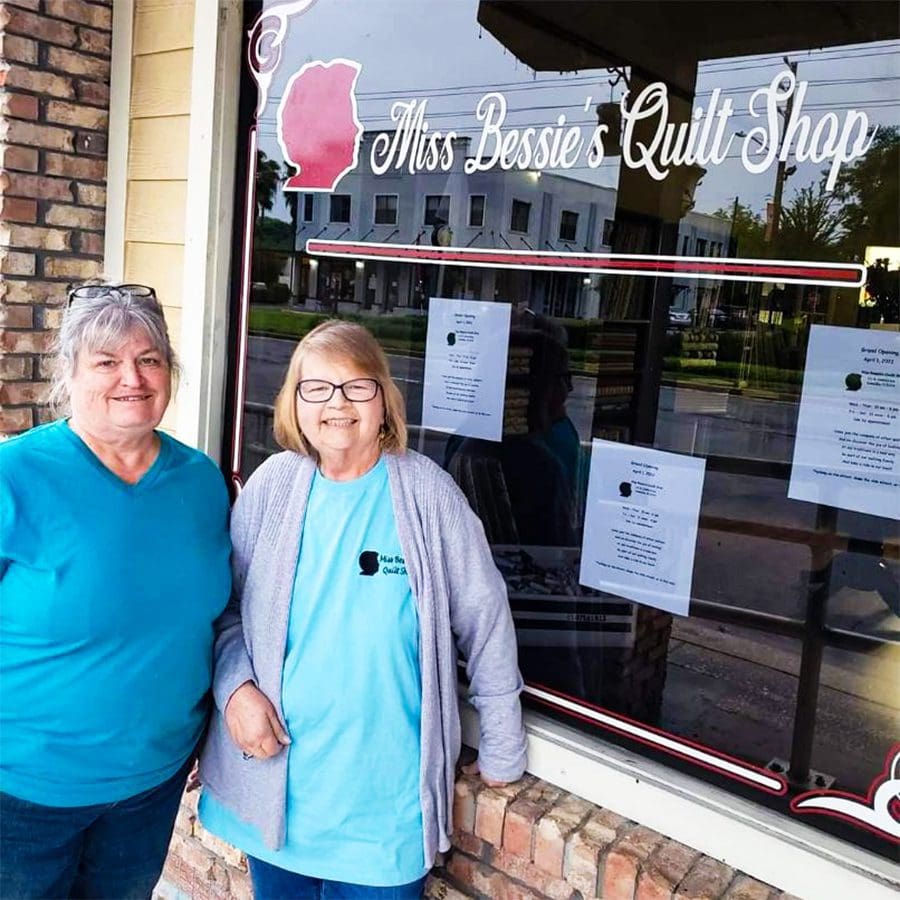 In 2005 they became family when Susan's son Donald married Judy's daughter Amanda.
On June 6, 2007, Susan's husband was electrocuted while on the job. James not only lost his right hand, but over time required more intensive treatment than was available in that wilderness area. Through Judy's contacts, they found the care he needed, and he was transferred to the University of Michigan. After 12 years, Susan and Judy found themselves once again living near each other.
"All along we were quilting together; this was our saving grace," says Susan. "We even made a quilt for our kids' wedding."
In 2018, Donald and Amanda settled in Eustis after he took a job at Lockheed Martin in Ocala.
Then, at the beginning of the pandemic, Judy was diagnosed with stage 4 colon cancer.
Unfortunately, Judy wasn't getting the cancer treatment she needed in Michigan so she and Susan began researching Moffit Cancer Center in Tampa. After all, their married children already lived in Central Florida. Susan's husband headed down early and Susan helped Judy make the move to Umatilla in April 2020.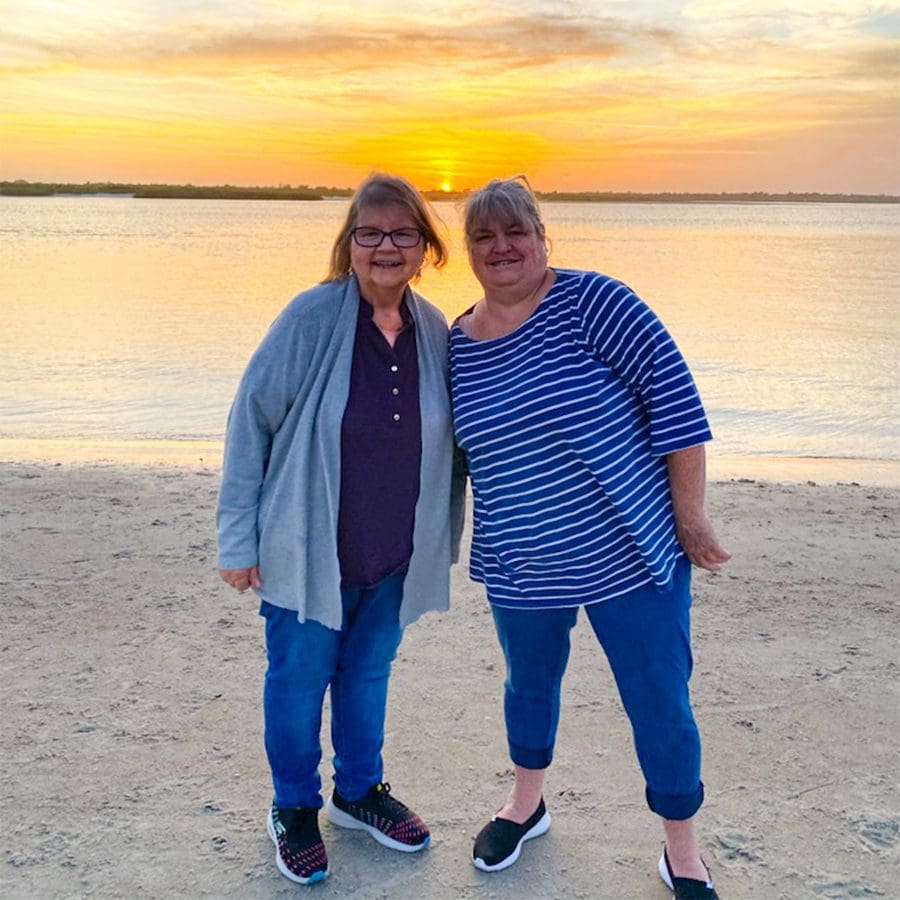 True to form, the best friends continued making the most of life.
Two years later, they launched Miss Bessie's Quilt Shop, named for Judy's mother, who had taught them both how to quilt back in the 1990s. The business that focused on their shared passion for quilting opened on April 1, 2022.
"Because we are both retired teachers, our goal was to inspire younger quilters, even people who don't really know how to sew," says Susan. "Everything was designed to bring in younger and non-quilters to learn."
Their unique shop has done that. And more.
The shop, which is divided into four separate areas, offers traditional fabric and heritage fabric (pre-owned, but never used) already cut into squares, rectangles, strips and triangles. Classes and lessons are held in the workshop, where customers can use embroidery machines, sewing machines, cutters, a quilting machine, and sergers (a sewing machine that trims and encloses the seam allowance or edge of the fabric in a thread casing). There's even a fabric arts section where people can take different craft classes.
The shop was expanded in September 2022 to accommodate extra activities.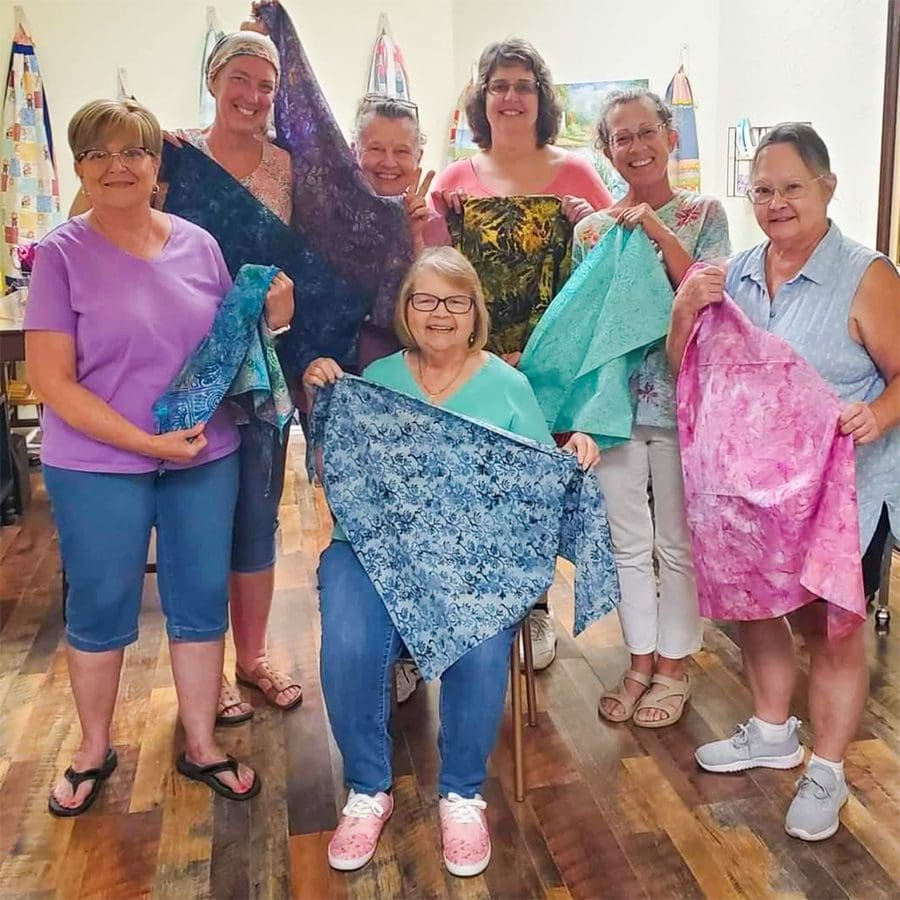 Store manager Theresa Paulhamus calls it the "fun shop." And with good reason.
"Our business plan was to have fun sharing what we know. We have comfortable chairs, so we encourage people to sit, chat, and visit. That's the social aspect. If you don't have that, you don't have quilting!" says Susan. "We ensure that people leave with a beautiful, completed project. Our philosophy is that there are no limitations; just challenges you have to figure out how to solve."
One customer succinctly summed up the shop's cozy atmosphere this way: "When I walk in the door, I feel like I'm getting a big hug."
"With all the amazing people we've met at the shop, the wonderful weather, and the treatments at Moffitt, Judy said many times that she didn't even feel like she had cancer," says Susan.
But sadly, she did.
Judy passed on the evening of February 23, 2023, just hours after Susan finished the quilt they'd started together for their grandson Hayden.
After 41 years of friendship, Susan's and Judy's love for life, each other, and quilting lives on at the unique shop on Central Avenue.
"When people are here, they're happy," says Susan, looking up at Judy's picture hanging in the window. "Now she'll be looking down at us and she can be happy too."
Miss Bessie's Quilt Shop, 111 N. Central Ave., Umatilla, (352) 771-2653.