Student Athlete Of The Week: Tavares High School Tyler Davis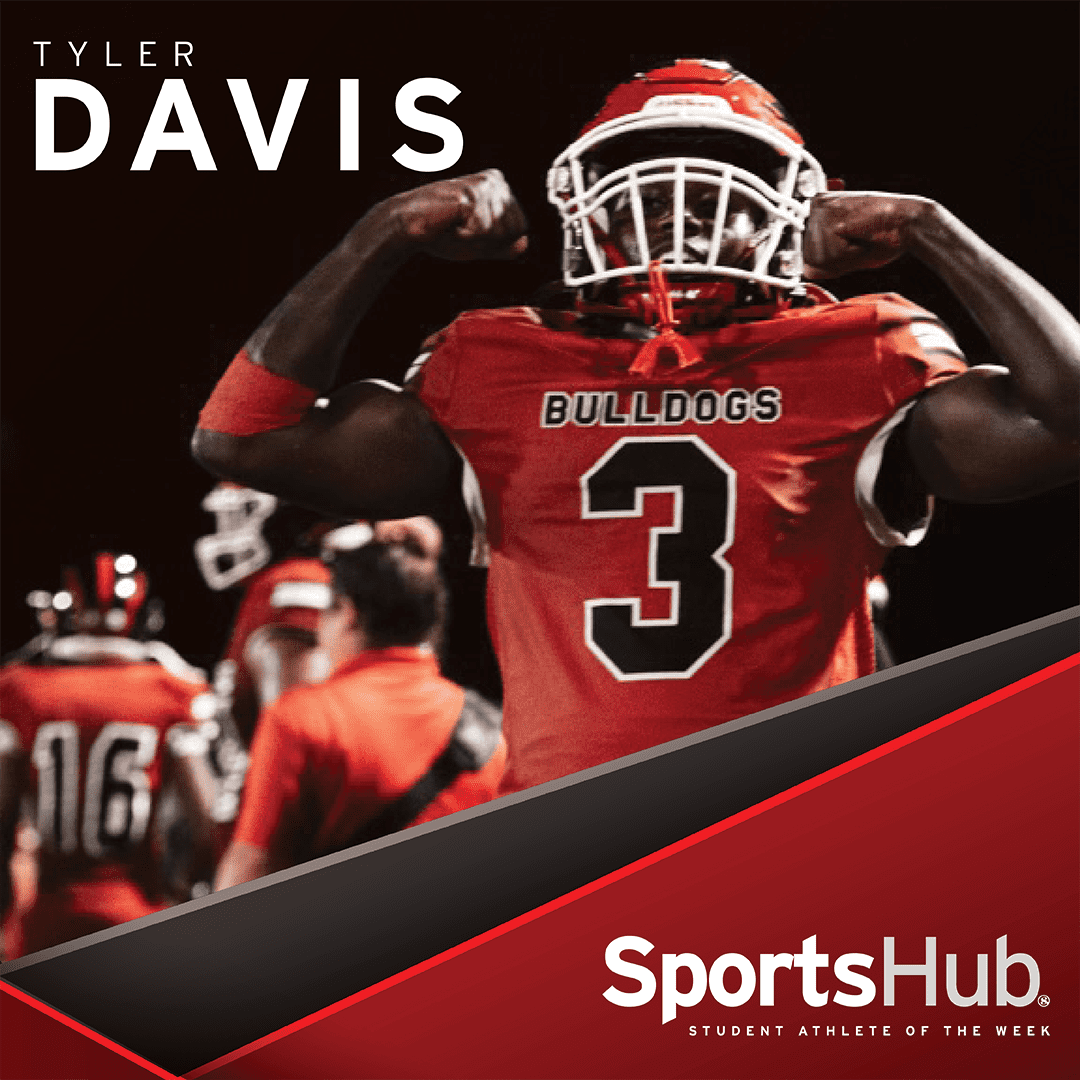 Tyler Davis is a junior and plays running back for the Tavares High Football team. Davis has put together one impressive year so far. Davis has helped Tavares High School win football games which is something the Bulldogs were unable to accomplish at all last season having gone 0-10 during the 2022 year.
2023 is a different story though and coach Gavin Jones along with this group of determined young men have turned the Tavares program around this season. One of the players heavily involved in that success is Tyler Davis who is ranked number 32 in the state of Florida for running backs and is a leading rusher in his district among teams such as Leesburg, Eustis and Vanguard.
Davis has over 800 yards rushing this season including 7 touchdowns. He is averaging 5.4 yards per carry and has had 5 games over 100 yards this year. Safe to say that every time that Davis touches the ball, he has a big impact. Davis has plenty of help from Senior running back Mike Doster who has nearly 400 yards this season and 7 touchdowns. Doster is putting together a nice season for himself respectfully. The two backs have really had a trumendous impact for the dogs and we love to see it!
Tyler Davis is not only involved with his work on the football field but off the field as well. Davis has been involved with FCA for the past 6 years and works at Eustis Recreational Center with the youth after school program and summer camp. He has been voted summer camp counselor twice and he loves helping kids achieve athletic goals and having fun.
Davis is a good role model for these young students who look up to him and want to be just like him. Tyler Davis says, "Never read the same book twice and not learn anything from the first time." Davis is always learning and wanting to better himself be it on the field or off the field. Be it running the right route on the field or helping kids tie their shoes, Davis is going to go the extra mile to make sure it's done right.
The reason for Tyler Davis success is his parents. Felicia Davis Peters and Bruce Peters met at the University of Arkansas at Pine Bluff where Bruce was a star football player. Bruce played High School Football at Evans High in Orlando. Felicia was a cheerleader and involved with dance her entire life. She was a dancer at University of Arkansas at Pine Bluff.
Eventually Bruce graduated and worked out with a few NFL teams including the Cleveland Browns and the Baltimore Ravens. Later, Bruce would get the opportunity to play in the Arena League Football League where he played for South Dakota and Ohio before hanging up the cleats for good. The two parents are very proud of their young son who is creating an identity of his own. Davis is only a junior but and he still has more time to develop as a player. He should be a sought-after NCAA athlete though. The way this kid runs we could easily see him playing at the next level on Saturday's.
While Tyler Davis is a football player, he also runs track and field for Tavares High. Tavares is always one of the best schools in Lake County for running and he is hoping to have a big year attempting to qualify for States perhaps in 2024. Davis attended the Florida Gators and UCF football camps this season and that work has paid off in big ways! He is certainly using everything he learned at those camps and applying that to the football field in 2023.
In his spare time Davis enjoys working out at the gym, spending time with family and reading his bible. His mother Felicia Davis Peters says that he's also a terrific cook and makes some delicious meals. Let's get this kid on Master Chef and see how he does!
We are thrilled that Tyler Davis is having such a great season and we look forward to seeing how the rest of the season plays out for him. He is closing in on a 1,000-yard season which would be a great accomplishment for him!
Photos Credit: Cookupfilms
Kyle Coppola was born in Newton, Massachusetts and received his Bachelor of Fine Arts in Communications from Curry College in 2016. After traveling to Florida on a family vacation, he decided he could not get enough of the warm weather and made the move from snowy Massachusetts to central Florida 8 years ago.
For the last decade Kyle has gained valuable experience in social media content creation, marketing and sales, writing, video production, sports announcing and even broadcasting for local radio stations, such as FM 102.9 in The Villages and FM 91.5 in Massachusetts. Every year he volunteers at The Villages Charter High School as a play-by-play sports announcer for the football games as well as a public address announcer for the basketball games, including the annual Battle at The Villages Tournament.
Outside the office Kyle is a husband and father to two beautiful girls along with their cat. In his spare time he likes to spend time with his family, travel, play golf and swim. He is also a huge sports junkie and even bigger motorsports fan and loves to attend racing events when he can.
Share This Story!