Near & Far: Style, suites, and secrets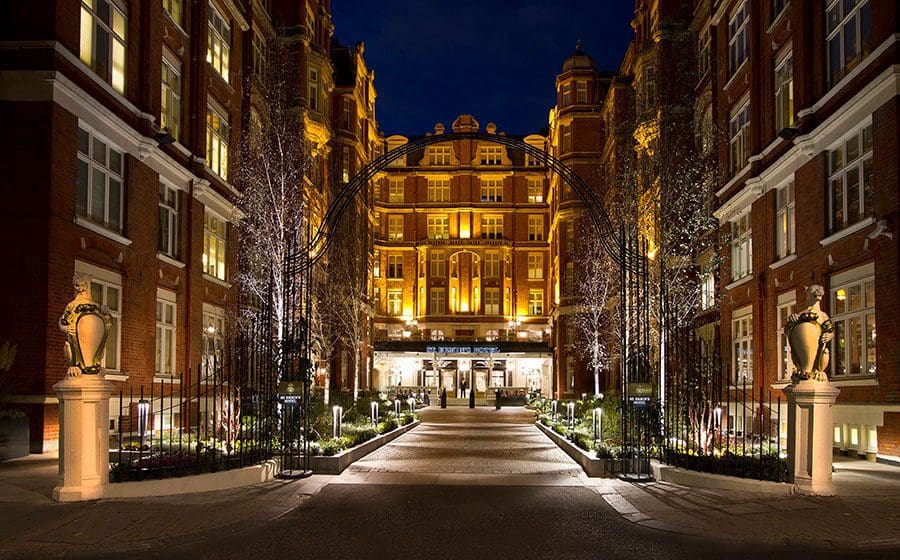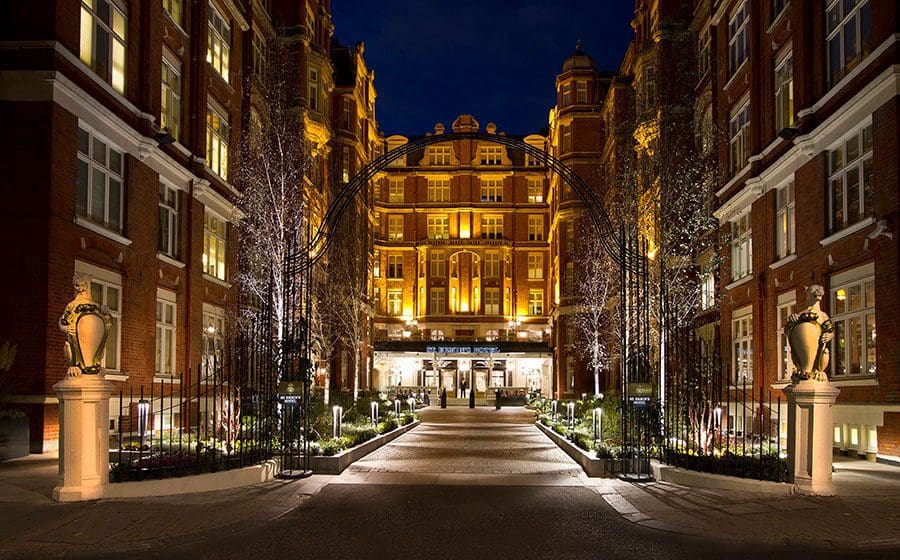 Not only is St. Ermin's a unique London hotel, it also has an intriguing history.
Driving under the beautiful arch in front of St. Ermin's Hotel in Westminster in London is like stepping back in time. However, when you walk inside the luxurious historic hotel, you'll find a staff that is ready to make it your comfortable home during your visit at the Autograph Collection Hotel. 
A grand hotel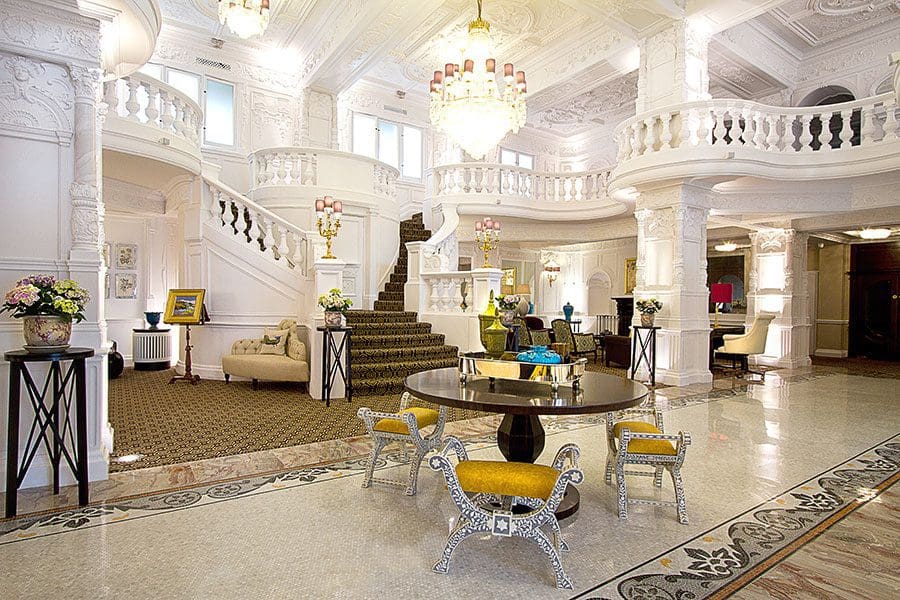 Staying at an Autograph Collection Hotel means you have a unique experience. These hotels are branded by Marriott International for their architecture, design, and the surprising stories in their histories. Each of these hotels is curated to provide a unique experience for visitors.
The hotel originally was an elegant mansion block (containing apartments) built in the 1800s. Now, it's a gorgeous hotel that's just five minutes from St. James Park and Buckingham Palace, the Houses of Parliament, and other famous London landmarks. St. Ermin's Caxton Bar is one of the local establishments that has a "division bell," which is used to notify members of Parliament of upcoming votes. Members have eight minutes to get to their designated place to vote for or against a resolution. These bells have been in place in areas of the United Kingdom for more than 150 years.
The lobby is a fabulous mix of architecture with art nouveau styling and rococo plasterwork, and the breathtaking theatrical balcony in the lobby makes you want to don your elegant gown and descend the steps to the carriage that awaits.
Of the hotel's 331 spacious rooms, there are 41 uniquely designed suites, and 18 family rooms. St. Ermin's welcomes families and children. Among its many attractions for the younger set is the St. Ermin's Secret Agent Package, which not only allows the children to roam the hotel but also to participate in a "top secret" scavenger hunt.
House of secrets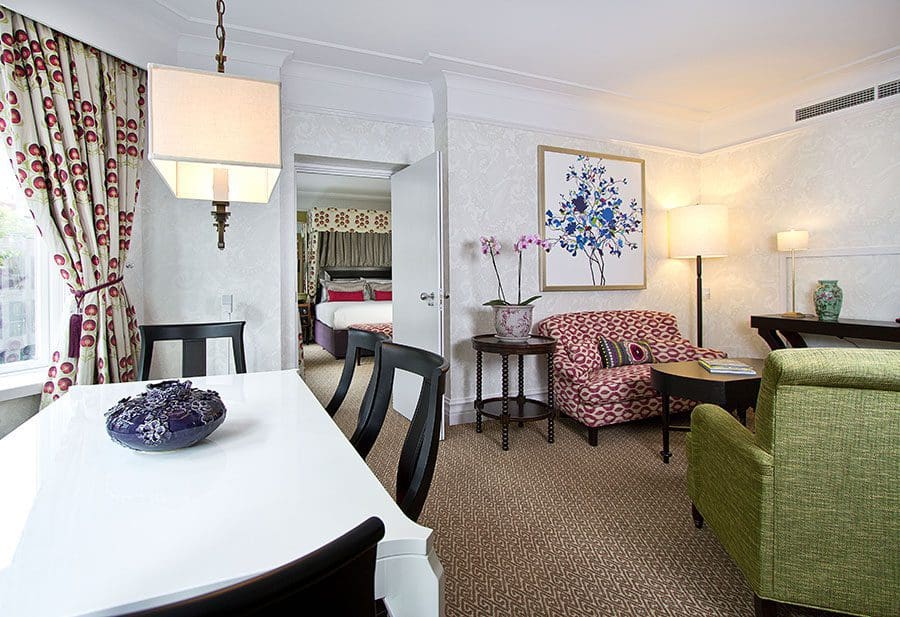 St. Ermin's Hotel is an especially significant place on this 75th anniversary of the invasion of Normandy, or D-Day, as it's most often called. Members of the Secret Intelligence Service (SIS) used it and 2 Caxton St. as headquarters beginning in 1938. Throughout World War II, not only were whole floors of the hotel occupied by intelligence crews, but the buildings surrounding the hotel also were part of the secret agencies. Of all the buildings used for intelligence services, St. Ermin's is the only one in London closely associated with espionage that is accessible to the public.
According to "House of Spies," a book by Peter Matthews, a former intelligence officer, strategic plans for the D-Day landings were first formulated and overseen by Gen. Dwight D. Eisenhower's staff at Norfolk House in St. James Square, less than a mile from St. Ermin's. The hotel became a second home not only for the SIS but also for the MI5 (military intelligence) and the Naval Intelligence Division.
Among the famous and infamous people working in this war effort were Noel Coward, Ian Fleming, and the Cambridge Five spy ring. These five men were recruited by Russia during their years at Cambridge and worked as double agents against Great Britain during the war. Kim Philby is perhaps the most famous, as he passed information along to two other agencies, making him a triple agent.
The famous Caxton Bar, which has been beautifully restored, was the site of many secret meetings. Guy Burgess, who eventually defected to Russia, often met his Russian counterpart at the bar to pass papers and top-secret government files. 
At Sir Winston Churchill's request, the group that later became Special Operations Executive was organized to explicitly work in espionage, sabotage, and reconnaissance in occupied Europe. Few people knew of this organization though it occupied an entire floor of St. Ermin's. Among insiders, members were called "Baker Street Irregulars" and "Churchill's Secret Army." SOE was officially dissolved in 1946.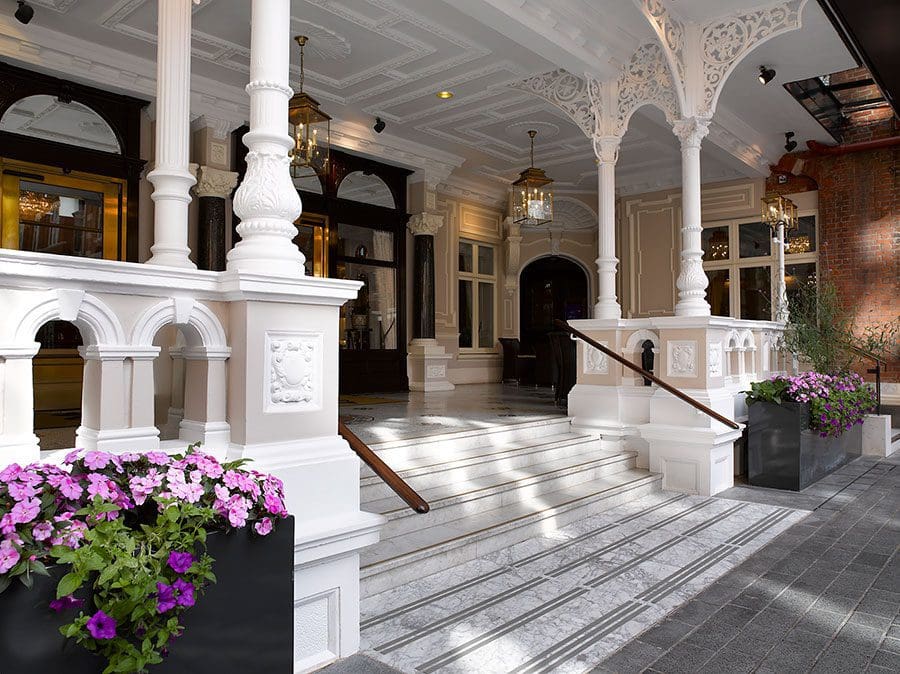 ---
14 Notes about St. Ermins
 The third-floor terrace beehives are home to 300,000 Buckfast bees and London's only Bee & Bee hotel.
Urban beekeeping workshops are available at the hotel at various times during the year. Check online at sterminshotel.co.uk for dates as they sell out early.
Children receive "Budding Bond" spy kits and "A Bedtime Story" book along with the afternoon tea.
The ballrooms and event spaces showcase the wonderful architecture, including dazzling chandeliers and beautiful plasterwork.
In winter, St. Ermin's terrace becomes a cozy getaway with candles, lights, and blankets for those who might need them.
 St. Ermin's Hotel was voted a "Top London Hotel" in Condé Nast Traveller Reader's Choice Awards.
Ian Fleming, the author who created MI6 agent James Bond, worked in the Secret Intelligence Service (now MI6) during World War II at St. Ermin's. He also is the author of the children's book, "Chitty Chitty Bang Bang: The Magical Car."
 According to Peter Matthews in his book, "House of Spies: St. Ermin's Hotel, The London Base of British Intelligence," people in the intelligence service refer to themselves as "friends." Apparently, they don't like being called spies or spooks.
The Cambridge Five became Soviet agents after being recruited at the University of Cambridge and stole top-secret information from the early 1930s to the 1950s. They were Donald Maclean, Guy Burgess, Kim Philby, Anthony Blunt, and John Cairncross. It is said the KGB referred to them as the Magnificent Five.
Kim Philby, a senior officer in Britain's Secret Intelligence Service, passed more than 900 documents to the KGB.
 St. Ermin's Hotel is built on the site of a 15th-century chapel dedicated to St. Ermin. It became St. Ermin's Mansions in the late 19th century.
St. Ermin of Lobbes was a Benedictine monk and disciple of St. Ursmar. He died in 737.
 Westminster Abbey, which was founded in 960, is near St. Ermin's and has been the venue for coronations since 1066.
 Not far from St. Ermin's, you can see the Tower of London and the iconic Tower Bridge along with St. Paul's Cathedral, and catch a ride on the London Eye. Since the hotel is in London's city center, it has easy access to any location in London.
---
A modern experience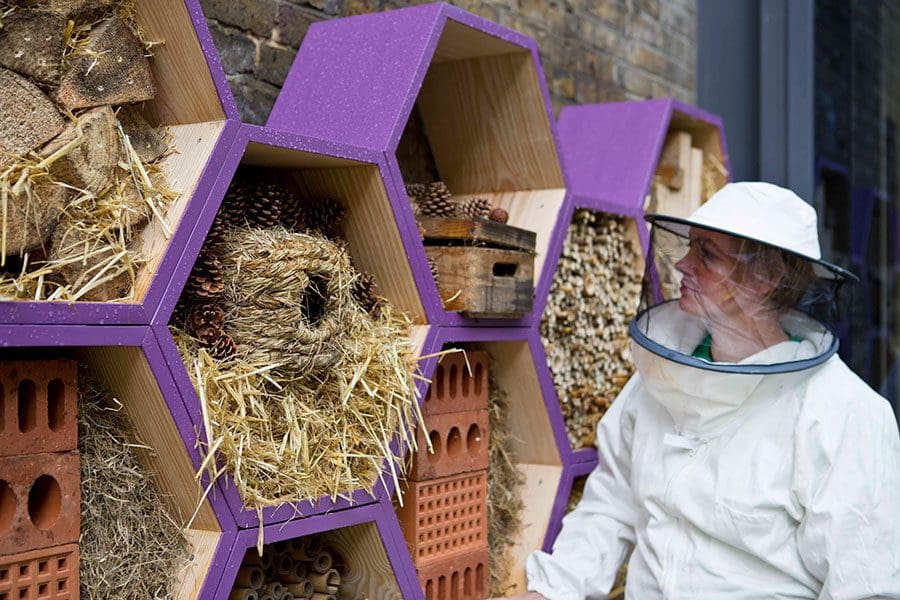 Even with its storied history, this elegant hotel offers a wonderful opportunity to make your London stay exciting. As much as the children will enjoy uncovering secrets in their hotel adventure, they'll be equally excited when they get to see the hotel's resident bees. Due to the close proximity to so many parks, the honey created by these bees is especially great tasting. St. Ermin's London honey is served in all the hotel's dining spots.
The bees are on the third floor, and guests can watch them through protective glass as they buzz in and out of their hives. For those who prefer not to live in hives, there are hexagonal suites for their shelter.
The hotel also has a Roof Kitchen Garden for sustainability and local produce for daily and seasonal menu items. The garden includes popular produce such as tomatoes, squash, pumpkin, spring onion, French beans, potatoes, and olives. Among the fruit selection is clemetines, apples, plums, raspberries, and blackberries.
Tea for two or more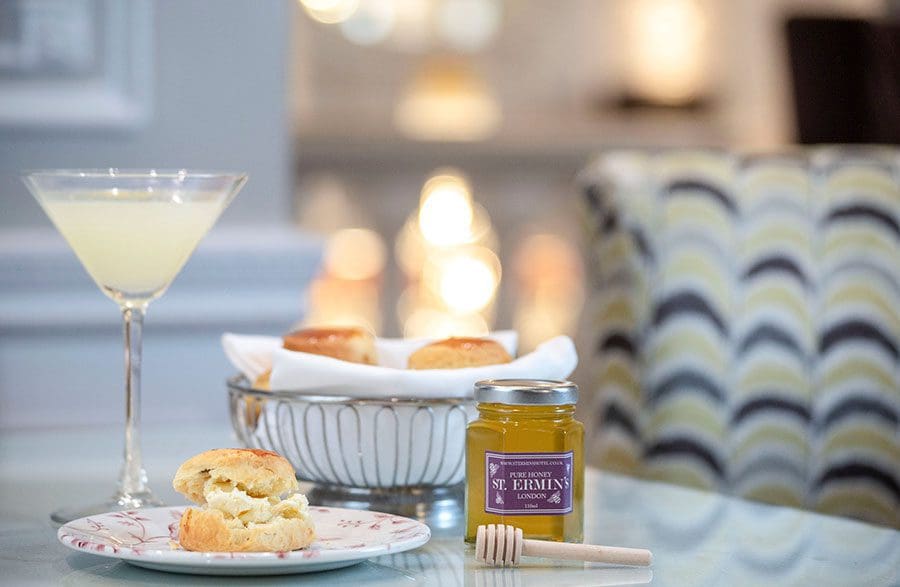 Afternoon tea at St. Ermin's is not just a meal, it's a culinary experience. During my tour, my son's family and I were fortunate to enjoy this daily event. The hotel accommodates guests with allergies and people who need gluten-free foods. 
The menu for afternoon tea is extensive, beautifully prepared, and served with a glass of champagne or English sparkling wine if you wish. Freshly baked scones with clotted cream and jams are always a wonderful start. Among the other delights on the layered tray were cucumber with mint and chive cream cheese and other sandwiches, coffee-and-hazelnut shortbread, peach and apricot mousse, cinnamon sponge, or passion fruit and coconut éclair.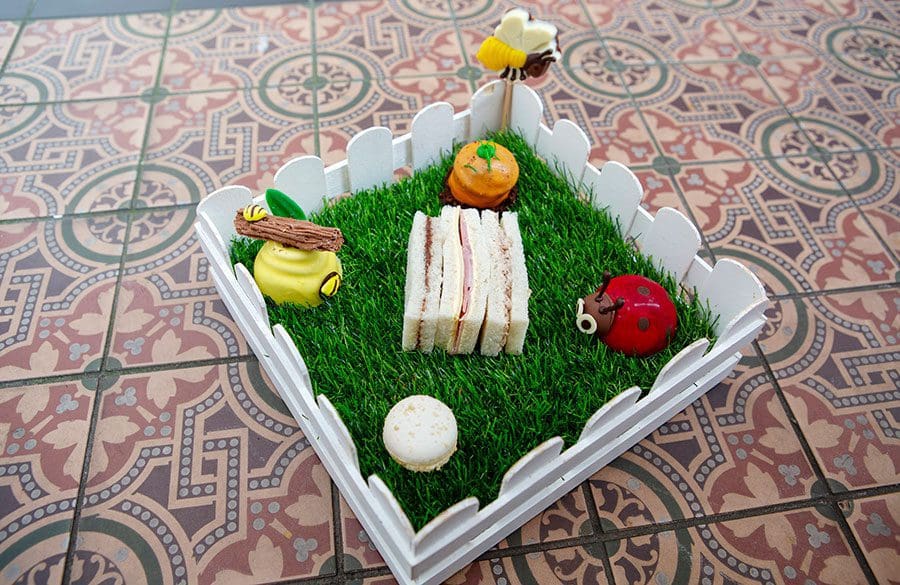 While the adult menu is an elegant display of sweet and savory delights, the children were delighted with their "Mini Gardener" tea. Their food was displayed as though growing in a garden and served in a small wooden crate on a bed of grass. My grandchildren thoroughly enjoyed this. They were able to decorate their shortbread and loved the treats in their mini gardens. St. Ermin's is definitely a family-oriented hotel, and your children will always remember their experiences there. For grownups, there's afternoon tea with unlimited rosé wine. You can enjoy your tea in the relaxing Tea Lounge or, in nice weather, on the outdoor terrace. 
Caxton Grill • Bar • Terrace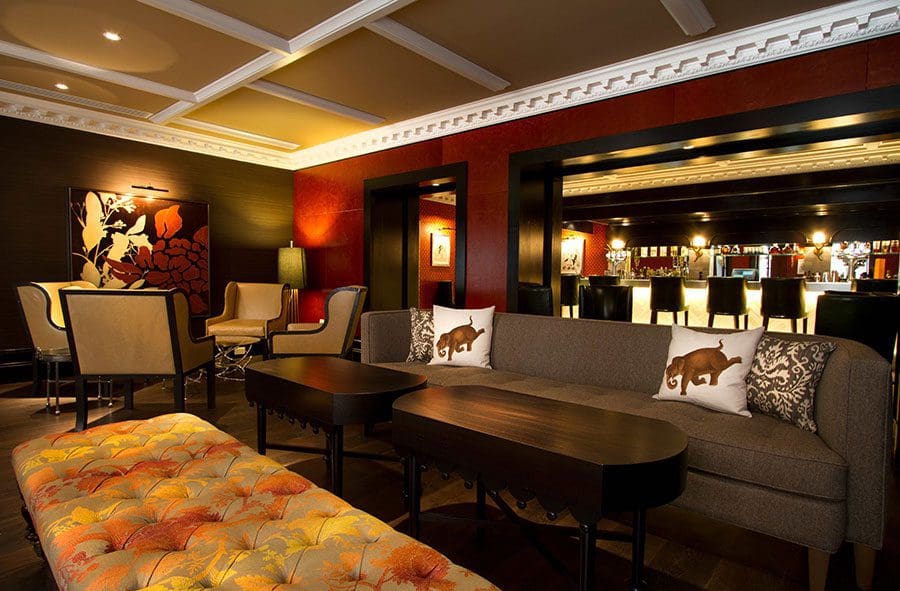 Executive head chef Alexander Boyd oversees the preparation of all foods in the hotel, ensuring an creative array of seasonal dishes and fresh ingredients from the rooftop garden. 
In addition to the lovely Tea Lounge, you can enjoy drinks and light dining in the famous Caxton Bar. The Bowler Hat—Sipsmith gin, St. Ermin's honey, and lemon juice—is the bar's signature drink.
When you're sitting in the bar with its décor that hints at the past but shines with contemporary art, it's easy to imagine the secret meetings and whispered conversations that occurred here during World War II. If you listen closely, you may even hear the muted conversations and clinks of ice in glasses. Whether it's wine or whiskey, you won't have a problem indulging in your favorite drink.
Caxton Grill has reintroduced the signature Josper Grill, an indoor charcoal oven, where the British beef steaks are prepared to perfection along with fresh, responsibly caught fish. Because it cooks at such high temperatures, the grill produces meat that retains its moisture and the delicate smokiness. The Josper is a hybrid—a grill that's also an oven with a front door. Only top-quality charcoal is used to give the meat, chicken, and fish their unique flavor.
A fascinating history partnered with every modern convenience make St. Ermin's Hotel one of the highlights for a getaway in London. 
Leigh Neely began her writing career with a weekly newspaper in the Florida panhandle, where she not only did the writing, but delivered the papers to the post office and dispensers. She has been writing ever since for a variety of newspapers and magazines from New Jersey to Leesburg. With her writing partner, Jan Powell, Leigh has published two novels as Neely Powell.
Share This Story!