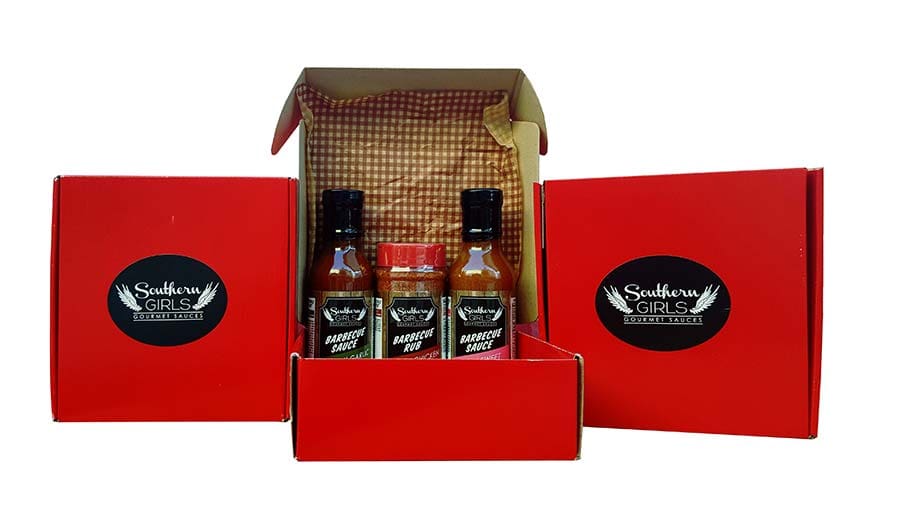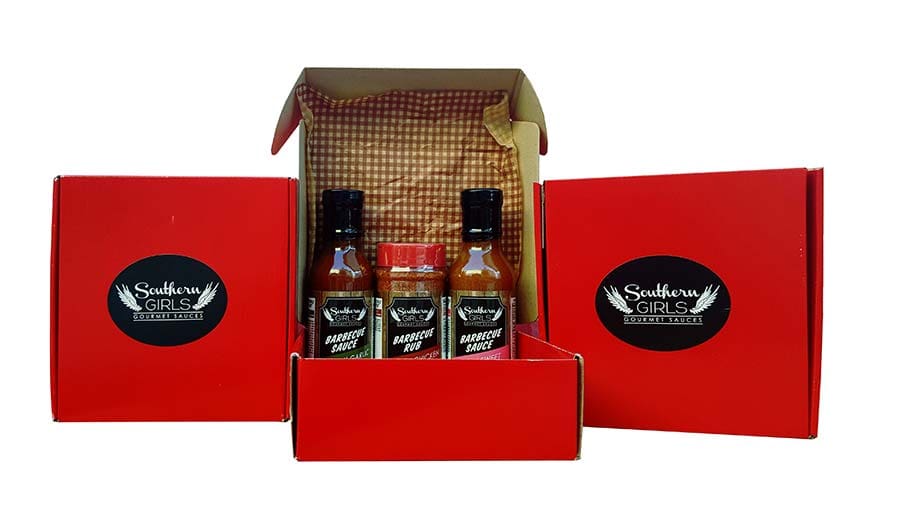 Daughter-and-mother duo make gourmet grilling sauces and infused honey.
Renee Bryan, of Umatilla, didn't care for the barbecue sauces she found in grocery stores, so she tweaked her own moppin' sauce to enjoy on grilled meats and make them more flavorful. Soon compliments from family and friends were flowing.
"I made it the way I like it," she recalls. It was a blending of traditional Southern barbecue flavors with "secret" spices and seasonings. "I heard, 'You need to bottle this stuff!'"
Even her husband, Lee, felt it was a winner. And when people kept asking for more, he encouraged Renee to whip up more sauces and rubs, and to start Southern Girls Gourmet Sauces.
Renee owns the FDA-approved and licensed business, which started three years ago, and she is joined by her mom, Rosalie Parent, who is just as enthusiastic about the Southern Girls brand.
"I just enjoy going out and helping her," Rosalie says of her middle daughter. She also has helped the company expand with a gourmet honey line.
"We do all the infusing of the honey," Renee says of adding wildflower, clover, blueberry, mango, cinnamon, cinnamon with pecan, habanero, and key lime flavors. The honey comes from Belleview.
"We went through a lot of beekeepers to find the perfect one and the best price, because we want to keep the price down for our customers," Renee says. "We started out with the wildflower honey, and it awesome," Rosalie adds.
In addition to the wildflower, Rosalie's other favorite is honey infused with the hot chili pepper, habanero.
"I love the habanero and I put it in coffee, and I put it over fresh fruit, and it's really good over strawberries," she says. "I use it for a glaze on chicken, fish, and even pork. The key lime is also a good one as a glaze on chicken, fish, or pork."
She enjoys honey daily, putting it in her tea and mixing it in with yogurt. 
"Honey is a healthy alternative to sugar," Rosalie says. "My very favorite in tea is the cinnamon honey; it puts a little kick to it. Our key lime honey is good and so is the blueberry honey, but they are milder. Any flavor of honey works great with yogurt, fruit salad, pancakes, French toast, hot chocolate, coffee, hot and cold sandwiches, sauces and glazes. And I love to do a final glaze on ribs, chicken, fish, scallops, and shrimp with our habanero or key lime-infused honey." 
September is National Honey Month, and Rosalie believes in its health benefits.
"Wildflower honey is a great way to give your immune system a boost or help with allergy problems," she says, adding that taking two teaspoons a day, one in the morning and one at night, is considered ideal.
Adding infused honey to the Southern Girls product line has been good for business.
"Many times it makes just as much as the barbecue sauce," Renee says. "Our honey is really popular because it's really good quality honey, and people buy lots for gifts. We get so many compliments on our packaging, too." 
The Umatilla company receives orders from as far as New York, and one man made the trip from Miami to purchase numerous gift boxes of Southern Girls products as wedding favors. 
The daughter-and-mother duo often hear raves at festivals and shows about the freshness of their products and their pretty gift boxes. They will be at the Mount Dora Craft Fair for the third year, from 9am-5pm Oct. 27-28. 
"We also have a big show coming up with the Sunbelt Expo, in Moultrie, Georgia," Renee says of the Oct. 16-18 event that draws up to 100,000 people. The company also will showcase its products at shows in DeLand and St. Cloud. 
"It's a lot of fun. You get to meet all of the vendors," says Renee, who also enjoys mingling with the crowd. 
"We give out samples of all of our products, because we want to make sure the public likes what we make," Rosalie adds. "With us, you're going to know if you like it before you leave. That's one of the things the grocery stores can't offer, and we can." 
The feedback on whether people like the samples plays into whether to manufacture a Southern Girls product.
"We did that with the steak seasoning before we actually brought it out on the market, and everybody thought it was great," Renee says. 
The public also has been instrumental in the creation of some products. 
"A lot of times people ask us for a certain flavor and that's how we ended up with the mango flavor and the blueberry honey. The blueberry was for the Blueberry Festival in Mount Dora," says Renee, adding it takes time to get a flavor perfected.
The products also must pass regulations before being marketed. The Food and Drug Administration does yearly checks and observes the cooking process at an Oviedo commissary.
"What we do is make it in small batches and we keep it consistent," Rosalie says. "Every time you buy a bottle of our products, it's going to taste the same as the last time. We do not use someone else to bottle for us, we do it all ourselves."
"We bottle, we label, we do it all," Renee adds.
"The freshness is what everyone likes, and the consistency," Rosalie says. "You can always depend on that."
The Southern Girls dry rubs are the most popular in the barbecue line.
"The steak seasoning and dry rub are what men really like," says Renee, who also finds the moppin' sauce is in demand. "It's an apple cider vinegar marinade. I'll make salad dressing with the moppin' sauce and some of the honey. A lot of people like that because it's a vinegar base for the salad, and mixed with a little olive oil in there, you've got a great dressing."
As the mother of three daughters and three grandchildren, Renee can't resist trying out new flavor combinations with different foods to get ideas for future products. Her family members are the taste-testing guinea pigs.
"Kickin' Jalapeño is a new hot flavor being tested," Rosalie says of her daughter's preliminary work. "We also have been getting a lot of requests lately for a sugar-free barbecue sauce, and that's something she's going to be trying to work on."
---

Honey glazed pork roast
Directions:
In the last 10 minutes of cooking a pork roast, brush ¾ cup of Southern Girls Wildflower Honey or Clover Honey on top.
---

Reuben sandwich
Ingredients:
Slices of corned beef
Slices of Swiss cheese 
1 tablespoon Russian dressing
1 teaspoon Southern Girls Habanero Honey 
Well-drained sauerkraut
2 slices rye or pumpernickel bread
2 teaspoons butter
Directions:
Spread non-buttered side of bread with the dressing, then layer with Swiss cheese, corned beef, sauerkraut, the honey, and more Swiss cheese. Top with remaining bread slice, butter side out. Grill until golden brown.  
---

Salad dressing
Ingredients:
¼ cup honey (habanero or key lime are favorites)
½ cup olive oil
¼ cup vinegar (or Southern Girls Moppin' Sauce)
---

Chicken thighs
Ingredients:
6 boneless, skinless chicken thighs
Southern Girls Pork N' Chicken Rub
¼ cup Southern Girls Mango Honey
½ cup Southern Girls Onion N' Garlic
Directions:
Rub Southern Girls Pork N' Chicken Rub all over chicken then grill the chicken. The last 15 minutes before chicken is done, baste chicken with Southern Girls Mango Honey and Southern Girls Onion N' Garlic BBQ Sauce.
Originally from Anderson, Ind., Theresa worked for The Herald-Bulletin for many years. After experiencing a winter with 53 inches of snow, her late husband asked her to get a job in Florida, and they headed south. Well known in the area, Theresa worked with The Daily Sun and The Daily Commercial prior to joining Akers.
Share This Story!