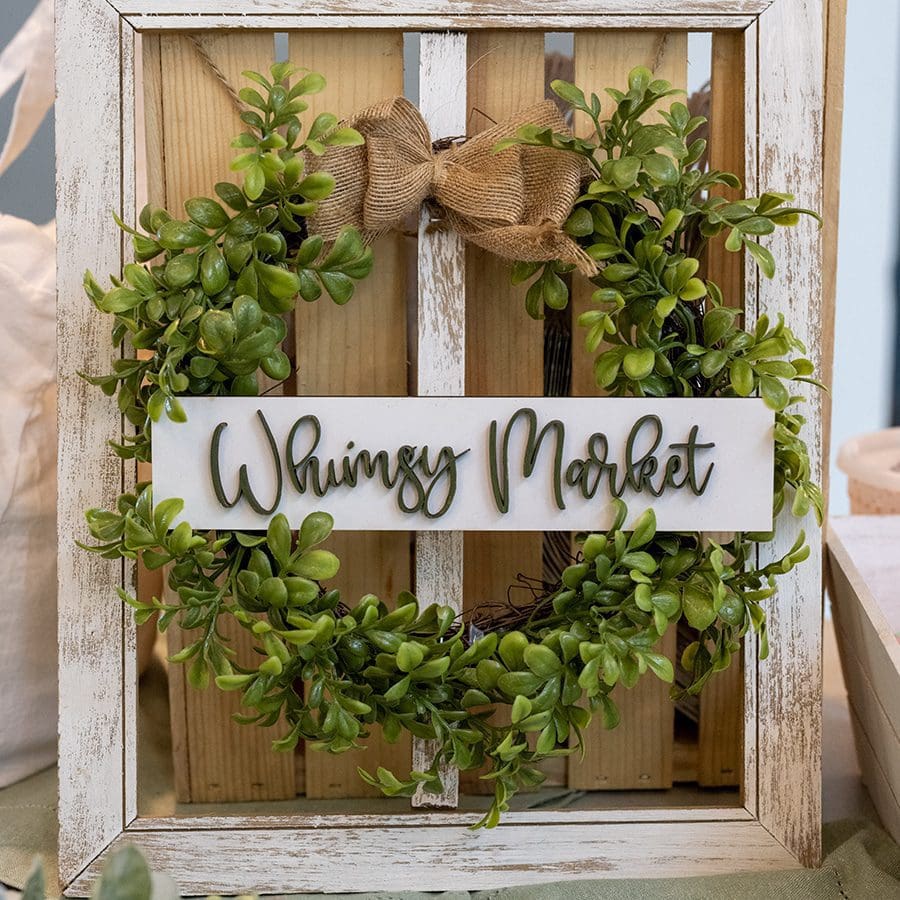 Three women create a unique shopping experience to help small companies flourish.
On a Thursday night in late June, Whimsy Market hosts a Girl's Night Out event to showcase female-owned businesses. A long line stretches outside Leesburg's Venetian Center. Inside, vendors proudly display their wares while shoppers comb through the spacious building searching for goods. 
At one booth, Laurel Walsh, who operates Cozyheart Confections from her Tavares home, displays Fourth of July-themed cookies with blue and red icing and ice cream cone-shaped cookies with red, white, and blue sprinkles. 
A group of curious onlookers gather around Krissy Aviles as she spreads homemade pizza sauce and pepperoni onto a flour tortilla. Kristy, owner of Pizzadilla Grill in Orlando, combines cheesy pizzas and crispy quesadillas into one. 
Paulette Presutto, owner of Grandma's Greetings, draws fanfare with her selection of colorful, handmade greeting cards. One of her imaginative designs is a "Happy Birthday Mom" card shaped like a woman's dress with a pearl necklace and three buttons down the middle. 
"My company is based out of my home in Leesburg, so I'm very excited to have a venue like this where I can introduce my business to so many people in the community," Paulette says. "These gals really put on a spectacular event."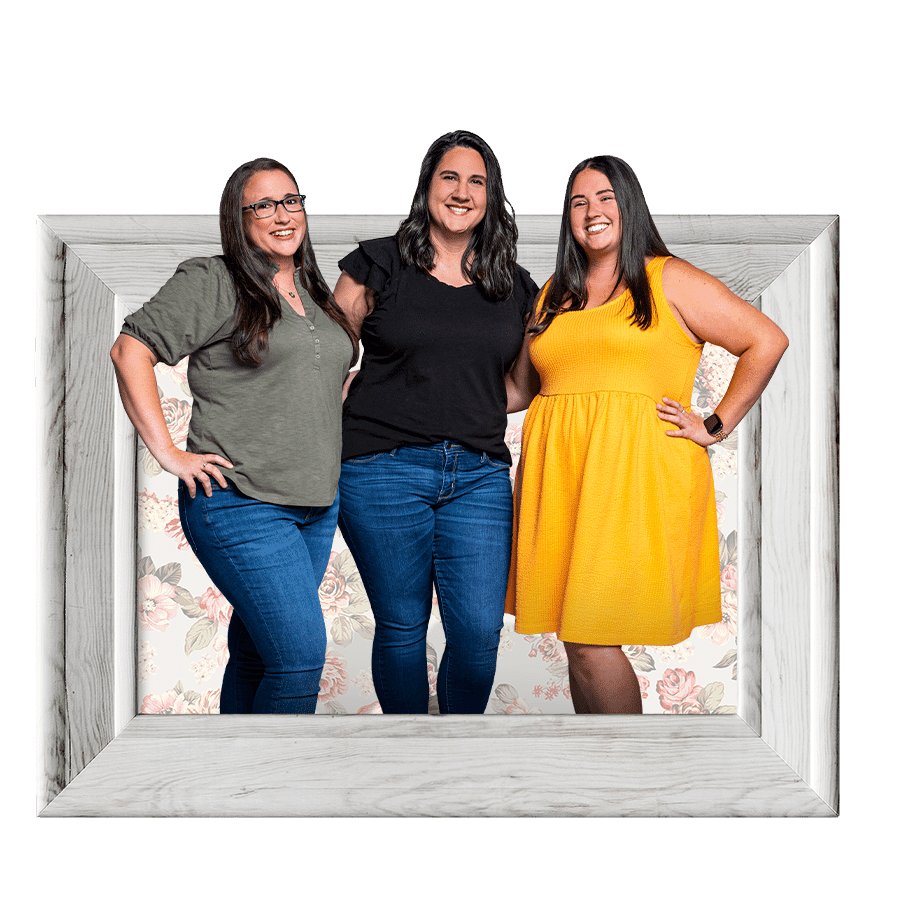 Those gals are Nikki Anderson, Sheena Willis, and Erica Rew, founders of the popular Whimsy Market. As businessowners themselves, they have a soft spot in their hearts for small businesses because they've faced the same struggles—attracting customers, increasing brand awareness, and overcoming financial hardships. 
Their venture started in August 2020 when Erica created Whimsy Waffle (a play off the word raffle), an online community of more than 4,000 people connecting buyers to small businessowners. Erica recruited Nikki and Sheena to help her run the group. 
"We grew a community of people who really wanted to help each other be successful," Erica says. "When you support small businessowners, you're putting dinner on someone's table and putting clothes on someone's back. Many attribute the Whimsy Waffle group for the success of their business."
Whimsy Waffle creates online connections, but the three friends wanted to strengthen and grow those connections by hosting in-person shopping experiences where small businessowners could gather. Thus, Whimsy Market was born. 
Since its debut in October 2021, Whimsy Market has hosted nine themed markets designed to grow and sustain small businesses. Fourteen more markets will be held between September and December. 
In 2021, markets held during the holidays attracted up to 4,000 shoppers. Smaller markets draw as many as 1,000. There are bounce houses, games, ice cream, and music to keep children entertained. The organizers also invite several food trucks to ensure nobody shops hungry.
Various Lake County venues—including Sunsational Farms in Umatilla, Puzzle Ranch in Sorrento, and the Venetian Center in Leesburg—have enthusiastically hosted Whimsy Market.
"Our smallest venues can hold 35 vendors, while our largest venues can hold up to 150 vendors," Nikki says.
"We put on the best presentation and experience for those vendors, and in return they put on the best experience for our customers."

—Nikki Anderson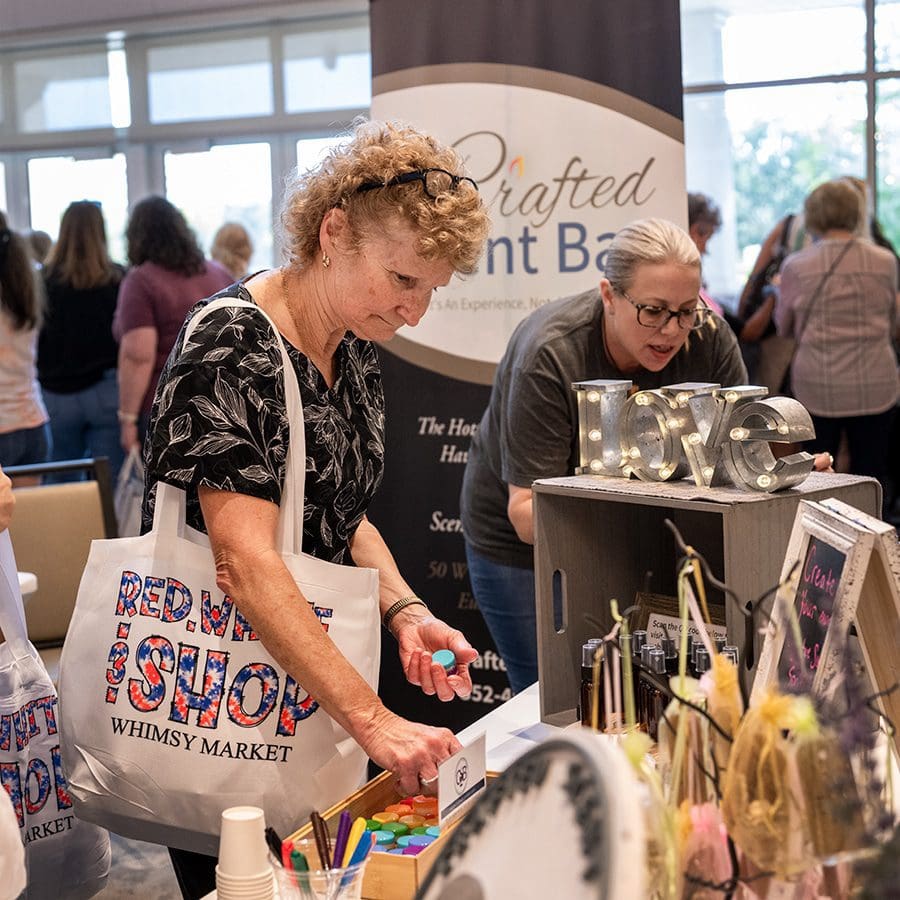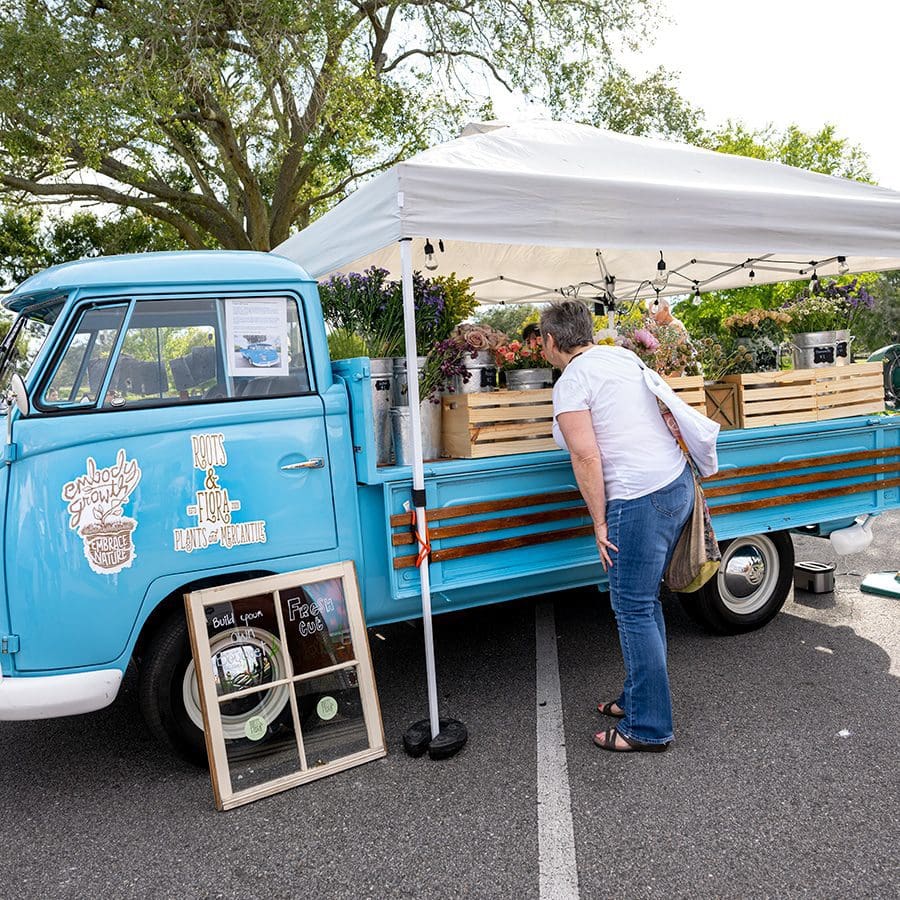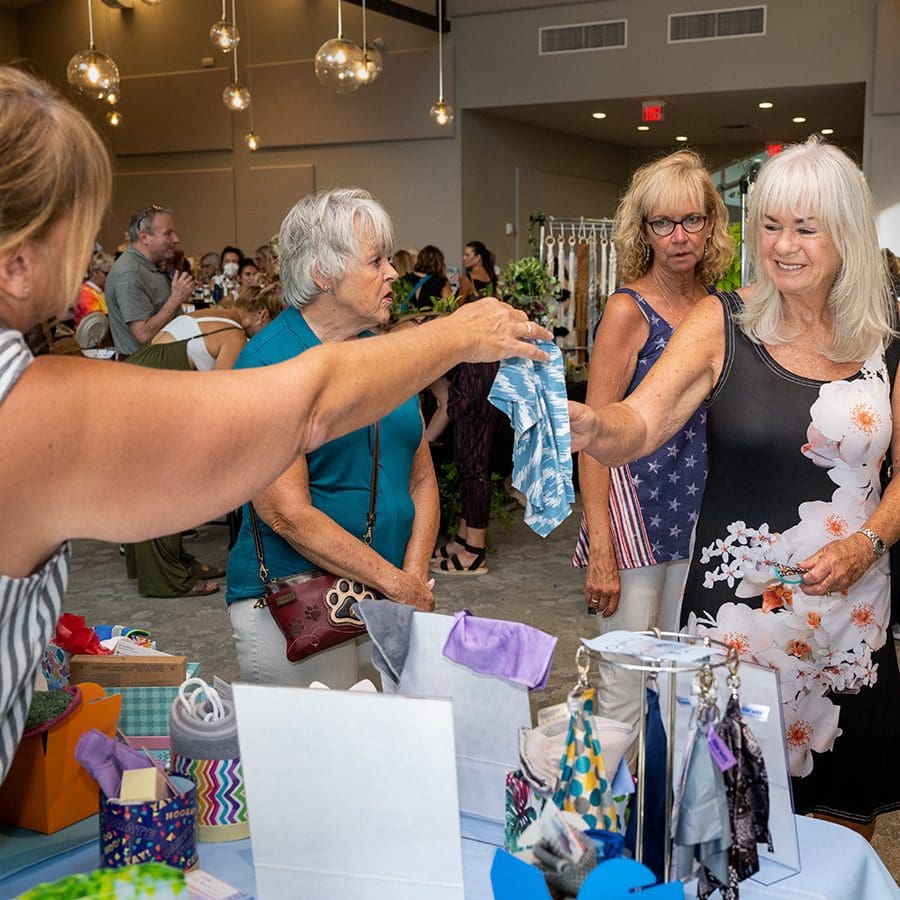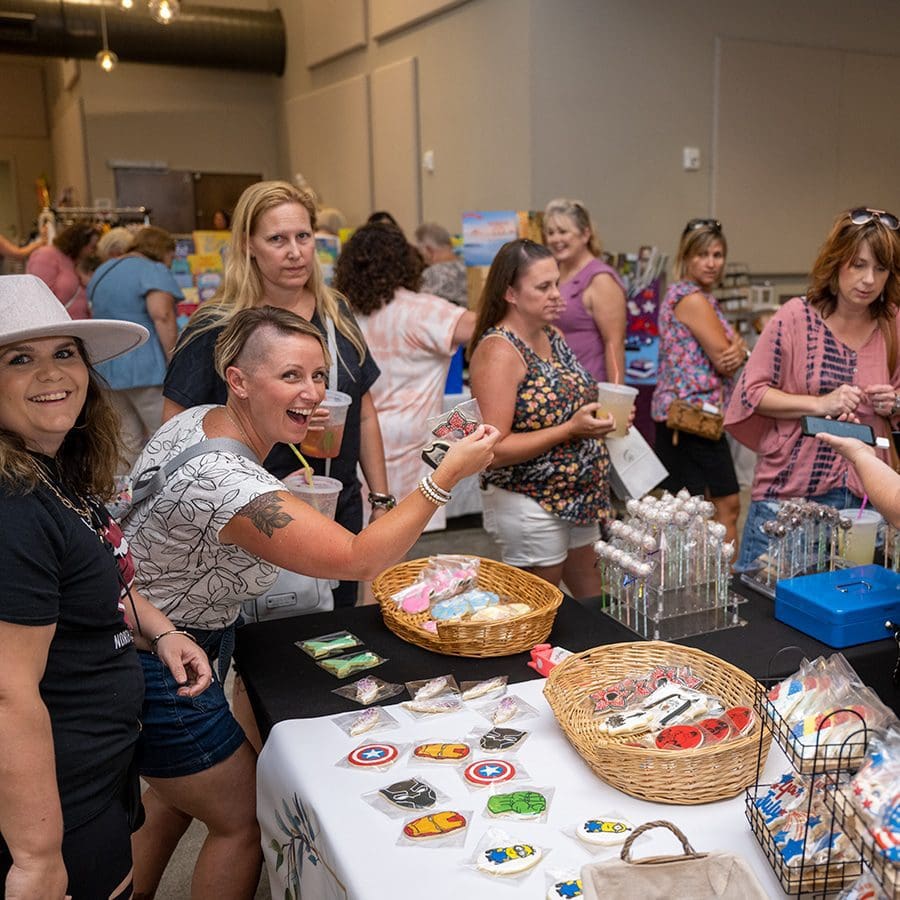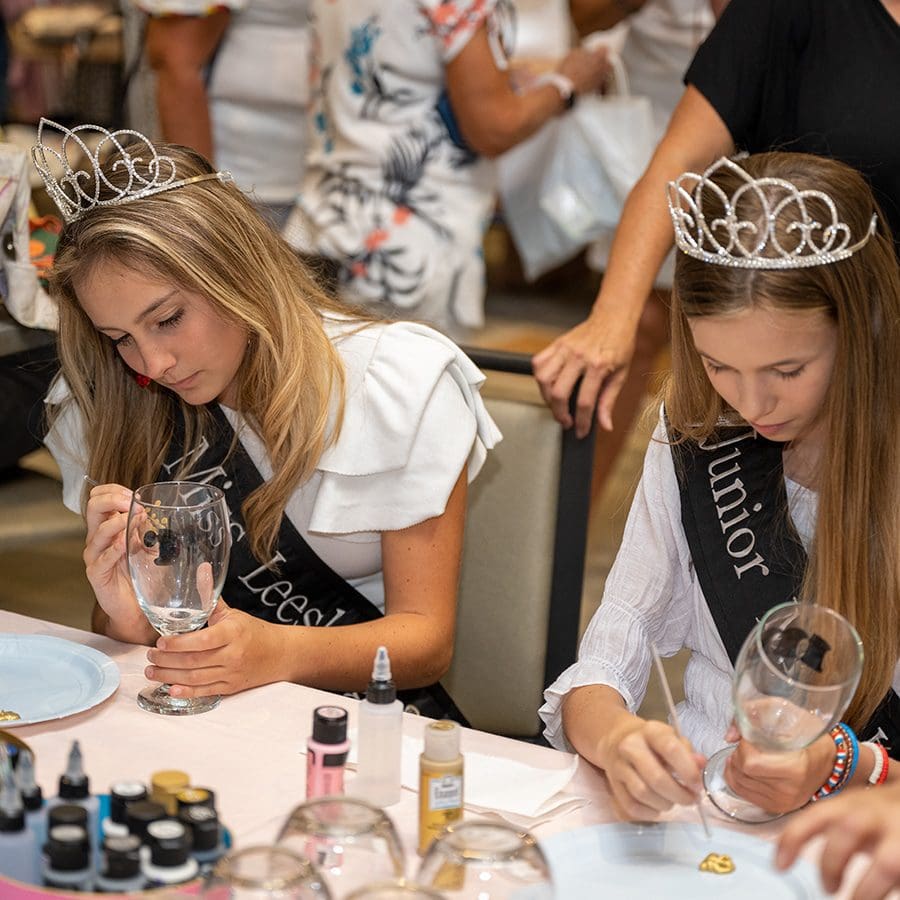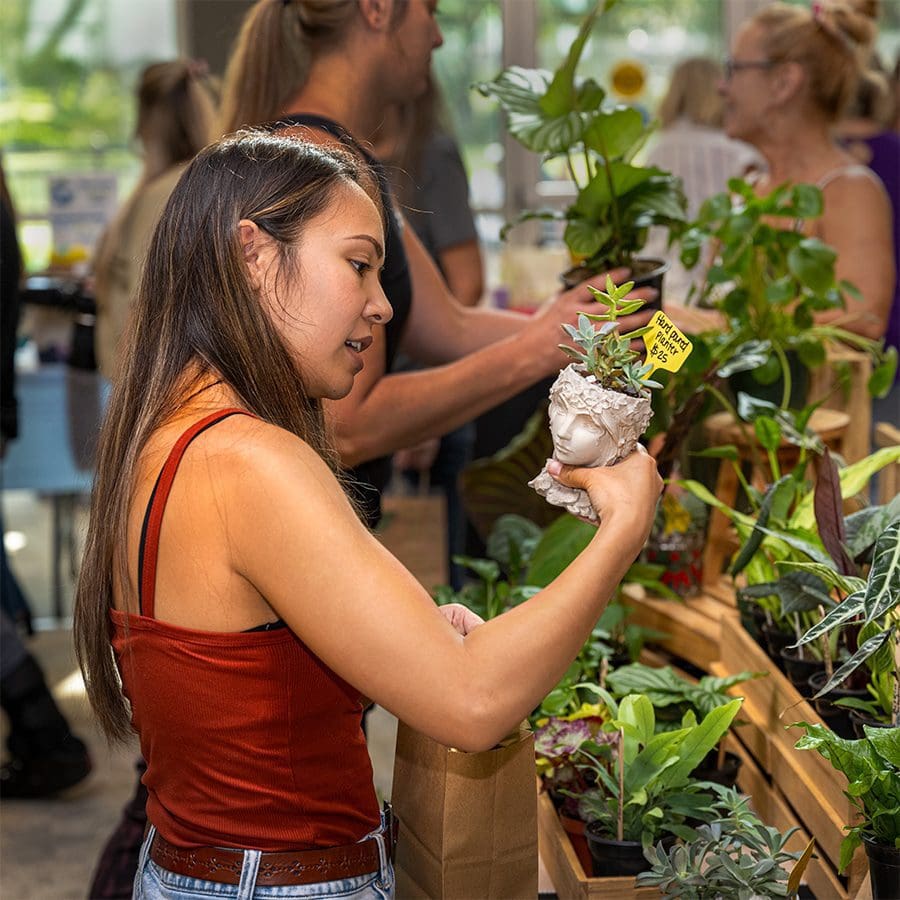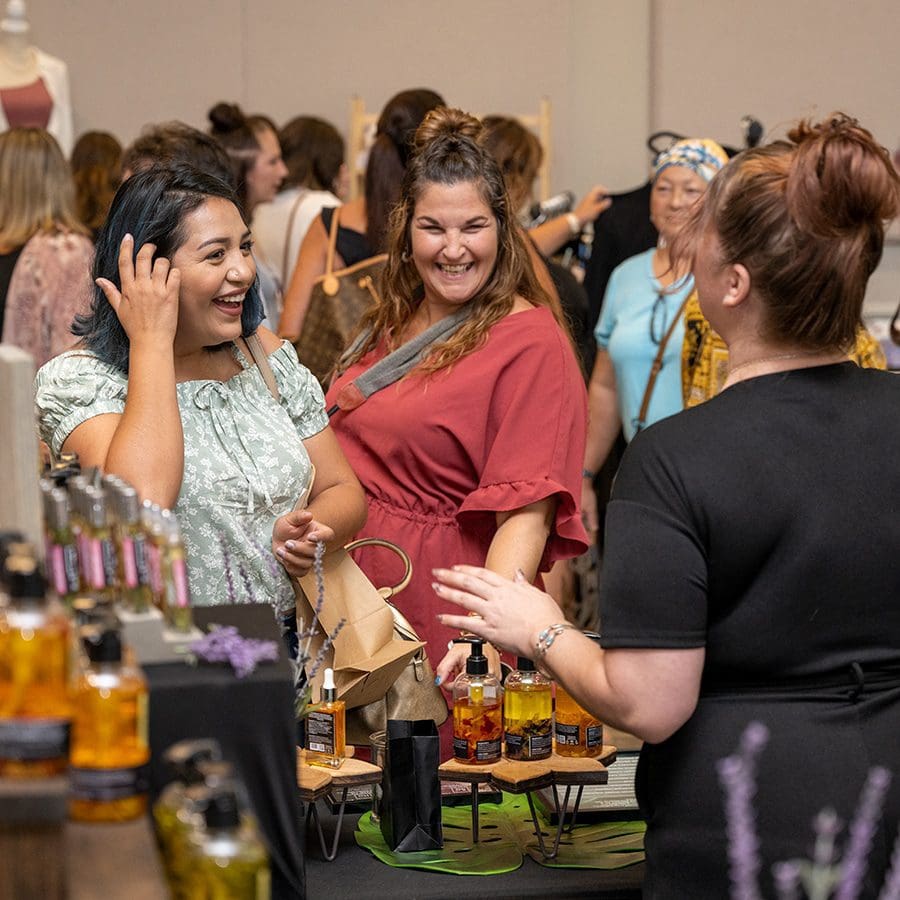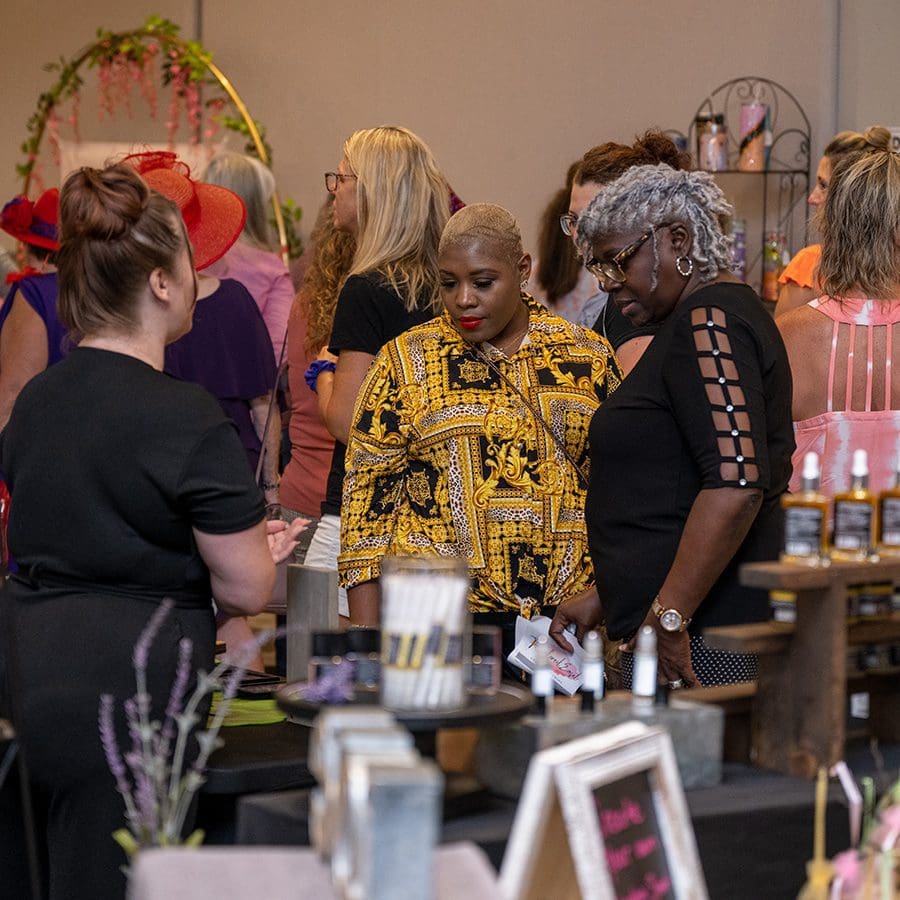 Leesburg resident Barbara MacLean wholeheartedly agrees. She attended her first Whimsy Market during the Girl's Night Out event. An avid shopper, she was impressed with the large selection of products for purchase like tumblers, T-shirts, jewelry, and artwork. 
"This event is highly organized, very efficient, and extremely accommodating," she says. "There's really a positive vibe. Everyone is enthusiastic and smiling." 
Shoppers like Barbara often ask the same question: When will the next market be held? 
That question puts a smile on the faces of Nikki, Sheena, and Erica, who work tirelessly to help Lake County's small business owners gain visibility and name recognition while juggling the demands of running their own companies. Nikki, a baker who resides in Leesburg, owns Nikki's Sweet Cakes. Sheena, who lives in Tavares, creates custom T-shirts and apparel through her company, My Emma's Line and Boutique. Erica, of Altamonte Springs, is owner of For You by Rew and makes floral wreaths and door hangers. 
As for their Whimsy Market roles, Nikki serves as vendor coordinator, Sheena is venue coordinator, and Erica oversees Whimsy Waffle. 
"We all have a strong work ethic but different organizational styles," Nikki says. "That helps keep things balanced. For instance, I enjoy making vendors happy. I walk around during the event and bring vendors water, and I'm more than willing to help them set up or tear down their booths."
For them, it's all about empowering small businesses to achieve big success. 
"When you're a small business owner and have struggles, it's never fun to take on those struggles by yourself," Sheena says. "But with Whimsy Waffle and Whimsy Market, you grow with a team. I cry at the end of every market because I have a great day, vendors have a great day, and shoppers have a great day."
Visit whimsy-market.com to see Whimsy Market's upcoming events
Akers Media Group's James Combs has been a staff writer for several local publications since August 2000. He has had the privilege of interviewing some of Lake County's many fascinating residents—from innovative business owners to heroic war veterans—and bringing their stories to life. A resident of Lake County since 1986, James recently embarked on a journey to lead a healthier lifestyle. He has lost 60 pounds and walks nearly five miles a day. In his spare time, he enjoys target shooting, skeet shooting and watching his beloved Kentucky Wildcats!
Share This Story!