Tavares Cross-Country Runner Cheyenne Thomas Medals At States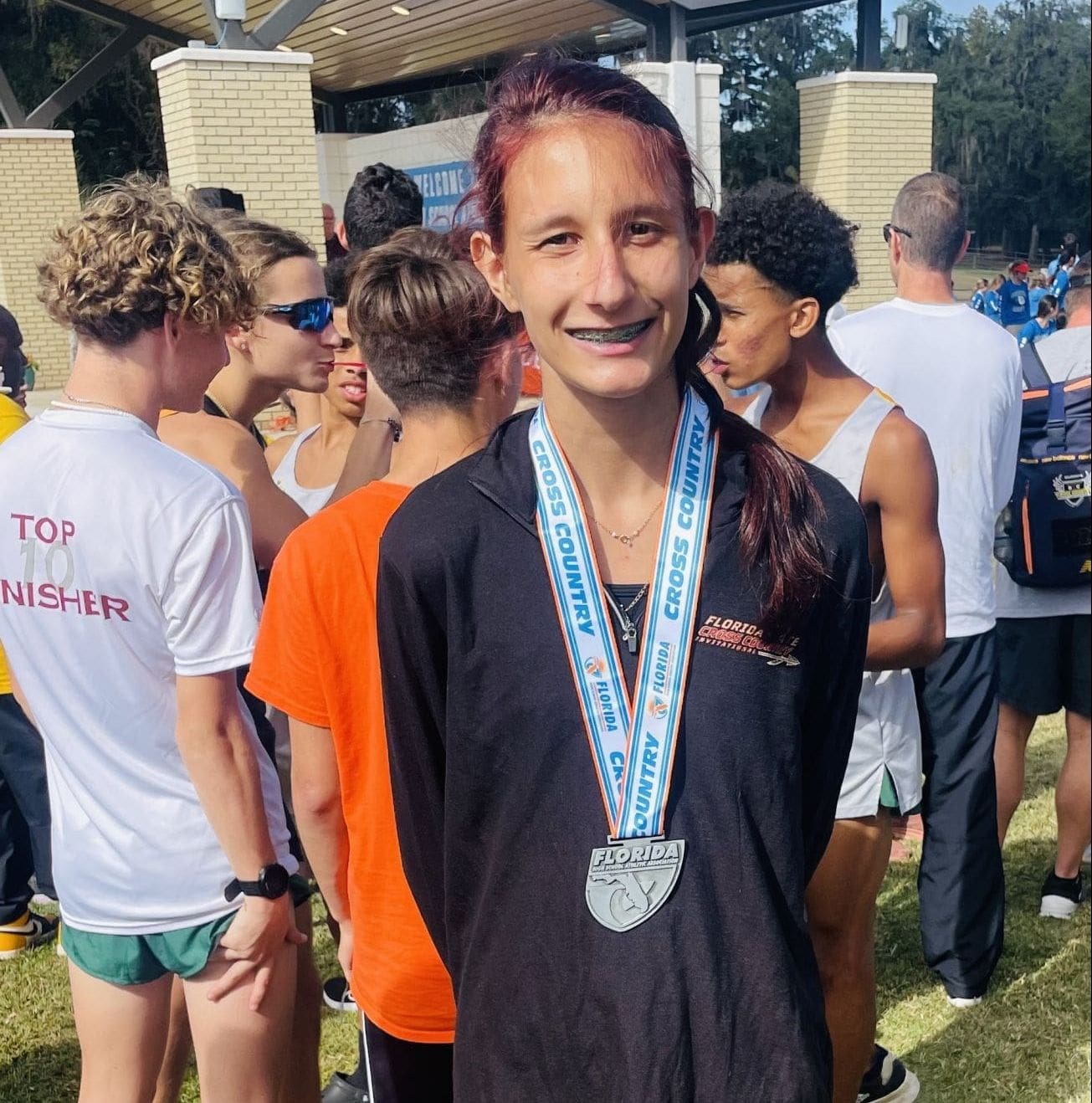 In a remarkable display of skill and determination, Tavares High School's freshman cross-country runner, Cheyenne Thomas, clinched a commendable 6th place finish at the State Championships in Class 3A.
Thomas, a former Tavares Patriot and Red Sea Running Club member, gave it her all with her stellar performance, standing out as the sole Lake County athlete to break into the top ten. The young athlete completed the race with a noteworthy time of 18:30, showcasing both her talent and resilience on the cross-country course. Thomas was only 4 seconds from a top 3 finishing position. The race was won by Christine Coleman of Dillard with an amazing time of 17:53. She was followed by Ashley Fitzgerald of American Heritage and Shynah Collins of Dillard who were the top three.
For Cheyenne to go out with these seniors and run right with them was inspiring to see. Throughout the event, Thomas maintained her position among the top contenders, eventually settling just outside the coveted top 5. Her achievement is particularly impressive given her status as a freshman, earning applause from spectators and fellow competitors alike. Worth noting that Caitlyn Nole who is also a freshman at Tavares finished inside the top 100 in 93rd place.
Thomas has consistently dominated the cross-country scene throughout the season, winning event after event. Her prowess has established her as one of Lake County's premier athletes in both cross-country and track & field.
The success wasn't limited to Thomas, as the East Ridge girls' team secured a respectable 5th place overall in Class 4A. Rhyen Foley, the Knights' top runner, claimed the 18th position with a time of 19:14, while Veronica Peterson finished 23rd at 19:36.
Meanwhile, the Lake Minneola girls secured a 7th place finish in Class 3A, with Ashlyn Levine claiming the 22nd position and a time of 19:36. As a team, Tavares High achieved an 18th place ranking overall, with Thomas leading the charge.
Beyond Class 3A, Mount Dora High's Hannah Douglas achieved a notable 12th place finish in Class 2A, completing the race with a time of 18:46.
Overall, Lake County athletes showcased an impressive display of talent at the State Championships. Cheyenne Thomas's 6th place finish stands as a testament to her skill and determination, leaving the community eagerly anticipating her future endeavors in the upcoming Track & Field season this spring. This accomplishment is only the beginning for the promising freshman, and her journey will be fun to watch as track & field season begins in the spring time.
Information Credit – Kevin Von Maxey and Tracey Hanson
Photo Credit – Tracey Hanson
Kyle Coppola was born in Newton, Massachusetts and received his Bachelor of Fine Arts in Communications from Curry College in 2016. After traveling to Florida on a family vacation, he decided he could not get enough of the warm weather and made the move from snowy Massachusetts to central Florida 8 years ago.
For the last decade Kyle has gained valuable experience in social media content creation, marketing and sales, writing, video production, sports announcing and even broadcasting for local radio stations, such as FM 102.9 in The Villages and FM 91.5 in Massachusetts. Every year he volunteers at The Villages Charter High School as a play-by-play sports announcer for the football games as well as a public address announcer for the basketball games, including the annual Battle at The Villages Tournament.
Outside the office Kyle is a husband and father to two beautiful girls along with their cat. In his spare time he likes to spend time with his family, travel, play golf and swim. He is also a huge sports junkie and even bigger motorsports fan and loves to attend racing events when he can.
Share This Story!