Tavares High Cross-Country Runner Cheyenne Thomas Rising Star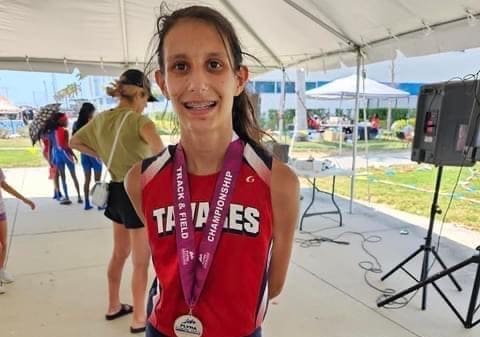 Tavares High School Freshman Cross-Country Star Cheyenne Thomas Off To Blazing Start! 
Tavares High School freshman Cheyenne Thomas is off to a blazing start in the 2023 Cross-Country Season. Thomas finished in first place at the FCA Preseason meet in Clermont Florida. She is one of the most exciting runners in the state of Florida! We knew coming into the year that she was going to be one of the best, but how would she compete against varsity competition at the high school level?
We now have answers! Thomas finished almost 20 seconds in front of second place runner Rhyen Foley of East Ridge who finished just slightly ahead of Ashlyn Leviner of Lake Minneola High who also had a good performance placing five of their female runners in the top ten. Hanna Warren would also finish inside the top ten in 8th place for East Ridge and Kaylan Enix had a top ten performance for Tavares High as well.
Thomas is a graduate of the Tavares Patriots Running Program. That program is a middle high school running team and Thomas has been absolutely dominant over the past few years. Many wondered what would happen when she made the leap up to the Varsity level competition. Thomas proved she had what it took to compete with some of the best names in the state.
Thomas did not just win by a few seconds she won by 15 total seconds over Rhyen Foley. Now Foley is a great runner. She and Leviner will compete with Thomas this year in a great many events. In fact, the performance by Foley indicates she is not far off the pace. She just needs to find 15 seconds to compete with Thomas.
But Cheyenne Thomas is one heck of an athlete. She runs with more ease than many of the other runners and you can tell when she runs past. She is a relaxed runner and does not get frustrated or flustered. She keeps her emotions in check. That is the reason she can focus on the primary objective. She is an excellent runner and Tavares is lucky to have her.
As the season moves along it will be interesting to see if Thomas opens that gap to other competitors. Fifteen seconds is not easy to make up in the sport of running. Don't think Foley and Leviner won't do their best to make that happen though. I believe those girls will push Thomas hard this year. Perhaps different courses may fit those runners better.
Overall look for Thomas to continue a tremendous start to the 2023 year! September, October and November are big months for Cross-Country so we will continue to see how things develop for our Lake & Sumter County Schools!
Kyle Coppola was born in Newton, Massachusetts and received his Bachelor of Fine Arts in Communications from Curry College in 2016. After traveling to Florida on a family vacation, he decided he could not get enough of the warm weather and made the move from snowy Massachusetts to central Florida 8 years ago.
For the last decade Kyle has gained valuable experience in social media content creation, marketing and sales, writing, video production, sports announcing and even broadcasting for local radio stations, such as FM 102.9 in The Villages and FM 91.5 in Massachusetts. Every year he volunteers at The Villages Charter High School as a play-by-play sports announcer for the football games as well as a public address announcer for the basketball games, including the annual Battle at The Villages Tournament.
Outside the office Kyle is a husband and father to two beautiful girls along with their cat. In his spare time he likes to spend time with his family, travel, play golf and swim. He is also a huge sports junkie and even bigger motorsports fan and loves to attend racing events when he can.
Share This Story!