Tavares High School Unified Track & Field Teams Medal at FHSAA Class 1A State Championships!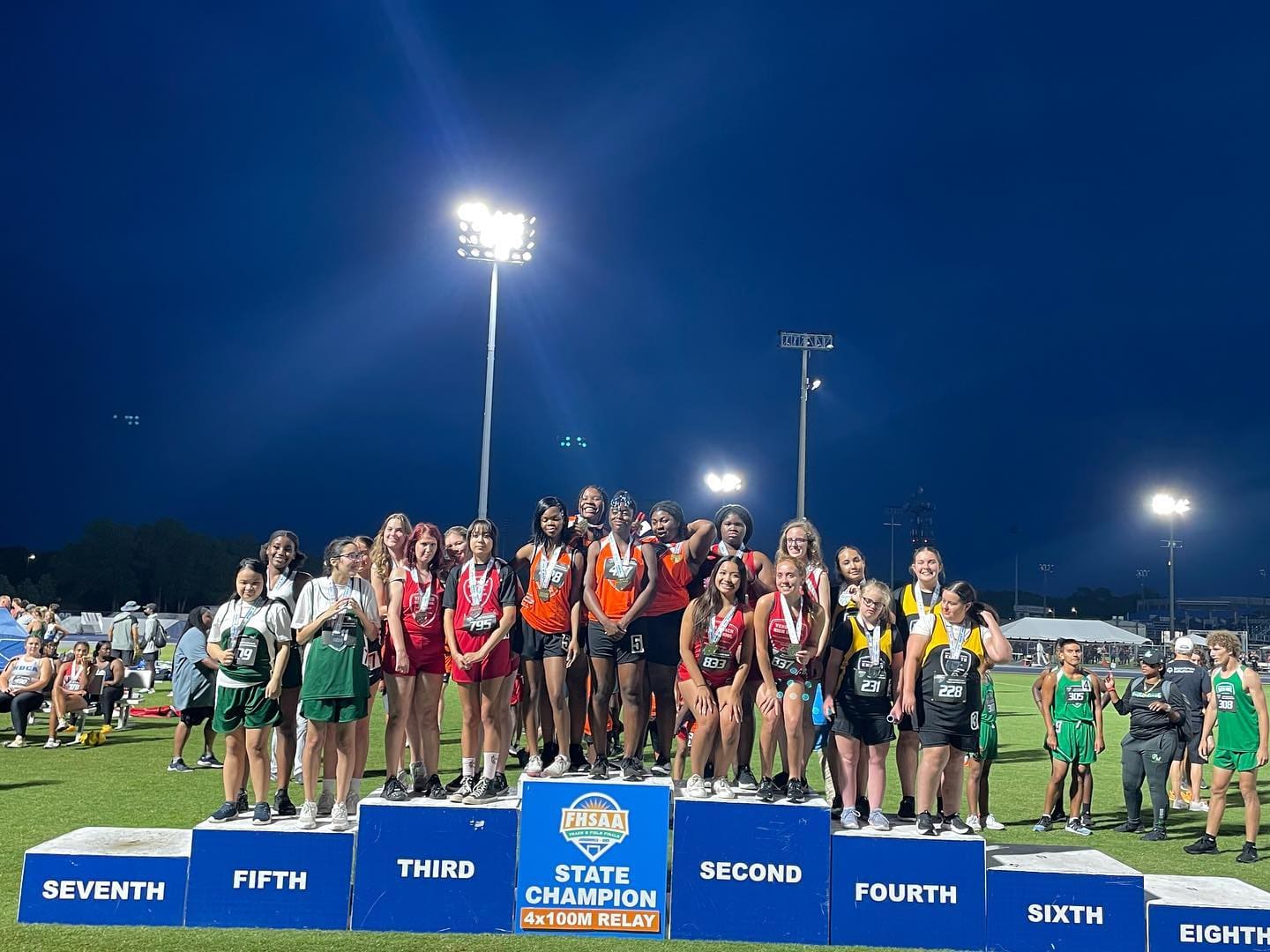 Tavares High School Unified Track & Field Teams Medal at FHSAA Class 1A State Championships!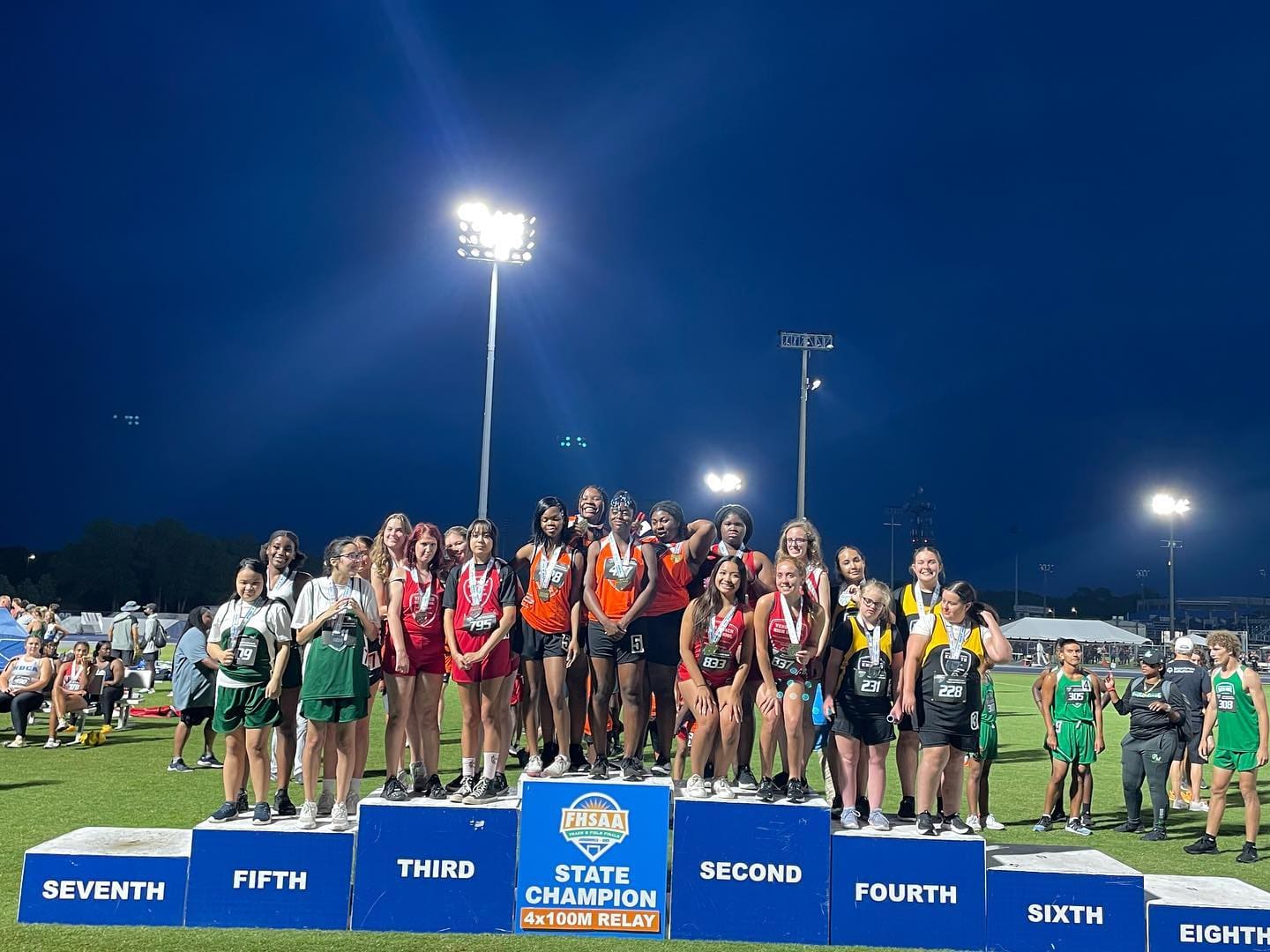 It was not that long ago that we were talking about the Tavares Unified Flag Football Team winning a State Championship trophy. Now the Track & Field team have come through with a terrific performance at the State Championship Track & Field Meet held in Jacksonville this past week. The State championships are held at Hodges Stadium which is on the campus of University of North Florida.
The day started sunny but soon the meet was delayed due to thunderstorms in the area. The Unified Track & Field Teams would be competing in The Unified 1600M Relay and The Unified 400M Relay. The teams stayed as loose as they could during the delay and once the event got back underway it was only a matter of time before the Unified events would take place.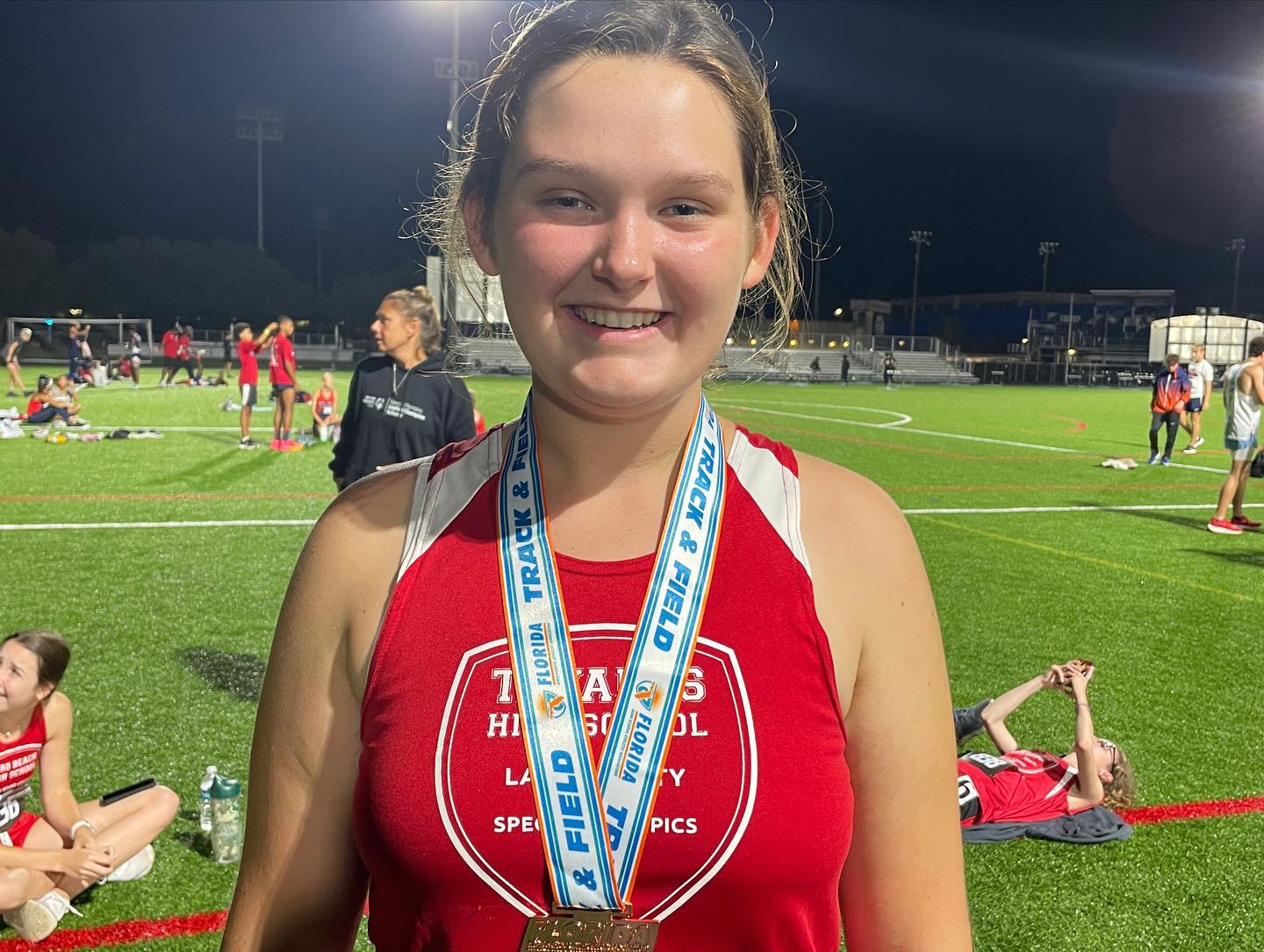 Up first was the Girls Unified 400M Relay. This involves handing a batton off to another runner every 100M. It is a very difficult event and lots can go wrong but for Tavares and the rest of the Unified athletes they were just happy to be there. Also noted is that East Ridge High had their Unified Athletes there. Lake Minneola likewise had a group of athletes competing.
The Girls Unified 400M Relay race included runners Shanna Staffe, Valerie Vaughn, Kendall Blackmon and Valeny Castillo. The girls got off to an impressive start and were neck and neck with Lely School and Vero Beach. The race continued to be close until Lely School began to separate from the pack. Down the home stretch it was Lely High all by themselves. They would win the event with a time of 1:04.71.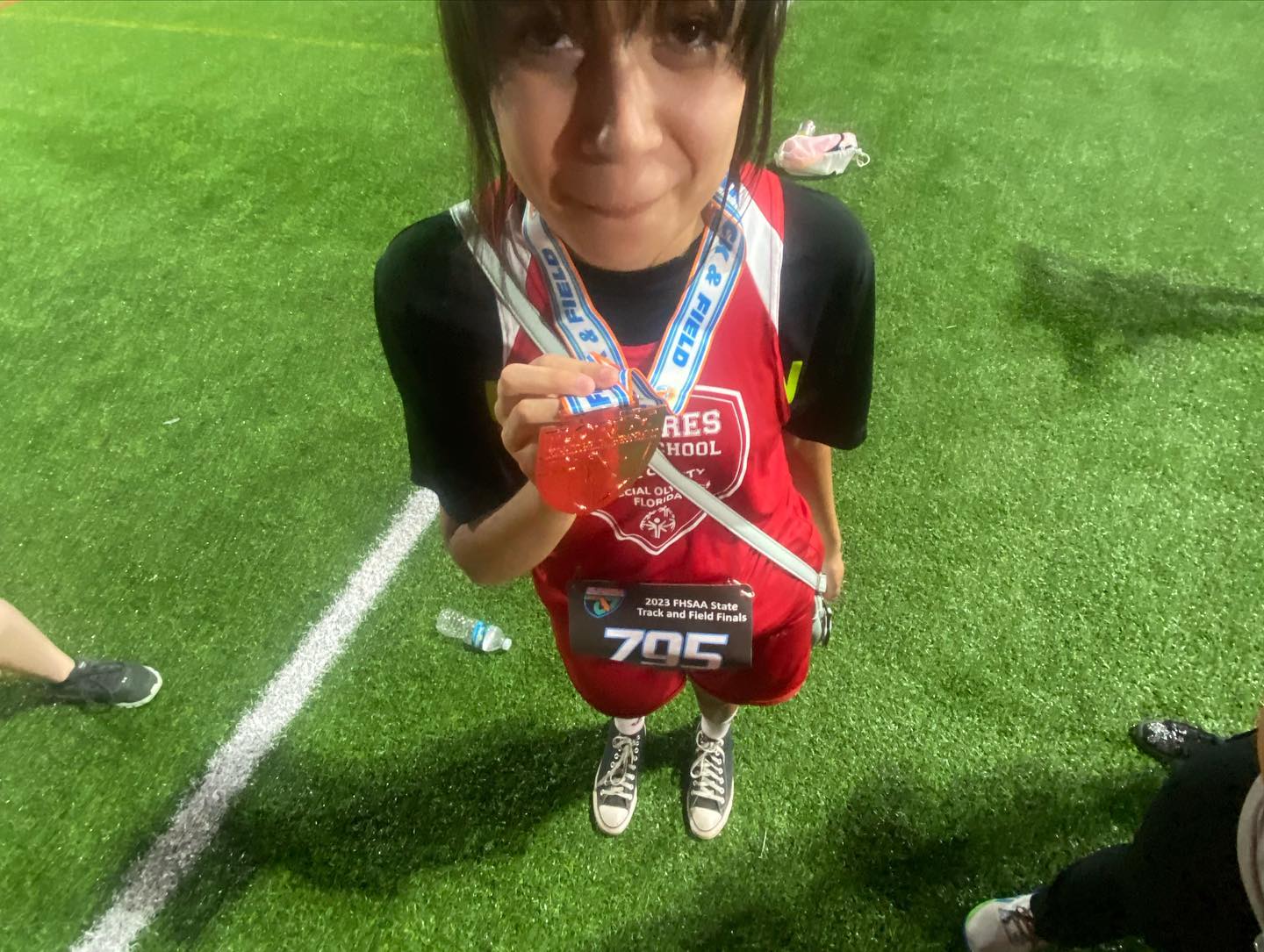 It was a very close race for second as Vero Beach and Tavares ran to the finish line. Ultimately Vero Beach would take second place with a 1:10.80 and Tavares would come in 3rd taking a very respectable podium finish with a time of 1:14.25. Fourth place saw The East Ridge Knights finish with a time of 1:35 and Lake Minneola finished 5th with a time of 1:46. Also worth noting that the Mount Dora High Boys Unified team came in 5th in their Unified 400M Race.
Overall it was a great 400M Unified Relay race for the girls and an exciting one at that. Congratulations to all the runners especially Lely and Vero Beach for taking first and second place. A huge shout out to the Tavares Unified athletes though. They made us all proud finishing with a 3rd place medal! Something they will always remember!
Meanwhile it was time for the 1600M Unified races. In the girls group only 2 schools would compete. Vero Beach ended up with 1st place and East Ridge wound up 2nd. Congratulations to both schools on their accomplishments. But the big event was The Boys Unified 1600M Relay.
The race started and instantly Vero Beach was the favorite. They would go on to win the race and take first place with a time of 4:12 meanwhile Fort Myers and Lely took 2nd and 3rd while Seabreeze finished 4th. It was a battle for the 5th and 6th positions between Mount Dora High and Tavares. Both teams ran admirably and down the stretch both teams were neck and neck. However it was Mount Dora that was able to pull away and finish in 5th position with a time of 5:38 and Tavares finishing 6th with a time of 5:38. St.Lucie West Centennial would finish 7th.
It was such a fun day and all the athletes had a great time at States. Everyone was smiling because at the end of the day Unified events are encouraging to so many. There were droves of athletes looking on at these courageous athletes with awe. To watch them go out and compete at this level is such a special thing.
Kudos to the FHSAA for being so inclusive. There is even a section for Para Track & Field Athletes to compete so the FHSAA is doing an incredible job of including everyone. This was a terrific day of competition for not only the top athletes in the Class 1A State Championships but especially for these Unified Athletes who show us time and again that they are some of the most courageous people on the track.
Congratulations to Tavares High School, the coaches, faculty and staff for providing such great mentorship to these students. Congratulations to Mount Dora High, East Ridge High and Lake Minneola High as well for everything they do for their respective students.
We had fun watching and I know all the students who participated had a good time no matter the outcome. Until next year! We look forward to seeing the Unified Athletes in our area continue to shine like never before!
Photos Provided By:
Tavares High School
Kyle Coppola was born in Newton, Massachusetts and received his Bachelor of Fine Arts in Communications from Curry College in 2016. After traveling to Florida on a family vacation, he decided he could not get enough of the warm weather and made the move from snowy Massachusetts to central Florida 8 years ago.
For the last decade Kyle has gained valuable experience in social media content creation, marketing and sales, writing, video production, sports announcing and even broadcasting for local radio stations, such as FM 102.9 in The Villages and FM 91.5 in Massachusetts. Every year he volunteers at The Villages Charter High School as a play-by-play sports announcer for the football games as well as a public address announcer for the basketball games, including the annual Battle at The Villages Tournament.
Outside the office Kyle is a husband and father to two beautiful girls along with their cat. In his spare time he likes to spend time with his family, travel, play golf and swim. He is also a huge sports junkie and even bigger motorsports fan and loves to attend racing events when he can.
Share This Story!