Tavares High School's Dallas Rasmussen Wins 16U MVP Pitcher Award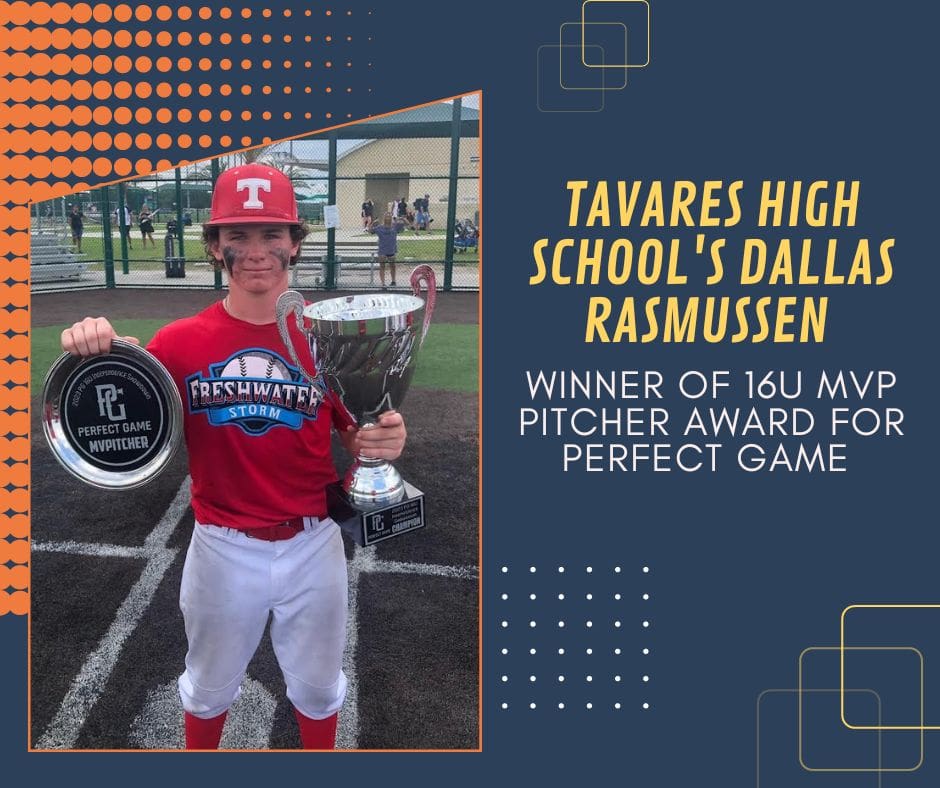 Dallas Rasmussen is one of Tavares High School's top athletes. Rasmussen will be entering his Junior year in 2023/2024. He has already taken Lake & Sumter County by storm. His Sophomore year was very productive and his travel baseball team has been equally as good this summer.
Rasmussen is not just a good pitcher, he is also a fine batter. In his Sophomore year Rasmussen had a winning record of 4 wins and 2 losses. He had an ERA of just 2.94 while tallying 47 strikeouts and allowing just 15 earned runs while facing 168 batters. Those are good numbers especially for a Sophomore. Rasmussen also has a GPA of 4.2. This summer he is working a full-time job unloading semi trucks along with playing summer travel baseball.
Rasmussen is certainly a hard worker. Smart, athletically gifted and hard worker are just some of the words to describe him. Rasmussen was excellent in the batter's box in 2023 and made the most of his opportunities. He had 17 hits last season and drove in 7 RBIs. The big picture though is that Rasmussen is patient. He was tied for the most walks on the team with 14 total. That means Rasmussen was able to get on base and often made it into scoring position. In fact he was second on Tavares in runs scored with 17 last year.
This summer Rasmussen has been focusing on getting better in the batter's box. By the looks of things he is doing just that. But on the mound is where Rasmussen has really been shining. Rasmussen plays for the Freshwater Storm, a travel baseball team part of the 16U Independence Showdown. Dallas proudly represents Tavares High School when he is on the field.
This past week Rasmussen won the 16U MVP Pitcher award for the Perfect Game 16U independence Showdown Tournament. He also went 6 for 11 with 2 doubles at the plate to help his travel team win the championship game! Obviously the work this kid is putting in during the off season is helping tremendously.  In fact his entire Sophomore year Rasmussen did not tally a double which means he has put a ton of work in to focus on his batting skills.
As far as Dallas Rasmussen is concerned there is no off-season for this kid. He is always trying to better himself and his teammates. He is a fine student, full time employee as well as a talented athlete. That goes a long way in attracting college scouts' attention. He is committed to whatever he puts his mind too. I would imagine as the next two years progress, Rasmussen will be looked at by scouts. He continues to improve year after year. He is a good person and any program would be lucky to have a student athlete like him.
We are thrilled for Dallas & the Rasmussen family on their son's continued success. We cannot wait to see what the future holds for this young athlete!
Photos Provided By:
Jason Rasmussen
Twitter
Kyle Coppola was born in Newton, Massachusetts and received his Bachelor of Fine Arts in Communications from Curry College in 2016. After traveling to Florida on a family vacation, he decided he could not get enough of the warm weather and made the move from snowy Massachusetts to central Florida 8 years ago.
For the last decade Kyle has gained valuable experience in social media content creation, marketing and sales, writing, video production, sports announcing and even broadcasting for local radio stations, such as FM 102.9 in The Villages and FM 91.5 in Massachusetts. Every year he volunteers at The Villages Charter High School as a play-by-play sports announcer for the football games as well as a public address announcer for the basketball games, including the annual Battle at The Villages Tournament.
Outside the office Kyle is a husband and father to two beautiful girls along with their cat. In his spare time he likes to spend time with his family, travel, play golf and swim. He is also a huge sports junkie and even bigger motorsports fan and loves to attend racing events when he can.
Share This Story!