Tavares High Senior Puts His All Into Achieving His Goals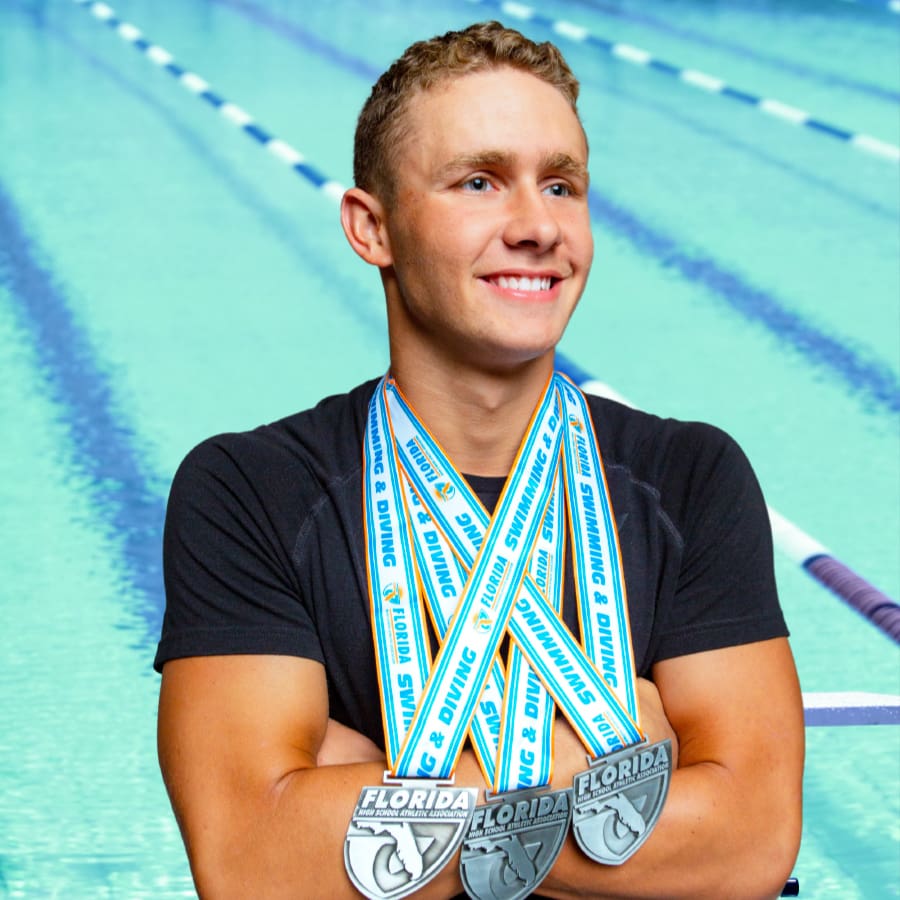 Asher Walker
One of my greatest accomplishments: Standing on the podium for swimming in the State Championship in Stuart, Florida my junior year. It was always a goal of mine to not only make it to State, but to be able to bring home a medal, and I brought home two: 4th place in the 50-yard freestyle and 6th place in the 100-yard freestyle. 
Something about that experience that will always stay with me: Standing on the podium underneath all the lights. It's hard to put into words how cool it was and how awesome it felt because it was a goal I'd been wanting to achieve for a really long time. I was proud of myself in the moment because I realized all the work I put in paid off. 
I am also proud to be involved in: The Suicide Prevention Club, which is a relatively new club at our school designed to seek out kids struggling with any kind of mental health issues, whether it's depression, anxiety, or any other hurt they are experiencing for any reason. It's a way to be able to communicate with them and point them in the right direction. I felt I'd be able to help others because I lost my father to suicide, and like anyone who's lost a family member or close friend to suicide knows, it hurts. What I realized after going through it is that I could either do something about it and make a difference with that story, or I could just sit there and wallow about it. 
Outside of school: I enjoy hanging out with my friends, and I really like weightlifting. I've really found a great passion in the gym.
My greatest inspiration/role model: I would have to say my dad. I believe my dad is one of the coolest and most respectful people I've ever met, and I've always wanted to be the kind of man he was. 
Advice I would give my younger self: I guess it would be to just keep your head up. When I was younger, I definitely struggled with being picked on, not having a ton of friends, and feeling lonely. I know it's a pretty stereotypical answer, but I'd say to just press on and be yourself. People need to hear the message of "Keep going" and "You're doing great." 
Something I want people to know: I'm really more outgoing than I seem. I may seem pretty quiet, but I'm a really friendly person and open to conversations with anybody. 
A saying I live by: The person who enjoys the walk will walk further than the person who enjoys the destination. 
If I could change one thing overnight, it would be: To get rid of pineapple pizza altogether. 
One thing on my bucket list: I've definitely always wanted to travel the world, especially outside of the U.S. towards Europe.
Topping my playlist: I'm a huge Mötley Crüe and Nirvana fan. I love 80s hair metal and also 90s rap.  
One person (dead or alive) I'd like to talk with: A person that I'd really want to have a conservation with is Robin Williams and it would probably be about the stuff that he's done and how he got there. I love Robin Williams a lot and it was a shame when he passed. 
My future plans: Nothing is really set in stone, but for the longest time, I've always wanted to study physiology, specifically physical therapy. Right now, I'm in the application process of going to the Naval Academy. The applications close on January 1, and by then, I'll be in the thick of it going through meetings with senators and congressmen. To have a better chance of getting accepted, I have to get either a senatorial or congressional nomination.  
Originally from Nogales, Arizona, Roxanne worked in the customer service industry while writing independently for years. After moving to Florida in 1999, Roxanne eventually switched her career path to focus more on writing and went on to become an award-winning reporter for The Daily Commercial/South Lake Press newspapers for 16 years prior to coming on board with Akers Media as a staff writer in July 2020 – her dream job come true.
Share This Story!