Tavares Middle School Cross-Country Team Win Lake County Championship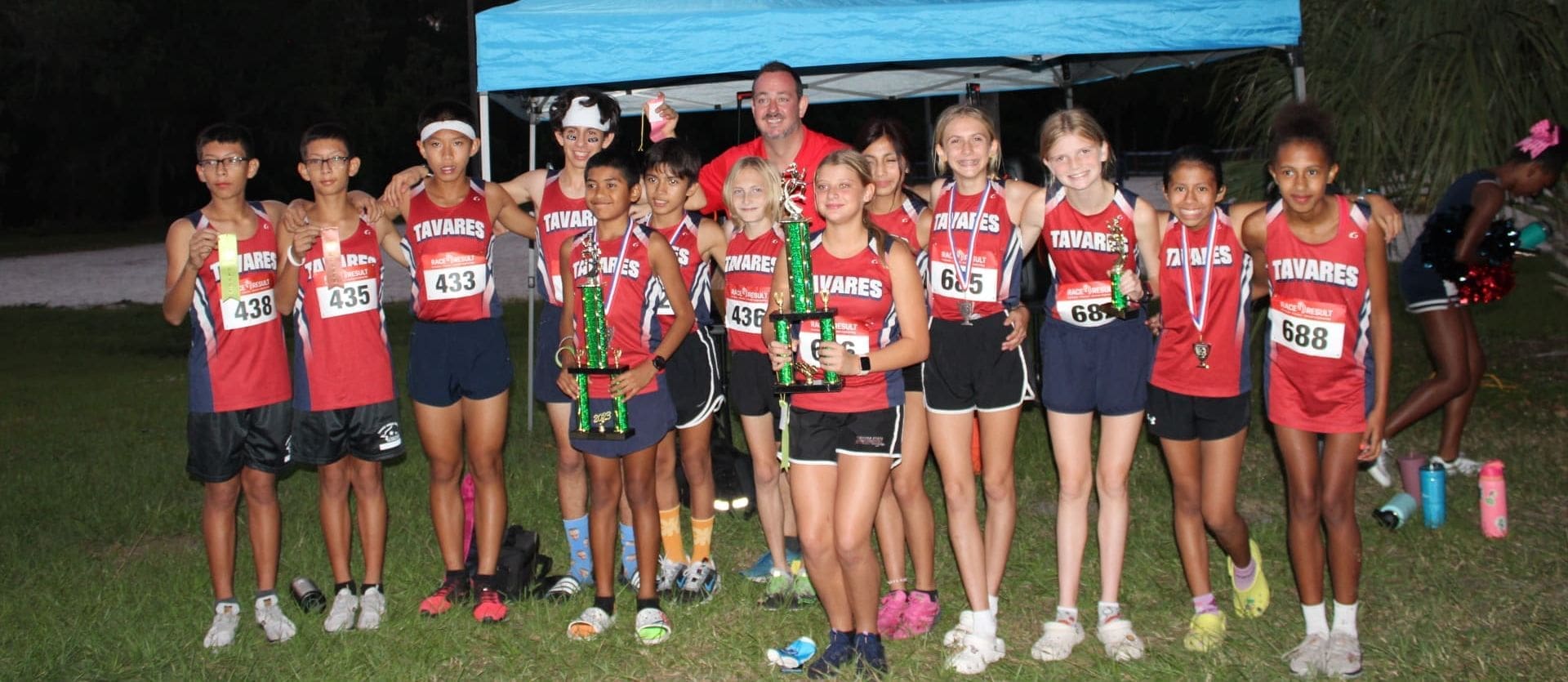 Tavares Middle School Cross-Country Team Win Lake County Championship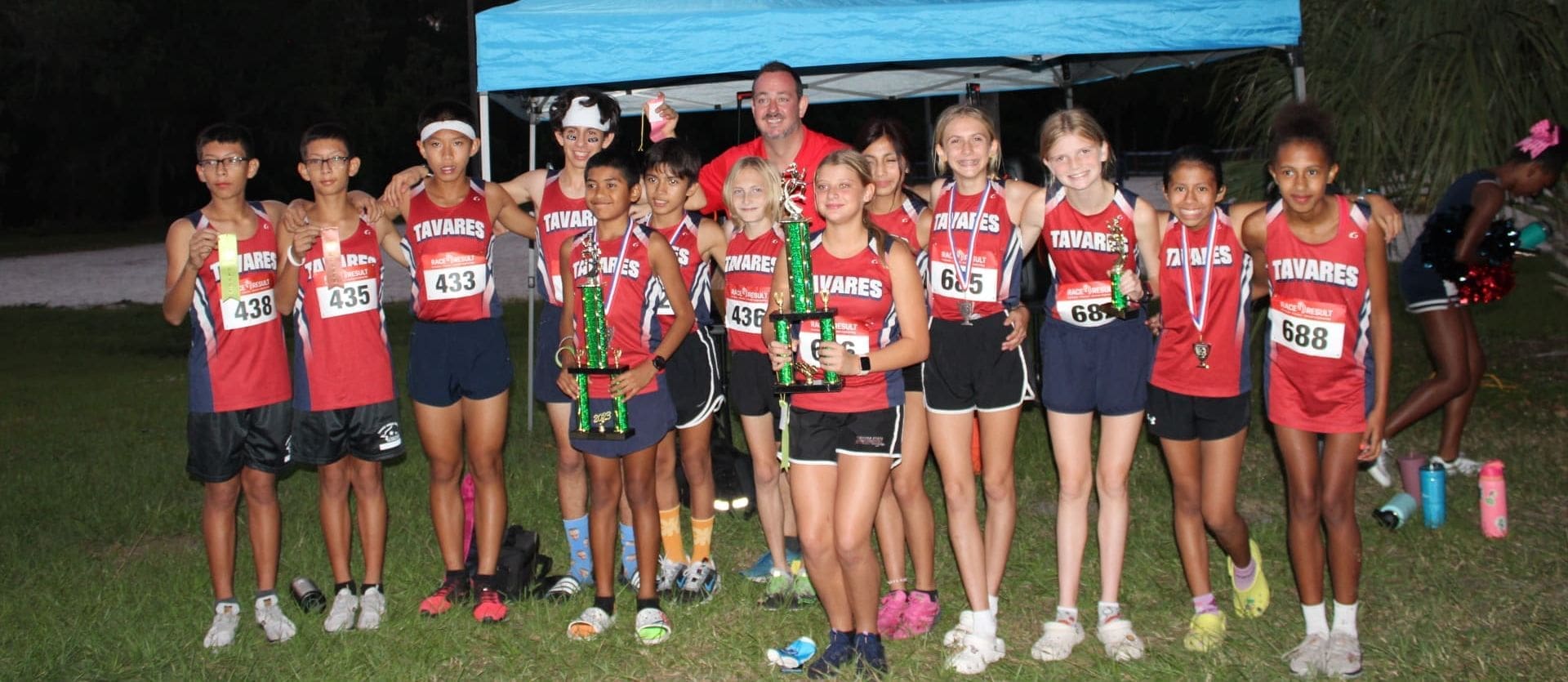 In a thrilling display of endurance and speed, the Tavares Middle School Patriots triumphed in the 2023 Lake County Middle School Cross-Country Championship, held at Hickory Point in Tavares on a Wednesday evening. The Patriots' boys' and girls' teams dominated the competition, securing their spots in the upcoming state championship set to take place in Lakeland on October 28th.
The 2-mile district championship course witnessed the participation of over 200 runners, each striving for victory and the coveted state qualification. It was a remarkable evening filled with outstanding performances and spirited athleticism.
In the boys' race, East Ridge's seventh-grader, Jonahel Vazquez Escribano, emerged as the individual champion, crossing the finish line in a blazing 11 minutes and 1 second. Escribano's impressive victory disrupted what would have been a perfect score for Tavares. The Patriots secured the next seven positions, with Omar Castillo (2nd, 11:19), Nicholas Alvarez (3rd, 11:28), Liam Ilea (4th, 11:28), Nathan Meloy (5th, 11:45), Eric Chen (6th, 11:46), Emiliano Lozano (7th, 11:48), and Navid Lozano (11:49). Kingston Johnson from Mount Dora (9th, 12:06) and Aiden Floudiotis from Windy Hill (10th, 12:10) completed the top 10 finishers.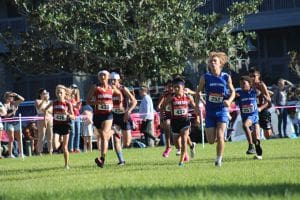 Tavares showcased their dominance by accumulating a mere 20 points, comfortably surpassing East Ridge's 56 points and Windy Hill's 81. Other schools in the district also displayed their prowess, with Minneola Charter (127), Mount Dora (147), Gray (168), Imagine South Lake (186), Lake Pointe (207), Oak Park (259), and Carver (292) contributing to the final scores.
The girls' race was no less exhilarating, with Tavares once again seizing victory. Seventh-grader Laken Hartley crossed the finish line in 12 minutes and 49 seconds, narrowly outpacing her teammate Jimena Nava-Garcia (12:51) as they sprinted on the final turn. Tavares runners Sophia Maldonado (13:00) and Isabella Neal (13:01) secured the next two positions, followed closely by East Ridge's Michaela Appleton (13:18) and Anieliz Galarza (13:20). Tavares' Lindsey Mishler (13:20), Windy Hill's Kori Lindley (13:23), East Ridge's Sophia Galarza (13:28), and Minneola's Chloe Entwistle (13:36) rounded out the top 10 finishers.
Tavares girls' team displayed exceptional teamwork, securing victory with just 17 points, overshadowing East Ridge (49), Windy Hill (91), Mount Dora (95), Minneola (120), and Gray (152).
The Tavares Patriots' remarkable achievements on the cross-country course have earned them the privilege of representing Lake County in the upcoming state championship at Holloway Park in Lakeland. The team, expertly coached by Kevin Von Maxey and April Von Maxey, is primed and prepared to compete against the state's best, aiming to further their legacy of excellence.
Photo Credit – Lacey Lewis
Kyle Coppola was born in Newton, Massachusetts and received his Bachelor of Fine Arts in Communications from Curry College in 2016. After traveling to Florida on a family vacation, he decided he could not get enough of the warm weather and made the move from snowy Massachusetts to central Florida 8 years ago.
For the last decade Kyle has gained valuable experience in social media content creation, marketing and sales, writing, video production, sports announcing and even broadcasting for local radio stations, such as FM 102.9 in The Villages and FM 91.5 in Massachusetts. Every year he volunteers at The Villages Charter High School as a play-by-play sports announcer for the football games as well as a public address announcer for the basketball games, including the annual Battle at The Villages Tournament.
Outside the office Kyle is a husband and father to two beautiful girls along with their cat. In his spare time he likes to spend time with his family, travel, play golf and swim. He is also a huge sports junkie and even bigger motorsports fan and loves to attend racing events when he can.
Share This Story!