Tavares native Sarah Coursey officially sworn in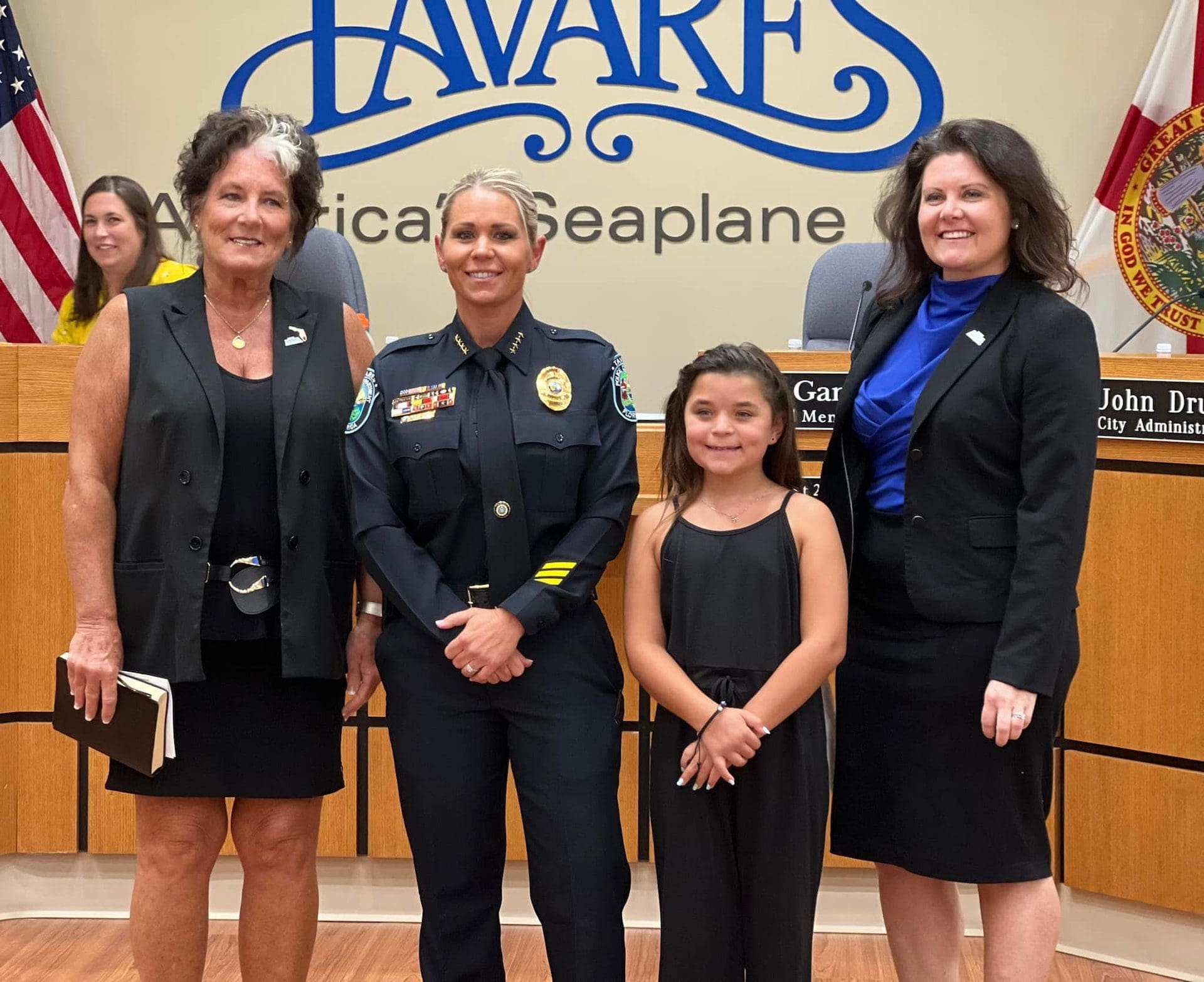 Longtime officer and Tavares native Sarah Coursey officially sworn in as Tavares' 23rd Chief of Police
TAVARES – Third-generation Tavares native Sarah Coursey, on Sept. 7, was officially sworn in as the city's 23rd police chief, making history as the first woman to fill the post locally following Longtime Chief Stoney Lubins' retirement.
"This is an agenda item we haven't had in 21 years," says Mayor Lori Pfister from her seat before the ceremony.
After reciting her Oath of Office, administered by City Attorney Lindsay Holt, community and city leaders, family, friends, fellow Tavares Police Department officers, and Lake County Sheriff's Office deputies—all there to witness the momentous occasion—erupted in applause and honored her with a standing ovation.
A second outburst of cheers followed the emotional pinning of Chief Coursey's badge by her 8-year-old daughter Kaelyn.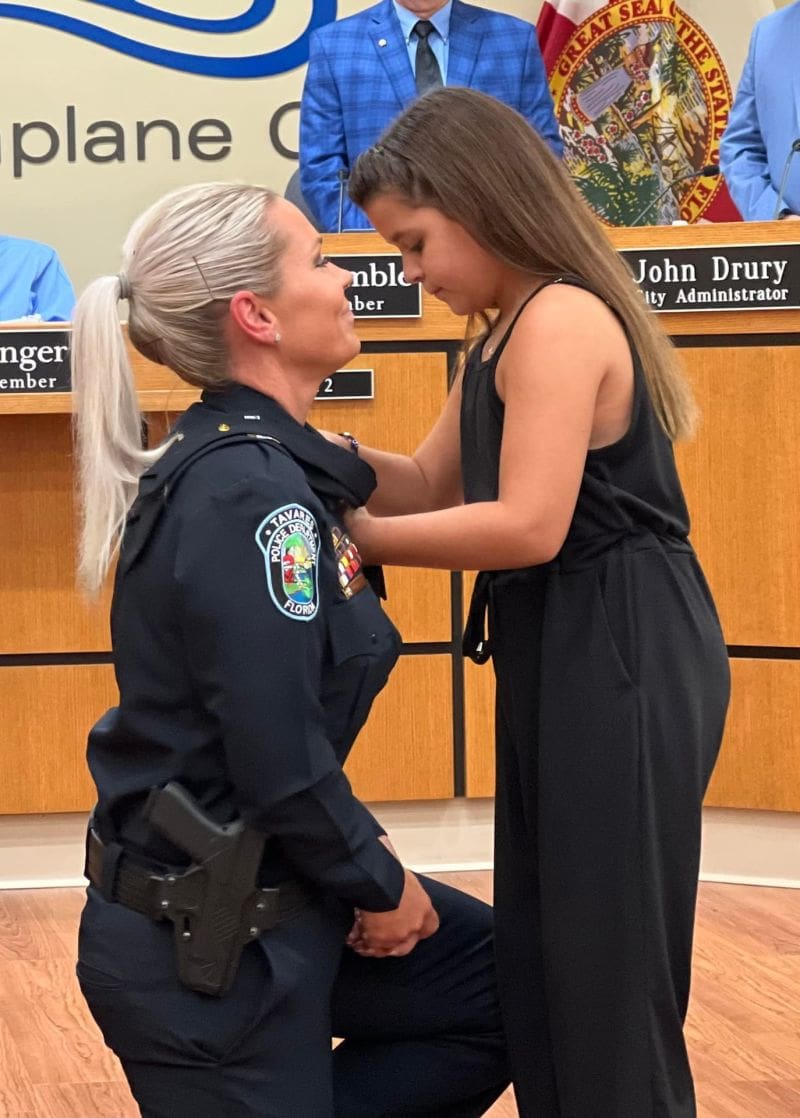 "It's difficult to put into words what this means to me," Chief Coursey says following the ceremony and after thanking everyone there to support her. "I'm fully vested in and passionate about Tavares, those who work in the city, and those who live in the city. I'm proud of what the city has to offer and proud to have always been able to call Tavares home."
"I will be actively involved in the community, highly visible, and accessible as your Chief of Police. I am dedicated to the highest level of professionalism, continued transparency, and committed to providing the citizens of Tavares with service that will exceed their expectations," she continues.
Chief Coursey's appointment was announced by City Administrator John Drury on June 30, who in a press release, touted her long 13-year tenure with the Tavares Police Department.
With that, John also thanked Stoney Lubins, who after 21-years as police chief, officially retired on Aug. 31.
Chief Coursey calls Stoney's departure bittersweet, but at the same time, says she is thankful for his mentorship and support through the years.
She says she hopes to carry on his legacy by putting her all into the position, especially since the Tavares Department is set to be accredited in October.
John says while Stoney will be missed, he is confident that the city made the right choice appointing Sarah to lead the department into a new chapter.
"I am confident that under Chief Coursey's leadership, the Tavares Police Department will continue protecting our community against crime while providing respect and protection equally for all residents," says John. "(Chief) Coursey is well respected by officers and the community and is the right person to lead the department forward."
A native of Tavares, now Chief Coursey holds a Master of Science degree in criminal justice with an emphasis in law enforcement administration and a bachelor's degree from Columbia College. She will oversee the day-to-day operations of the department and serve as chief counsel to the city administrator in matters of policing.
During her tenure with the Tavares Police Department, the new chief has worked in or supervised many of the department's divisions and has been assigned to the chief's command staff for more than two years. Most recently, she led the road patrol division, the largest section of TPD.
Chief Coursey is a graduate of the 85th Southern Police Institute Command Officer Class and has received the Trilogy award from the FBI-LEEDA program for Supervisor, Command, and Executive Leadership. Most recently, she attended the Federal Bureau of Investigation's FEDS program (Florida Executive Development Seminar) and the Florida Police Chiefs Association Future Police Chiefs Seminar.
In addition to her role with TPD, Chief Coursey is actively involved in the community, including and organizing the fundraising and charity program for TPD to aid families in our community. She also spearheaded TPD's newest program, Operation Aware, designed to aid in our department's interactions with those in our community who may have special needs, such as autism, PTSD, Alzheimer's, dementia and other medical conditions. She is also a recent graduate from Leadership Lake County.
Originally from Nogales, Arizona, Roxanne worked in the customer service industry while writing independently for years. After moving to Florida in 1999, Roxanne eventually switched her career path to focus more on writing and went on to become an award-winning reporter for The Daily Commercial/South Lake Press newspapers for 16 years prior to coming on board with Akers Media as a staff writer in July 2020 – her dream job come true.
Share This Story!