Tavares Patriots Dominate Cross-Country State Championship!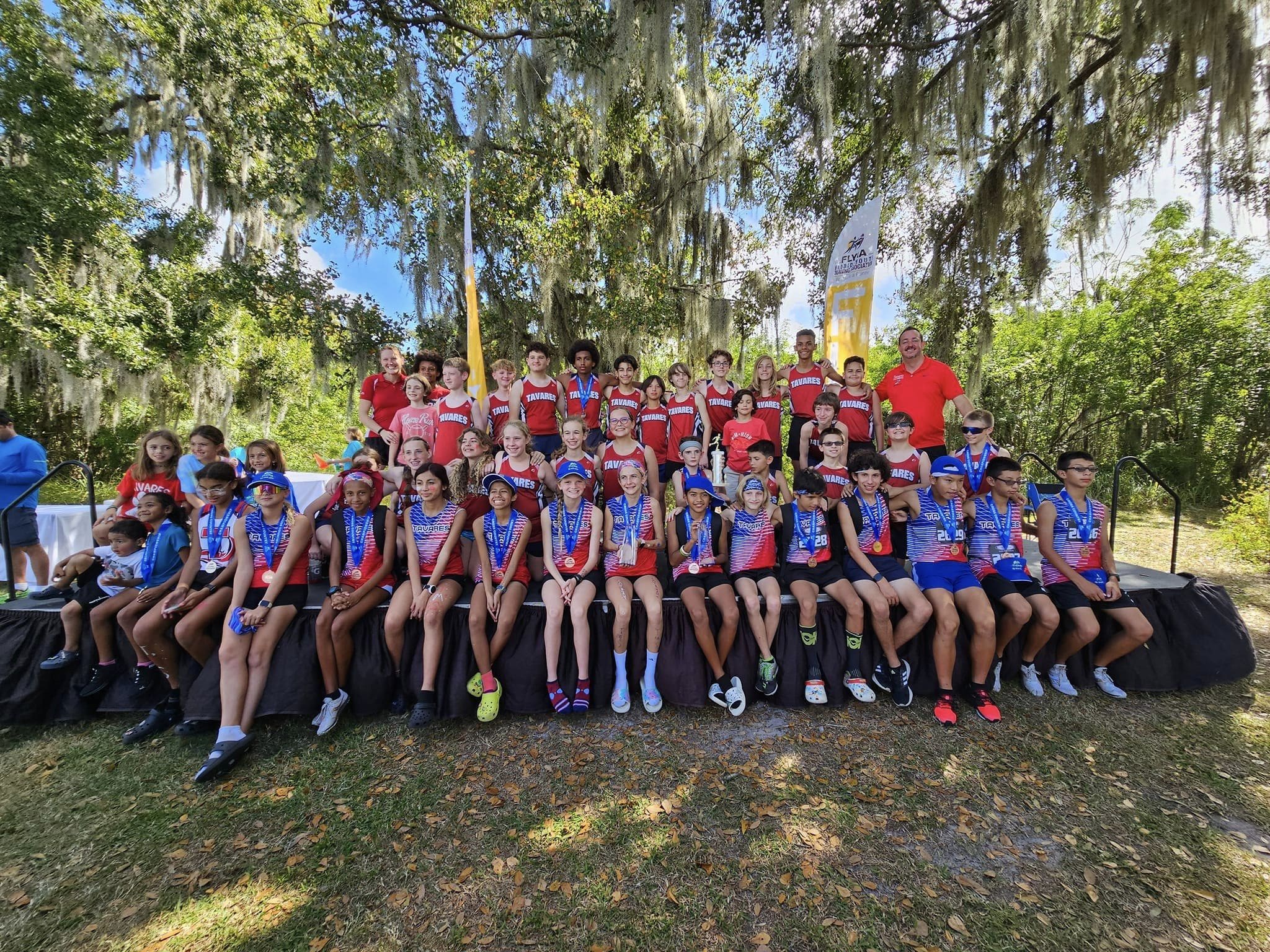 In a remarkable display of athletic prowess, the Tavares Middle School Patriots claimed victory at the 2023 FLYRA Middle School Cross-Country State Championship, solidifying their status as cross-country dynamos.
The Tavares Girls kicked off the championship day in impressive fashion, conquering the challenging Holloway Park course to secure their third consecutive state championship. Out of 24 qualifying teams, the Tavares Girls reigned supreme, accruing a mere 57 points. Their stellar performance bested state runners-up, Landrum Middle School from Ponte Vedra, who managed 97 points, and Naples Gulfview Middle School with 104 points.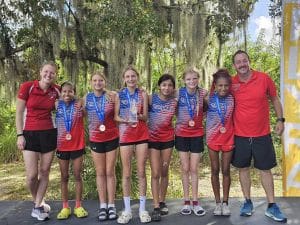 This exceptional feat showcased the talent of the Tavares girls, as they outpaced 201 of Florida's finest public school runners. Leading the charge for the Patriots were Isabella Neal (9th, 11:35), Laken Hartley (10th, 11:36), Jimena Nava-Garcia (14th, 11:40), Sophia Maldonado (16th, 11:44), and Lindsey Mishler (18th, 11:56). Jillian Hernandez (56th, 12:52) and Dezaray Huffman (89th, 13:28) sealed the victory, emphasizing their remarkable teamwork.
The Tavares Middle School Girls achieved a historic three-peat, a unique feat for girls middle school team cross-country, having won state championships in 2021 and 2022 and finishing as state runners-up in 2014 and 2017.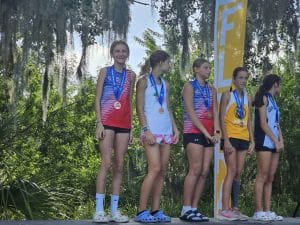 Not to be outdone, the Tavares Boys stepped up to the starting line and delivered an extraordinary performance of their own, clinching their second Boys' State Cross-Country Championship. Their resounding victory was illustrated by their remarkable 43-point tally, comfortably ahead of the second-place Ruckel Middle School from Niceville, which scored 93 points. The gap between the Patriots and their competitors was evident, with no other team achieving fewer than 162 points.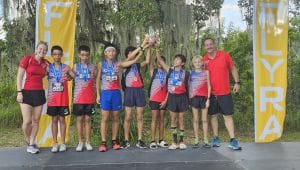 The Tavares Boys displayed their strength in a field of 117 runners. Remarkably, six out of their seven runners earned medals in the top 20 positions. Omar Castillo (4th, 10:14), Liam Ilea (8th, 10:20), Nick Alvarez (9th, 10:22), Eric Chen (12th, 10:31), Emiliano Lozano (15th, 10:37), and Navid Lozano (16th, 10:37) all contributed to this historic victory. The only near-miss came from Nate Meloy, who narrowly missed out on a medal, finishing in 21st place with a time of 10:51.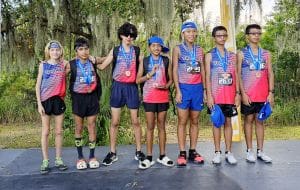 The Tavares Boys' team achieved an astonishing average time of 10:26 for the 3K course, setting a new benchmark as the fastest in public school history for the FLYRA Middle School State Championship. This championship marks their second boys' title, with previous runner-up seasons in 2014, 2017, and 2022, and a victory in 2016.
In a day filled with remarkable achievements, the Tavares Middle School Patriots have once again proven themselves as a dominant force in Florida's middle school cross-country, etching their names in the history books as back-to-back-to-back state champions for the girls and two-time state champions for the boys. Coach Kevin and April Von Maxey have done an incredible job with this program. Their unwavering dedication, exceptional coaching coupled with the teamwork, and undeniable talent have solidified their legacy in the world of middle school cross-country. This was a total team and coaching effort. We applaud this team for an incredible year! Well done!
Photo Credit – Tavares Patriots Facebook, Kevin & April Von Maxey
Kyle Coppola was born in Newton, Massachusetts and received his Bachelor of Fine Arts in Communications from Curry College in 2016. After traveling to Florida on a family vacation, he decided he could not get enough of the warm weather and made the move from snowy Massachusetts to central Florida 8 years ago.
For the last decade Kyle has gained valuable experience in social media content creation, marketing and sales, writing, video production, sports announcing and even broadcasting for local radio stations, such as FM 102.9 in The Villages and FM 91.5 in Massachusetts. Every year he volunteers at The Villages Charter High School as a play-by-play sports announcer for the football games as well as a public address announcer for the basketball games, including the annual Battle at The Villages Tournament.
Outside the office Kyle is a husband and father to two beautiful girls along with their cat. In his spare time he likes to spend time with his family, travel, play golf and swim. He is also a huge sports junkie and even bigger motorsports fan and loves to attend racing events when he can.
Share This Story!