Tavares Wooton Park Slide Is Safe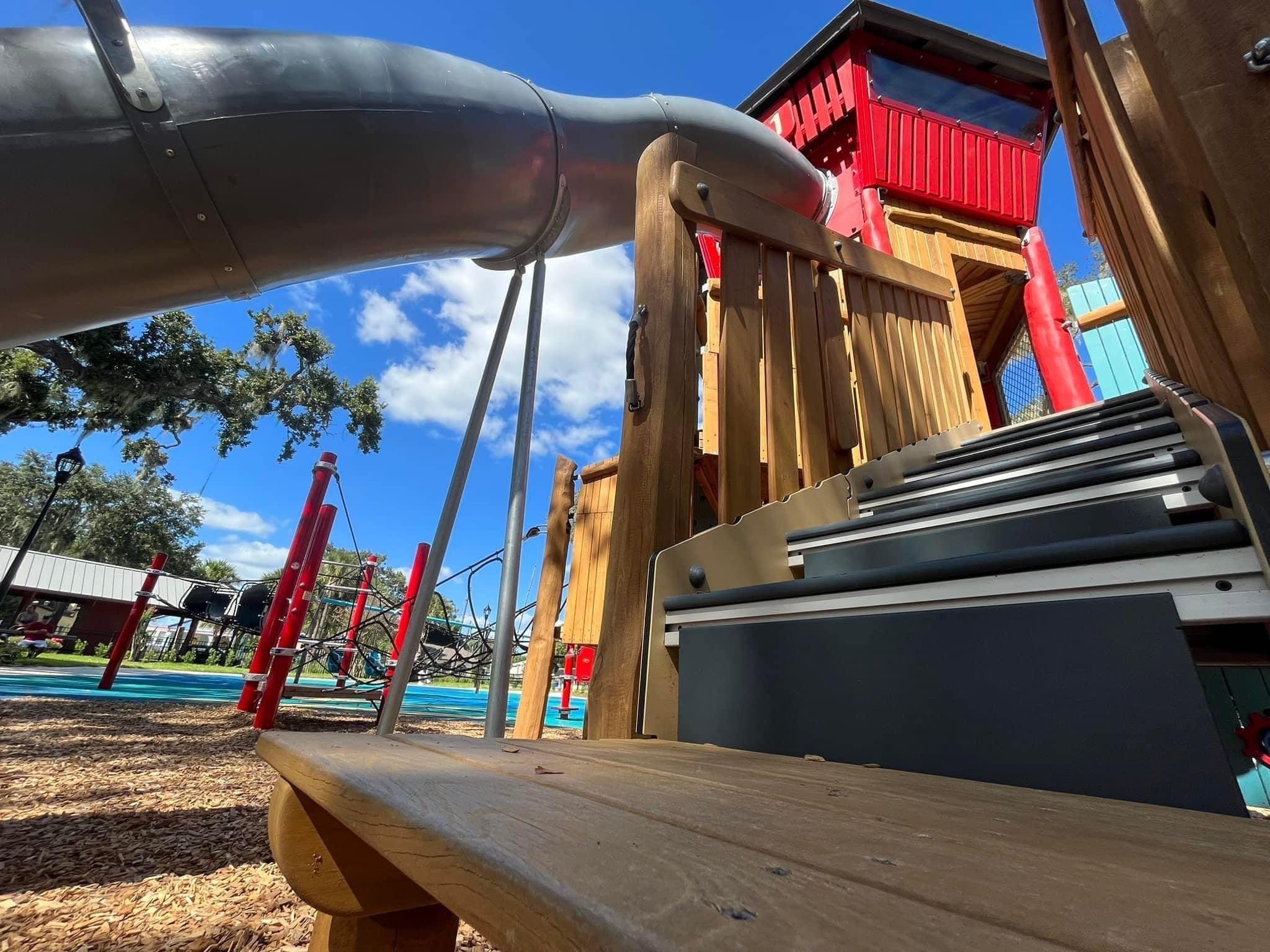 Recently Wooton Park had a soft opening. That soft opening has been met with a lot of positive feedback. However yesterday a few parents were shocked when they showed up and the Big New Slide at Wooton Park was closed. Many parents were wondering if the slide was safe for children.
We have been assured by Parks & Recreation employee Traci Anderson that the park is completely safe. They had a loose bolt that was sticking out at an angle and they did not want the children getting hurt from the loose bolt. So the slide was shut down. However Tavares Parks & Recreation has a warranty official coming out to fix that bolt today.
Tavares worked very hard with two reputable playground builders. Kompan built the tower and slides while Landscape Structures provided much of the other wood chip base and ground type items that are within the new park.
Anderson told us that they expanded the park by about 20% compared to the old structure and that the new park replaced the golf car parking that was not being used to turn that space into more of a play area.
This park replaced the previous 30 year old wooden structure that the city had. That structure was a proud symbol of Tavares and to see it go was tough on some. However the new Wooton Park is completely modern and safer in so many more ways than the previous generation.
The City of Tavares paid for a portion of the park while the rest was received from a grant from Lake County CD. Traci Anderson said that the park is being monitored on a daily basis by the City of Tavares staff and they are making sure that all the new structures are safe and are doing their jobs.
Once the bolt on the new slide is fixed, the slide will be reopened to the public hopefully by later today or tomorrow. In the meantime the park offers swings, and a nice jungle gym along with other fun things kids can do. Wooton Park is much larger than it used to be so there is more room for kids to run around than the previous wooden structure.
Traci Anderson told us that the City of Tavares was not able to get the splash park finished in time this season and that the splash park will be opened sometime next year. A Ribbon Cutting date has not been announced but the city is hoping to do one in the near future. When we hear of a grand opening date, we will be sure to let you all know.
Rest assured Wooton Park is completely safe and ready for children and parents to enjoy the park for years and years to come! Thank you Traci Anderson and the entire City of Tavares staff for working so hard on this project! It has been a long time coming and we are thrilled that a new generation of children will get to utilize this beautiful part of Tavares history.
Kyle Coppola was born in Newton, Massachusetts and received his Bachelor of Fine Arts in Communications from Curry College in 2016. After traveling to Florida on a family vacation, he decided he could not get enough of the warm weather and made the move from snowy Massachusetts to central Florida 8 years ago.
For the last decade Kyle has gained valuable experience in social media content creation, marketing and sales, writing, video production, sports announcing and even broadcasting for local radio stations, such as FM 102.9 in The Villages and FM 91.5 in Massachusetts. Every year he volunteers at The Villages Charter High School as a play-by-play sports announcer for the football games as well as a public address announcer for the basketball games, including the annual Battle at The Villages Tournament.
Outside the office Kyle is a husband and father to two beautiful girls along with their cat. In his spare time he likes to spend time with his family, travel, play golf and swim. He is also a huge sports junkie and even bigger motorsports fan and loves to attend racing events when he can.
Share This Story!