Tavares Youth Cross-Country Teams Shine at National Championships!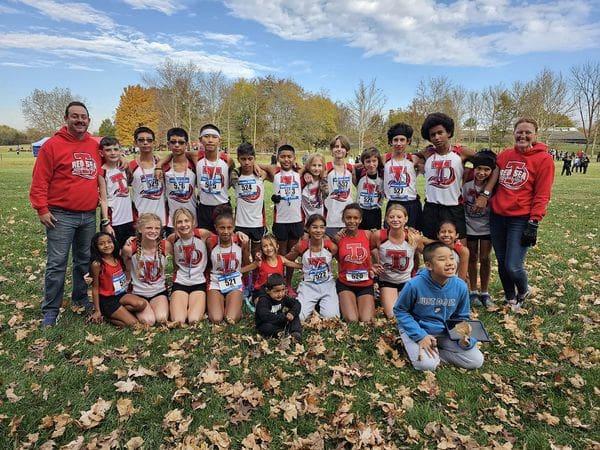 Tavares Red Sea Running Club Boys and Girls cross-country teams put on an outstanding performance at the 2023 MileSplit Middle School Cross-Country National Championship, securing the runner-up spots in both the boys' and girls' divisions.
The Red Sea Girls team, fresh off their Florida Cross-Country State Championship victory, showcased their talent by amassing 89 points in the 4K national championship race. They were narrowly edged out by Colorado's Summit Ridge Middle School, who secured the national championship with 81 points. In third place, the Taylor Road Middle School from Georgia, the state championship team out of Johns Creek, finished with 95 points.
On the boys' side, the Tavares Red Sea Boys continued their impressive run, placing 2nd in the entire nation. After capturing the Florida Cross-Country State Championship just a week earlier, they accumulated 81 points, trailing only behind Miwok Middle School, the California state champion from Sacramento, who scored 43 points. Indianapolis' Franklin Central Junior High, the Indiana state championship team, took third place with 93 points.
The Red Sea Running Club also celebrated the remarkable achievement of Aliana Alvarez, an elementary runner who clinched the 21st position in the K-5 elementary race, despite being only a 2nd grader.
In the girls' division, notable results included Isabella Neal (44th place), Laken Hartley (49th place), Jimena Nava-Garcia (53rd place), Sophia Maldonado (64th place), Lindsey Mishler (69th place), and Helen Robertson (94th place).
Among the boys, standout performers included Liam Ilea (31st place), Nick Alvarez (57th place), Eric Chen (60th place), Emiliano Lozano (80th place), Navid Lozano (81st place), Omar Castillo (92nd place), Nate Meloy (108th place), Seth Manion (112th place), and Tahjier Neal (113th place).
The elementary division featured impressive performances by Aliana Alvarez (21st place), Arieyahna Neal (26th place), and Avery Maldonado (57th place).
Tavares Red Sea Running Club's remarkable showing at the national championship solidified their position as one of the premier cross-country programs in the entire country. The entire Tavares community is immensely proud of their exceptional achievements. Congratulations to the Red Sea Boys and Girls teams on their stellar season!
Photo Credit – Kevin Von Maxey
Kyle Coppola was born in Newton, Massachusetts and received his Bachelor of Fine Arts in Communications from Curry College in 2016. After traveling to Florida on a family vacation, he decided he could not get enough of the warm weather and made the move from snowy Massachusetts to central Florida 8 years ago.
For the last decade Kyle has gained valuable experience in social media content creation, marketing and sales, writing, video production, sports announcing and even broadcasting for local radio stations, such as FM 102.9 in The Villages and FM 91.5 in Massachusetts. Every year he volunteers at The Villages Charter High School as a play-by-play sports announcer for the football games as well as a public address announcer for the basketball games, including the annual Battle at The Villages Tournament.
Outside the office Kyle is a husband and father to two beautiful girls along with their cat. In his spare time he likes to spend time with his family, travel, play golf and swim. He is also a huge sports junkie and even bigger motorsports fan and loves to attend racing events when he can.
Share This Story!