Teacher creates personalized chalk drawings to make students feel special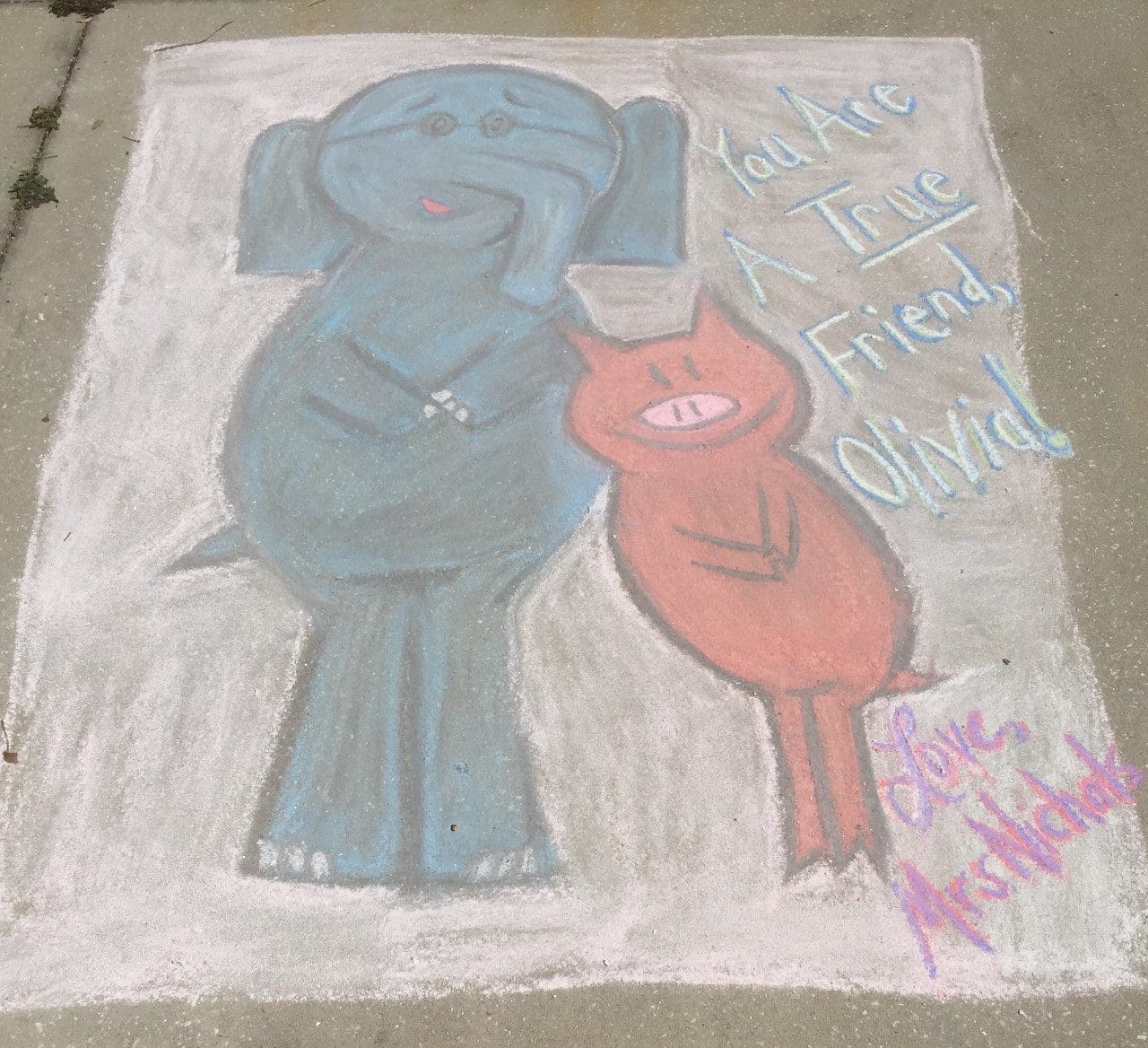 As a kindergarten teacher, Amy Nichols, of Clermont, knows how important it is to connect with her students, make them feel special and help them to love learning. Distance learning has made it more challenging, but not impossible.
Amy, an aspiring children's author who teaches at Pine Ridge Elementary in Clermont, has combined her love for children's books and her artistic talent to create personalized masterpieces for each of her students while they are physically separated, according to a Lake County School Board press release. Specifically, she is creating chalk drawings featuring her students' favorite book characters, and on each drawing she includes an encouraging statement that fits that particular student's unique personality, which is her favorite part of the project.
"I asked my kindergarten students to share the characters with me the week before I started my first picture," Amy, who has taught in Lake County for 15 years, says in the release. "I didn't give any details into what I was going to do. I enjoy surprises, and I know my students do, too! My son joins me in the excitement each morning and pulls a student's name with their chosen character out of a jar. The selected student's character is the surprise drawing of the day."
One image of an elephant and a pig from the book "I'm a Frog," by Mo Willems, says, "You are a true friend, Olivia!"
Another image of a dog and cat from the book "Where Is Love, Biscuit?" by Alyssa Satin Capucilli, says, "Love is in Amelia's heart!"
Each 8-by 8-foot drawing is signed "Love, Mrs. Nichols," and a photograph of the drawing, often including a picture of the teacher, is shared with the families through Class Dojo.
"I think the students appreciate seeing me working in action," says Amy, who has no formal art training outside of classes she took in high school 20 years ago. "I've had parents tell me that they are going to enlarge and frame the pictures I've sent them. That makes this teacher's heart so happy!"
She has made six chalk drawings so far. With 15 students in her class – and two students who moved away mid-year but are still considered part of the class – there are many more drawings to come before the end of the school year. There might even be a grand finale drawing after the final student's drawing has been completed.
The ultimate goal is to promote literacy and make each student feel special.
"I hope that my students will see how much I think about them and miss them," Amy says. "It's challenging and difficult at times to not be able to see and connect with them face-to-face every day. Taking some time as I draw each picture to focus on each particular student, while thinking about how special they are to our class and to me, and even praying for them while I work, has been my favorite part of the day. I also hope that they can see from these drawings that every single one of them has unique gifts, qualities and talents that they should celebrate!"
Akers Media Group's James Combs has been a staff writer for several local publications since August 2000. He has had the privilege of interviewing some of Lake County's many fascinating residents—from innovative business owners to heroic war veterans—and bringing their stories to life. A resident of Lake County since 1986, James recently embarked on a journey to lead a healthier lifestyle. He has lost 60 pounds and walks nearly five miles a day. In his spare time, he enjoys target shooting, skeet shooting and watching his beloved Kentucky Wildcats!
Share This Story!