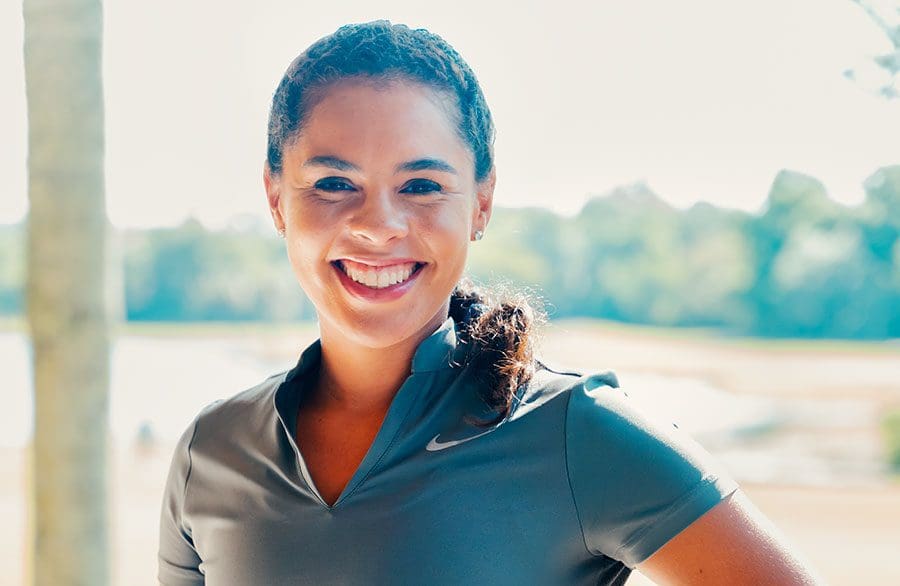 For Mission Inn, hosting a major golf tournament is par for the course.
Photos: Douglas Tyler
Sierra Sims feels like she's on a fairway to heaven when she golfs at Mission Inn Resort and Club's famed El Campeon golf course.
The course is as aesthetically pleasing as it is challenging. 
There are 85 feet of elevation changes, two peninsula greens and one island green, and water comes into play on 13 holes of the course framed by towering live oaks and sparkling spring-fed lakes. 
"Every hole presents a different challenge," Sierra says. "And the water holes can be tough to hit around. Still, it is without a doubt one of the most beautiful courses I've ever played on." 
Sierra, a 25-year-old Tampa resident, will soon find out how her game stacks up on Florida's 14th-oldest golf course. She is one of 140 female golfers from around the country participating in the Symetra Tour, which visits El Campeon, May 28-30. The Symetra Tour, consisting of 20 golf matches between March and October, is the official qualifying tour of the Ladies Professional Golf Association (LPGA).
A former golf star at Wake Forest University, Sierra is swinging for something much bigger than birdies and eagles. For her, the tournament is an opportunity to join the ranks of the country's elite female golfers. At the end of the season, the top 10 players in the Symetra Tour graduate to the LPGA Tour. 
"It would be a dream come true to compete in the LPGA," she says. "Hopefully, I'll be able to showcase my talent and have a good day on El Campeon. After all, it's one of the most historic and difficult courses in Florida." 
For the well-traveled golfer, El Campeon hardly needs a formal introduction. Golfing legends Jack Nicklaus, Arnold Palmer, and Bubba Watson all played there. Built in 1917, the golf course has been the site of many tournaments, including Florida high school championships, NCAA golf regionals, and qualifiers for the U.S. Open and U.S. Amateur Championship. Callaway, Dick's Sporting Goods and other national companies filmed commercials at El Campeon.
"El Campeon has a rich 104-year history and hosting an event like the Symetra Tour is a progression that takes the course to another level," says Roy Schindele, executive director of sales and marketing at Mission inn Resort and Club. "This is going to be the most prominent women's sporting event in all of Lake County." 
That bold statement is backed by the quality of talent on display. Two of the past three LPGA Major champions have competed in the Symetra Tour. Sophia Popov won the 2020 British Women's Open in Scotland, and Patty Tavatanakit emerged victorious in the 2021 ANA Inspiration in California. 
"The level of talent in women's golf today is phenomenal," says Mike Nichols, chief business officer of the Symetra Tour. "You may not have heard their names, but they're world-class golfers from 40 countries all over the world. The ladies who are chasing their dreams are incredible ambassadors to their sport." 
Organizers also feel the event could boost Lake County's tourism. First-time visitors to Mission Inn Resort and Club tend to be in awe of the property's overall beauty—picturesque backdrops of Mediterranean-style architecture, spring-fed lakes, and gentle, rolling hills. This could entice recreational golfers and tourists alike to return annually and enjoy all the resort's amenities.
"Having the Symetra Tour at Mission Inn elevates our standing as a destination," says Visit Lake Director Rob Price. "I still believe we are a hidden gem, and a tournament of this nature gives us big-time visibility." 
---
Meet one of the players
Style caught up with Sierra Sims, who is one of only 10 Black women on the Symetra Tour, according to LPGA data.
How do you see yourself as one of very few Black woman competing in this sport? I try to be a role model. During tournaments I play in, young black girls come out and talk to me. I always try to spend a little time with them and encourage them to pursue this great sport. Unfortunately, there isn't a ton of diversity on the golf course right now.
Did you have any Black female role models in the sport? Watching black female golfers like Shasta Averyhardt and Cheyenne Woods enjoy success on the LPGA Tour gave me lots of inspiration. I hope I can be a similar inspiration to young black girls. 
What are your biggest accomplishments in golf? Playing Division 1 college golf for Wake Forest University for four years. I had a second-place finish at the ACC championship during my junior year. Also, playing five years in the Symetra Tour has been a big accomplishment. 
You grew up doing gymnastics and golf. What made you choose golf? Gymnastics is one of those sports where the end goal is the Olympics. Many gymnasts are home-schooled because they are so focused on the sport. With golf, I knew I could receive a collegiate scholarship and eventually play professionally. It was an easy choice for me. 
How often do you play to keep your game at a top level? The Symetra Tour is a long season. We have 20 events between March and October. Following the season, I take a month off just to unwind. Then, I begin practicing every day and work on various parts of my game. I also play 18 holes at least three times a week.  
What is your greatest strength as a golfer? My driving. My drive is pretty straight and far. I usually land on greens. My farthest drive is 300 yards. 
If you could play a foursome with three other people, who would they be? Tiger Woods, Seth Curry, and Justin Timberlake. 
When you are having a bad day in golf, how do you overcome it? The biggest thing I do is take a deep breath. If I feel myself getting nervous, I always say, 'You can do it.' It lifts my mood so much and makes me much more confident. Having a positive mindset is the biggest thing in golf. If you have a bad shot, you have to bounce back the very next hole. 
Have you ever made a hole-in-one? Yes, I've made three. The first two I made were during junior golf tournaments when I was 12 and 14. A few months ago, I made one at a course in Tampa. However, I was playing alone so it wasn't as exciting.
What were the distances of your hole-in-ones? The first one was 150 yards and the other two were 160 yards. 
What advice would you give to young girls who are aspiring golfers? You'll undoubtedly have bad days on the golf course but you have to keep going back out there and continue playing. 
---
How Sierra has fared in the Symetra Tour
2017:
Rank: 55
Earned: $15,396
2018:
Rank: 100
Earned: $7,427
2019:
Rank: 53
Earned: $21,977
2020:
Rank: 50
Earned: $9,097
Source: symetratour.com
Akers Media Group's James Combs has been a staff writer for several local publications since August 2000. He has had the privilege of interviewing some of Lake County's many fascinating residents—from innovative business owners to heroic war veterans—and bringing their stories to life. A resident of Lake County since 1986, James recently embarked on a journey to lead a healthier lifestyle. He has lost 60 pounds and walks nearly five miles a day. In his spare time, he enjoys target shooting, skeet shooting and watching his beloved Kentucky Wildcats!
Share This Story!