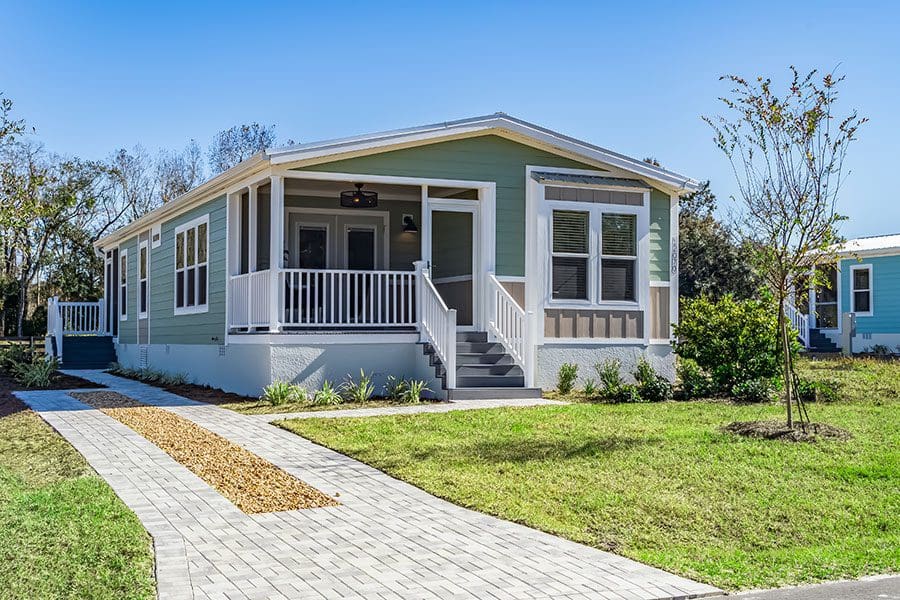 Tiny homes offer huge rewards for retirees, snowbirds, and those ready for the next stage of life.
Photos: Courtesy of Coles Carangian
Located on Lake Andrew in Oxford is 70 acres of beautiful land, plentiful with tree canopies, greenery, wildlife, and soon, tiny homes. 
Simple Life is creating a tiny home community with private amenities for people who value living simply over maintaining things. It provides a collection of one- and two-bedroom, space-efficient cottages with an amenity-rich community lifestyle at a lower overall cost than traditional communities. 
Laura Pawlowski, one of Simple Life Lakeshore's first residents, is in "awe" of the old trees the location has, as well as the "stunning" variety of birds. Laura enjoys walking on the trails and appreciates the long tree limbs that reach over the paths and create a wonderful walk. 
"One of the things I love about Florida and that I loved about this location are the beautiful tree canopies," says Laura. 
The retired schoolteacher, who previously lived in a two-bedroom, two-bath condo with vaulted ceilings, says tiny home living was always in her plans. 
"I have been following the lifestyle for years. It was in my plan to build a tiny home, and I couldn't decide if I wanted it to be a tiny house on wheels or if I wanted a foundation," Laura says. After retiring, she spent a few years in a 120 square-foot RV and downsized her "stuff," just to find out if she really could live tiny. "I felt unburdened by my things, I was available for more adventure, and the only two things that I missed were my own washer and dryer, and a bathtub. But I realized I enjoyed the simplicity."  
"Generally, when you downsize you find that the lifestyle is much less stressful. There's just much less to maintain, fewer things to worry about, so you free up your time to do more of the things you like doing," says Coles Carangian, Simple Life's marketing director. "Fewer bills, fewer responsibilities; cleaning our type of house takes much less time than a bigger house, so with that time put back into your life you can really pursue the things that you love whether it's traveling, gardening, or spending time with friends." 


Laura wants potential tiny home owners to know that she did not downsize overnight. It took time, and she still has things she has to donate, or find a way to repurpose. She's found that most of what she brought with her were family heirlooms, and her favorite things, which she found a way to repurpose in a much smaller space. 
"It was also a matter of practicality. The big pieces of furniture have to serve more than one purpose," Laura says. A daybed in the living room serves as a sofa but is able to house two guests when needed. In her bedroom, a queen size Murphy bed also serves as a desk, leaving her floorspace to practice yoga as well. 
That said, tiny home living isn't for everybody. Simple Life targets amenities to singles, couples, empty nesters, and those simply looking to downsize. "It's a lower cost, a smaller footprint, not giving up any of the quality," says Simple Life founder and CEO Mike McCann. "That said, they're not for everybody. Our homes may be too small for some. But for those who feel that they can connect with the lifestyle and the size of the home, there's no real estate tax, there's much lower utility costs, and it's for that couple, that single, who really needs and wants a lower burden," he adds. 
The Resource Group that founded Simple Life has been land developers and homebuilders for over 20 years. They conceptualized and developed right-sized housing and efficient living without sacrificing home features, after realizing much of their own generation of baby boomers were ready for an easier and more experience-based lifestyle. 
Mike states: "As we came out of the 2008 financial crisis, we recognized, all of us being in our 50s, that there was going to be an overwhelming need for affordability, especially in Florida and alot of the Southeast." 
Mike and the entire The Resource Group saw land and development costs rapidly rising, and "all of the ingredients that go into developing the lot for a home were, for the first time in a generation, going up at a rate that had us very concerned," he says. 
Mike and his partners began studying low-impact development options, specifically for active baby boomers, with the realization that their generation would likely not have a chance to recover from the 2008 downturn and would not be able to afford housing solutions. 
"We realized that a traditional lot was larger than most of our demographic's needs, we looked at school impact fees that they were paying, and larger homes (1,500-2,000 square feet), and we thought, 'There's probably another way of doing this,'" says Mike.
Though Simple Life is based in Jacksonville, the company found a mobile home park in Asheville, North Carolina, with issues they thought they could fix. Simple Life met with local officials regarding their plans for the land. 
"Generally, when you downsize you find that the lifestyle is much less stressful."

—Coles Carangian
We said, 'Hey, what if we were to really clean this place up, build a nice amenity package where we can create walking trails, dog parks, swimming pools, yoga rooms, and exercise rooms, and plug it with a manufactured home built in a factory?'" says Mike says. The idea was welcomed, and Simple Life was born. Now, the Asheville location has 185 people "living happily ever after" in homes ranging from 400-600 square feet. Simple Life is happy to finally announce their arrival to Florida. 
Laura first visited the North Carolina location, but was pleased to find out Simple Life would soon be developing in Florida, as she had wintered for years in the Destin area. "Their philosophy was right along with the philosophy that I was looking for, so I checked them out last January and got myself my lot, ordered my home, and here I am," she says. Laura, along with her 3.5-pound yorkie poo, opted for the Sebring, a 499 square-foot one-bed one-bath home with front and back screened in porches, which are included in the square footage. Lakeshore's homes range from 400 square feet to 1,100, which is the maximum to still be considered a tiny home. Prices for homes range from $145,000 for smaller one-bed, one-bath, to $180,000 for the larger models. 
Mike explains: "We had a lot of folks asking for the brand to come to Florida, and one of the things we look for in a community that we're gonna invest in is that there is an established pattern of baby boomers coming to the area, and The Villages is the ideal place to demonstrate that baby boomers are coming to the area."
Coles adds: "I think Florida in general is a wonderful location for our tiny home communities because people in the age range we cater to are moving here already. There's also a lot of natural beauty in Florida; lakes and rivers, beautiful tree canopies, and we always try to build where there's some natural amenities." 
Lake Andrew is the main draw to the beautiful Oxford location, but the land also has "an abundance of live oaks," Mike says, "that we've been able to preserve and develop around, and the feeling when you walk around the property with about a 30 foot drop down to the lake and looking at all the beautiful live oaks, it's a very special piece of land." 
As far as extra amenities go, each Simple Life community is unique in what they offer because each location has its own "personality," Coles says. "We do provide in each a clubhouse for intimate or bigger gatherings, where there is coffee shop-style seating with complimentary gourmet coffee." There will also be a pool, workout facility, yoga room, and classes, as well as access to envoys. 
Envoys are volunteer residents who collect and share feedback and ideas, and help make plans for the future, all while having fun doing what they enjoy. Envoys at the Lakeshore community include a garden envoy, dog park envoy, social envoy, and more. 
Simple Life also tries to optimize the outdoor space because when you're living in a smaller home you tend to spend more time outside. The outdoor space will be filled with walking paths, sports courts, dog parks, and lots of green space. 
Laura is most excited for the pool and walking trails, and to meet and spend time with her new neighbors, as she moved in before amenities were completed. "It's nice to be out and talk to the few neighbors I have, but I'm really looking forward to building up the community here. I think that's gonna be really cool," she says. 
Another great perk about Simple Life living is the "lifestyle value fee," which streamlines all expenses you would typically be paying in a home (water, sewer, high-speed internet, premium cable channels, irrigation, trash removal), as well as extra amenities such as ornamental landscaping and lawn service, all into one payment. The monthly fee of $450 also includes access to the pool, clubhouse, classes, envoys and so on. 
If you only spend your winters in Florida, Simple Life Lakeshore is still a great option. They allow residents to rent out their homes (independently) for a minimum of 30 days. Through Simple Life, homes are available only for purchase, so you would rent the home out yourself, which you are able to do for the time you are not going to be using it. 
The Simple Life Lakeshore grand opening will take place on March 27, and will include the first 100 lots, the pool, clubhouse, workout facility, walking trails, and so on. Within the next few years, Mike says, they plan to expand the Lakeshore location to house 250 homes. 
Originally from Buffalo, NY, Victoria graduated from Canisius College in 2018 with a bachelor's degree in English and Writing. In August of 2019, she relocated to Eustis, Florida, and soon began at Akers Media Group assisting with social media projects. Later that year, she was promoted to a full-time writing position at the company and has since found her niche telling the stories of so many of Lake and Sumter County's awesome people.
Share This Story!