This Week's Featured Adoptable Pets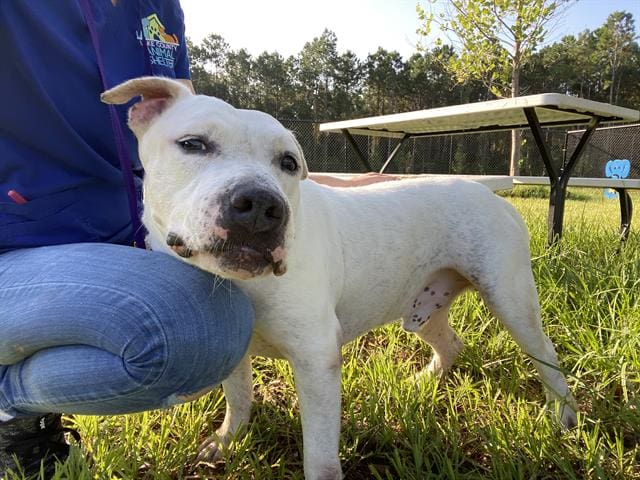 Check out these adorable adoptable pets from the Lake County Animal Shelter.
For more information on how to start the adoption process, visit lakecountyfl.gov/animal-shelter or call
(352) 343-9688

.
Wilbur
7 year old American Bulldog mix
Wilbur is estimated to be about 7 years old, and is a white and brown American Bulldog mix, neutered male. Paying homage to Charlotte's Web, Wilbur is 'Some Dog'! This cutie loves to give kisses and will either sit next to you or in your lap. He adores water and is often found in the baby pool! He knows how to sit and will do so for a treat! Wilbur is a staff and student favorite! He has done well in large group play. His adoption has been sponsored.
Sampson
4 year old American Bulldog Mix
Sampson is estimated to be about 4 years old, and is a fawn and white American Bulldog Mix, neutered male. Whether it's in the pool or in the yard, Sampson enjoys time in the sun with his favorite things, TOYS!  A collector of prized things Sampson may sometimes guard his high value items so a home with children or other animals is not recommended. Once he warms ups, he is the biggest mush, adoring your affection and is willing to please. He knows how to sit, give paw, and lay down, showing just how smart this boy is! His adoption has been sponsored!
Gardenia
6 year old German Shepherd and Black/Tan Hound Mix
Gardenia is estimated to be about 6 years old and is a black and tan German Shepherd and Black/Tan Hound Mix, spayed female. Gardenia currently has her own support animal to be the calming, confidence boost she needs as she is very timid by nature. Making a lot of progress since her arrival she allows gentle pets from humans but is still learning to trust. She needs practice walking on a leash and becoming comfortable in new environments. With small furless puppies (children) being historically active and loud, we suggest that she only have fur friends instead of the two-legged variety.
Leo
5 year old lab retriever mix
Leo is estimated to be about 5 years old, and is a black and white lab retriever mix, neutered male. Like Kramer from Seinfeld, Leo's trademarks include being opinionated, playful, and having a fondness for nonsensical, percussive outbursts of noise to indicate a variety of feelings. Leo loves other animals and does well with both cats and dogs. Once he gets to know you, one of his favorite things to do is go for a car ride to McDonalds! Leo would do best in an adult only home with someone willing to get to know his quirks and work to create structure in the house with him.
Jupiter is estimated to be about 4 years old, and is a brown tabby, neutered male. Jupiter is a timid guy but does warm up some with a little TLC. He has done well with other cats and would do best in quiet household. If you have the time and patience to give Jupiter, ask to meet him today!
Sunshine is estimated to be about 5 years old, and is an orange tabby and white, spayed female. Sunshine loves love!! She is a world class biscuit maker, who wins every contest. She is still learning how to find her balance with only three legs, but she does her best to always get back up and try again!!
Originally from the small town of Berryville, Arkansas, Cindy has become a multimedia specialist in journalism, photography, videography and video editing.
She has a B.S. in Communications from the University of Central Arkansas and is a correspondent for The Daily Commercial, LakeFront TV and Beacon College's PBS talk show, "A World of Difference," where she received an Anthem Award and Telly Award.
When she isn't working, Cindy spends time with her husband, Ryan, and son, David, traveling and taking photos of landscapes and wildlife.
Share This Story!