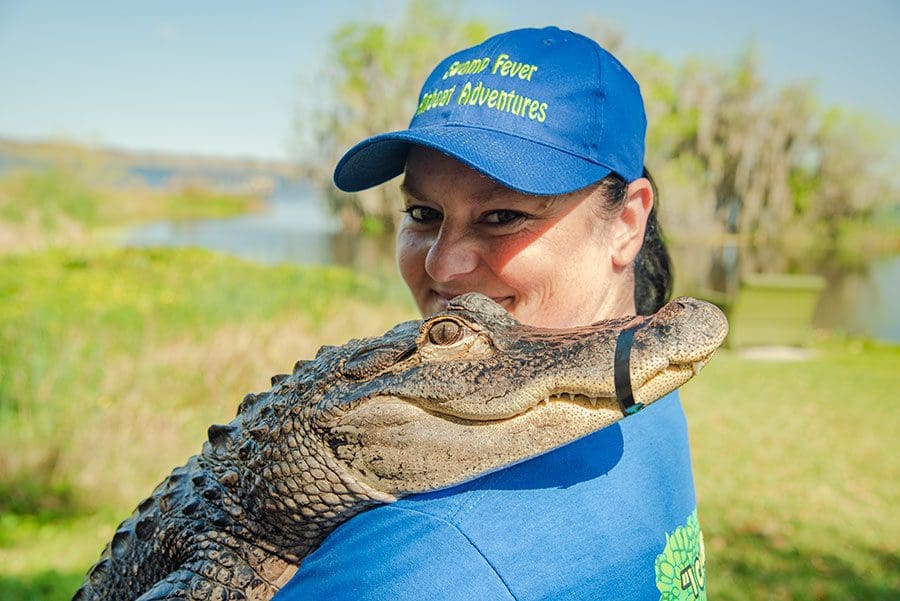 Catch swamp fever on an airboat; you won't want to be cured.
Photos: Nicole Hamel
Gliding 35 to 55 mph across Lake Panasoffkee and experiencing fun, sliding corner turns through marshes into the peaceful swamps and natural springs of the Withlacoochee River system are among the thrills Swamp Fever Airboat Adventures provides.
"I get to be outside every day, and I get to run an airboat," Captain Kyle Arbuckle says is a best perk of his job, along with meeting visitors from all over the world. 
"When a lot of people think of Florida, they think of the beaches, Miami or Disney World, but this is the real Florida," says Kyle. "We have people come from Europe to experience a ride, and they've never seen an airboat before."
Guests often marvel over the natural beauty and tranquility of the swamp, and they also delight over seeing wildlife, from big to small alligators sunbathing, turtles resting on logs, and a variety of birds. 
"The weather plays a real big part of the wildlife that is seen," says Kyle, adding that alligators and other critters are no different than people who prefer being outdoors on nice, cooler days to super-hot summer days. 
"They're very sensitive to the changes in weather. This was a good day," says Kyle, pleased about a recent tour in which guests saw 10 big alligators and 30 smaller ones while slowly riding in the mile-long swamp. 
"I enjoyed every moment," says Barb Pelletier of Ocala, who was accompanied by her husband Ken. "This was our first time, and I really liked being in the swamp; it was so beautiful."
"I loved how calm it was," adds Jack Peake of California. "The airboat ride was amazing! I loved how fun and fast it was and seeing the beautiful scenery was pretty neat." 
Swamp Fever Airboat Adventures was started in 2015 by Captain Ron Duboise–who has 50-plus years of air boating experience–and his wife Pamela. 
 "We try to give everybody the real thrill of 'Old Florida' and it's something you can't see from the road," says Pamela. "It's something you have to experience on an airboat. It's so beautiful, especially in the springtime when everything is starting to turn green again. It's just gorgeous, very serene, and very quiet." 
Listen quietly, she adds, and one can hear the sounds of wildlife. 
Guests are also treated to another thrill before or after their tour: the chance to meet Swamp Fever's resident alligators Alli, Josephine, or Wyatt up close. If they wish, guests can hold and be photographed with one of the gators. Yes, the gator's mouth is taped shut, and Alli, Josephine, and Wyatt are accustomed to being held and photographed with visitors. 
Chris Bohnsack, Swamp Fever's wildlife handler, who has a degree in animal science from the University of Florida, relishes caring for the alligators and educating guests about them. 
"Animals have always been a passion of mine, and I've always liked dealing with any type of animal and wildlife in particular," says Chris. "It's nice when people come in and they initially have a lot of reservations about holding the alligator or even getting close to it, and after they see them and we talk to them for a little while, by the end they are holding them and have a different point of view of how to look at them." 
Chris talks to each alligator in a low, calming voice. "One thing I have learned about being around animals is they adhere to the security of someone that is always around them, feeds them, and cares for them."
He says that Alli, Wyatt, and Josephine have their own personalities, just like people and pets do. 
"Alli loves the attention, he loves being held," adds Jessica Himes, who books tours and takes turns giving the educational programs with Chris. 
"People love seeing the alligators we have," she says, noting that Alli is 7, weighs 25 pounds and is 5-foot long. He could grow to about 13 and 15 feet in length and weigh about 1,000 pounds by the time he is 80 years old.


Wyatt and Josephine are both 5. 
"Alli is just a big love bug and he loves the attention and always has and probably always will," says Jessica. "He is one of my favorites, and I love Josephine, too, and she's the smallest. I would say she has more of a teenage attitude, but she is a sweetheart, and Wyatt is right in between. He's like 'whatever,' but they all get handled with loving care." 
The staff makes sure the alligators' pens are clean and that they have fresh water. There's also a heat lamp to warm them up when they get out of the water. "They have it made," Jessica says of their nice den, which visitors can also see. 
Jessica and Chris delight in taking reservations from guests who are repeat customers. Many returnees are residents from The Villages who bring friends and family members. One guest has been to Swamp Fever 12 times. Another made five visits in the past two months. 
"We have people we never forget and it's a lot of fun seeing them," says Jessica. 
"For a lot of people this is on their bucket list to take an airboat ride," adds Chris. "I have heard a lot of that recently. I just got a call from a young lady that wanted to book a trip for her father who is 88 and has never been on an airboat, and he said that it has always been on his bucket list, so I thought that was really special that she involved us with that." 
The octogenarian was planning to make the trip from the Pennsylvania area. 
"We are an outdoor excursion that's fun for people to do," says Pamela, who relishes receiving positive reviews. "We still get comments from people that they have more fun with us than they do at Disney."
She adds: "The best compliment is how different we are from everybody else, and how nice people feel when they leave, like they are friends or family to us. We do love seeing everybody and we do call them part of the Swamp Fever family." 
---
SWAMP FEVER AIRBOAT ADVENTURES
4110 NW 42nd Place, Lot 1
Lake Panasoffkee, FL
Hours: 9 a.m. to 5 p.m. daily
For reservations call 352.643.0708 or visit swampfeverairboatadventures.com
Originally from Anderson, Ind., Theresa worked for The Herald-Bulletin for many years. After experiencing a winter with 53 inches of snow, her late husband asked her to get a job in Florida, and they headed south. Well known in the area, Theresa worked with The Daily Sun and The Daily Commercial prior to joining Akers.
Share This Story!