Tight-knit family loves dishing up barbecue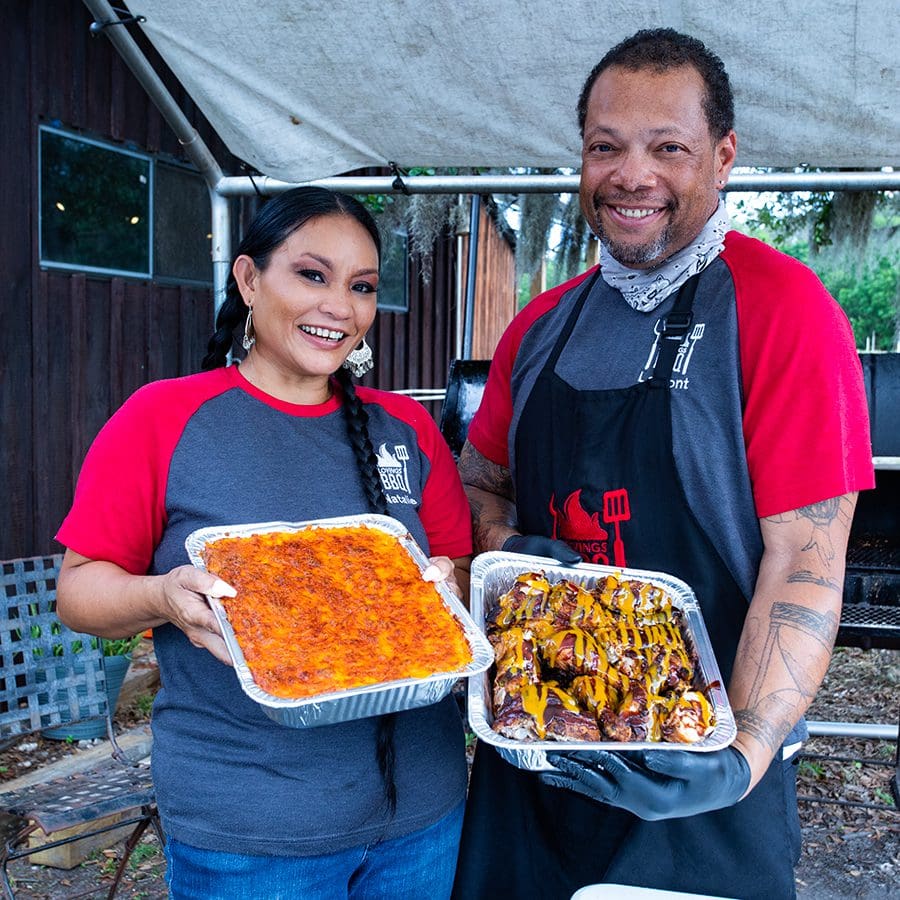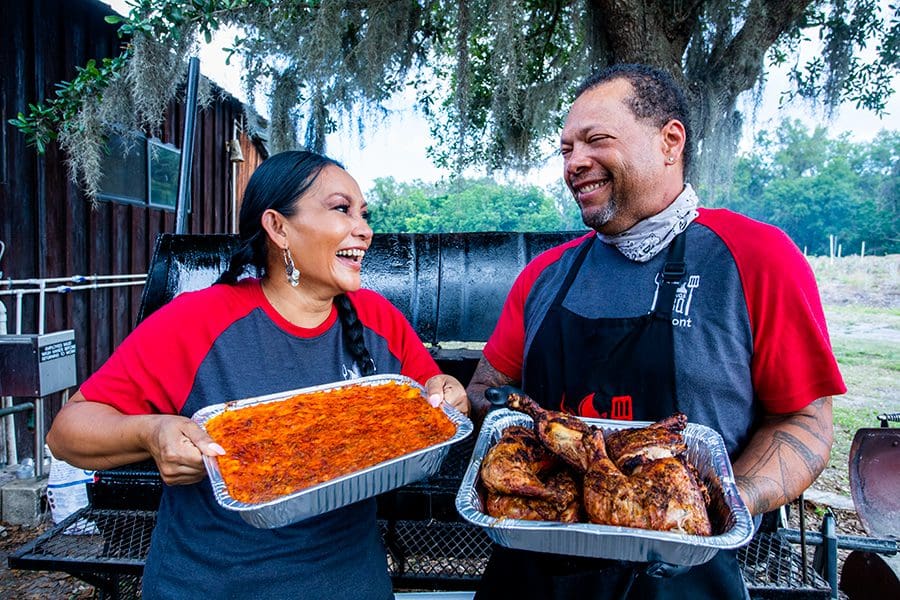 Lamont and Natalie
 Loving, Lovings Barbecue
For the Loving family of Tavares, food is far more than simply a business. Barbecue is their way of connecting with others.
Pull up a seat at Lovings Barbecue and dig into their fall-off-the-bone-tender ribs, mouthwatering brisket and flavorful chicken, and it's obvious there's more happening here than just good meat and skill at the barbecue pit.
"We don't have 'customers,' we feed family and friends," says Natalie Loving, who is originally from Thailand, but grew up in Chicago. "We put a lot into it and sacrifice family time to do this. It's very personal to us and has been a powerful force for good." 
Food was an integral part of their lives long before Lamont and Natalie married and ever thought of starting a barbecue business.
"We're foodies; we love to cook and host. Ours was always 'that house' that was grilling and cooking. The neighbors would smell it and show up. Food is our love language."—Natalie Loving
Natalie's mother owned a five-star Thai restaurant in Chicago, and Natalie, starting at age 12, was the one in the kitchen plating and making the fancy garnishes.
Growing up in a suburb of Chicago, Lamont was passionate about barbecuing. In fact, he built his first barbecue pit as a teen.
"My grandmother taught me," recalls Lamont, adding that every Easter she baked 250 lamb cakes for friends and neighbors. "She was a dietician prior to teaching home economics and culinary arts for the Chicago public school system."
The couple decided to relocate in 2017 when Lamont was injured by a patient while working for the State of Illinois Mental Health Institute. Around that time, Natalie received a job opportunity to run a Thai restaurant in Florida, so the couple moved to the town of Celebration.
When that job took too much time away from the family, Natalie took a different job working at Disney Springs.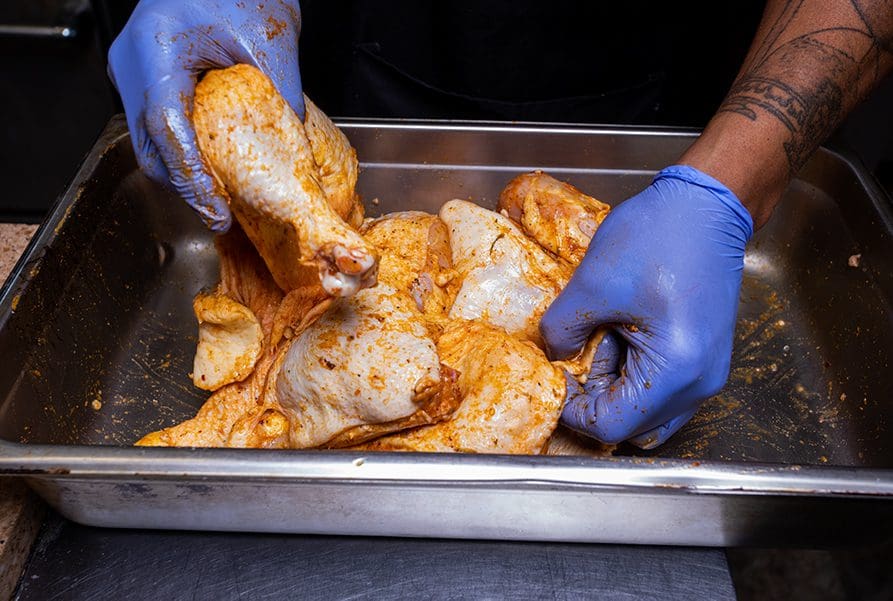 Cue the Pandemic
Like many entrepreneurs, the Lovings decided to start their own business when the pandemic and lockdowns opened the door to the opportunity. 
"The world stopped but we had to pay rent," says Natalie. "We went back to the basics and said, 'Let's barbecue!'"
The couple and their two teenagers work together. Lamont has always been the grillmaster, and Natalie is happy to season the meat and make the sides and desserts. Eighteen-year-old son John is the "rib guy," while Josephine, 15, is Natalie's "right hand," helping with recipes and anything else needed. 
Natalie says the kids are proud that the family has a business.
"It teaches them the value of hard work; they appreciate the dollar more," adds Lamont.
Initially, the Lovings were just selling to people they knew, but the creation of their Facebook page on April 27, 2021, was the official launch of Lovings Barbecue. 
They offered free delivery in Tavares, Leesburg, Mount Dora, Mascotte, Clermont, Groveland, Eustis, Minneola and Yalaha. But from the beginning, those stops were about more than dropping off orders.
"We weren't just delivering food, we were doing welfare checks on people who were shut down," says Natalie. "We'd actually chat with the people, not just 'ding dong' and leave the food. Especially during the pandemic, people needed other people, so we were checking on them and visiting."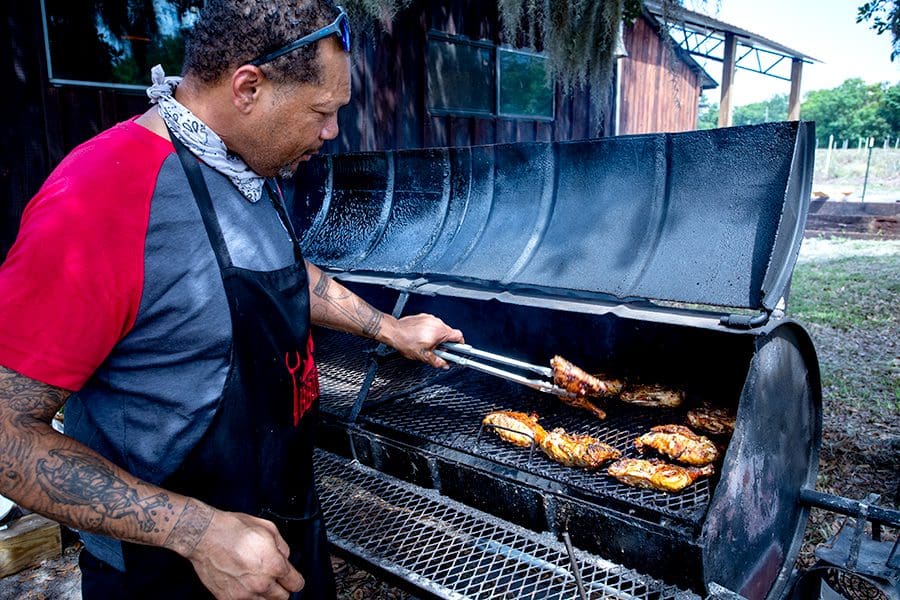 During the pandemic, all their business was by pre-order, so Lamont found himself at the barbecue pit thinking of the specific people he was cooking those ribs and chicken for. It made the work very personal.
The Lovings were warned that their business would be negatively affected once restaurants started re-opening after pandemic restrictions eased, but that wasn't the case. Fortunately, business stayed steady. They even expanded their menu, adding more meats and sides.
"At first, we were just doing ribs, chicken, and potato salad, but we want to feed you what we eat as a family," says Natalie.
With that in mind, the Lovings added beef brisket and pulled pork, as well as more sides, such as their mac-n-cheese (see recipe). Natalie's upgraded cheesecakes with unique flavors like banana pudding, Snickers and Reese's also became a huge hit.
Although previously home-based, Lovings Barbecue has operated at Yalaha Bootlegging Company at Blue Bayou Farm on County Road 48 in Yalaha since July 2022. 
On Saturdays and Sundays from noon to 4pm, Lovings Barbecue serves a full menu—to go, or to be enjoyed outside on site.
"We cook over slow-smoked charcoal, not over wood," notes Lamont, who developed his own rub to enhance the flavor of meats. "You can actually taste the food. The meat isn't over-permeated with smoke."
"Our weekend starts on Wednesday or Thursday because we have to shop and prep. We still cook on the weekends, but also have gigs midweek," says Natalie, noting that they prepare food for weddings, birthdays, funerals, and corporate events.
Unexpected Diagnosis
Life was rocking along as the business picked up steam. The Lovings certainly weren't expecting the next chapter in life. 
Lamont had not been feeling well, but it hadn't stopped him from working. Over a two-month period, he went to the emergency room twice. Both times he was sent home and told there wasn't anything wrong.
"On July 25, 2022, I went to AdventHealth Waterman in Tavares. It felt like I'd swallowed a piece of metal and it was getting harder to breathe," he recalls. "From there I was transported to AdventHealth Celebration, which is where they found a golf-ball size tumor."
Lamont was diagnosed with throat cancer, and the tumor was growing rapidly. 
"When we got to Dr. Mohsin Malik at AdventHealth Waterman in July, it was stage 4," says Natalie.
Through what the Lovings clearly believe was divine intervention, Lamont was referred to head and throat surgeon Dr. James Bekeny at AdventHealth Celebration. 
"He told us his patient list was closed because he was just about to leave to open his own practice in Tennessee, but somehow Lamont got on his list. God worked it out," says Natalie.
On August 25, 2022, Dr. Bekeny removed Lamont's larynx, lymph nodes, his jugular vein, and some muscles. 
Six weeks post surgery, Lamont was back in the hospital again to start chemotherapy and radiation treatments.
"I did an aggressive program where I had chemo and radiation simultaneously and that lasted about three months," he says. "Most days I went to radiation and then went across the hall for chemotherapy."
"While he was in the hospital, he started making healing stone bracelets," says Natalie. "He would pray over them and give them to other patients that he sat with during chemo."
Through many sleepless nights during his chemo and radiation treatments, thinking about his family's barbecue business gave Lamont's mind a positive focus.  
"When he was diagnosed, a lot of people cried because they thought he wouldn't come back," says Natalie.
In January 2023, Lamont finally rang the bell signifying that treatments were behind him, and he was cancer free.
Following Dr. Bekeny's instructions, in March 2023, the Lovings returned to AdventHealth Celebration for what they assumed was a standard follow-up with another doctor, since Dr. Bekeny had moved to Tennessee. Instead, the couple received an amazing surprise.
"He wasn't supposed to talk again, but come to find out, Dr. Bekeny put in an implant during surgery, and now he's able to talk," says Natalie. "God is good."
On March 15, 2023, Lamont spoke for the first time since his surgery, thanks to Dr. Bekeny's totally unexpected placement of the implant.
"He's never stopped talking since!" says Natalie. 
"She's not very good at charades," laughs Lamont, who had been communicating by writing on a note pad and his tablet.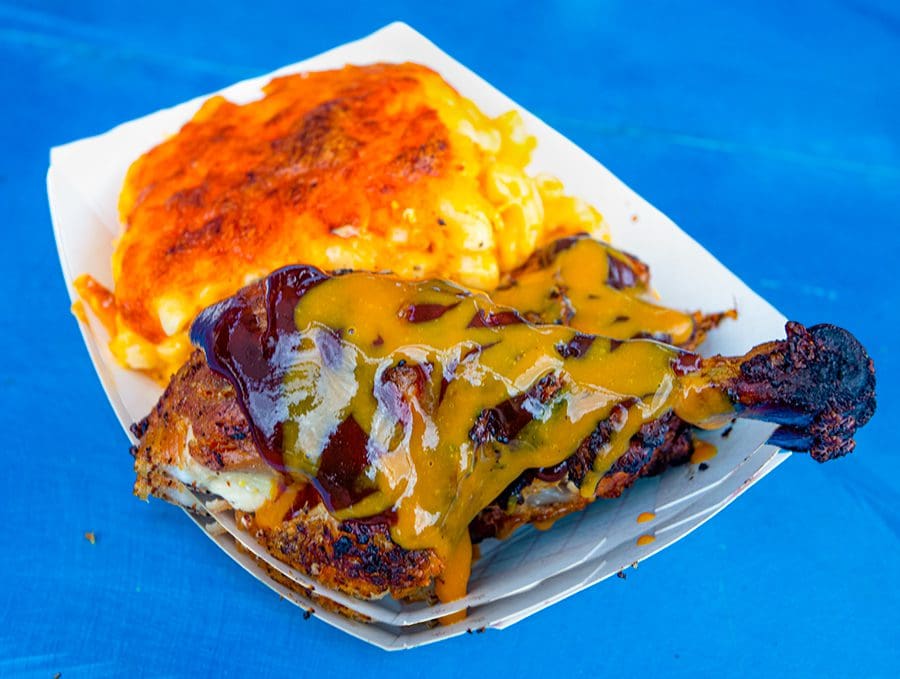 Moving Ahead
Lamont was determined that the family business wouldn't end because of his cancer diagnosis, so Natalie and the kids worked hard to keep Lovings Barbecue rolling while he was out of commission.
Lamont's recovery and miraculous ability to speak again has been a huge source of encouragement, not only for the Loving family, but to their many customers.
"Because we've shared the story on our Facebook page, a lot of people know about it. We've impacted people with way more than just our food. People are rooting for us," says Natalie.
"I feel like I'm born again and have a new lease on life, because I was supposed to die," says Lamont.
"People come by the farm to see us. We pray for people, and they pray for us," says Natalie. "We don't do 'customers.' We want people to think of us like family." —Natalie Loving
"We don't just sell food, we spread love. We're one big family," says Lamont, adding his heartfelt advice, "Hug your loved ones."
Recipe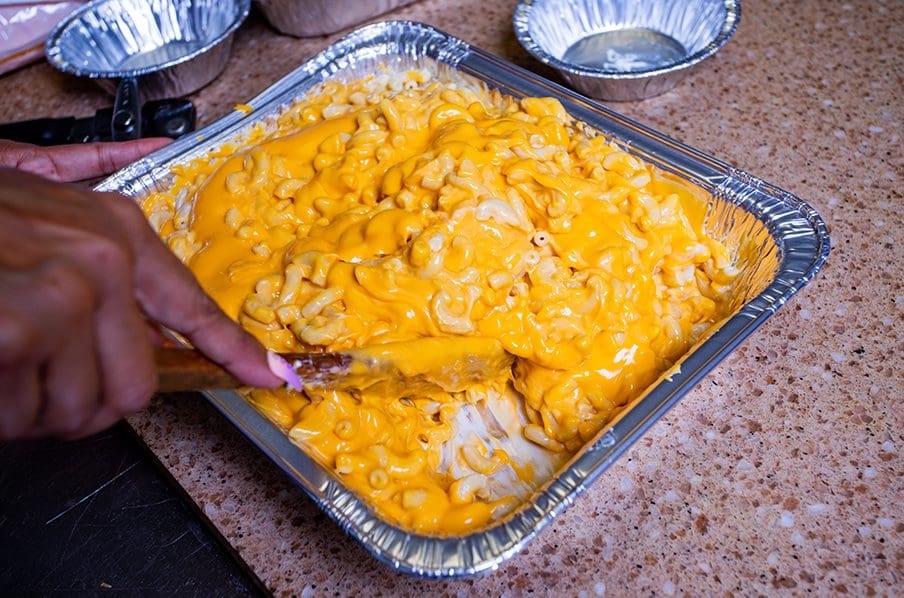 Lovings Barbecue Mac-n-Cheese
Lovings Barbecue Full Menu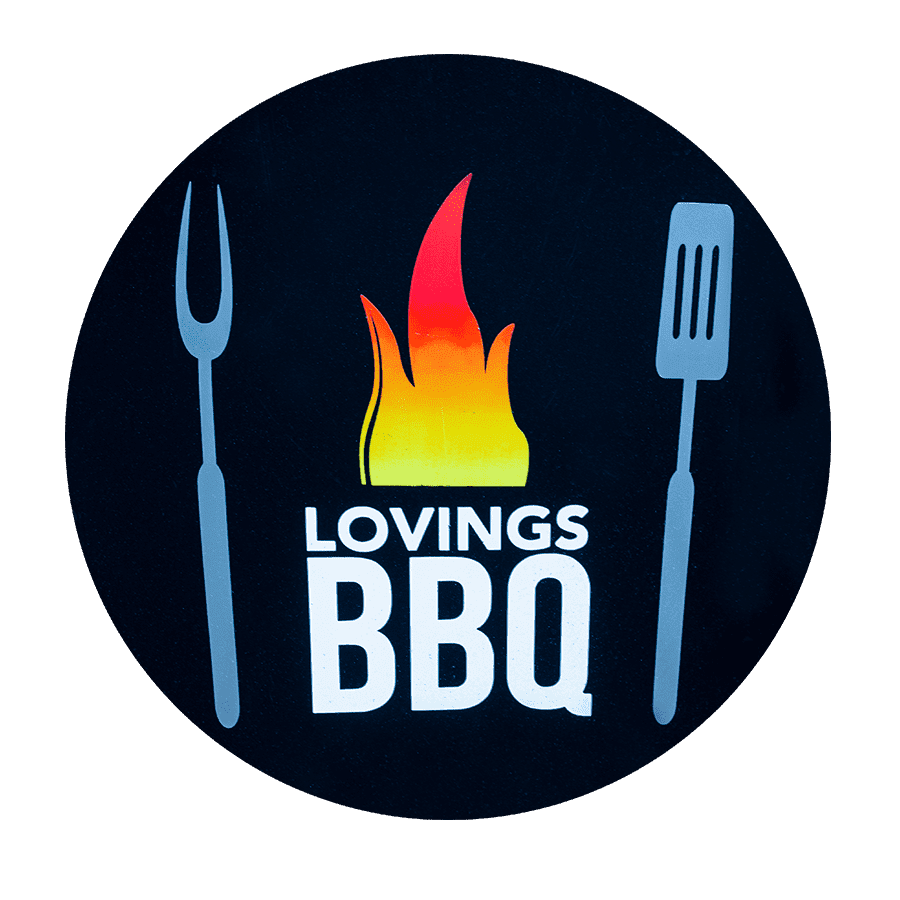 Do you have favorite recipes or know a chef we should profile?
Let us know!
Do you have favorite recipes or know a chef we should profile?
Let us know!
Do you have favorite recipes or know a chef we should profile?
Let us know!