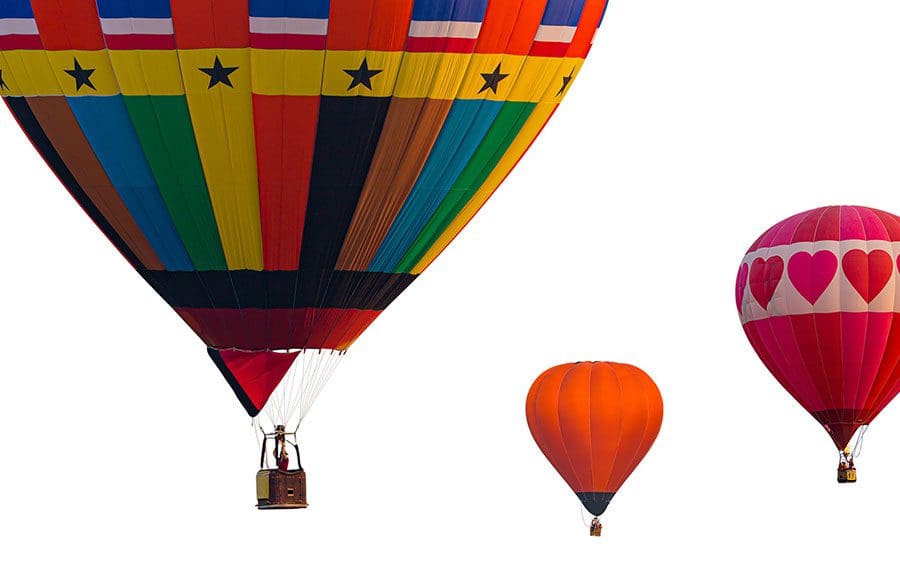 The Villages Balloon Festival offers much more than colorful aircrafts.
Photos: Nicole Hamel
The star performers at The Villages' next big event will be full of hot air.
More than a dozen magnificent, radiantly colorful aircrafts will be the featured attraction at The Villages Balloon Festival, Feb. 5-6, at The Villages Polo Complex, 700 Buena Vista Drive, The Villages.
Yes, aircrafts. "We're governed by the FAA and the government. Hot air balloons are the same as a 747 as far as they're concerned," says long-time balloon pilot Bill Whidden, who resides in Tavares.
Yes pilot. "You have to have a license to fly," says long-time ballooning enthusiast Chuck Rohr, who resides in Mount Dora. "For years I licensed pilots. I issued the first civilian pilots licenses in the late 1950s. I always made sure they knew what they were doing before letting them solo."
So rest assured that the balloonists at the fourth annual event in The Villages will know what they're doing. "You can only get into these events if you have an FAA certified balloon, and the FAA is pretty tough," says Chuck, who built hundreds of balloons in an old Louisiana schoolhouse he transformed into a balloon factory in the 1960s.
But what about spectators or anyone thinking about ascending 30-40 feet in a balloon tethered to the ground by ropes and cables? What do they need to know?
"People, all they want to see is pretty colors, but there are 120 physics principles that apply to a balloon," says Bill. "A balloon is a moving mass of 4 ½ tons. If the wind is over five knots, tethering is not something I want to do. You don't want to risk anyone's broken leg."
So be cognizant of the wind if you attend the balloon fest. 
"I'm not sure about the weather choice, but I've only been doing this for 39 years," Bill says facetiously. "I usually don't fly in February. You can still have funnel systems coming through here. I've done less flying in February through March than any other month," Bill says. "Doing tethering can be safe. But if there's any speed going across the top, the balloon wants to lift. It wants to pick you up. Then the wind dies, and bam, it throws you back on the ground."
The Villages' first balloon fest was in June 2019. Last year's event was in February.
Wind gusts could potentially limit or cancel tethered rides, which will be offered Friday, 4-8pm, and Saturday, 7-9am and 4-8pm. Cost is $20 for adults and $10 for children, booked on site at a tethered rides payment booth, first come, first served. Rides last approximately five minutes.
Those who choose to remain on the ground can still enjoy the beauty of the balloons, which are especially spectacular at night. The balloon festival website states the "balloon activities are weather dependent" and that balloon glow "will happen between 6:30-8pm and can end early or start late."
Balloon ascensions are planned for early morning and late afternoons if weather conditions are favorable for flight. Balloon glows are scheduled each evening as well, when balloons return to the field after ascensions. 
One thing weather won't affect is the enthusiasm of pilots who enjoy talking about their $50,00–$60,000 aircrafts and the hobby they love. Both Bill and Chuck encourage festival attendees to interact with pilots – assuming they aren't busy, of course. 
"Balloonists are pretty open guys," said Chuck, a South Florida legend who starred in the movie The Great Balloon Race. "If you have a good personality, introduce yourself. People are very open to the public at events."
You may even be able to transition from spectator to participant. "If you go up to a pilot and explain that you really want to get involved, they'll give you a dirty job, like having to walk the air out of the balloon, or help packing balloons up, things like that. Again, having a good personality is the key," Chuck says.
Event organizers say the balloon festival will take place, rain or shine. They obviously understand one of the basic tenants of ballooning. "It's a weather permitting thing," Chuck says. "If it's nice, you go ballooning; if not, you go have a party." And The Villages is preparing to throw quite a party. 
---
2021 The Villages Balloon Festival Overview
Antique car show, Saturday, 2-6pm
Polo exhibition, Saturday, 3-4pm
Arts and crafts.
Live music.
Beer and wine will be offered at the Bottom's Up Boulevard beer garden at the south end of the balloon glow field. A beer cart will also make the rounds. The main bar in the pavilion will be open as well. Water and soft drinks will be available.
At least 11 food vendors will serve standard fare, and specialties including bacon-wrapped corn on the cob, jumbo lump crab cakes, New England style lobster rolls, turkey legs, and wood roasted portobello mushroom caps. Food will be sold beginning at 2pm on Friday and Saturday.
Kids can enjoy a fun zone featuring inflatable games and slides, free of charge. Caricature artists and face painters by We Draw the Crowd returns from last year. Children can explore their artistic sides at a large mural board, where everyone is invited to add their own drawings.

 

The Fly Me to The Food alley will also feature retail merchants selling aromatherapy/magnetic/healing needs, CBD products, essential oils, fingernail art products, jewelry/accessories, and Tupperware.
Several businesses and non-profit groups will present information and special offers.

 
---
The Villages Balloon Festival
February 5 & 6
Friday: 3-8pm
Saturday: 6:30-9am and 3-8pm
(Gates open at 2pm)
Admission: $20 for single day,
$30 for a weekend pass.
Children 10 and under are free. 
*Tickets are $15 for a single day and $20 for a weekend pass if ordered prior to the event. Advance tickets may be ordered online or purchased at The Villages Box Office locations.
Presenting sponsor Fross & Fross Wealth Management.
For more information visit: thevillagesballoonfestival.com
Gary Corsair began writing professionally while attending high school in Greentown, Indiana. He's spent most of the past 46 years in writing, reporting, editing and producing roles for newspapers, magazines, TV, and radio. He's served as publisher and editor of three newspapers, TV news director, and executive producer of two documentaries about The Groveland Four. Gary's earned more than 65 awards for journalism excellence.
Share This Story!