Top 5 High School Baseball Batters In Lake & Sumter Counties
#1 Collin Priest: (Senior) Mount Dora Christian Academy
This one was a tough call because both Collin Priest and Dallas Dale II are deserving of the top honors for the number 1 baseball batter in Lake & Sumter Counties but Priest just edged out Dale by a fraction of a margin. Priest is good. He's not just good, he is amazing! The University of Michigan commit has been having one of the best seasons we have seen in these parts in at least a decade.
Priest plays multiple roles for the Bulldogs, listed as an Infielder and Outfielder, Priest is one of the best fielders in High School sports today. But what really sets Priest apart from the rest of the competition are his at bat appearances. Every-time Priest takes to the batting box, the pitchers know they are facing one of the best to ever do it in the Central Florida region.
Priest is in a 3 way tie for most home runs in the country with 10 so far this season. The other players include Tai Peete of Trinity Christian in Sharpsburg, Georgia and Luke Stevenson who plays for Wake Forest High School in North Carolina. To say this guy is incredible is an understatement. Through 17 games, Priest has a batting average of 0.479 which is one of the best averages in the area. He has taken over 50 at bats while scoring close to 30 runs. He has over 25 hits on the season while racking up 25 RBIs.
We knew Priest was going to be good, we just didn't know how good. Well now we know that Priest is one of the best players in the Country. It's the reason Michigan jumped on the opportunity to sign him right after his Junior year. Priest has a fantastic team around him that helps him mighty. This particular season Priest is putting the entire nation on notice. He continues to be dominant not only at the plate but in the field as well. Michigan is getting an absolute slugger next season and they should be extremely happy with what they see out of this kid.
When we say Priest is a Slugger, he truly is. His slugging percentage is 1.145! That is incredible for a high school athlete to pull that kind of percentage especially in the Central Florida region. We have not seen numbers like the ones he is putting up in a very long time. Priest leads the team for walks. Pitchers have a hard time dealing with him and are oftentimes afraid to leave a pitch over the middle for fear Priest will hammer it out of the park. Priest has 18 walks this year but that is also attributed to his patients at the plate.
Overall no one deserves the number 1 spot more than Collin Priest. He will continue his efforts to win the title of the home run king of the Country. Mount Dora Christian Academy sits in a good spot coming down the home stretch of the 2023 season. Priest will be a massive part of the Bulldogs success as the season winds down. Congratulations to Collin Priest for earning the honor of The Number 1 High School Batter in all of Lake & Sumter County.
#2 Dallas Dale II: (Senior) Mount Dora Christian Academy
Coming in at a close second is another Mount Dora Christian Academy player Dallas Dale II. Dale has been equally impressive this season as his counterpart Collin Priest. The two of them are some of the best players we have ever seen come through the Mount Dora Baseball program. Dale is an amazing athlete and it's no wonder he will be attending LSU next year. The Tigers could not be more happy with how his senior season is going.
Through nearly 20 games this year Dale is averaging a .358 batting average. He has taken 55 at bat appearances producing 26 runs, over 20 hits and resulting in 21 RBI's. He also has 7 home runs this season. On any other team or region, Dale would likely be number 1 on the team with numbers like that. But Collin Priest just took the edge in a few categories. Priest and Dale have combined for 17 total home runs on the year which is absolutely insane.
Dale just has such a natural ability and an eye to connect on pitches. He is the kind of batter that gets on base and gets into scoring position. That is the reason why Dale has scored more runs compared to anyone else on the team with 26 so far and that number is growing every day. Priest and Dale are neck and neck in this category as Collin Priest has scored nearly 30 runs. The stats change daily between Priest and Dale so as of now it's literally a dead lock tie as far as runs scored between them.
Dale has shown what true commitment is about. He is one of the best fielders in the game. Dale plays in the outfield and has a cannon for an arm. He doesn't commit many errors in the field and overall he is exactly the talent that belongs in an SEC Baseball program. We are so excited for Dallas Dale II and the entire Dale family as the regular season winds down. Dale will be one of the best players to watch coming down the stretch!
#3 Drew Clymer: (Senior) Lake Minneola High School
Drew Clymer has had a terrific year and if it were not for the two Mount Dora Christian Academy players, he very likely could have taken the top spot. Clymer is one of the best batters in our area. The Senior has a .429 batting average which is up at the top of the rankings for our area. Clymer is a player that gets on base but more than anything he drives in runs!
Clymer leads the Hawks with 23 RBI's this season. That rivals Collin Priest and Dallas Dale II for the most RBI's in Lake & Sumter County. Clymer also has scored close to 20 runs on the year while totallying 5 home runs. Clymer leads his team in nearly every stat category. Clymer is also very fast as he is tied for 2nd on the team with 8 steals on the year. Junior Justin Lopez leads the team with 15.
Clymer is also a slugger, he has a .880 slugging percentage which is number one on the team and nearly takes the top spot in our counties. The thing Clymer does not do often is strikeout. While Collin Priest has nearly 17 strikeouts on the season Clymer has just 6. Clymer has 7 walks as well but overall he just refuses to go down on strikes. That is due to a keen eye and great coaching by head coach Dr. Kerry Whetro.
Whetro always has great players come through his program and he gets the most out of his boys every season. Clymer has been aided by some amazing pitching that Lake Minneola has. This has assisted the batters in being relaxed most of the season as Lake Minnola has not found themselves down many times. This has allowed the batters to go to work. To put the pitching in perspective from March 7th until March 24th the Hawks had 6 straight shutouts! Incredible numbers put up by this program. From March 7th to today in the first week of April the Hawks have only given up 5 total runs! Absolutely amazing numbers.
Clymer has been a big part of the Hawk team and will continue to be down the road. The regular season will be coming to a close quickly and the districts will be on the horizon. Lake Minneola plays some tough competition so Clymer will be called upon to deliver what he has been focused on all year, scoring runs for the Hawks. Congratulations to Drew Clymer on this great honor of being a top 5 batter in Lake & Sumter County.
#4 Javier Calzadilla: (Junior) East Ridge High School
Many batters for the Knights have impressed this season including Senior Jahshua Olea and Sophomore Ethan Brothers who lead the team in RBI's but one player has gone a step above the rest in terms of statistics. Javier Calzadilla is having a terrific year. As the only underclassman on our list, Calzadilla has taken huge strides this season. The Junior has a .407 batting average while taking 59 at bats so far this season.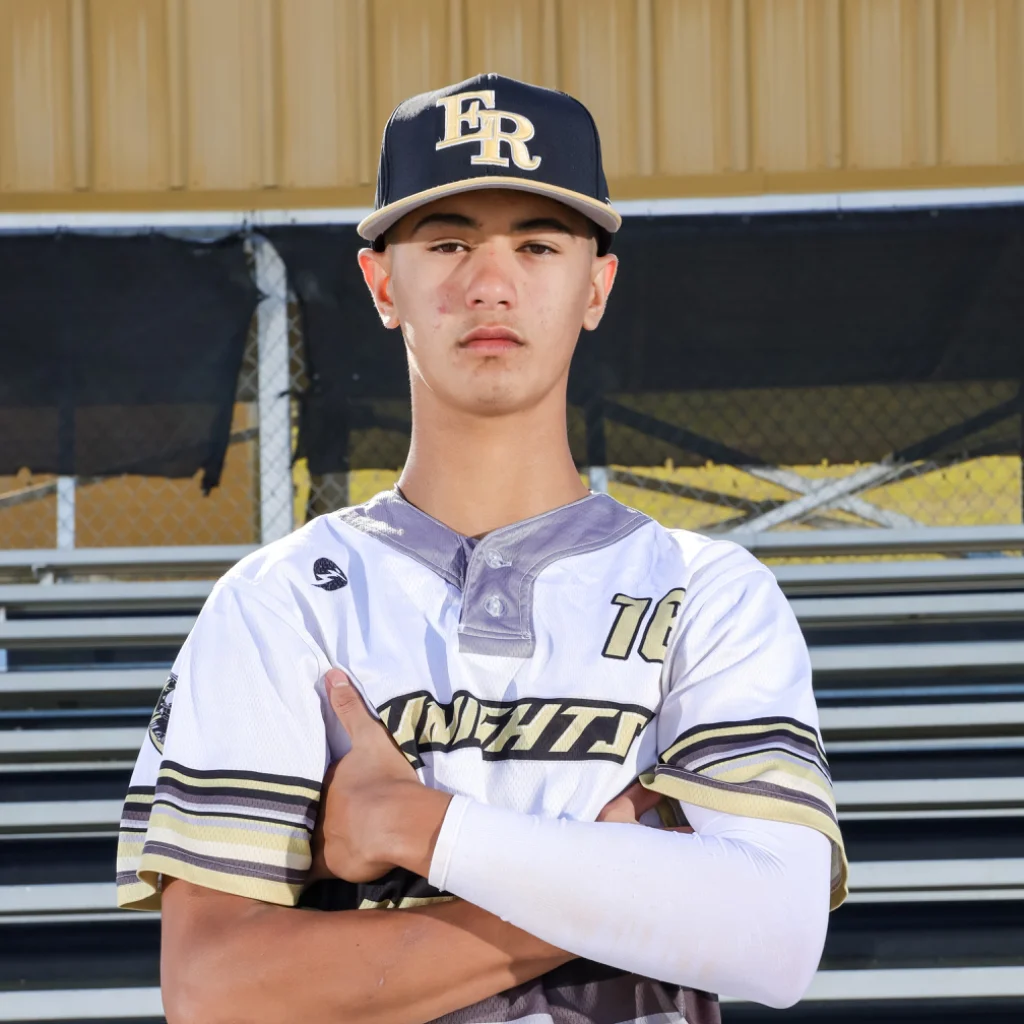 The results have been great as Calzadilla has delivered a team leading 24 hits while adding on 2 home runs on the season. He also has 15 runs scored though nearly 20 games on the season. Calzadilla has 12 RBI's. This kid knows how to get on base most of all. Calzadilla does not strike out often. For a starter he has one of the lowest strikeout totals on the team with just 8 all season long.
While it could be argued that Ethan Brothers should take this spot having stolen 8 bases, producing 14 RBI's and resulting in 18 runs, Calzadilla has been a fraction better as far as batting and getting on base goes. Calzadilla has an incredible 9 doubles this season which leads the team in that category. The entire team is producing great offense and overall there are many deserving players for this spot but Calzadilla has just edged out everyone else slightly.
Coach Dakoda Grove always finds ways to get the most out of his players and they are certainly delivering this season! Coming down the home stretch of the season the knights have difficult games against Mount Dora, Lake Minneola and The First Academy in Orlando who are 16-1 on the season. The Knights will need Calzadilla to continue his great season as we approach districts.
#5 Corbin Newman: (Senior) Mount Dora High School
Corbin Newman has been having the best season of his career. The Senior has 26 hits so far this year which leads the team. He also has 9 RBI's and has contributed 3 doubles and 3 triples this year. Newman has scored 12 runs on the season and he always finds a way on base. Newman has only struck out 6 times so he has a keen eye for what ball to hit. Newman has one of the best batting averages in the Lake & Sumter County region. Although Mount Dora has been up and down at times this season, Newman has been a bright spot.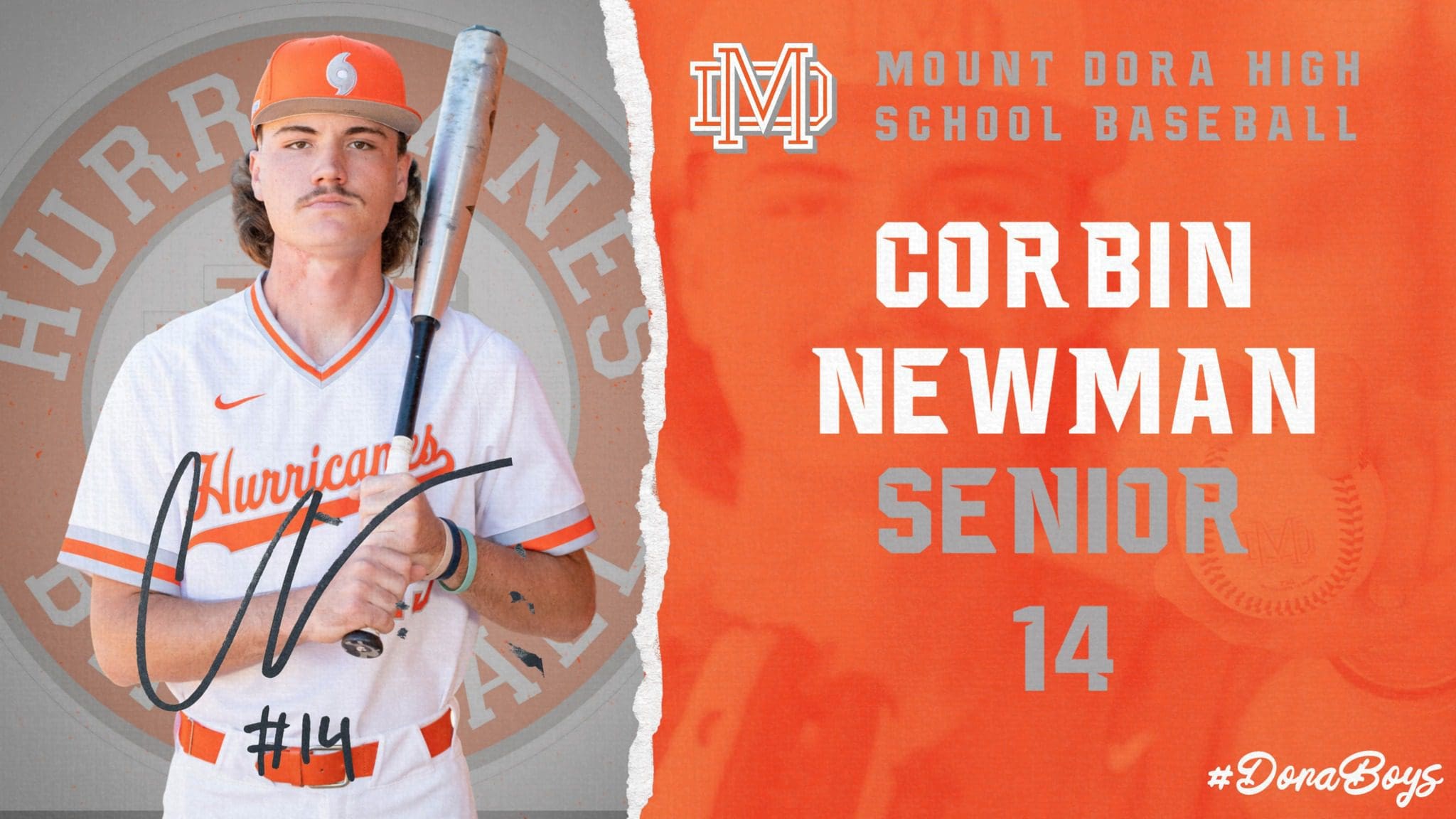 Another great statistic is the on base percentage. Newman leads the team with a .519 on base percentage which means he gets on base half the time he bats. Those statistics have helped Mount Dora get into scoring position and have assisted the team with many wins this year. Although the team is sub 500 on the year the batters have been keeping the Hurricanes alive down the stretch.
Newman is also one of the fastest and smartest baseball players the team has. He is tied with Eli Thurmond for bases stolen this season with 8. They both lead all other players by at least 5 or 6 stolen bases. When Newman gets on base it rattles the opposing pitchers by the leads he takes. That has lead to pitchers getting nervous and walking batters. The stolen bases are a great part of Newman's game and he exploits opposing pitchers often.
Although he may not have the statistics like Collin Priest or other players higher on the list, Newman is the backbone of the Mount Dora Hurricanes offensively. He has proven to be one of the best players in the county time and again. We want to congratulate Newman on being selected as one of the Top 5 batters in Lake & Sumter County. We look forward to seeing if Mount Dora can get things together down the stretch here and make a potential playoff push when districts arrive.
All these players nearly cracked the 5 spot. These players are some of the best in the region. They assist their teams and if this was a top 10 list they would certainly be on the list but they are so close in statistics it would have been nearly impossible to pick any over the others. We will clump these five players into the honorable mention section because if you look up their statistics, they are the reason's their teams are in good positions.
Bryan Schutte : Mount Dora Christian Academy (22 RBI's 3 Home Runs this season.)
Trey Craft : Umatilla High School (One of Umatilla's best offensive players.)
Colby White : Tavares High School (Top 5 pitcher in Lake & Sumter County.)
Torin Foley : The Villages (Villages best offensive player only a Sophomore.)
Bryce Cherry : First Academy Leesburg (11 RBI's 12 Runs Scored Eagles top offensive player.)
Photos Provided By:
CJ Prospect Media
Mount Dora High School
Lake Minneola Baseball Facebook
Kyle Coppola was born in Newton, Massachusetts and received his Bachelor of Fine Arts in Communications from Curry College in 2016. After traveling to Florida on a family vacation, he decided he could not get enough of the warm weather and made the move from snowy Massachusetts to central Florida 8 years ago.
For the last decade Kyle has gained valuable experience in social media content creation, marketing and sales, writing, video production, sports announcing and even broadcasting for local radio stations, such as FM 102.9 in The Villages and FM 91.5 in Massachusetts. Every year he volunteers at The Villages Charter High School as a play-by-play sports announcer for the football games as well as a public address announcer for the basketball games, including the annual Battle at The Villages Tournament.
Outside the office Kyle is a husband and father to two beautiful girls along with their cat. In his spare time he likes to spend time with his family, travel, play golf and swim. He is also a huge sports junkie and even bigger motorsports fan and loves to attend racing events when he can.
Share This Story!