Top 5 Lake & Sumter County High School Running Backs for 2023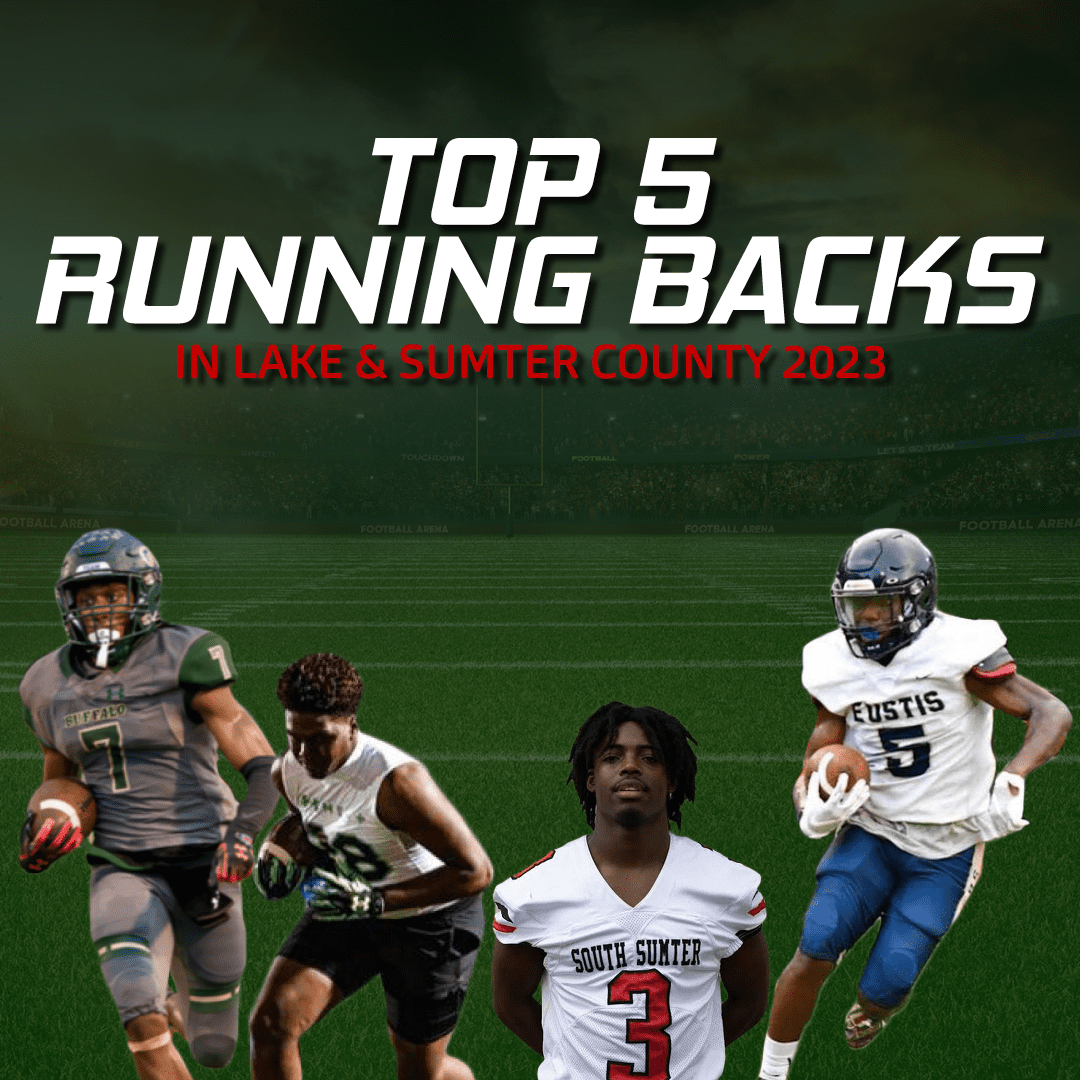 No. 1 Alvon Isaac (SR) – The Villages Charter School 
There is no doubt about this one. Alvon Isaac, who likes to go by the name of Von, will be the #1 back this year in our county. He has offers from Division 1 schools that include Ole Miss, Louisville, Pittsburgh, Georgia Tech, Tulane USF, Georgia Southern and Florida Atlantic among others.
Isaac is a three-sport athlete for The Villages. He is also a starter on the Basketball team and one of the best athletes on the Track & Field team. He has tremendous talent at all three sports he plays in but Football is perhaps what he excels at the most.
Isaac had a tremendous Junior year that included 15 offensive touchdowns while compiling 1,155 yards on the ground. He also has a few defensive touchdowns in the record books as well. The naturally gifted athlete looks to dominate Lake & Sumter County opposing defenses this season. And there is every reason to believe he will.
The 5"11 175lb running back also plays wide receiver and cornerback for The Villages. He is a very versatile athlete. Isaac averages 6.7 yards per carry. When he gets into the open field, he is one of the fastest players in the game today. His straight-line speed is incredible and you can certainly see why he is a track & field star along with being one of the best all-around players for The Villages since Mac Harris who now plays for USF.
Look for Alvon Isaac to have one of the best years of his career. He is in the prime of his high school playing career. He continues to pack on the muscle every time you see him. We look forward to seeing what Isaac is capable of for the 2023 football season!
No. 2 Jamare Dorsey (SR) – South Sumter High School 
Jamare Dorsey was one of the most reliable running backs in Lake & Sumter County in 2022. The Junior had over 1,248 yards on the year and 19 touchdowns. He has some incredible bursts when he gets into open space. Just an impressively solid player who is a complete baller!
Dorsey returns for his senior season at South Sumter. The team went 10-0 in the regular season last year and are hoping they can replicate that success. Dorsey should be a huge part of that success this season if they can go back-to-back undefeated seasons in a row.
Dorsey is also a Track & Field athlete for South Sumter. His speed is right on point with Alvon Isaac. We hope that Dorsey can turn some heads this year and get some college offers. Jamare Dorsey is criminally underrated as far as a running back is concerned. He deserves the recognition for his success, and we hope he has a monster year!
No. 3 Dane Thompkins (JR) – Lake Minneola High School 
Dane Thompkins comes into the 2023 season as a Junior. Thompkins got to run behind one of the best running backs in our county last year, John Celestin. Celestin had an impressive 34 offensive touchdowns and 1,522 yards. Thompkins was the backup running back but had his fair share of touches over the season.

Thompkins always made his touches count and had 10 touchdowns last year. He averaged slightly under Celestin at 7.1 yards per carry compared to Celestin who had 7.8 but that is very respectable for a Sophomore. This year Thompkins will likely be the lead running back for the Hawks.
We can expect some amazing production from him this year. The 5"9 180lb running back should rival Isaac and Dorsey in terms of yardage and usage this year. Hopefully this is a massive breakout year for the young running back who still has a lot to prove in 2023!
No. 4 Tymir Gaines (So) – Eustis High School
The Youngest player on our list should have a breakout season this year. Tymir Gaines is a 5"10 156 lb Sophomore. This kid has everything it takes to be elite in the coming years. Gaines got to learn plenty in his freshman year from fellow Senior running backs Jalen Mckay and Javon Garry.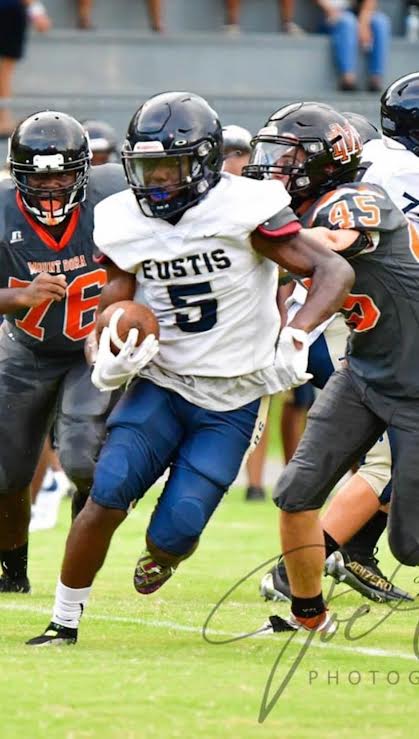 Both Mckay and Garry had over 600 yards a piece on the season. They combined for 17 total touchdowns and when Eustis was winning by a large margin, Gaines would be able to come into the game. He made the most of his opportunities last year.
The Freshman played in 5 games and had 228 yards. He scored 2 touchdowns but the stat that is very impressive is he averaged over 8 yards per carry. As Gaines continues to grow and mature into his body he will be one of the best running backs in our county in the coming years.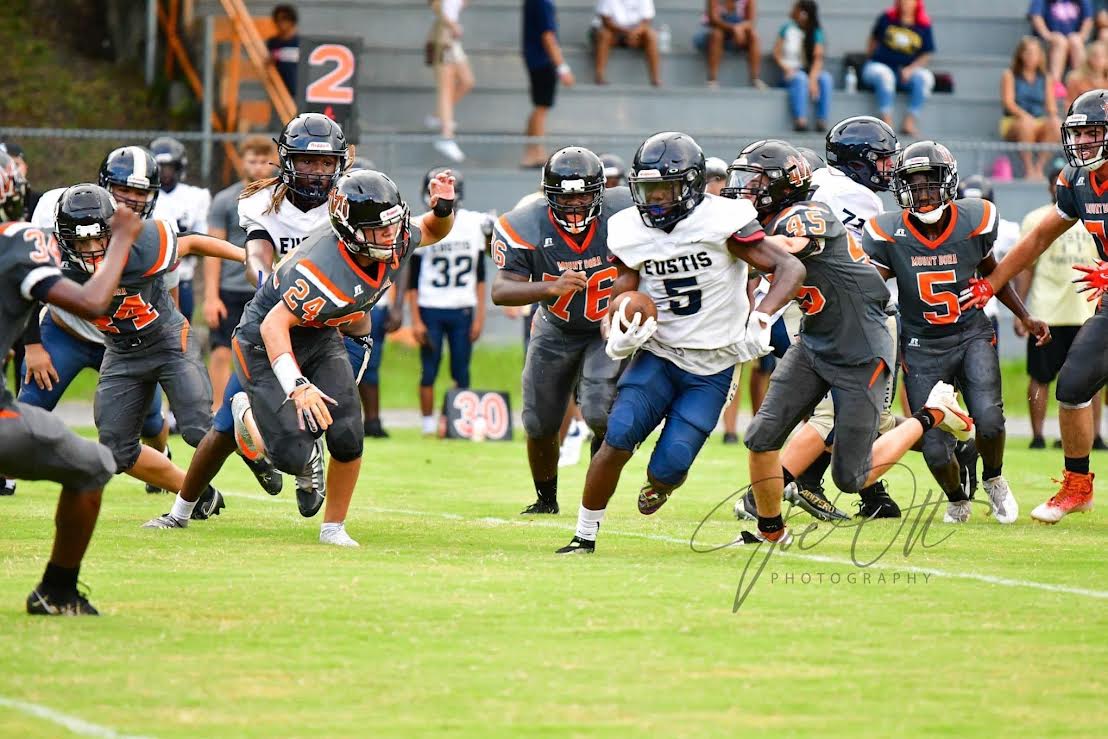 We are excited to see what Tymir Gaines can do this year. Heads are already turning. Can this be a breakout year for Gaines? And can Eustis win back to back district championships?
#5 Jay Strawder (JR) – South Sumter High School
Strawder is the only Full Back on the list but listen this kid is one of the most brutal punishing Full Back's we have seen in a long time in Lake & Sumter County. This year is going to be his breakout year. The 6'2 240 lb fullback is built like a brick wall. He is very difficult to tackle and when he lowers his shoulder it's going to be a bad day for anyone in his way.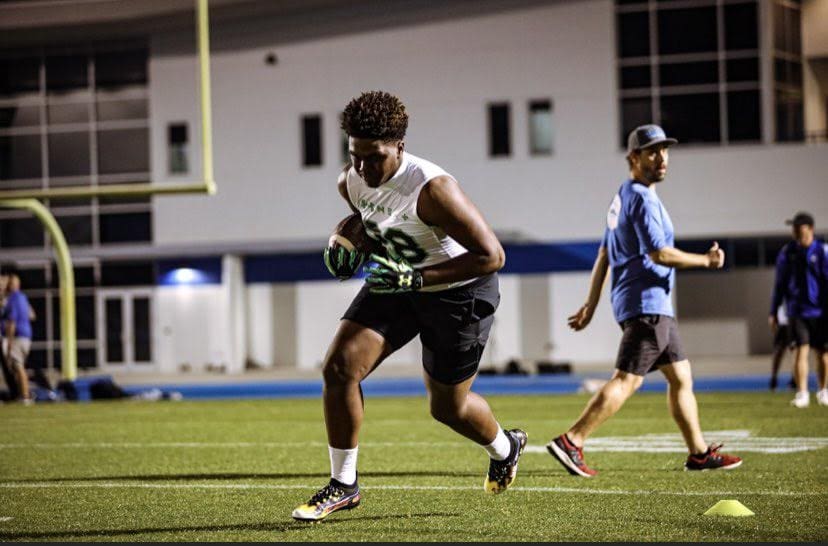 Although Strawder is not going to be an every-down back, but he will take much of the goal line carries into the endzone because opposing teams simply cannot bring him to the ground without Strawder at least gaining a few yards in the process. Strawder is an exciting player. He is going to do some incredible things this year at a position many say is dying in football.
The Full Back position used to be a massive part of the offensive game plan. This was once one of the most important football positions on the field. As the lead blocker for the running back, the full back must be a big guy. But the player also has to be fast and quick. That is exactly what Strawder is. Quick and nimble but packs a punch.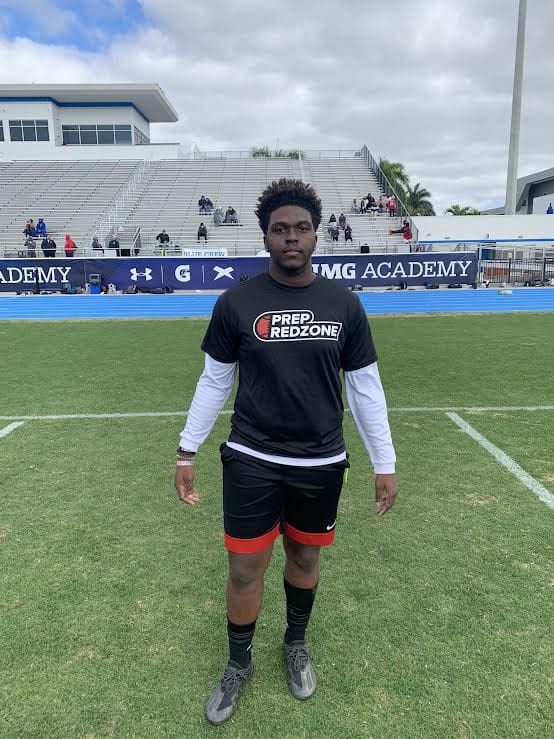 He will be one of the best weapons on the field at any given time. Teams don't usually prepare for full backs anymore which makes the position all the better when it can be put into action. Look for this kid to have his best season yet.
Photos Provided By:
Joe Ott Photography
Joe Ott Fan Zone
The Villages
South Sumter Facebook
Kyle Coppola was born in Newton, Massachusetts and received his Bachelor of Fine Arts in Communications from Curry College in 2016. After traveling to Florida on a family vacation, he decided he could not get enough of the warm weather and made the move from snowy Massachusetts to central Florida 8 years ago.
For the last decade Kyle has gained valuable experience in social media content creation, marketing and sales, writing, video production, sports announcing and even broadcasting for local radio stations, such as FM 102.9 in The Villages and FM 91.5 in Massachusetts. Every year he volunteers at The Villages Charter High School as a play-by-play sports announcer for the football games as well as a public address announcer for the basketball games, including the annual Battle at The Villages Tournament.
Outside the office Kyle is a husband and father to two beautiful girls along with their cat. In his spare time he likes to spend time with his family, travel, play golf and swim. He is also a huge sports junkie and even bigger motorsports fan and loves to attend racing events when he can.
Share This Story!