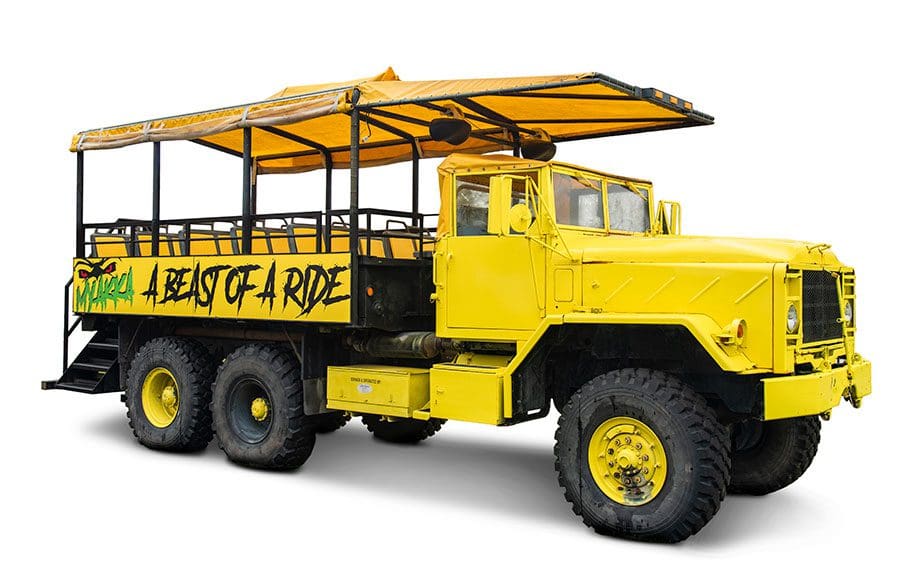 Mucky ducks, swamp buggies provide thrill rides at Revolution Adventures for the entire family.
Photos: Nicole Hamel
A cloud of dust swirls behind Jim Marshall as the eight-wheel amphibious vehicle turns a curve. Jim smiles, then hits the gas. The engine howls as he drives straight into a water puddle. Mud splashes onto his clothes. 
He stomps the gas again, this time plunging right into a lake. The bumpiness of the trail quickly gives way to a smooth glide of buoyancy. The eight tires act as paddles, churning together like oars during a dragon boat race. As Jim drifts across the lake at four miles per hour, he spots a baby alligator sunning in a sea of cattails. 
There are not many places you can drive a motorized vehicle into a lake. That's why Jim, who owns a landscaping company in Davenport, regularly visits Revolution Adventures. He not only brings his employees there for team-building activities but also takes his friends there for social outings. The feeling of freedom, the wind in his face, and being immersed in the beautiful countryside always leads to a mudslinging, handlebar-gripping good time.  
"I have lots of fun riding out here, and I just kind of lose myself in the natural beauty," he says. 
Revolution Adventures, located off State Road 33 in Clermont, approximately 15 minutes west of Walt Disney World, offers its own world of excitement for avid outdoor enthusiasts––a world where visitors can ride a fleet of motorized vehicles through mud puddles and lakes, shoot flying clay pigeons out of the air, and catch largemouth bass weighing over 10 pounds. 
Kevin Jowett, who formerly raced on challenging off-road courses in British Trial and Rally Drivers Association (BTRDA) competitions, opened Revolution Adventures in 2007 to give the public a rare opportunity to traverse through outdoor trails aboard a motorized vehicle. He later added skeet shooting, bass fishing, and archery to his repertoire of fun activities. 
"I always wanted to open an off-road driving experience for the general public to try it," he says. "People like off-road driving, but many cannot afford it."
Kevin made a career about-face to fulfill his dream. Prior to opening Revolution Adventures, he was gainfully employed as commercial director for Sony PlayStation in Europe. However, he was familiar with Central Florida. He and his wife had a vacation home near Orlando and would visit at least once a year. One day, a real estate agent called and told him about a piece of property located on State Road 33 that was formerly a sand mine. 
He was awed when he visited the property. 
"There was a lake in the middle with a variety of tracks and trails going around the outside of the lake," he says. "There were hills and woods. I loved the land."
Opportunity knocked and Kevin answered. He has no regrets leaving his lucrative corporate job in London and moving to Florida. 
"The view from my office job in London was concrete," he says. "Here, the view from my office is a beautiful lake, beautiful trees, and beautiful wildlife."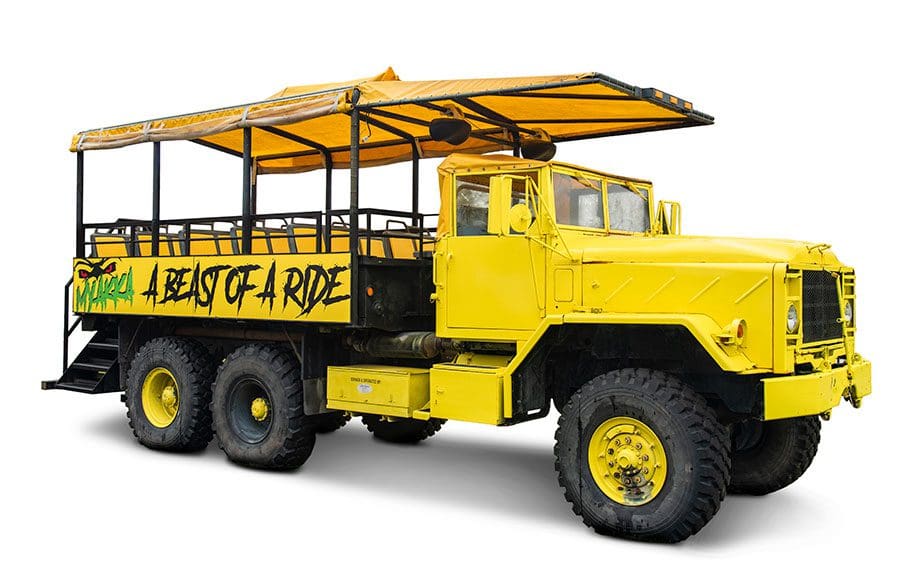 Revolution Adventures, located on 230 acres in the middle of the Green Swamp, provides several types of motorized vehicles thrill-seekers ride to leave civilization behind and navigate a variety of trails for every skill level. All-terrain vehicles, also known as "four-wheelers," were invented in the 1960s and have accelerated in popularity. Much like on a motorcycle, riders straddle a seat in the middle. Extra tires provide more stability. 
A dune buggy is available for visitors who prefer riding with a friend or relative. These open-air, two-seat machines traverse the property and afford a fun-filled adventure and close-up view of nature. For families, the eight-wheel, four-passenger Argo Amphibious Utility Terrain Vehicles are ideal. Better known as "mucky ducks" by Kevin, these vehicles travel through land—and water. 
"The mucky ducks float because the wheels act as paddles when you take it through deep puddles and lakes," Kevin says. "It's quite an experience for kids when mom and dad turn and go into the water. These machines make for a great family experience, and I don't know anywhere else in the world where they are used as a tourist attraction."
Prior to each ride, professional guides provide safety instructions and lessons on how to operate vehicles. 
"Safety is our number one priority," Kevin says. "We want people to leave here smiling instead of going out on a stretcher. We're not an extreme off-road, mud-bogging company. We're a family entertainment center."
Of course, not everyone comes to Revolution Adventures to drive all-terrain vehicles. Some find that catching trophy bass can be just as exhilarating. Guides take visitors out on the property's 65-acre lake in a bass boat for a four-hour catch-and-release fishing experience. To Kevin's knowledge, the largest bass caught in the stocked lake weighed 14.2 pounds. 
Others come to Revolution Adventures to test their marksmanship. An archery station and clay shooting station are set up on different parts of the property where rangemasters and certified coaches teach proper techniques using a shotgun and archery bow. There's also a course for archery tag, which is like dodgeball except participants try to hit each other with foam-tipped arrows.  Once you're hit, you're out. If you catch an opponent's arrow, he is out. 
"Families love playing archery tag together," Kevin says.
With so much to see and do, it's little wonder why Clermont resident Brandi Ferrone frequently visits Revolution Adventures with her children, Hailey, 19, and Ty, 16. She made it a parenting priority for them to indulge in more green time and less screen time. They've been visiting since 2009. 
Hailey has seemingly mastered the art of skeet shooting. Ty spends his time there reeling in largemouth bass. As for Brandi, she simply enjoys sitting on a sandy beach while plopping her feet in the lake and feeding the fish. 
"It's just gorgeous out here," Brandi says. "I always say that if I lived here, I would never leave. As far as my kids, limiting their time on phones and computers and allowing them to be in the outdoors had paid off. They are more well-rounded kids." 
The same goes for Caitlyn Best Jenkins, sales and marketing manager of Revolution Adventures. She formerly worked at as a server at Walt Disney World. She prefers being in a natural environment versus a man-made environment. 
"Being at Disney, you're surrounded by 1 million people at a time. Out here, you can enjoy the peacefulness without long lines and everybody being in a rush. We're a hidden gem."


How hidden is somewhat questionable. When visitors come to Revolution Adventures, they place a push pin on a map denoting the state or country where they reside. There is very little space left on the map. Guests have come from all 50 states and faraway countries like China, Australia, Brazil, Japan, and Finland. Many of them are Orlando tourists visiting the homes of Mickey Mouse and Shamu. Kevin says his company complements theme parks rather than compete against them. 
"People come back to Disney year after year," Kevin says. "But we are an impulse purchase where people find us and say, 'Wow, I've always wanted to do that.' Coming here is their day off from the hustle and bustle—their play day." 
---
Revolution Adventures
4000 State Road 33, Clermont 34714
Hours: 8:30 a.m. to 4:30 p.m. seven days a week
For reservations call 352.400.1322 or email reservations@revolutionoffroad.com
Available for corporate events, birthday parties, Scouts programs, company retreats, team-building events.
Akers Media Group's James Combs has been a staff writer for several local publications since August 2000. He has had the privilege of interviewing some of Lake County's many fascinating residents—from innovative business owners to heroic war veterans—and bringing their stories to life. A resident of Lake County since 1986, James recently embarked on a journey to lead a healthier lifestyle. He has lost 60 pounds and walks nearly five miles a day. In his spare time, he enjoys target shooting, skeet shooting and watching his beloved Kentucky Wildcats!
Share This Story!