U.S. 441 Widening Project in Lady Lake Nears Completion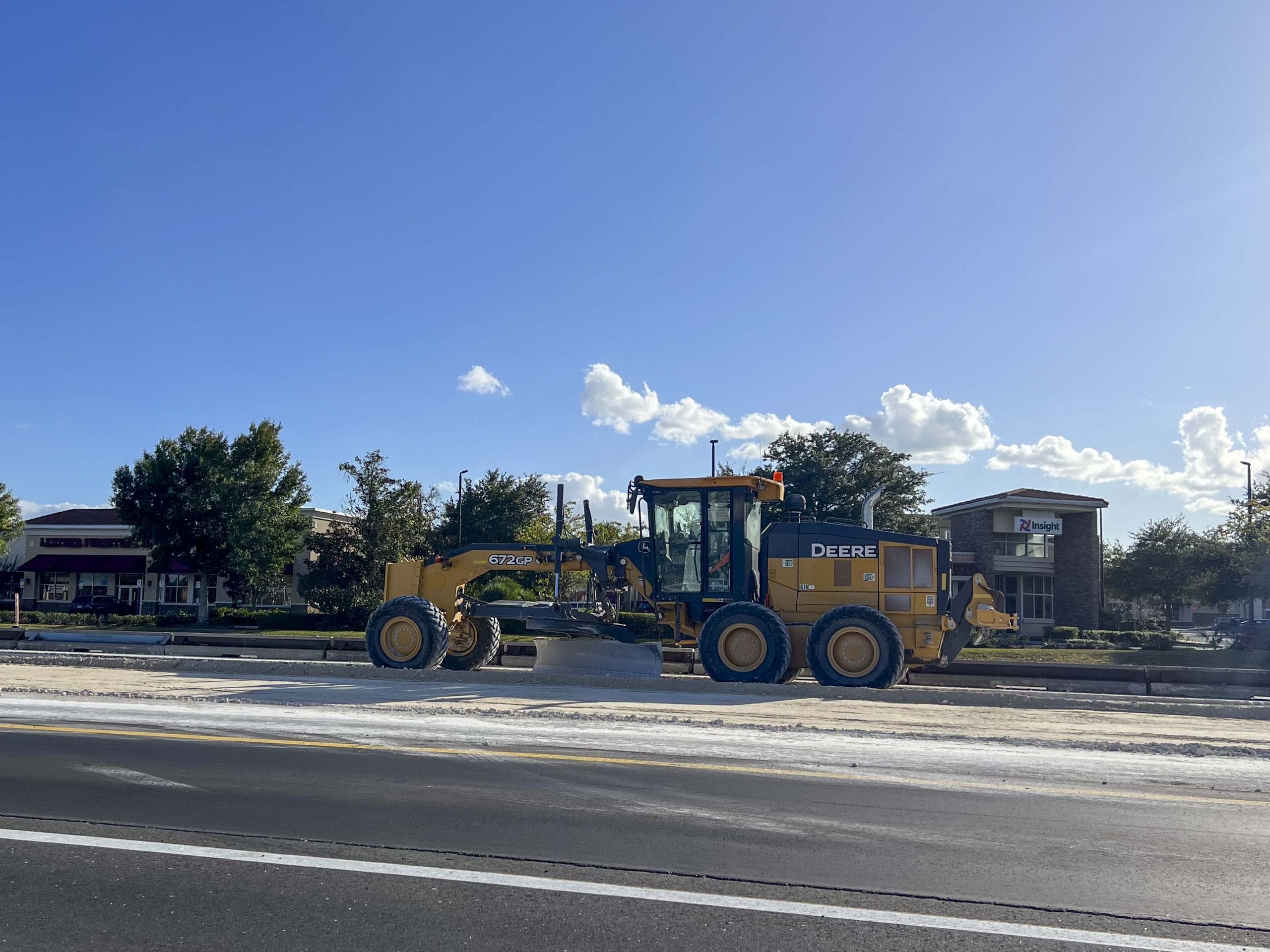 After three years of steady construction, the Florida Department of Transportation (FDOT) is gearing up for the final stretch of the U.S. 441 widening project in Lady Lake. This undertaking, aimed at enhancing capacity, traffic flow, and safety along the roadway, is on track to be completed next spring, offering a glimpse of the "light at the end of the tunnel" for residents and commuters.
"This project started three years ago, and construction has been steady and active and is progressing for completion next spring," FDOT Public Information Director Cindi Lane says. "As with all roadway projects, there are sometimes weather delays and unforeseen circumstances such as material shortages. FDOT works closely with the contractor to ensure ongoing progress and will continue diligently managing the contract within budget and through completion in Spring 2024."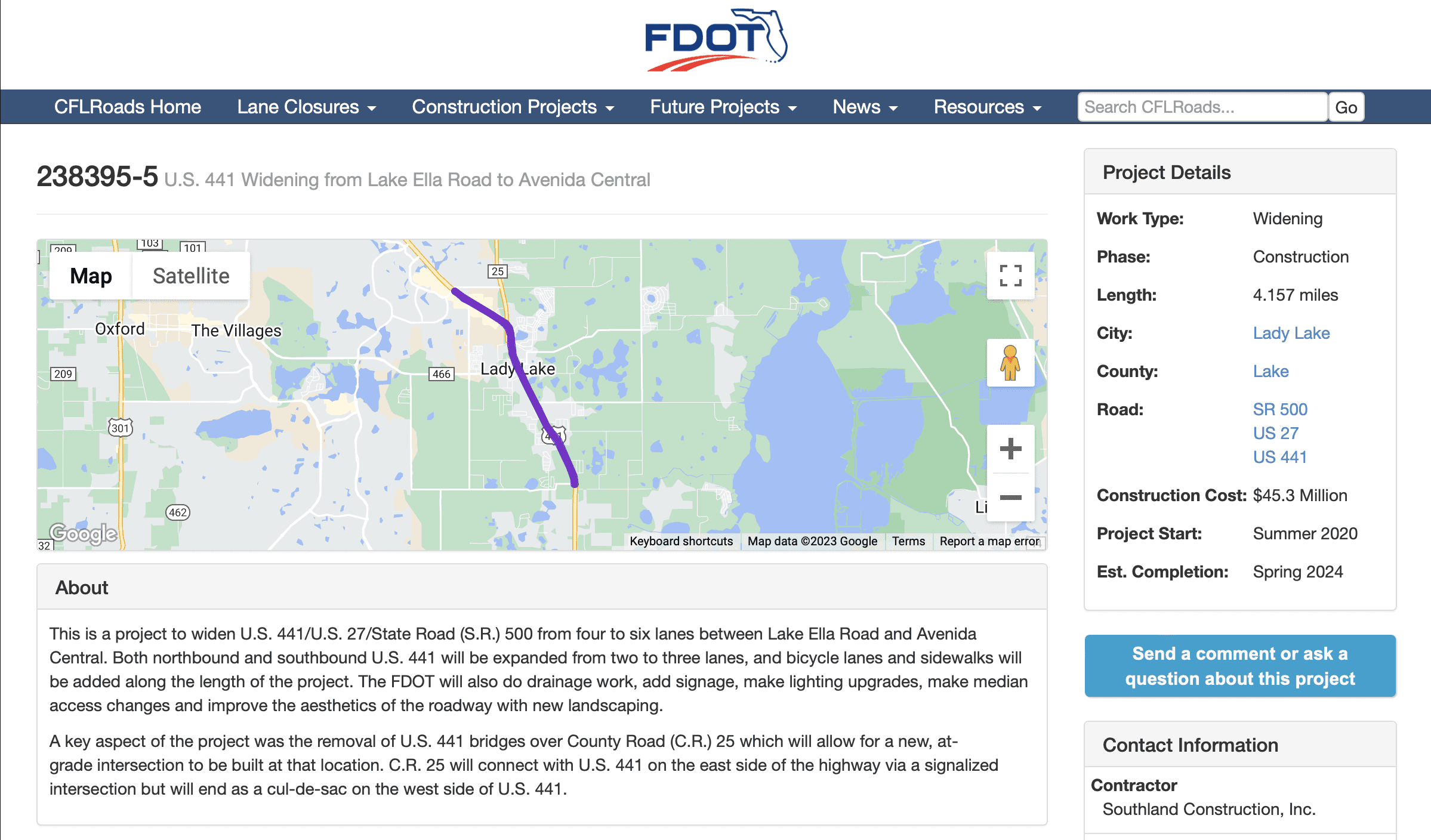 The U.S. 441 widening project spans four miles, transforming the existing four-lane road into a six-lane thoroughfare. In addition to widening the road, the project involves the removal of a bridge and the creation of a new intersection at U.S. 441 and County Road (C.R.) 25. To enhance safety, bicycle lanes and sidewalks are being added along the entire project length. The comprehensive plan also encompasses improvements in drainage, signage, lighting, median access changes, and landscaping to enhance the road's aesthetics.
Throughout the construction, Cindi says the FDOT has remained committed to minimizing disruption to local businesses and traffic flow. Lane closures are primarily scheduled during off-peak hours, mainly at night when traffic volume is lower. The project has seen the deployment of four or five crews per day, working diligently to meet milestones.
Recently, the contractor successfully shifted northbound traffic to the east side of U.S. 441, allowing crews to commence construction of the median curb. Last month, efforts were focused on completing the shift from Griffin View Drive to Hermosa Street. Drainage upgrades are actively underway between Lemon Street and Griffin Avenue. With the northbound shift progressing smoothly, attention is now shifting to traffic signal upgrades, including new strain poles and pedestrian accommodations. Sidewalk work continues across the project, with some sections open to pedestrians while others are closed for ongoing safety improvements.
Over the next two months, the project will reach another significant milestone as southbound traffic is shifted to the inside lanes to facilitate roadway widening, paving, and curb and gutter enhancements. Simultaneously, new sidewalks will be installed on the west side of the road from Griffin View Drive to Hermosa Street and from County Road 25 to Fennell Boulevard. These developments mark crucial steps towards the project's completion.
The U.S. 441 widening project represents a major investment in the Lady Lake community and the broader region. Upon completion, it will improve traffic flow, safety, and the overall quality of life for residents and commuters. These enhancements are expected to support the area's growth and economic potential.
For the latest updates on lane closures and project progress, residents and commuters are encouraged to visit the project website at https://www.cflroads.com/project/238395-5.
Originally from the small town of Berryville, Arkansas, Cindy has become a multimedia specialist in journalism, photography, videography and video editing.
She has a B.S. in Communications from the University of Central Arkansas and is a correspondent for The Daily Commercial, LakeFront TV and Beacon College's PBS talk show, "A World of Difference," where she received an Anthem Award and Telly Award.
When she isn't working, Cindy spends time with her husband, Ryan, and son, David, traveling and taking photos of landscapes and wildlife.
Share This Story!