Umatilla High School Girls Soccer: Michaela Melchiorre & Grace Tyree Sign Commitment Letters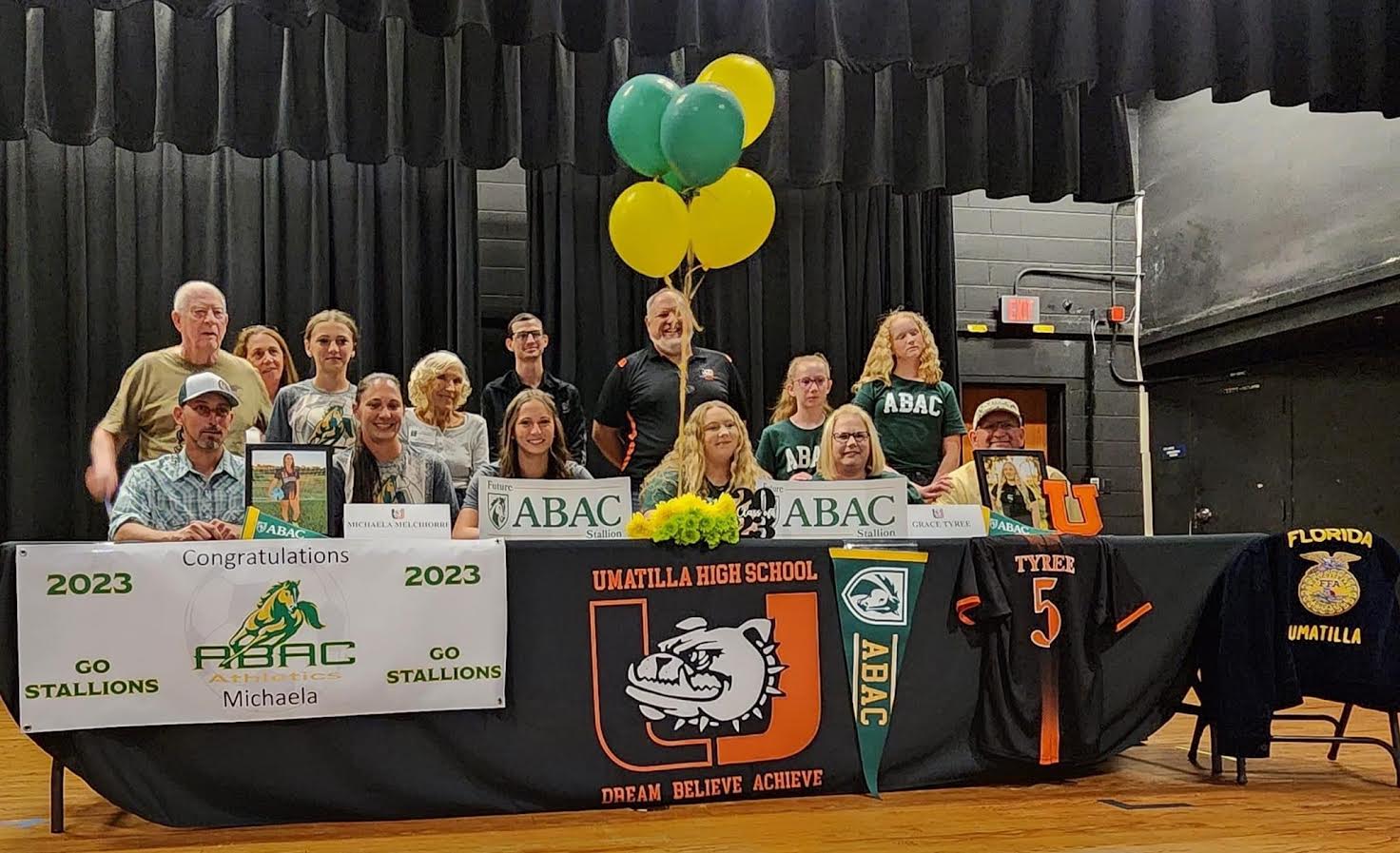 Umatilla High School Girls Soccer: Michaela Melchiorre & Grace Tyree Sign Commitment Letters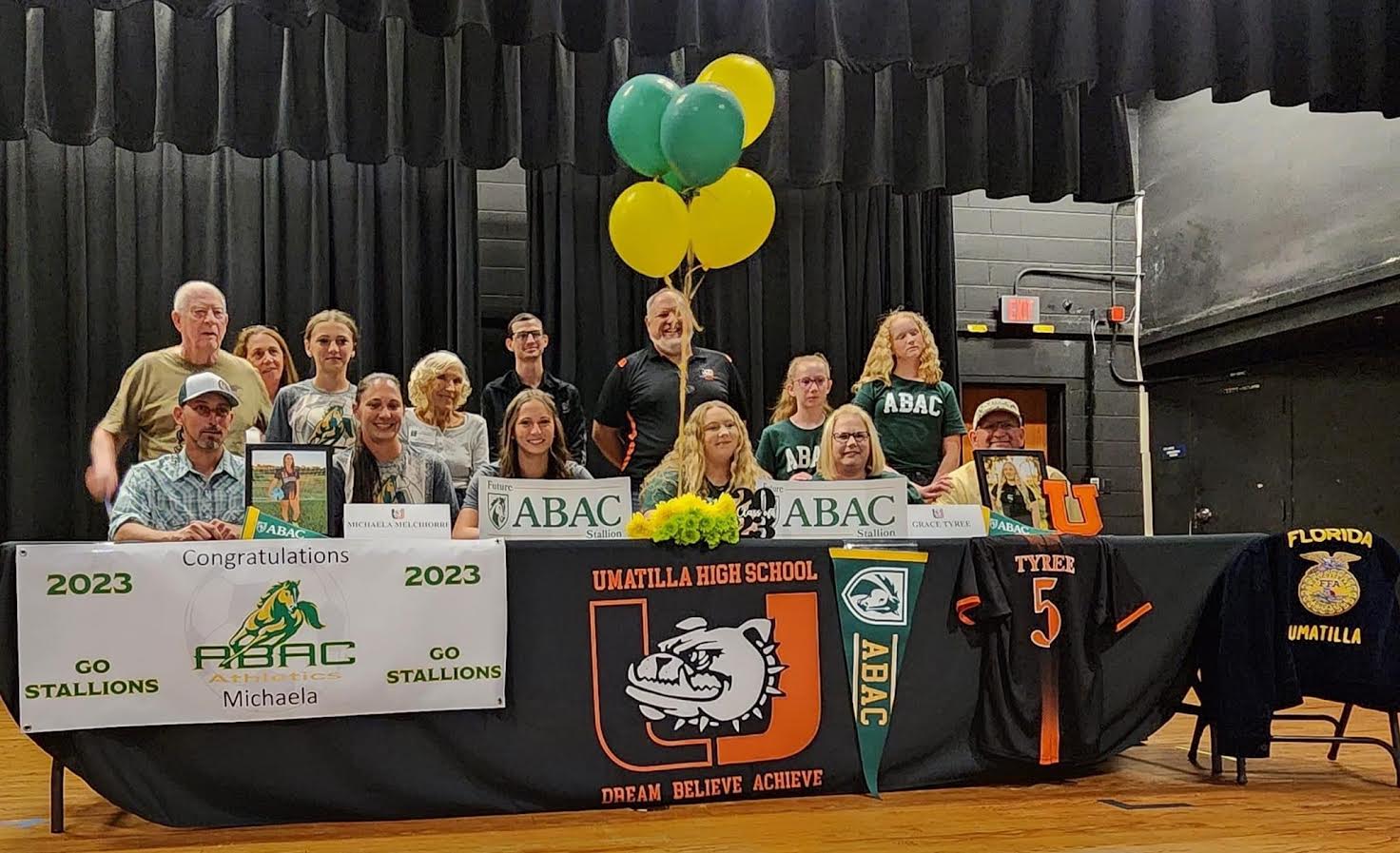 It was a fantastic day at Umatilla High School as two varsity Lady Bulldog Soccer players signed their college commitment letters to continue their academic and playing careers. Michaela Melchiorre and Grace Tyree will be attending Abraham Baldwin Agricultural College in Tifton Georgia this fall. This is a huge opportunity for both these students and they both are very deserving of this opportunity.
Michaela Melchiorre: Abraham Baldwin Agricultural College
A leader on and off the field, Melchiorre had a great season. She helped the team to 7 points and had 3 goals on the year. Melchiorre was a defensive standout this year. She provided excellent defense and opposing attackers found it hard to get by her. Her defensive skills were a huge reason that the Lady Bulldogs won their senior night this year against Interlachen 8-0.
Michaela plans to study animal science and reproduction along with continuing her journey playing soccer at the collegiate level for ABAC. Melchiorre says "I am super excited to see what this opportunity is going to bring to the table and where the agricultural industry will take me."
We are very excited for Michaela and her family for this amazing opportunity to continue her academic and playing career. ABAC is getting a dedicated and hard working student-athlete who will do great no matter what.
Grace Tyree: Abraham Baldwin Agricultural College
Tyree played Midfielder and at times she also played Goal Keeper. The Senior Captain led the Bulldogs all season long. She contributed 16 points on the year while racking up 3 assists. Tyree had 6 goals on the year which is excellent for a midfielder. She makes the most of her opportunities while having a keen eye for delivering quick passes to her forwards, attackers and strikers. Out of 21 shots on goal this year Tyree had 6 goals which is basically a 33% goal to shot ratio.
Tyree never relented on any opportunity to attack but she played 225 minutes in goal this season making 30 saves. Tyree plans on majoring in Animal Science and Livestock Production at ABAC. Tyree says "I then plan on getting my Veterinarian Medicine degree and possibly venturing into livestock embryology." Tyree will also be playing soccer at Abraham Baldwin Agricultural College so both Melchiorre and Tyree will remain teammates at their new school.
Congratulations and Good Luck!
We want to congratulate the Melchiorre and Tyree families on their daughters' continued academic and playing careers at ABAC in Georgia. This is a great opportunity for the both of them. This is also great for Umatilla High School as they send two of their own off to the next level. We are very excited for the two of them and wish them a successful future in the Agricultural Industry!
Photos Provided By:
Umatilla High School
Kyle Coppola was born in Newton, Massachusetts and received his Bachelor of Fine Arts in Communications from Curry College in 2016. After traveling to Florida on a family vacation, he decided he could not get enough of the warm weather and made the move from snowy Massachusetts to central Florida 8 years ago.
For the last decade Kyle has gained valuable experience in social media content creation, marketing and sales, writing, video production, sports announcing and even broadcasting for local radio stations, such as FM 102.9 in The Villages and FM 91.5 in Massachusetts. Every year he volunteers at The Villages Charter High School as a play-by-play sports announcer for the football games as well as a public address announcer for the basketball games, including the annual Battle at The Villages Tournament.
Outside the office Kyle is a husband and father to two beautiful girls along with their cat. In his spare time he likes to spend time with his family, travel, play golf and swim. He is also a huge sports junkie and even bigger motorsports fan and loves to attend racing events when he can.
Share This Story!