Umatilla High School Stadium Gets Facelift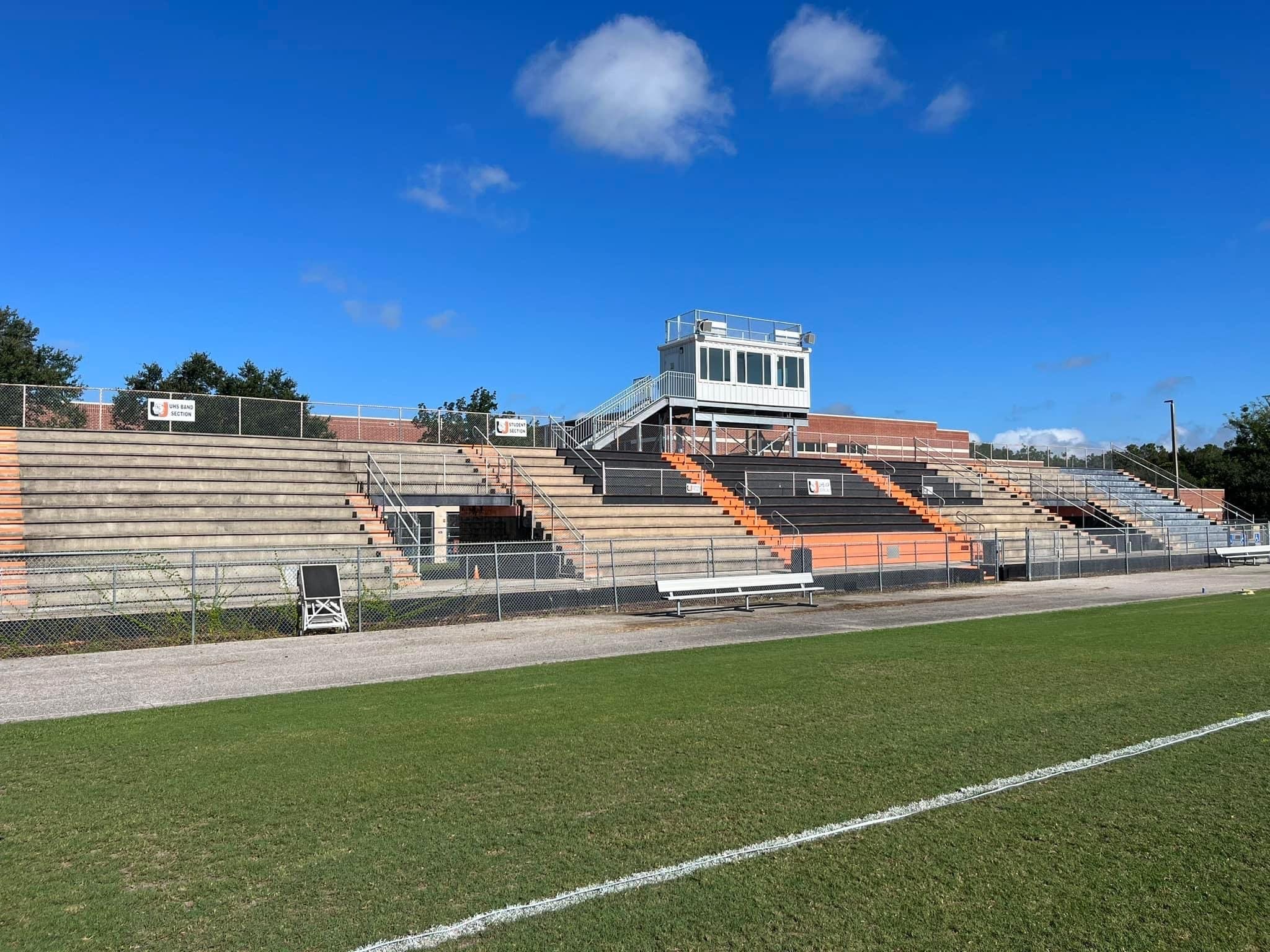 Umatilla High School's Football Stadium just got a facelift, right in time for the 2023 football season. The stadium had been in dire need of a pain job the last few years. In fact it may have been since new head football coach Eric Samuels senior year that the stadium had fresh paint on it. The Florida sun is brutal to paint in Florida. Every few years, fresh paint is usually applied becuase the sun just naturally fades the paint over time. For Umatilla, that had not been done in a very long time.
However things will look much more bright orange and black when, parents, students, fans and former alumni attend games at the facility this year. Thanks to Thomas Cottle and Painters Unleashed, the stadium has life once again. Eric Samuels posted on his facebook page and said "If you've been to The Dogg Pound in the past year or so then you know howthe pain looked. Thank you to Thomas Cottle and Painters Unleashed for bringing some life back to our stadium, makin it a place where the boys can take pride in again! Thank you!!"
Eric Samuels is the new head coach for Umatilla Football. A graudate of Umatilla High School in 2010, Samuels would go on to play four years at Vanderbilt. He would also go on to play professional football in the CFL for the Edmonton Eskimos. Samuels spent the past few years at Wildwood High School as an assistant coach. We are excited for the Umatilla football program in 2023. They are a very young team but they have a great coach who should bring them up to pace quickly.
The new paint around the stadium will improve the sights. While we wait to see the product that Umatilla puts out onto the field in 2023, the optics are there. Umatilla wants this program to succeed. Last year they were missing just a few pieces but competed in many close games. We hope that they can find early success in 2023! Go Bulldogs!
Kyle Coppola was born in Newton, Massachusetts and received his Bachelor of Fine Arts in Communications from Curry College in 2016. After traveling to Florida on a family vacation, he decided he could not get enough of the warm weather and made the move from snowy Massachusetts to central Florida 8 years ago.
For the last decade Kyle has gained valuable experience in social media content creation, marketing and sales, writing, video production, sports announcing and even broadcasting for local radio stations, such as FM 102.9 in The Villages and FM 91.5 in Massachusetts. Every year he volunteers at The Villages Charter High School as a play-by-play sports announcer for the football games as well as a public address announcer for the basketball games, including the annual Battle at The Villages Tournament.
Outside the office Kyle is a husband and father to two beautiful girls along with their cat. In his spare time he likes to spend time with his family, travel, play golf and swim. He is also a huge sports junkie and even bigger motorsports fan and loves to attend racing events when he can.
Share This Story!