Umatilla High School's Jeric Hutto Signs College Commitment Letter to Lees-McRae College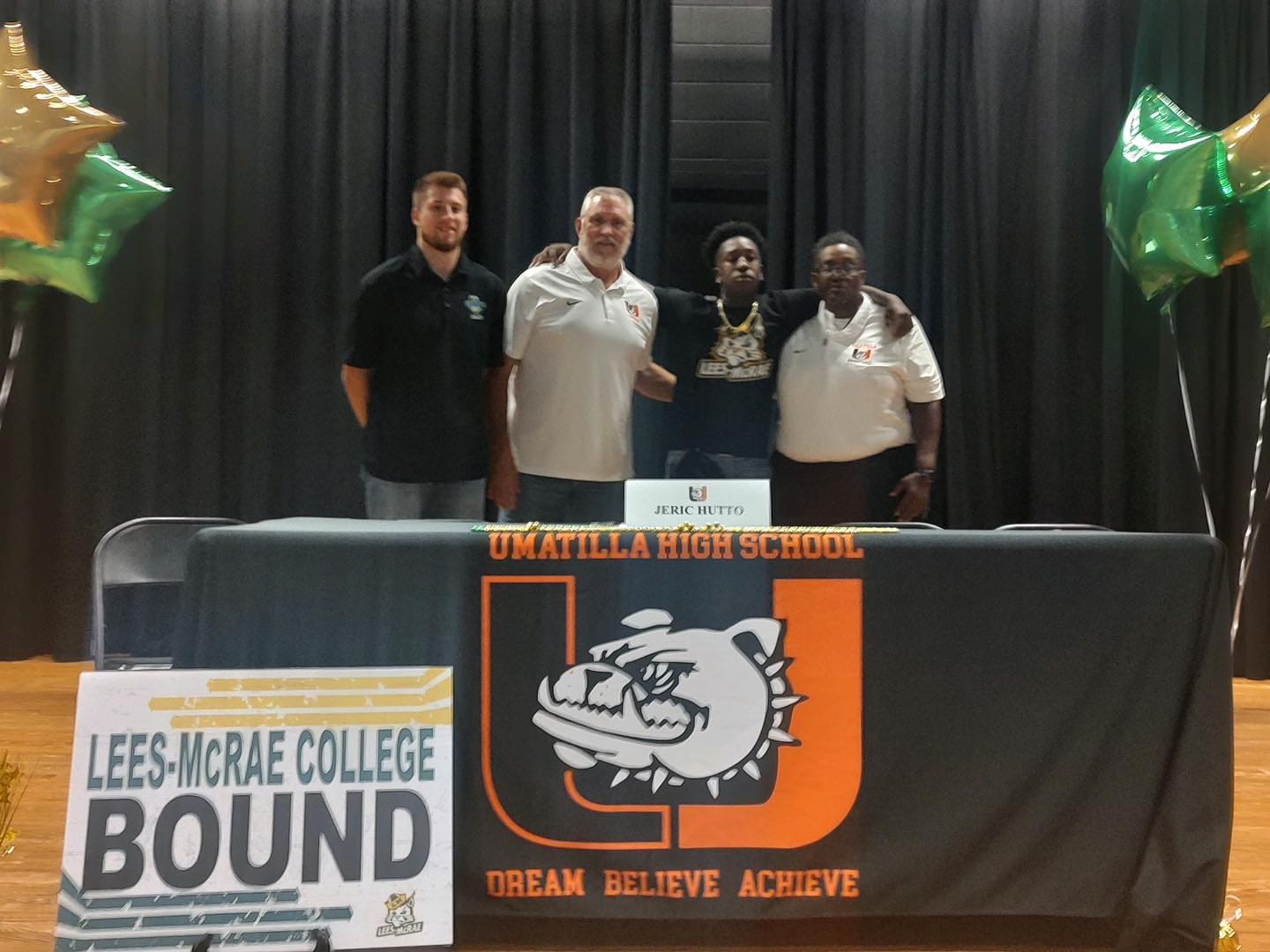 Umatilla High School's Jeric Hutto Signs College Commitment Letter to Lees-McRae College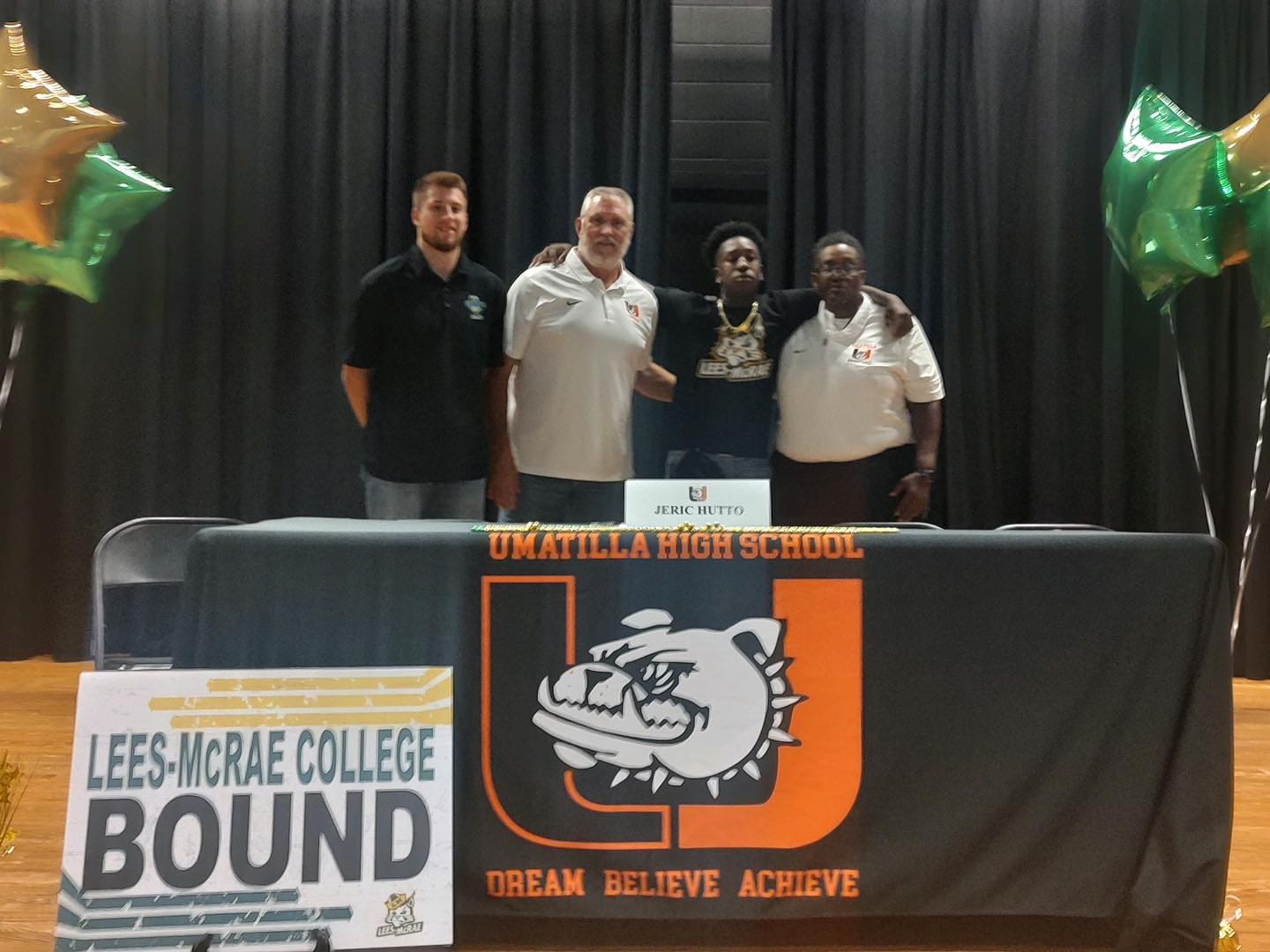 Umatilla High School's Jeric Hutto is headed to Lees-McRae College in North Carolina an NCAA Division 2 School, where he will be majoring in Sports Medicine and continue his athletic playing career. The 6"0 Senior Point Guard had his best season ever for the Bulldogs Boys Basketball team this season. Hutto along with senior Mekhi Benn and Senior Brian Jefferson led the Bulldogs to one of their best seasons in recent memory. The team finished 21-6 and while the season did not pan out the way they would have hoped down the stretch, this team has a ton to be proud about.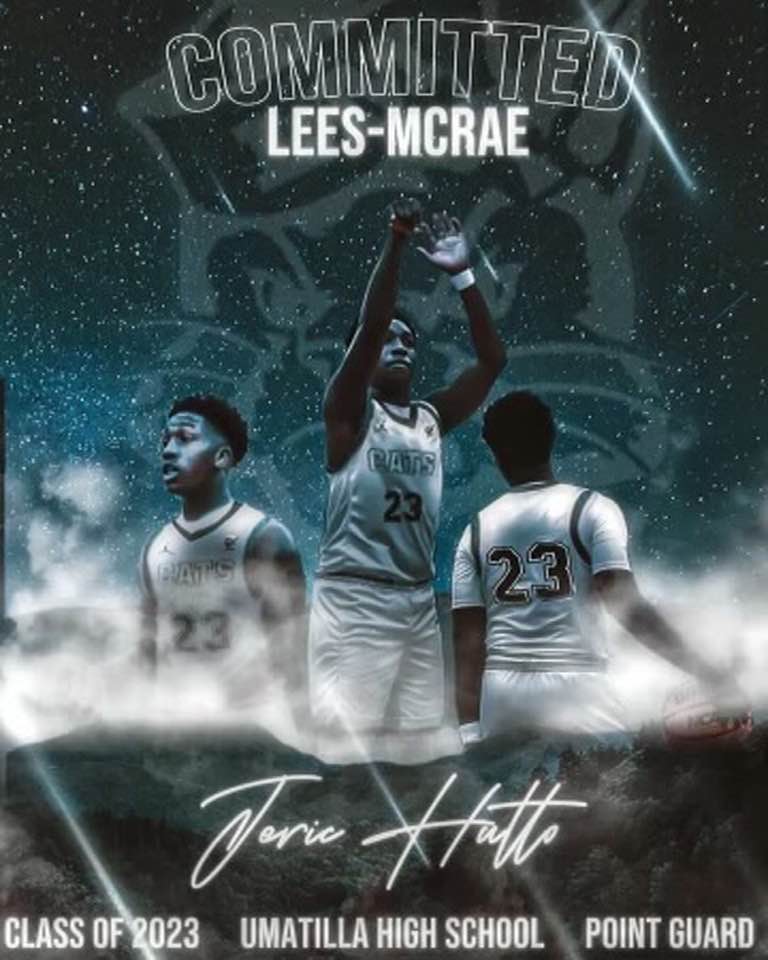 Hutto was an outstanding player all season long. He was always a reliable player especially in close games. Hutto scored his 1,000th point this season for the Bulldogs while he scored 330 points total on the year. Hutto had 75 assists on the season and 38 steals. He was good offensively and defensively and that caught the eye of Lees-McRare College who have now signed him.
Hutto shot 43% from the Field and made over 119 field goals this season. He was dangerous if left open on the three point line and made teams pay for it this past year. Hutto averaged 12.7 points per game which was second on the team only behind Mekhi Benn who averaged 13 points per game. The two players were the backbone of the Bulldogs this season and it showed.
We are really excited that Hutto is getting this chance to continue his career with The Lees-McRae Bobcats this year. The college sits in the beautiful Appalachian Mountains and is 3,720 feet above sea level which is the highest elevation of any American college or university east of the Mississippi River. It is one of the few colleges to be named after two women, Suzanna Lees and Elizabeth McRae.
Notable Alumni of Lees-McRae College include Troy Brown who played for The New England Patriots, Roy Lassiter a professional soccer player and olympian, Brent Bookwalter a professional cyclist and Will MacKenzie the PGA Tour Golfer. The college has quite an athletic history to it and we could not be more excited for Jeric Hutto and his family on this new endeavour he will be embarking on in his life. We wish him the best of luck and look forward to all the great and exciting things he will do in the future!
Photos Provided By:
Umatilla High School
Kyle Coppola was born in Newton, Massachusetts and received his Bachelor of Fine Arts in Communications from Curry College in 2016. After traveling to Florida on a family vacation, he decided he could not get enough of the warm weather and made the move from snowy Massachusetts to central Florida 8 years ago.
For the last decade Kyle has gained valuable experience in social media content creation, marketing and sales, writing, video production, sports announcing and even broadcasting for local radio stations, such as FM 102.9 in The Villages and FM 91.5 in Massachusetts. Every year he volunteers at The Villages Charter High School as a play-by-play sports announcer for the football games as well as a public address announcer for the basketball games, including the annual Battle at The Villages Tournament.
Outside the office Kyle is a husband and father to two beautiful girls along with their cat. In his spare time he likes to spend time with his family, travel, play golf and swim. He is also a huge sports junkie and even bigger motorsports fan and loves to attend racing events when he can.
Share This Story!