Unique bar and lounge in downtown Tavares quenches thirst for deep sea adventure.
Unique bar and lounge in downtown Tavares quenches thirst for deep sea adventure.
Torpedo thirst and hunger, and dive into fun aboard fantastical submarine at The Argonaut Bar and Lounge in downtown Tavares.
Upon stepping through the door of The Argonaut in downtown Tavares, period-specific mood music playing overhead helps transport guests back in time to the 1920s-'30s.
Not only that, the long, somewhat narrow, metal enclosed, dimly lit space you find yourself in, clearly indicates you've entered the hull of a submarine, complete with round protruding windows that offer a glimpse of life under the sea.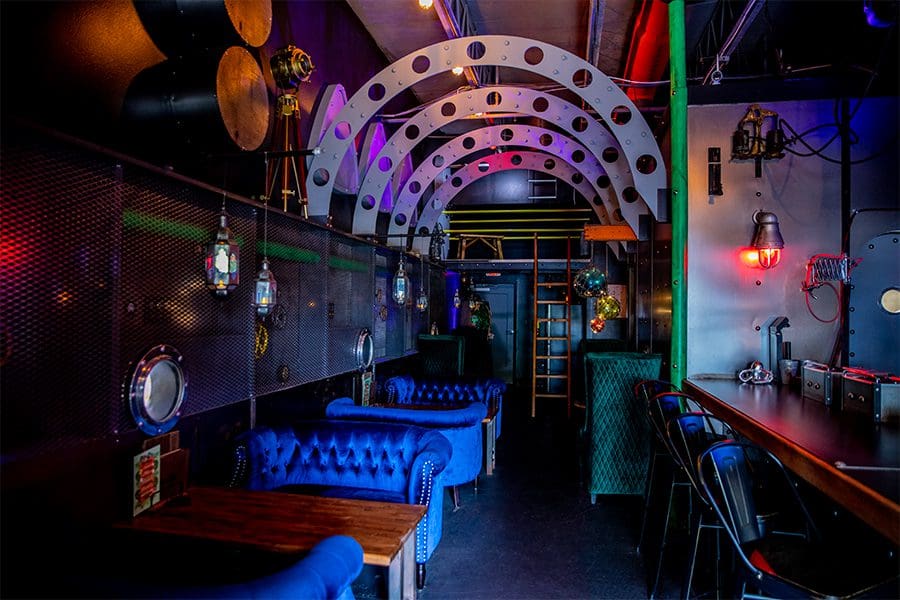 Welcome to The Argonaut submarine, which is actually a trendy bar/lounge that owners David and Hillary Perry envisioned as a fun and adventurous escape from reality—and boy, does it live up to their dream!
"I think when it comes to businesses in this day and age of technology and social media, it's not good enough to simply provide a great product or service anymore, especially for millenials," David says. "That demographic wants an experience with it. They want to be entertained, and that's part of our goal."
Based on that mindset, Hillary and David wanted to bring something completely unique to Lake County.
"Tavares is the entertainment district, so we didn't want to open just another bar. We wanted a place perfect for a date, or a memorable night out with friends and family," says Hillary.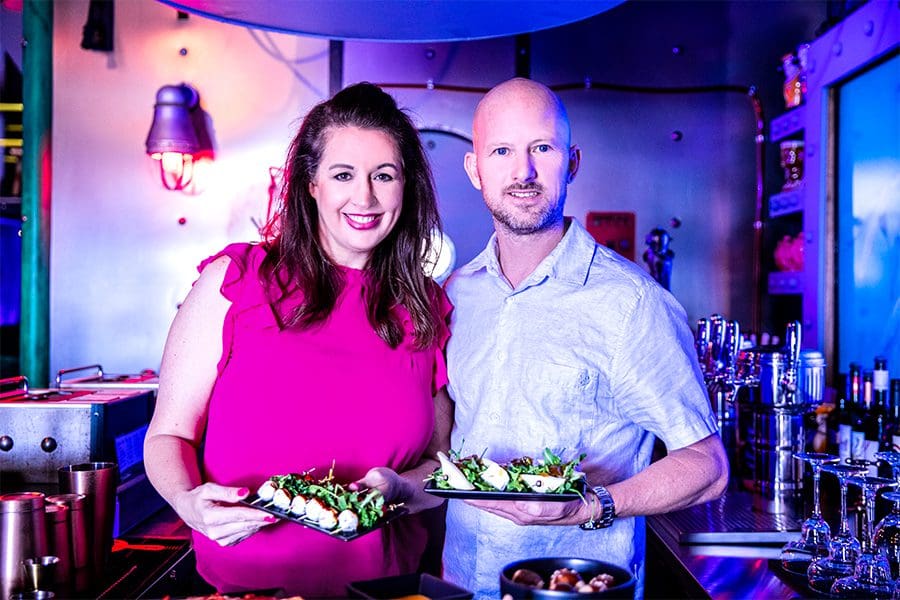 The Howey-in-the-Hills residents also own Nautilus Coffee Co., a signature coffee shop in the hotel next door that incorporates a fictional backstory, characters and interactive features that bring it to life.
The Argonaut, David says, is the continuation of the Nautilus story, and this month, the venue celebrates its one-year anniversary.
"This business is a spinoff of a fictional story we created about Henry and Jane Nautilus, a turn-of-the-century couple who builds travel vessels, like ships, submarines, and of course, seaplanes, at the Nautilus Iron Works factory they own locally," David tells. "They have three daughters—Poppy, Hazel and Ruth—and after amassing a fortune, wanted to travel and explore the world with them, so they built a submarine called The Argonaut."
David explains that when the family comes back to port at the iron works factory, they share with friends and family, all the things they found from all over the world, including different coffees, wines, cheeses and more. Some can be found at Nautilus Coffee Co., and others at The Argonaut Bar and Lounge.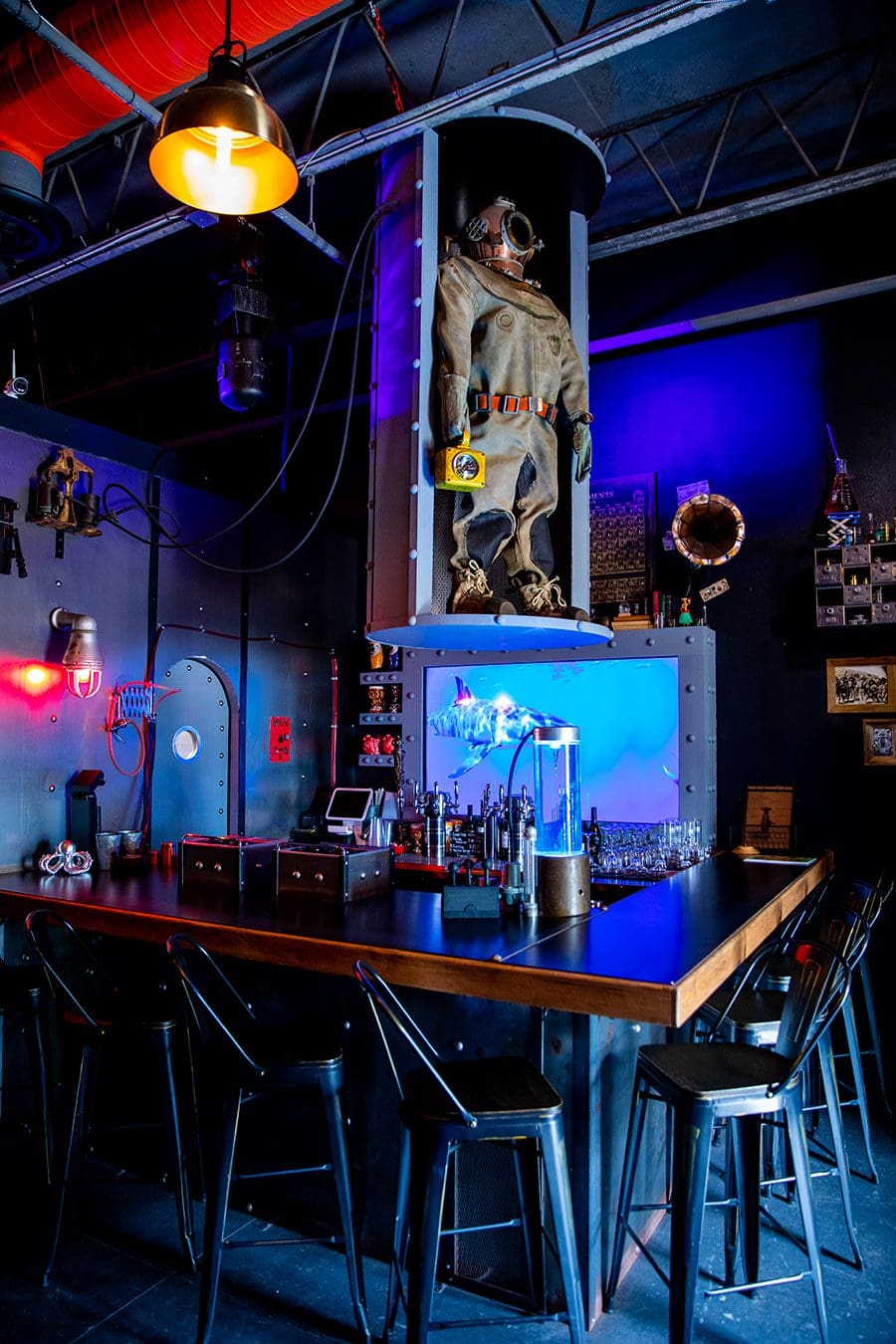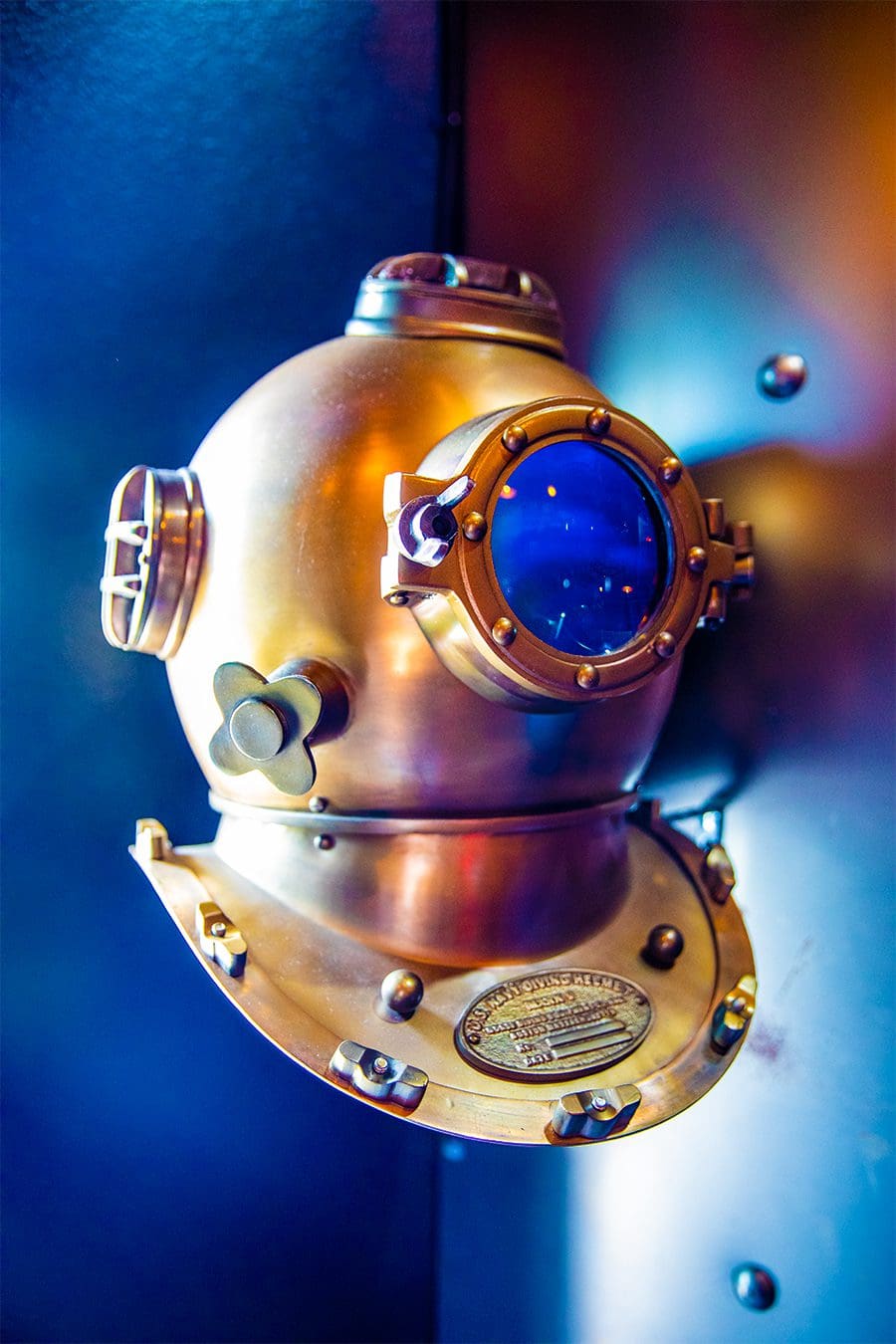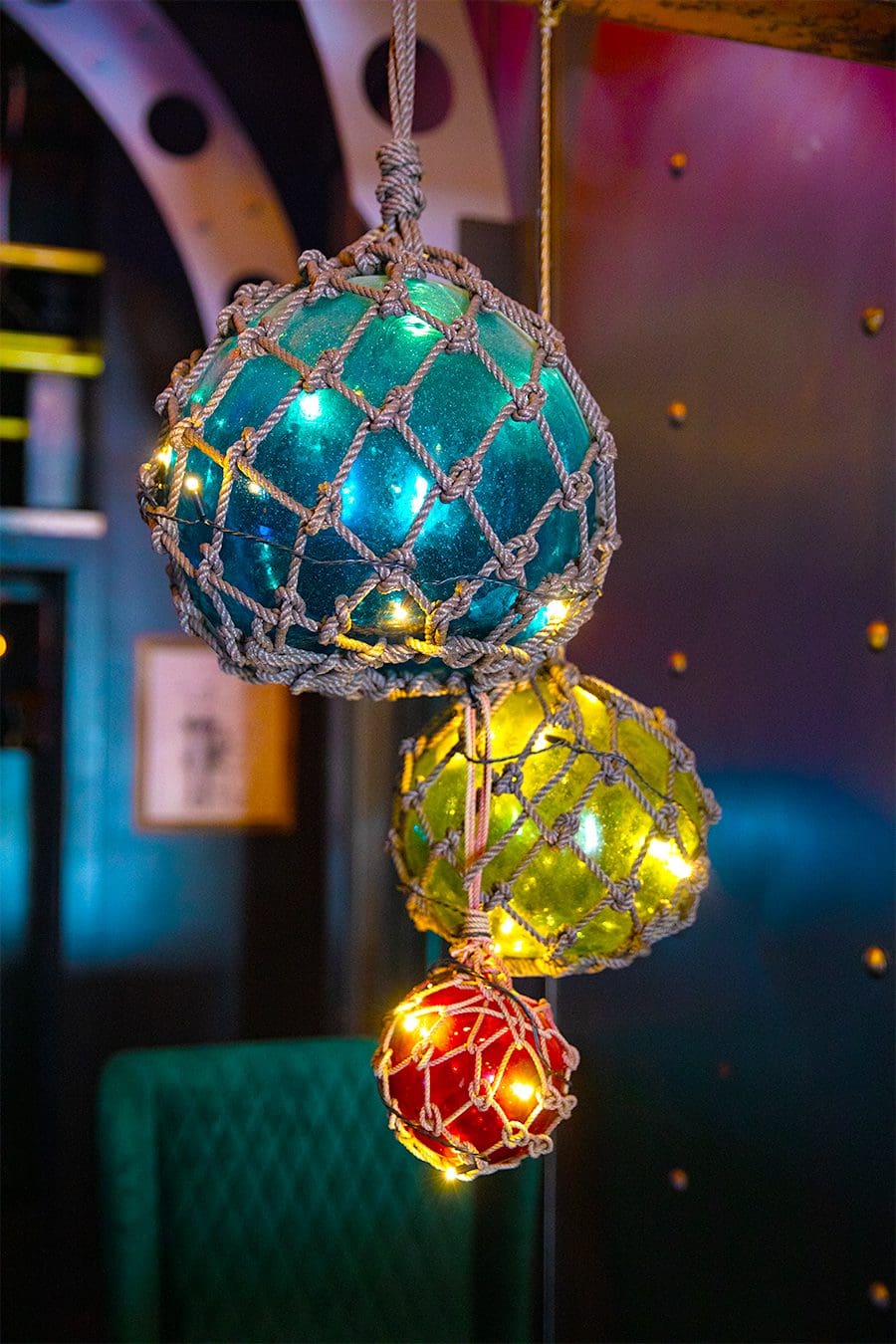 As the story goes, those daughters eventually grow up and have lives of their own, so Henry and Jane embark on new adventures aboard the submarine, which is where The Argonaut Bar and Lounge comes in. 
"Henry and Jane Nautilus decide they want to continue traveling the world in their submarine, but it's the prohibition era, so when they come back to port (Tavares), they build a bar," David says. "What greater place to enjoy alcoholic beverages during prohibition is there, than on a submarine? That's the Argonaut in a nutshell." 
Recently, Style Photographer Nicole Hamel, Designer Alejandra D' Jermanos and I visited The Argonaut, and what we found is that once inside, you may not be able to sit still for very long. 
There are nooks and crannies, plus spectacular artifacts to explore—all handcrafted by David—that help tell the story of the fictional couple, their interests, and adventures.
"My background is theme park construction, so everything you see inside I created and built, and we're always adding to it," David says. "The biggest thing for me, the joy of it all, is seeing peoples' reactions, and seeing them interact with everything experiential and interactive."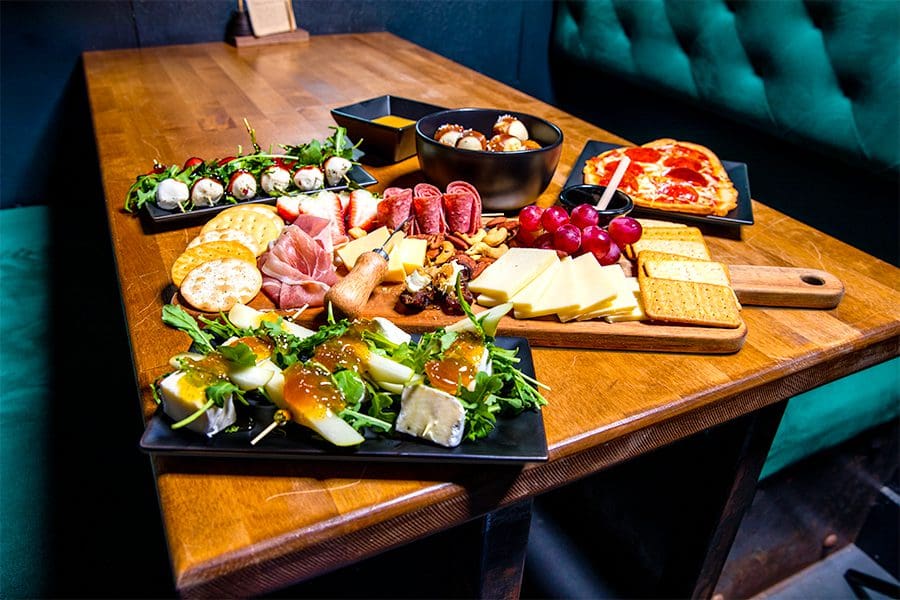 Levers at the bar, when touched by customers, inspire a flip of a switch by a bartender and the subsequent swaying of overhead lights, representing the submarine being steered off course, David explains. 
Not only that, but every food and drink item is accompanied by a story. For instance, and since Henry dabbles in chemistry, there is "The Abyss," a dry ice-infused "bubbling" cocktail served in a beaker, and when you order The Argonaut's signature drink "Bombs Away," a bomb comes down from the ceiling. The bartender then removes a gun from inside a built-in compartment and uses it to create an aroma and smoke-filled bubble on top of the glass that when brought to the table, is popped, causing smoke to swirl and encircle the vicinity.  
"This generation of influencers want that picture moment or perfect video experience they're all about recording to share with their followers. And that's fine with us," Hillary says.  
The Argonaut menu includes a variety of cocktails and tiki drinks, wine and craft beer, plus a small bites menu with delicious dishes perfect for sharing, including charcuterie boards, flatbread pizzas, cheese and veggie skewers, salads, and more. 
The bar is easily accessible by Lake Dora boaters docking at Wooton Park, and on select nights, the venue features live jazz music by local musicians.  
"Whether you want an experience, a nice place for a date, or a cool environment to hang out with friends, this is it," Hillary says. 
Originally from Nogales, Arizona, Roxanne worked in the customer service industry while writing independently for years. After moving to Florida in 1999, Roxanne eventually switched her career path to focus more on writing and went on to become an award-winning reporter for The Daily Commercial/South Lake Press newspapers for 16 years prior to coming on board with Akers Media as a staff writer in July 2020 – her dream job come true.
Share This Story!