UWLS Relaunching Women United With Dance Lessons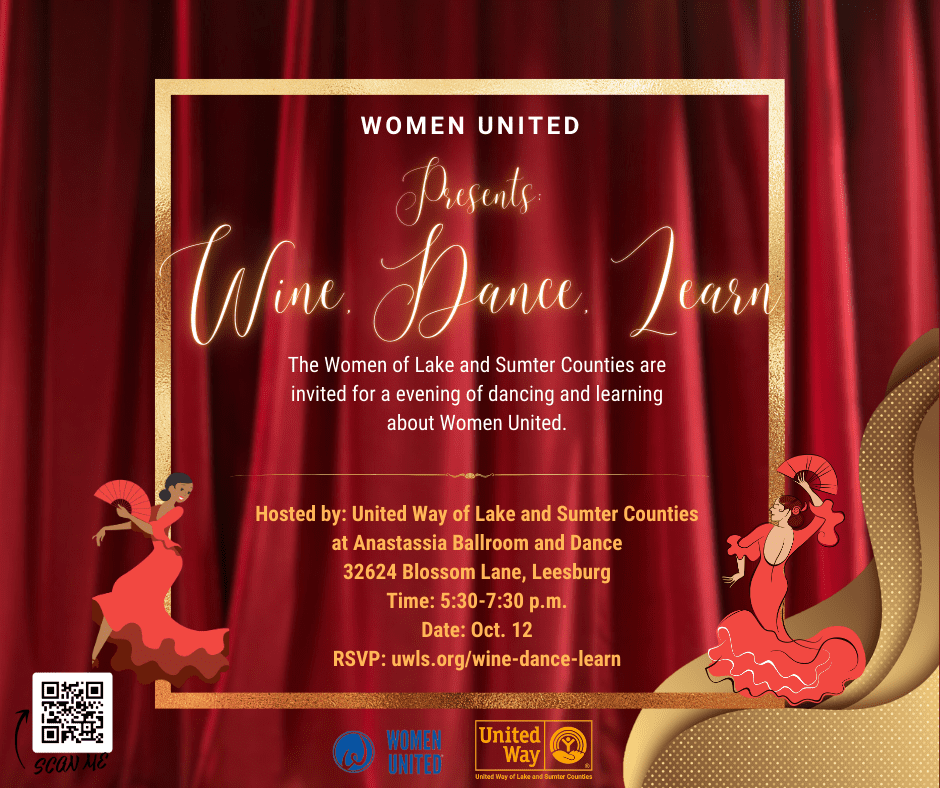 LEESBURG — Local women are invited to come learn about Women United and dancing.
Lake and Sumter County women are welcomed to attend a Women United relaunch event and interest meeting at Anastassia Ballroom and Dance studio in Leesburg.
The Wine, Learn and Dance event will occur from 5:30-7:30 p.m. on Oct. 12 at the dance studio, 32624 Blossom Lane. The night will feature refreshments, Merengue dance lessons and information about Women United.
United Way's Women United was created as a way to engage, empower and educate local women interested in strengthening their community through philanthropy, volunteering, advocacy and leadership.
"Women United has a local impact on the community that is significant, and it's really powerful to see that women can come together to make a difference not just financially but with a hands-on approach," UWLS CEO Jessica Davis said. "It's an opportunity for women to support causes that matter to United Way, to the community and that certainly matter to them."
Those interested in learning more about Women United should RSVP by Oct. 9 at uwls.org/wine-dance- learn. For questions about the event, please email womenunited@uwls.org
Media members interested in covering the event should email Rachel Whetstone at rachel.whetstone@uwls.org
United Way of Lake and Sumter Counties serves needs in the areas of income, education and health in both counties and facilitates and delivers a number of direct services and programs. UWLS also provides grants or support that fund programs in over 20 partner agencies or nonprofits.
United Way fights for the health, education and financial stability of every person in every community. United Way is the world's largest privately funded nonprofit, engaged in 1,000 communities across more than 37 countries and territories. For more information about United Way, please visit unitedway.org.
Kyle Coppola was born in Newton, Massachusetts and received his Bachelor of Fine Arts in Communications from Curry College in 2016. After traveling to Florida on a family vacation, he decided he could not get enough of the warm weather and made the move from snowy Massachusetts to central Florida 8 years ago.
For the last decade Kyle has gained valuable experience in social media content creation, marketing and sales, writing, video production, sports announcing and even broadcasting for local radio stations, such as FM 102.9 in The Villages and FM 91.5 in Massachusetts. Every year he volunteers at The Villages Charter High School as a play-by-play sports announcer for the football games as well as a public address announcer for the basketball games, including the annual Battle at The Villages Tournament.
Outside the office Kyle is a husband and father to two beautiful girls along with their cat. In his spare time he likes to spend time with his family, travel, play golf and swim. He is also a huge sports junkie and even bigger motorsports fan and loves to attend racing events when he can.
Share This Story!