Veterans Banners Return to Eustis and Debut in Umatilla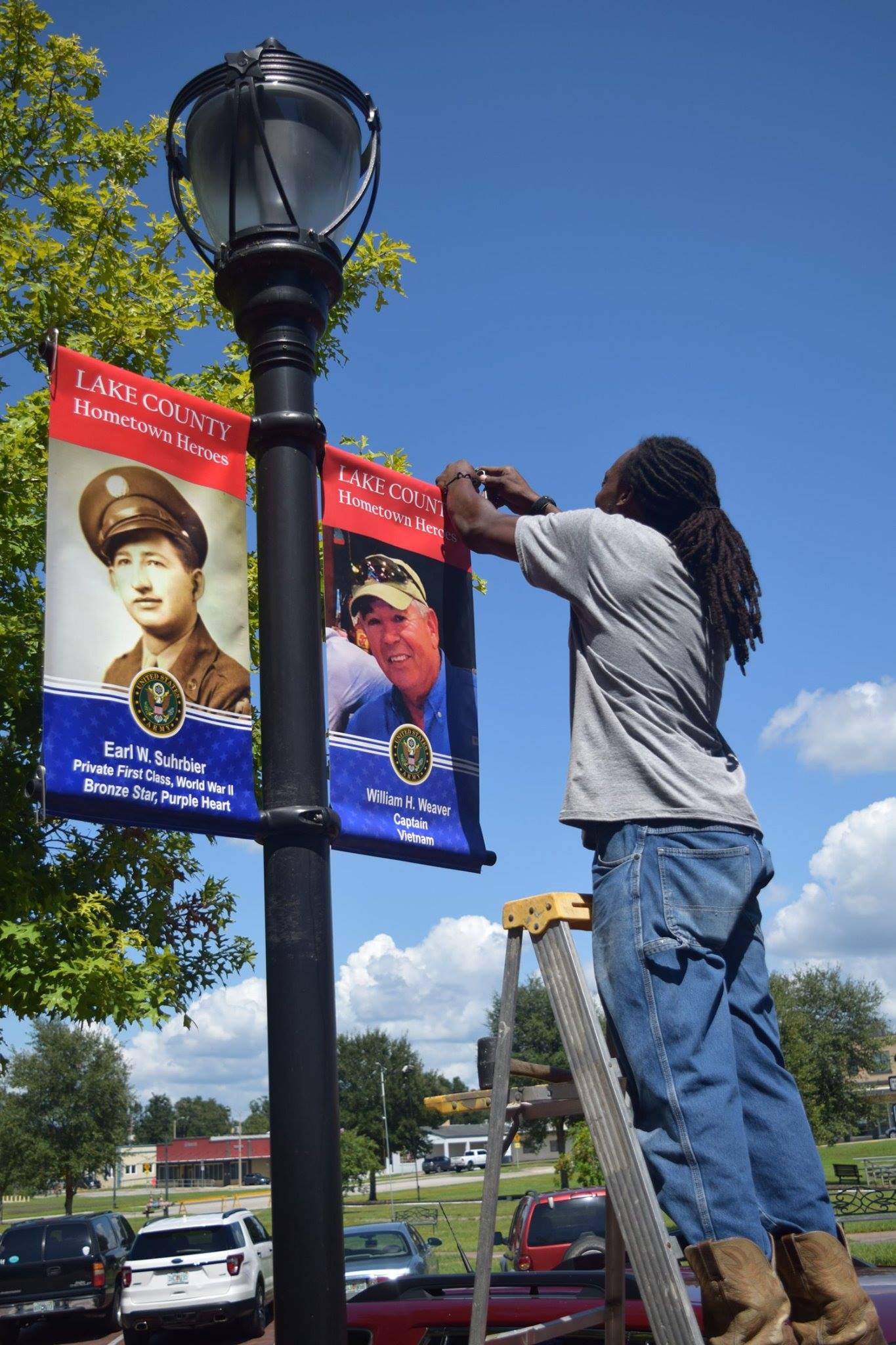 For local radio personality Billy Matthews, the banner hanging in Downtown Eustis last year to honor his father's military service was an emotional sight.
"I appreciated my dad's military banner hanging in Eustis last year" says Billy, who hosts the Lake County Sports Show on WQBQ 1410 am.  "It was an honor for his banner to be hanging with all the other locals who have bravely served our country."
The third annual Hometown Heroes Program, which will install banners on decorative light poles in downtown Eustis and at Sunsational Farms in Umatilla from late September through November 12th, honors the men and women of Lake County who serve and served in the nation's armed forces.  The banners are sponsored by local citizens and businesses, with a portion of the proceeds helping to support Vet Fest Lake County, a multi-day event which runs from October 29th – 31st.
The banner program, which was created by the Lake County-based company Celebrating Heroes, is being administered by Harden Pauli Funeral Home in Eustis, Florida.  "Our job is to honor lives and the memory of those who have passed," says Mark Taylor (of Harden Pauli).  "This program is one more way for us to honor those who have served."
For Brian Faryna and the staff at Sunsational Farms – an organization that hosts numerous area activities, including a recent Sept. 11 event – the banner program is a way to further serve the community.  "Hosting banners at our location off Roger Giles Road is a way to tell the community we care," Brian says. "We're glad we can join this year to honor even more veterans and active duty military."
To sponsor a banner or to resubmit one from either of the program's previous two years, visit Harden Pauli Funeral Home at 1617 South Bay Street in Eustis, visit  www.celebratingheroes.com/eustisflorida, or call them at (352) 357-4126.
For more information about 2021 Vet Fest Lake County, including sponsorship, parade, vendor, and volunteer opportunities, please call the City at (352) 483-5491 or email vendor@eustis.org.