Villages Charter School Caley Sosnowski Wins State Track & Field Championship In Womens Javelin Throw!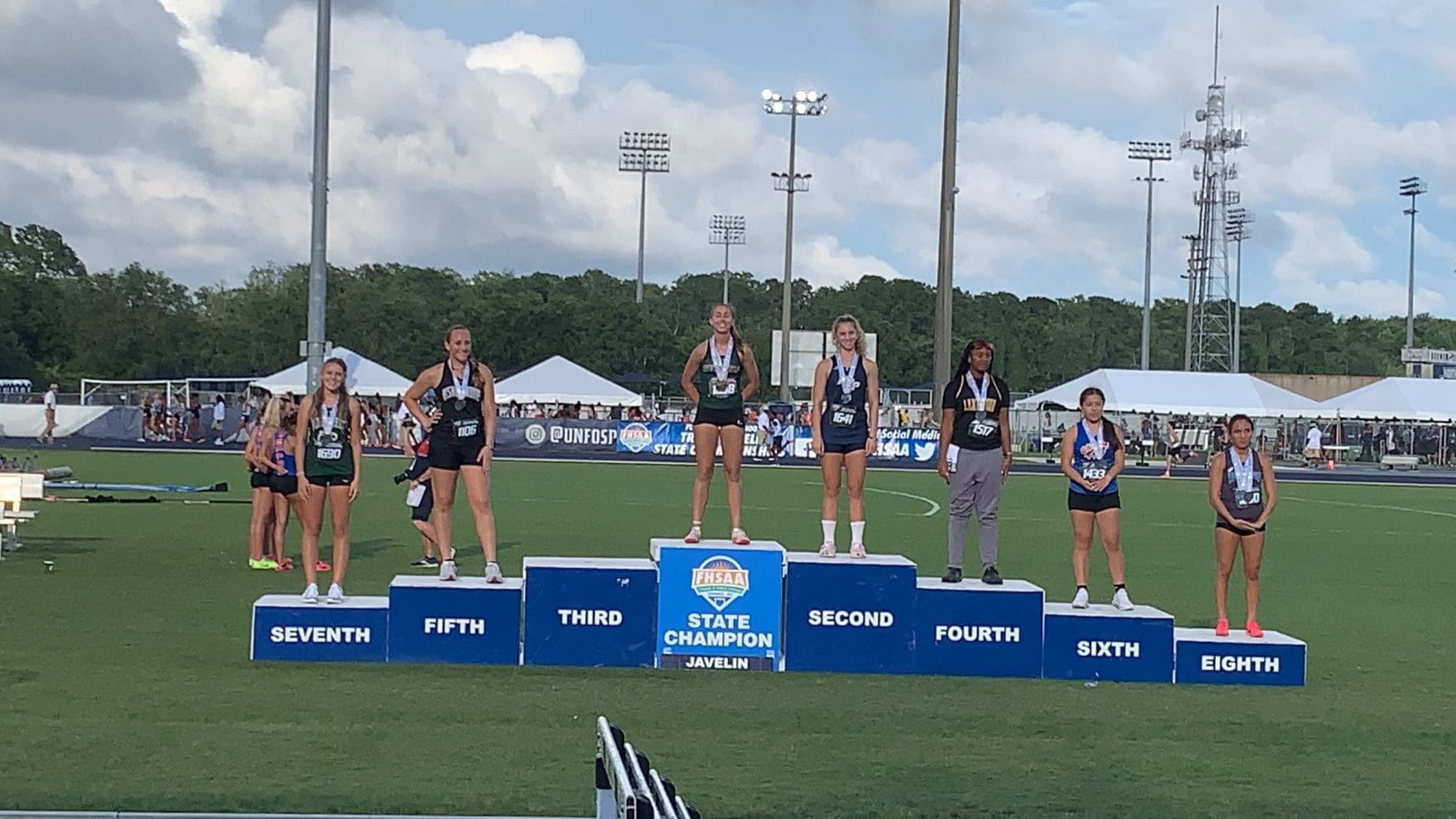 Villages Charter School Caley Sosnowski Wins State Track & Field Championship In Womens Javelin Throw!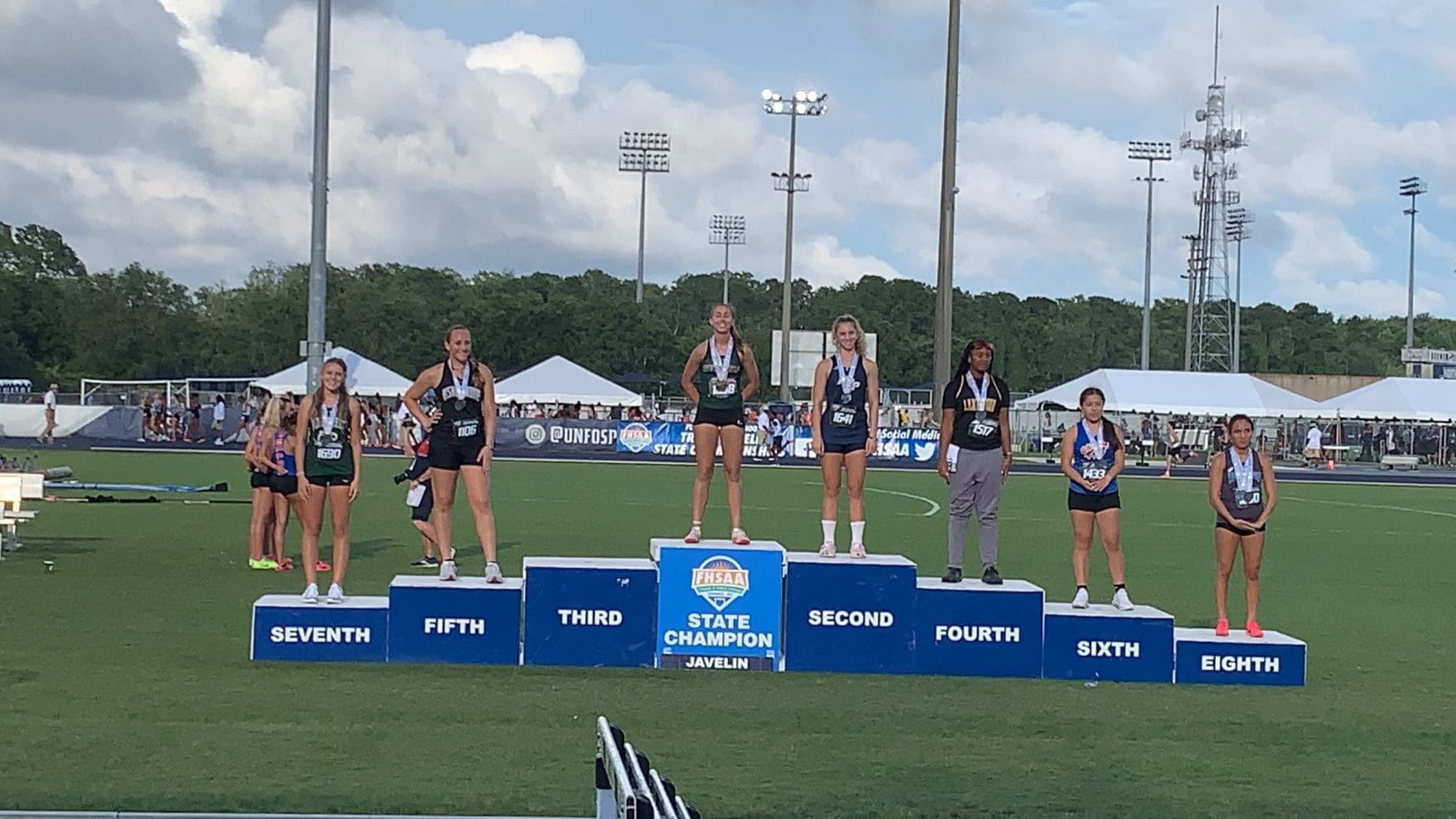 Caley Sosnowski was dominant all season long. There is no other way to describe how good she was other than dominance. Particularly in the Javelin throw. This sport is one of the oldest on record but it can still be one of the most exciting! All season long Sosnowski ran circles around the competition in this event. She throws harder than almost anyone we have seen in the past decade of Track & Field in our area. She's also a great runner and competed in the 3200M Relay placing 3rd and took place in the 1600M relay race finishing 6th.
In all Caley Sosnowski earned her team a total of 19 points that she was a part of, more than any other team member on The Villages. Sosnowski was also the only athlete from Lake & Sumter County to place first in any state event. She finishes the season as the Number 1 javelin thrower in the State which is an enormous accomplishment.
The competition was actually delayed a bit by severe weather that was moving through the area up in Jacksonville. The championships this year moved to University of North Florida and were held at Hodges Stadium. The beautiful venue is perfect for Track & Field with an absolutely gorgeous natural grass surface and its pristine track surface which is one of the best in the state by far. It's no wonder this college played host to the championships.
As the event got going there were some really good throws. Carly LaMorte from Bishop Moore laid down a 36.18M throw. Meanwhile, Alexa Schwartz from North Broward Prep would be Sosnowski's only real competition. Schwartz was able to throw the Javelin a respectable 38.75M and honestly this was a great throw. Unfortunately for Schwartz, when Caley Sosnowski stepped up to throw it was all business.
Sosnowski eyed the target. Took one of the fastest takeoffs we have seen all season long and absolutely rocketed the Javelin down the field. It flew so far it felt like it would never come down. The Javelin flew an incredible 43.04M. That was certainly good enough for 1st place in states. Was it good enough for the State record? Not quite! That record still belongs to Sonoma Kasica from Shorecrest as she threw a 44.78M throw earlier this year.
However as the competition wore down no one was even coming close to Sonsowski. Two other Villages competitors also took part in the competition including Jacquelyn Globig who threw for 29.95M and Taylor Fugate who threw 29.24M respectively. They did not medal but were key contributors in some other events for The Buffalo. Sosnowski was in a different zip code than the competition.
Sosnowski would go on to take first place with a 43.04M throw. 2nd place was taken by Alexa Schwartz from North Broward Prep with a 38.75M throw. 3rd place was taken by Alexandra Bohanon from Beachside with a 36.32M throw just edjing out Daija Rogers from Lakewood and Carly LaMorte from Bishop Moore.
Sosnowski stood proudly up on the podium. Her teammates and family congratulated her on the great accomplishment. She would be the only Lake & Sumter County Athlete to win a 1st place medal that day. But Sosnowski was not done!
She would go on to help The Villages place 3rd in the 3200M Relay. Teammates Katherine Probola, LIia Byron, Ella Thomas, Alexis Hume, Natalee Elstad, Jessica Banca Aguilar and Layla Farrish would all be a part of the 3rd place podium team in the 3200M. Finally in the 1600M The same team but with a different runner Gianna DiMaggio would place 6th in the 1600M. No one on the team garnered more points than Sosnowski though with 19 total in the events she was featured in. This was Sosnowski's final time representing The Villages as she is a senior. There were other notable Buffalo medalists as well.
Shawn Carr Boys Javelin Throw 6th Place
Shawn Carr wrapped up a great Senior year. Carr had a throw of 50.67M which was good enough for 6th place and earned The Villages 3 points. Preston Kuznof from Atlantic would take the overall Gold with a throw of 56.10M
Jaceson Globig Boys 110M Hurdles 2nd Place
Globig had a tremendous performance but it was a race for second as Byron Holt from Miami Jackson was the fastest of the day and ran a 14.01. Globig ran a 14.99 with Sam Adebonojo finishing 3rd with a 15.07 Globig got The Villages their 2nd highest point total of the day at 8 points. It was The Villages second best performance of the competition behind the gold medal won by Sosnowski and was the most impressive performance from the boys all day.
Llia Byron Girls 800M Run 6th Place
Byron finished 6th in the 800M run and secured 3 points for The Villages. A very respectable finish for the Senior in her last appearance for The Villages.
Congratulations to all The Villages athletes but particularly Caley Sosnowski for her State Championship win in the Girls Javelin Throw. It may be a long time before we see this dominance again in this discipline.
Photos Provided By:
Richard Pettus
The Villages Charter School
Shawn Robin Carr
Kyle Coppola was born in Newton, Massachusetts and received his Bachelor of Fine Arts in Communications from Curry College in 2016. After traveling to Florida on a family vacation, he decided he could not get enough of the warm weather and made the move from snowy Massachusetts to central Florida 8 years ago.
For the last decade Kyle has gained valuable experience in social media content creation, marketing and sales, writing, video production, sports announcing and even broadcasting for local radio stations, such as FM 102.9 in The Villages and FM 91.5 in Massachusetts. Every year he volunteers at The Villages Charter High School as a play-by-play sports announcer for the football games as well as a public address announcer for the basketball games, including the annual Battle at The Villages Tournament.
Outside the office Kyle is a husband and father to two beautiful girls along with their cat. In his spare time he likes to spend time with his family, travel, play golf and swim. He is also a huge sports junkie and even bigger motorsports fan and loves to attend racing events when he can.
Share This Story!